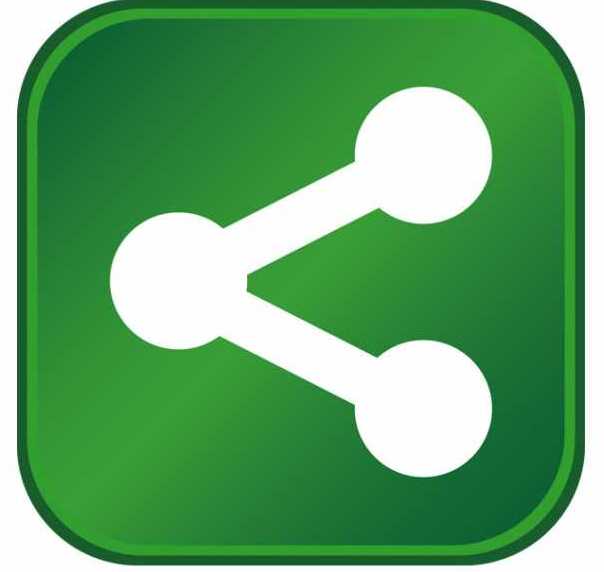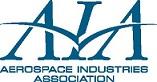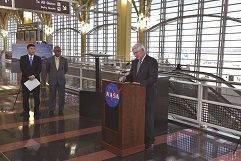 A major issue during this election year is how to grow the economy and create good middle class jobs. Aerospace Industries Association's (AIA's) focus of the debate over America's economic future has been a discussion about whether our path is tied to the service sector and whether manufacturing will diminish in importance as global economic forces drive firms to close, downsize or relocate abroad. Those on the "manufacturing is a dying industry" side have not been looking at America's robust aerospace and defense manufacturers. Manufacturers of civil aviation, defense and space systems, that represent one of the largest engines of innovation in our economy, are currently experiencing resurgence, helping to accelerate the United States' recent economic recovery. 
An economic impact analysis of the American aerospace and defense (A&D) industry conducted for AIA by IHS Economics found that last year, of the $30.7 trillion in sales activity generated in the U.S. economy, a total of $786 billion was supported by the A&D industry. This occurred through roughly $349 billion in direct sales activity and an additional $256 billion in indirect sales generated in the supply chain. The A&D "primes" and supply chain companies also spurred $181 billion in "induced" economic activity in local economies where these businesses are located. The industry as a whole represents 1.8 percent of the nation's gross domestic product.
A core element of this industry's contributions to the economy is its commitment to innovation. Today, to fuel innovation companies make extensive investments in R&D and infrastructure, but also in the skilled workforce that builds products from composite materials to advanced robotics, 3-D printing and the development of clean biofuels. Contrary to the popular view that U.S. innovation takes place in discrete hubs such as Silicon Valley, Austin or Boston's Route 128 corridor, incredible innovations are occurring in the A&D industry throughout our country, creating jobs and economic opportunities for all Americans. 
AIA, which has been a factor in the industry since 1919, just after the dawn of flight, is the voice of the American aerospace and defense industry. AIA works for a current membership of more than 300 companies that invent and manufacture the world's most advanced military platforms, missiles, cyber security systems, IT infrastructure, unmanned aircraft systems, civil aircraft, helicopters, satellites, spacecraft, launch vehicles, ground vehicles and ships. Those members also provide sophisticated services to government and commercial customers.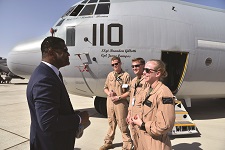 AIA has five strategic goals that are integral to how it works to advance the industry's vital interests. First, AIA promotes policies and budgets that will strengthen aerospace and defense and grow the economy. Without this framework, AIA can't guarantee the industry's contribution to enhancing national security in an increasingly unstable global environment, advancing economic progress and bettering people's lives. In the past year, AIA's advocacy helped push Congress to provide relief from the damaging budget caps imposed by the Budget Control Act of 2011 on national security and other important government functions. AIA is making the case to candidates for the presidency and Congress that in the long term, a more rational approach is necessary to deal with the debt and deficit that doesn't shortchange needed investments in defense, in civil aviation infrastructure and in the breakthrough space systems that are so important to space exploration and research activities.
Second, AIA is focused on improving the U.S. aerospace and defense infrastructure and retaining USA's industrial base capability. With this goal in mind, AIA has focused on reforming the cumbersome and expensive defense acquisition system to encourage company investment strategies that lead to longer-term innovation and efficiency and keep the industrial base strong.  In last year's defense bill, positive changes were made affecting the treatment of commercial item determinations and price reasonableness, independent R&D, counterfeit parts, intellectual property and incurred cost audits. Now, AIA is working hard with the Defense Department to implement these reforms and to push for additional initiatives by the Pentagon to improve the way equipment for the warfighter is acquired.
Third, AIA wants to achieve a level playing field for U.S. industry in the global marketplace. At a time when international sales are the greatest source of our industry's growth, and in which 70 percent of the world's purchasing power is located outside the U.S., achieving this goal is paramount.  Last year, AIA and other groups successfully advocated for Congress to vote to reauthorize the Export-Import Bank of the United States, the lending institution that enables U.S. companies to compete fairly for sales in the increasingly competitive global marketplace. AIA is now calling on the Senate to approve one of President Obama's nominees to fill an open seat on the Bank's Board – a Republican – so the Bank can be fully functional. Also on the export front, AIA is engaging senior U.S. government officials at the Commerce, State and Defense Departments to encourage an aggressive government-wide strategy for promoting the export of U.S.-manufactured aerospace and defense products.
Fourth, AIA understands the industry has unique contributions to make to enhance peoples' safety and security, and to protect the environment. In everything it does, AIA works to achieve the conditions that will allow companies to constantly innovate and improve products, earning the trust the American people have laid on its doorstep. Toward this end, AIA is a leader in developing and publishing the National Aerospace Standards — including 3-D standards — that are a valued source for companies involved in aerospace design and manufacturing. AIA also seeks to improve industrywide cyber security practices through the development of technical standards and guidelines. In addition, it works in broad forums such as the International Civil Aviation Organization to develop progressive and achievable environmental performance standards for civil aircraft.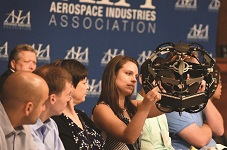 Finally, AIA is making a vigorous effort to reach out to a broad community of stakeholders beyond its membership, including other stakeholders in industry, the business community, in academia, in think tanks and in cities and towns around the country to be their community of choice when issues affecting mutual interests arise. Examples of this engagement include AIA's role in convening high-level meetings between the most senior DOD officials and industry leaders for an ongoing dialog on defense acquisition reform and in spearheading the creation of the Business & Industry STEM Education Coalition to advance progress on science, technology, engineering and math (STEM) education issues.
STEM-educated students who will enter and rise to prominence in the industry will have increasingly responsible roles some 10 years from now when our nation celebrates its 250th birthday. If we're able to maintain a strong aerospace and defense industrial base, it's safe to assume by the time of our nation's "Sestercentennial," the following will occur:
NASA will be fully engaged with the traditional and emerging commercial space sectors in planning for the first human expedition to Mars.

Your next coast-to-coast flight – or flight across the ocean – will be able to smoothly avoid all potential weather hazards, be routed much more efficiently and reduce its greenhouse gas emissions significantly.

We will be enjoying the bounty of the burgeoning Unmanned Aircraft System economy, with applications well beyond the package deliveries everyone's talking about.

America's men and women in uniform, backed by numerous technological advantages developed by our member companies, will remain the best trained, best equipped, best prepared and most rapidly deployable fighting force in the world.
Much of the work to enable these gains is already underway. But this progress is not guaranteed. That's why AIA is ready and eager through the pursuit of strategic priorities to take on the great challenges that stand before us.  
About the Author