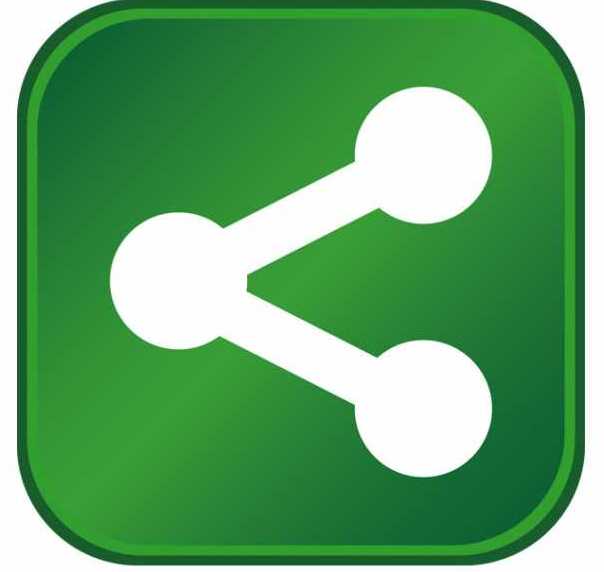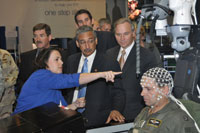 Drastic changes in the nation's security posture in recent years will have far-reaching implications – particularly for those in the business of defense.
Since the 9/11 attacks, we have seen the vast mobilization and deployments of military forces in support of wars in Afghanistan and Iraq and the establishment of the Department of Homeland Security, and with it an unprecedented step up of domestic security operations.
Civilian and military leaders have warned repeatedly that the United States must brace for a long, painful fight against terrorism.
In a relatively short period, many of the traditional ways of thinking and doing business in defense have been shaken to the core. We now think differently about how the U.S. will wage war. And defense planners and providers are only now beginning to adjust to the impact new threats will have on training and procurement.
For the defense industry, innovative thinking and agility are in order. With thousands of U.S. troops on the front lines, there will be less tolerance for long procurement cycles characterized by schedule and cost overruns. Future emphasis will be on reasonable, stable requirements and block development for more complex systems.
As Defense Department officials have often pointed out, in times such as these, industry is being counted on to respond rapidly to the needs of those in the field.
That is the reason the National Defense Industrial Association exists today. It was the inability of industry to meet the needs of troops in World War I that led to the founding in 1919 of the Army Ordnance Association, which ultimately became the NDIA.
Moving Forward
NDIA, like the nation, must move ever forward. As America's leading defense industry association, it is expanding its scope to reflect the rapidly changing global environment and, in consequence, is embracing areas that have gained new relevance, such as robotics, unmanned systems, modeling and simulation, business enterprise improvement, energy security and homeland defense.
A robust, responsive government-industry security team is at the core of NDIA's outreach.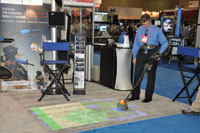 This is especially critical today, with an industry that is significantly smaller than it was more than a decade ago during the Cold War. As military labs and depots continue to downsize and the industry shrinks because of consolidation, private-public partnering will become an even more essential element of doing business with the Defense Department.
To further help inform government and industry professionals of key developments in defense business and technology, NDIA publishes its award-winning magazine, National Defense. National Defense has recently rebuilt its website to provide an efficient and information-rich experience for its readers as a searchable and dynamic companion to its printed publication (www.nationaldefensemagazine.org).
To facilitate the interaction between industry and government, NDIA offers many forums for the exchange of information regarding national security issues. An impressive cadre of volunteers is in charge of developing timely programs, conferences and symposia that bring industry and government together on ethical playing fields. The entire breadth of NDIA's events is covered in detail on the newly designed, user-centric NDIA website (http://www.NDIA.org). The new website is designed to integrate information seamlessly including: membership, event details and registration, government policies, division information, NDIA's Mega Directory of corporate member contacts and capabilities, in-depth National Defense magazine articles and more.
NDIA also has four affiliates that pursue specific aspects of the security market: the National Training and Simulation Association, the Precision Strike Association, the Association for Enterprise Integration and Women in Defense. With these divisions and affiliates, NDIA covers virtually the entire defense and security market.
NDIA recognizes that what makes the U.S. military different from others is, first and foremost, the quality of our soldiers, sailors, Marines and airmen, and also the effectiveness of their training and the performance of their weapons systems and equipment.
The systems our forces take to war must not only be the best, but, in today's environment, they must be delivered faster.
Covering Needs
A robust industrial base requires skills and personnel to cover the needs of science and technology, development, program management and production engineering. One recent initiative at NDIA is the creation of the STEM (science, technology, engineering and math) Division, which is dedicated to promoting educational opportunities for young people in order to ensure a skilled technical work force in the future.
Another area that deserves close attention is manufacturing. We must maintain a distinct lead in world-class level advanced manufacturing. Where we outsource defense-manufacturing tasks, we need to understand the risk and provide for options in case an international source becomes impaired. We should attempt to avoid in all instances, whether the source is domestic or international, single sources of supply.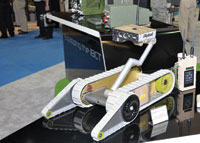 Most recently, our enormous national appetite for energy has emerged as a national security issue. The Pentagon, fortunately, is now assuming a leadership role in areas spanning energy-saving technologies and alternative fuels.
While the DefenseDepartment– which accounts for about 1 percent of the nation's fuel expenditures – alone, cannot drive market forces, it is in fact the single largest consumer of petroleum fuels in the United States. Therefore, it is appropriate it takes the lead in energy-related initiatives and explores innovative technologies that could eventually transition to civilian society.
NDIA's Energy Division intends to stay on top of these developments and organize future events that will allow industry to engage in fruitful dialogue with government decision makers.
Proper Defense Posture
Despite pressing concerns about ongoing wars and prospects of declining budgets, NDIA is keenly aware that a viable, proper defense posture means having a full spectrum of military capabilities and the ability to produce them.
Therein lays the challenge for the nation, as a security establishment and as an industry. NDIA is seeking to find out how best to manage near-term priorities for the global war on terrorism, but still maintain and advance those high-end capabilities that potentially are required to confront a nation with a military force comparable to our own.
The debate and discussion will be extremely important and critical to our future security. The defense industry has to be a full partner in that debate. And NDIA is helping to make sure its input in the process of setting requirements, accomplishing meaningful acquisition reform and delivering systems to the field more expeditiously is heard.
Importance of Industry
It would be fair to say that the average citizen probably is not aware of how critical the industry is to the ability of the Defense Department and the military services to do their jobs. While the commonly known functions of defense contractors are to build airplanes, ships, tanks and weapons, industry today performs a much broader role.
Across the United States, overseas, on the battlefield and anywhere our troops deploy, contractors are there – to fix vehicles, maintain computer systems, operate mess halls and provide any number of support functions. Whatever the customer needs done, the contractors are there to do it, even in dangerous combat zones.
Recall a time in U.S. history when the nation had no defense industry. In World War I, our aviators flew French- and British-made warplanes.
It was only after that conflict that steps were taken by NDIA's predecessor to advocate what truly emerged as an arsenal for democracy. Despite efforts to dismantle the defense industrial base after World War II, it became the engine that throttled the erstwhile Soviet Union and the technological innovator that made possible many of the marvels that continue to shape our society.
Promoting National Security
NDIA's vision reaches specific regions of the country with its local chapters that understand the nuances of conducting business in their region to national divisions, focused on specific areas of business. Our members draw on each others knowledge, access and influence to promote the highest levels of national security possible. NDIA's motto, "Strength Through Industry and Technology," captures the spirit of who we are and what we are about.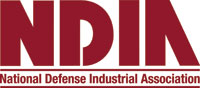 About the Author