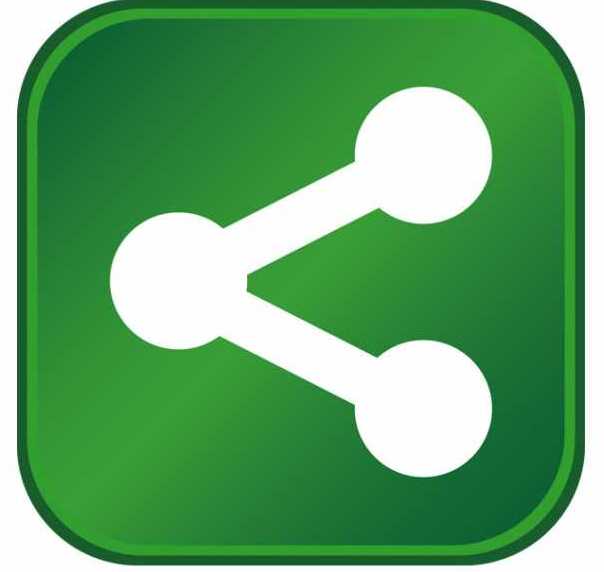 Nebraska has firmly established itself as the "predictable, profitable partner" in recent notable economic development endeavors with long-term collaborators, including business leaders, local and state government officials, economic development professionals and utility providers. Nebraska also has survived one of the toughest recessions in recent history without taking any drastic actions that negatively impact the State's pro-business climate.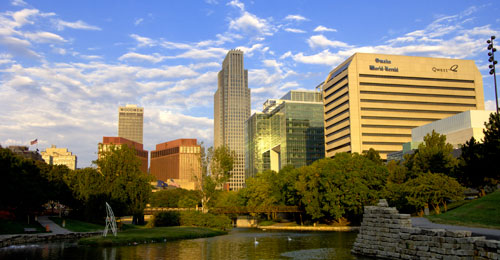 National Awards
The state has enjoyed many national awards and rankings during the past several years, earning it growing national and international media coverage, and deliberate consideration among top location consultants nationwide. A sampling of these includes:
2nd Best Job Market for Job Creation, Gallup Organization "Job Creation Index," 2010.

3rd "Lowest Cost of Doing Business," Milken Institute, Cost of Doing Business Index.

2nd for "Fairness of Litigation Environment," Institute for Legal Reform, U.S. Chamber of Commerce State Liability Systems Ranking Study 2008.

3rd in "Employment per Population Ratio for Populations of 16+ Years of Age," U.S. Bureau of Labor Statistics, 2007.

4th "Best State for Jobs," CareerBuilder.com, 2008.

4th "Lowest Average Travel Time to Work," U.S. Bureau of the Census.
Companies who call Nebraska "Home"
Greater Omaha, home to Offutt Air Force Base which houses USSTRATCOM, the U.S. Air Force Weather Agency and 55th Wing of the U.S. Air Force, also is home to more than 50 aerospace/aviation and defense-related companies.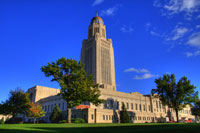 While most are located throughout metropolitan Omaha, other key companies in these industries include Royal Plastic Mfg. in Minden, Nebraska; Hamilton Sundstrand Corp. in York, Nebraska; BRC Holdings Inc. in Hastings, Nebraska; Lee Aerospace in Valparaiso, Nebraska; and General Dynamics Armament and Midwest Millwright Sales and Service in Lincoln, Nebraska.
Omaha's Peter Kiewit Institute's (PKI) new supercomputer attracts defense industry projects and PKI is certified by the National Security Agency. The Institute provides highly-trained students with security clearances to work on the country's most challenging security problems. PKI offers numerous majors through its Colleges of Information Science & Technology and Engineering. For example, cutting edge majors in the College of IST include Bioinformatics, Information Assurance and IT Innovation.
Nebraska also has become a magnet for Information Technology, Data Centers and related companies thanks to its extensive network of transcontinental fiber optic cable routes originally built to service Offutt Air Force Base, headquarters for the then Strategic Air Command.
Attracting New Business and Expansions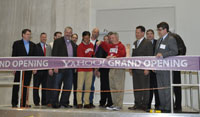 Recent expansions, or new business attractions, include a 150,000-square-foot Yahoo! Data Center in La Vista; a Yahoo! Customer Care Center in Omaha; PayFlex Systems USA, Inc. in Omaha (a national third-party administrator that hired and trained 100 new employees); Alegent Health (a high quality care provider) and CoSentry (a nationally recognized leader in Tier IV Data Center Services announcing a new joint data storage center) in Papillion; Cabela's Inc. (a sporting goods and outdoor recreations giant planning a 16,000-square-foot Data Center and potential 50,000-square-foot Technology Development Center) in Papillion; and Dell Perot Systems (which expanded operations in Lincoln to include an Infrastructure Solutions division).
Other major expansions included: Novozymes, Blair, Inc. (a manufacturer of enzymes used in ethanol production) invested $160-200 million in a new facility in Blair; Specialty Protein Producers LLC started a soybean protein extraction plant in South Sioux City; Vireo Resources expanded a nutriceutical manufacturing facility in Plattsmouth; Intersystems, Inc. (a leading manufacturer of bulk material handling, industrial sampling, automatic filling and conveyor systems) expanded a manufacturing facility in Omaha; Buckle, Inc. built a new $25 million, 240,000-square-foot distribution center in Kearney; Fidelity National Title Group, Inc. (an insurance operation that opened a new 67,000-square-foot facility in Omaha); and Cargill (who will occupy a new 30,000-square-foot office built near its biorefinery in Blair).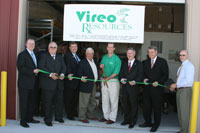 In the state's growing Renewable Energies industries a recent, exciting development is the partnership forged between China and Behlen Manufacturing. New groundwater geo-thermal technology pioneered by China has been patented and is being produced via heat pumps manufactured by Behlen Manufacturing. The Behlen Aqui-Flo™ Geothermal Energy Transfer System is currently being piloted in a Hershey, Nebraska, school. The system uses a single well to extract water, heat and cool the school, then put it back. Officials plan to tout the school nationwide as an innovative way to reduce energy, save money, and improve the learning environment.
Utilities Projects
Utility partners Nebraska Public Power District (NPPD) and Omaha Public Power District (OPPD) also have interesting projects currently in play.
NPPD and Midwest Wind Energy/Edison Mission are pursuing agreements to construct and operate 80-megawatt wind facilities in Petersburg, Nebraska (by 2010) and east of Broken Bow, Nebraska (by September 2012).
OPPD has contracted for wind-driven energy from farms near Humboldt, Bloomfield and Petersburg, Nebraska. Its current contract is with Third Planet Windpower, LLC—which is building a wind farm in Boone County near Petersburg. OPPD will purchase up to 40.5 megawatts of wind energy for 20 years from the farm. The facility is expected to be in operation by 2011. Wind and solar energy is being incorporated into OPPD's newest service center under construction near Omaha's Eppley Airfield. OPPD also is partnering with Metropolitan Community College and the EPS's ENERGY STAR program to offer a first-of-its-kind "Energy Star for Commercial Buildings" where individuals can learn how to measure energy use in buildings and identify places to save energy.
Nebraska - an Education Partner
On the education front, Nebraska is partnering with numerous government and industry partners to incorporate innovative courses in logistics, from the middle school through advanced college degree level, with the goal of establishing highly-trained and skilled employees ready to take the helm in the state's exploding transportation and logistics industry. Nebraska already boasts one of the highest graduation rates in the country, and this new curriculum offers students many alternatives to a more traditional liberal arts educational path.
Nebraska's Advantages
From aerospace and aviation to Yahoo!—and one of the lowest unemployment rates in the nation—Nebraska offers tremendous advantages for businesses considering new and expanding locations not readily found elsewhere: hard working, dedicated employees; low unemployment; abundant, low-cost electricity, water, and other industry-specific amenities; and an excellent geographic location for any industry. In addition, the State is an outstanding place for raising families given its extremely affordable cost of living; excellent health care and education systems; low crime rate; clean environment; and variety of interesting and fun recreational, cultural and historical attractions.
To learn more, please visit www.NebraskaAdvantage.biz.
About the Author