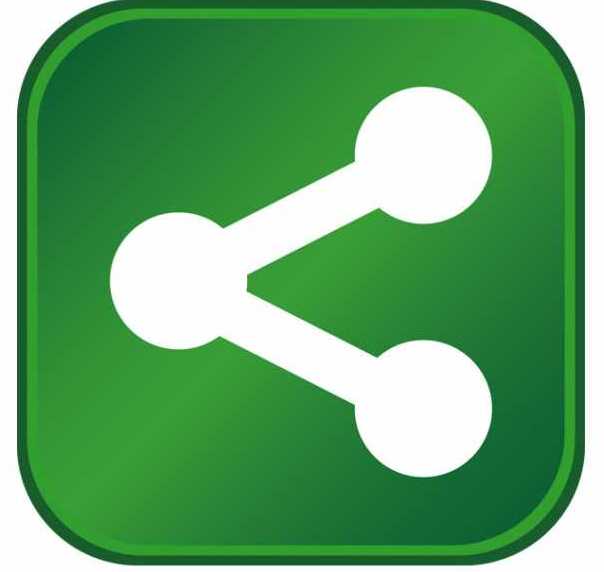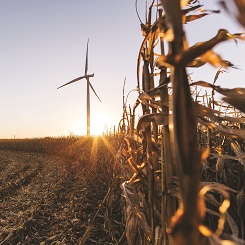 What do companies like Walmart, Nike, Starbucks and Procter & Gamble have in common? They have all signed the RE100 pledge, promising to use only electricity created from renewable energy, with wind power being the most prominent source.
In total, 58 companies have now made the commitment, ranging from furniture stores to software providers. The list is littered with Fortune 500 companies and some of the world's most recognizable brands.
While the publicity they get for instituting responsible, sustainable business practices is certainly welcome, these companies are also increasingly making this move and purchasing wind power from specific projects to protect their bottom lines. 
"The Pilot Hill Wind Project is important to Microsoft because it helps solidify our commitment to taking significant action to shape our energy future by developing clean, low-cost sources to meet our energy needs," said Brian Janous, director of energy strategy for Microsoft.
Wind Power's Falling Costs
Businesses, along with other emerging customers including universities and city governments, are now finding that purchasing wind power can help them save money, partially because it has become much cheaper. Over the last six years, wind's costs have fallen by 66 percent thanks to American innovation and improved domestic manufacturing.
Across the country, more wind is coming online for these reasons, and it's not just being supplied to the corporate realm. In 2015, wind was the largest source of new electric generating capacity, representing 41 percent of what came online in the United States in the past year. That's more than solar or natural gas. In total, there's now enough wind power capacity in the U.S. to power 20 million homes every year.
In many parts of the country, wind is now the cheapest source of new electric generating capacity, according to sources like Wall Street investment firm Lazard, Politifact and FactCheck.org.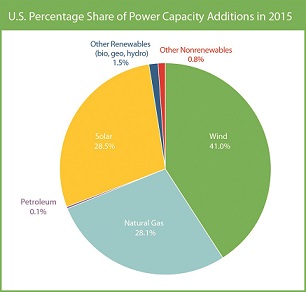 Businesses have taken note of these falling costs; one survey found 60 percent of corporations exploring renewable energy purchases cite economic reasons as their primary motivation.
How Businesses Cash In
Businesses most often buy low-cost wind power through structures called power purchase agreements (PPAs). Essentially, a buyer agrees to purchase the electrical output of a wind project at a fixed price over a period of 10-20 years, and the costs of that energy are outlined in a contract.
Many buyers like these structures because they remove volatility from their energy costs. Since it has no fuel costs, wind isn't subject to the same price fluctuations as other traditional generation sources. So when a company signs a PPA, it knows exactly what it will be paying for its electricity in five, 10 or 15 years, for as long as the contract is in effect. This fixed cost allows for much better long-term planning and resource allocation.
"Because energy is a large operating expense at Google, it is beneficial to power the data centers with low-cost wind power," said Gary Demasi, director of operations, energy and data-center location strategy at Google.
So not only is wind power clean and affordable, it is predictable.
A Mature Trend
Companies first began purchasing wind power in 2009, but the trend accelerated in 2014 and fully matured in 2015. In last year's fourth quarter, corporate and other non-utility buyers signed 75 percent of the total megawatts (MW) contracted through PPAs. For the whole year, it was 52 percent, marking the first time utilities, the traditional buyers of wind, did not sign the majority of MW contracted through PPAs.
These new customers are an important, complementary source of demand for wind energy. American wind power is on track to double in size by 2020, and double again by 2030, when it could generate 20 percent of the country's electricity. New corporate customers will help ensure the U.S. industry hits these targets.
Brian Deese, a White House spokesman, explained that these developments will have a big impact on the future of clean energy development in the U.S., noting, "When a large company sets certain goals, it can spur action across the supply chain through the adoption of clean energy and emissions reductions."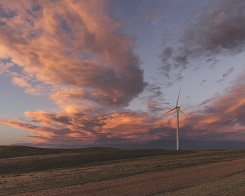 Where it's Happening
There are now utility-scale wind farms in 40 states, and North Carolina will soon make that 41. However, some states are clear leaders.
Texas leads the way in installed wind power capacity, with more than 17,000 MW. Iowa comes in second, but is first in the country in terms of wind as a percentage of the state's overall electricity supply, providing over 31 percent in 2015. A dozen states now rely on wind to supply at least 10 percent of their in-state electricity supply.
In general, the states with the richest wind resources, pro-wind policies and wholesale electricity markets are ripe for corporate wind purchases.
General Motors signed a PPA last fall to purchase enough wind energy to power its Arlington, Texas, factory, where it assembles 125,000 trucks every year, while Procter & Gamble purchased enough for its factories in Texas to produce all of its home care goods, like Tide and Mr. Clean. Meanwhile, Amazon is building a wind farm in Ohio to power the data centers it runs in the state.
"We continue to pursue projects that help to develop more renewable-energy sources to the grids that power (Amazon Web Services) data centers and bring us closer to achieving our long-term goal of powering our global infrastructure with 100 percent renewable energy," said Jerry Hunter, vice president of infrastructure at Amazon Web Services.
More Options Mean More Flexibility
Another reason wind power purchases are attractive for businesses is that they can be structured in a variety of ways, offering flexibility.
The most common option is for a wind project to sign a PPA for the electricity output from a specific project. The PPA can be considered physical, meaning that the electricity from the wind project is connected to the site of energy demand through a regional transmission grid. The PPA can also be considered virtual, in the case that the company does not receive the physical energy from the wind project, but it still pays the wind project owner a fixed price for the wind energy produced, and also receives the renewable energy credits (RECs) tied to the output.
Another option is to choose direct wind project ownership. In the past two years, IKEA purchased both a 98 MW Illinois wind farm and a 165 MW wind farm in Texas to offset the company's energy use in America.
Last, a company could choose to construct wind turbines onsite so their renewable electricity needs are met there with the option still available to receive additional needed energy from the grid. These projects typically operate at a smaller scale, with one to five wind turbines onsite.

Moving Forward
Wind energy continues to be a greater part of America's electricity mix, and corporate purchasers are helping to accelerate the transition to a clean energy economy. Companies like Walmart, Google and General Motors are some of the country's largest electricity users, so when they choose to use more renewable energy, it has a big impact. These new customers are sparking new opportunities for growth, and in turn, wind energy is helping them save money while operating in a more sustainable way. It's a growing partnership that helps all sides create a better tomorrow.
About the Author