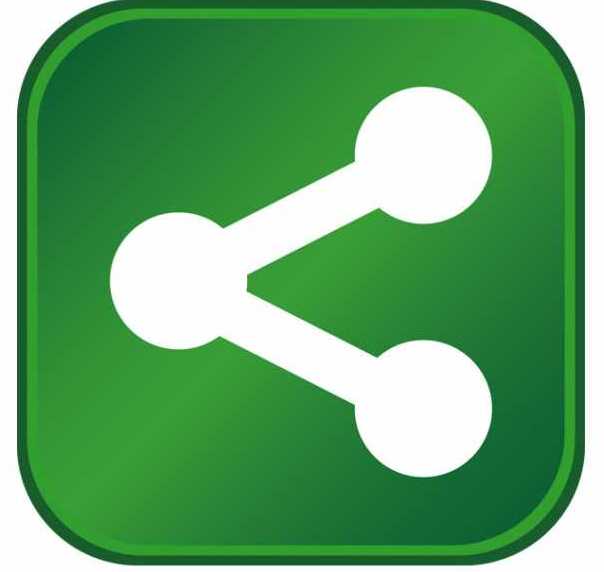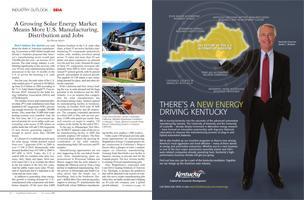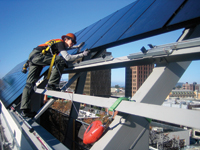 David Brower Center in Berkeley, California. Photo courtesy of Sun Light & Power.
Don't believe the stories you read about the death of American manufacturing. Economists at IHS Global Insight and Moody's Analytics projected that America's manufacturing sector would gain 330,000 jobs this year – an increase of 2.5 percent. The solar energy industry is contributing significantly to this recovery with over 50 new solar manufacturing facilities announced in the last 18 months in the U.S. to service the booming U.S. solar market.
Just last year, the total value of the U.S. solar market grew 67 percent to $6 billion, up from $3.6 billion in 2009 according to the "U.S. Solar Market Insight™: Year-in-Review 2010" released by the Solar Energy Industries Association (SEIA) and GTM Research.
The number of new grid-connected photovoltaic (PV) solar installations more than doubled to 887 megawatts (MW), providing enough electricity for roughly 180,000 homes. Also, more than 35,000 solar water heating systems were installed. And, for the first time, the U.S. government approved permits for seven utility-scale concentrating solar power (CSP) plants on public lands that will add 3,560 megawatts of new electric generating capacity – enough to power more than 700,000 homes.
It's all part of a worldwide growth spurt for solar energy. Global demand soared from over 7 gigawatts (GW) in 2009 to over 17 GW in 2010. Domestically, solar demand doubled from 435 MW in 2009 to 887 MW in 2010. Today, the U.S. is ranked fifth for installed solar after Germany, Italy, Spain and Japan. Most analysts expect the U.S. to overtake the others as the top market in the next few years. And the public wants more solar: 94 percent of Americans feel it's important to develop and use more solar.
In addition to generating clean energy, this growth is creating demand for U.S.-manufactured solar components and distribution channels. Of the more than 4,000 business locations in the U.S. solar value chain, at least 55 are active facilities manufacturing PV components (polysilicon, wafers, cells, modules, inverters) spread across 19 states and more than 50 new plants and plant expansions are planned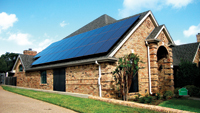 Residential installation in Arlington, Texas. Photo courtesy of SolarCity.
over the next few years. Demand for many of these PV components increased substantially from 2009 to 2010: wafers experienced 97 percent growth, cells 81 percent growth, and modules 62 percent growth. The pipeline of CSP plants is also stimulating demand for glass, steel and other domestic materials.
With California and New Jersey leading the way in solar demand and the huge potential in the Southwest and the Mid-Atlantic, it is no surprise that competition for solar manufacturers has developed among states. Suntech opened its manufacturing facility in Goodyear, Arizona, in October 2010 with 30 MW of production capacity and 40 employees. The company expanded operations to a third shift in May and can now produce 15,000 solar panels per month. Suntech remains on target to employ 150 workers at the facility by the end of 2011.
To the east, in Albuquerque, New Mexico, SCHOTT opened a state-of-the-art solar manufacturing facility in 2009 that currently employs 350 workers. The first-of-its-kind plant reflects the growing diversification of the solar industry, manufacturing both CSP receivers and PV modules.
Manufacturing opportunities are not only happening in the sun-baked Southwest. Solar manufacturing plant announcements in Wisconsin, Indiana and Illinois suggest that the solar industry is helping the Midwest recover from a long decline in traditional manufacturing. Similar activity in Mississippi and South Carolina shows that the South, too, is benefitting. And in the Northwest, Oregon's skilled labor force and strong policy support is enticing PV manufacturers like SolarWorld, whose Hillsboro manufacturing facility now employs 1,000 workers.
Utility-scale CSP projects provide additional opportunities for manufacturing. BrightSource Energy's Ivanpah project under construction in California's Mojave Desert offers a glimpse of solar's catalytic impact on American manufacturing. Gestamp Solar Steel built a new facility in Surprise, Arizona, to provide steel for the Ivanpah project. The new Arizona facility is creating 50 local manufacturing jobs.
Also, BrightSource contracted with Cone Drive Gearing Solutions of Traverse City, Michigan, to produce the gearboxes that will be attached to the mirrors at Ivanpah; this move creates manufacturing jobs where they are badly needed and is helping an 85-year-old company join a global growth industry.
Spurred by the expansion in U.S. solar manufacturing, the United States has become a significant net exporter of solar energy products. According to GTM Research's 2010 Solar Trade Assessment, U.S. total net 2009 exports were valued at $723 million. The largest solar energy product export is polysilicon, the feedstock for crystalline silicon photovoltaic panels, valued at $1.1 billion.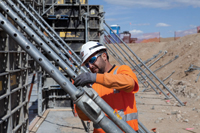 Ivanpah Solar Electric Generating System in Ivanpah, California. Photo courtesy of Brightsource Energy.
Evidence of solar's growth can also be seen in the size of its expanding workforce. As of August 2010, solar companies across the value chain employed nearly 100,000 Americans. The growth is expected to continue in 2011. According to The Solar Foundation's (TSF) 2010 National Solar Jobs Census, California is home to about 30 percent of all solar companies in the United States. Pennsylvania, Texas, Michigan, Wisconsin, Colorado and Georgia also report either large numbers of solar companies or large numbers of workers at solar-related firms.
Many of these workers are in manufacturing jobs along the supply chain. TSF found that the average solar manufacturing firm employs 24 solar workers. Nationally, solar manufacturers employ nearly 25,000 solar workers and are expecting strong growth this year. These companies anticipated adding about 9,000 solar workers from August 2010 – August 2011, an astounding 36 percent growth rate, and about double the rate employers expected.
In addition to becoming increasingly cost-competitive with traditional energy sources and meeting growing demand for clean sources of energy, the solar industry has benefited from smart policies at the federal level in recent years.
SEIA led the charge in 2010 for a one-year extension of the Department of Treasury Section 1603 Program, which Congress finally extended in December. According to the Bipartisan Policy Center, the 1603 Program has been the single most effective policy at driving deployment of renewable energy in the past two years. The 1603 Program offers project developers flexibility in how they monetize the 30-percent solar investment tax credit. It was a response to the dismal tax equity market, decimated by the 2008 financial crisis that had still not recovered. With the 1603 program, entrepreneurs across the country are able to attract financing, continue growing their business and install more solar.
Though the industry is making great strides, more action is needed to deploy more solar energy on roofs across the region and create more roofing jobs. Today, we are working make sure the 1603 Program does not expire at the end of 2011. We are also seeking ways to remove the mountains of red tape and other regulatory barriers that make it difficult and expensive for many home and business owners to go solar.
In addition to the 1603 program, the Advanced Energy Manufacturing Tax Credit, also known as Section 48C, was very successful, providing a boost to over 50 solar manufacturing facilities in 20 states. However, the program was capped at $2.3 billion, all of which has been allocated. SEIA is working to extend and expand this program, which is crucial to America's global competitiveness.
Despite the economic challenges facing the United States, there is excitement these days in the solar industry. The good news is that the public is on our side and we expect an even brighter future as demand for clean solar energy grows – both in the United States and internationally. With a long tradition of innovation and a skilled workforce, the United States is an ideal place to manufacture our solar future.
About the Author