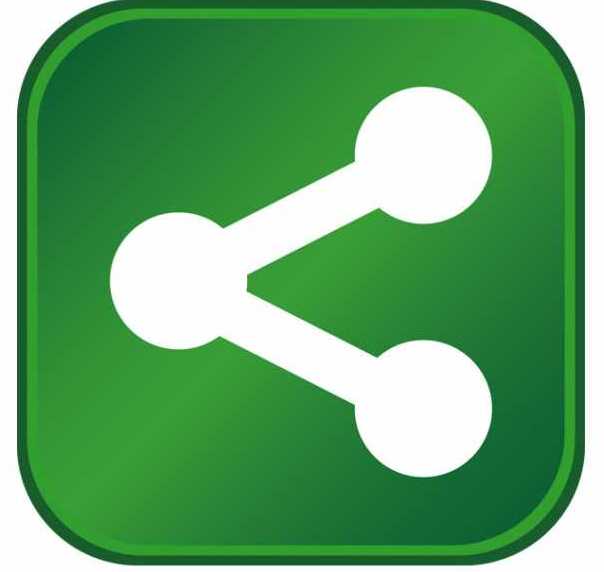 Take everything you might expect from a world-class business and technology park—exceptional facilities, eco-friendly construction, convenient transportation, ample resources and an educated, ready workforce—and add a vibrant multicultural community and a few thousand miles of beaches. Then you might have an idea of what it's like to operate in the Caribbean's financial, industrial, economic and energy hub, the Republic of Trinidad and Tobago.
If that sounds appealing, then you're in luck. The Caribbean tiger, as the country is known, has just opened one of the region's largest and most advanced eco-industrial technology park, and it's ready to help you take your ideas from concept to commercial success at Tamana InTech Park.
Tamana InTech Park
Tamana InTech Park is Trinidad and Tobago's first Science and Technology Park, built by Evolving TecKnologies and Enterprise Development Company Ltd. (eTecK), a special purpose state agency under Trinidad and Tobago's Ministry of Trade & Industry. Located at Wallerfield, a former United States World War II Air Force Base, Tamana is an 1,100-acre park featuring award-winning design and scalable, cutting-edge infrastructure.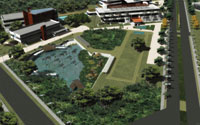 The country's prime location offers easy access to cities throughout the U.S., Canada, Central and South America, Europe and the Caribbean as well as cost-competitiveness. The Park's location is just as strategically sound: approximately 10 minutes from the Piarco International Airport and 45 minutes from the country's capital of Port of Spain; the Park offers easy access for international workers, visitors and shipments.
A closer look at Tamana InTech Park reveals that, in fact, every aspect has been crafted to create the ideal business environment. The Park's eco-industrial focus balances nature and technology by integrating preservation and sustainable development with state-of-the-art facilities. Tamana's 150,000-square-foot Flagship Building is designed for the efficient use of resources - i.e., air, energy, water and materials - while providing the highest possible interior environment for workers and minimally impacting the surrounding environment.
The building's design also takes work-life balance into consideration, a hallmark of Trinidad and Tobago's commitment to the celebration of life. Workers enjoy conveniences such as on-site daycare, banking and fitness centers, making it easier to accomplish all those necessary tasks and have time leftover for enjoying the day.
Tamana also takes a whole new approach to the concept of an "industrial area." Located among Trinidad's indigenous Moriche palms on a nature preserve, the Park's design devotes 30 percent of its environment to green space, and Tamana's on-site "park and ride" transportation system eliminates traffic and congestion. And at the center of the Park lies the Caribbean's largest butterfly emporium, which provides a visitor attraction as well as a place to advance the study of the area's unique ecosystem.
Does all this sound like an extraordinary way to do business? Probably. But that's just how they do things in Trinidad and Tobago. It's a culture—and an economy— powered by ideas.
Innovation Powered by Collaboration
"We are a profoundly creative people, and the task before us is to apply this creative strength to achieving business and national goals," says the Honourable Minister Stephen Cadiz, Trinidad and Tobago's Minister of Trade & Industry. "While we cannot compete with larger nations in terms of output due to economies of scales, there is no limit to our capacity to innovate."
The first oil well in the Western hemisphere was drilled in Trinidad and Tobago, signaling the start of a century of oil production in the country. But in the 1970s, Trinidad and Tobago's government embarked on a mission to diversify the country's economy based on one of the islands' other plentiful resources: natural gas. The result was the Point Lisas project, a technology-driven initiative based on a cluster system, which resulted in Trinidad and Tobago supplying 70 percent of the liquefied natural gas (LNG) to the United States.
"Clusters bring together, in one geographic location, companies, customers, suppliers and academia in a particular industry," explains Angela Hordatt, vice president of business development, eTecK. "Because all these people are in one location, they can form strategic partnerships and feed off the synergies created, both competitively and cooperatively. Point Lisas, a highly successful cluster, proved that this strategy dramatically increases the level of innovation and success of the entire cluster. I was a young engineer when Point Lisas started. I can't wait to see Tamana blossom in the same way."
Tamana's cluster environment fosters industry in four distinct segments: information communication and technology (ICT); high value manufacturing; agro-technology; and what Hordatt refers to as clean energy and green technologies.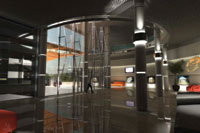 "By clean and green, we mean that Tamana will advance the development of technologies that are both environmentally friendly and energy efficient," explains Hordatt. "Our anchor tenant is the University of Trinidad and Tobago, an academic institution that has dedicated remarkable resources and commitment to developing sustainable technologies."
In fact, the University of Trinidad and Tobago (UTT), an academic institution with an entrepreneurial-driven curriculum, maintains an entire energy department focused on creating and taking to market technologies that maximize and preserve the world's natural resources. UTT's engineering students are also held to this standard; their student work is judged on a triple bottom line: how well it serves people, profit and the planet.
UTT isn't the only academic institution enriching the clusters of Tamana InTech Park. The Park is also linked to The University of the West Indies, creating rich and plentiful opportunities to develop synergistic partnerships between academic research and industry.
"Tamana InTech Park will be the crest of the wave that would help transform our economy to one that is more driven by knowledge-based enterprises and innovative industries," says Mr. Lindahl Ghany, director, Memory Bank Computers Ltd. "The layout lends itself to the blending of educational facilities and private sector businesses – a mix which is critical to achieving the end product needed. Its location and easy access to our airport hub means we can attract the international business partners who will complement the locally owned industries."
The Building Blocks of Innovation
Tamana helps connect science and technology ideas with programs to promote business development and streamline regulatory processes for investors. From start-ups to multinational operations, Tamana tenants have an on-site support team:
Trinidad and Tobago Business Information Centre (TTBIC) provides one-stop-shop access for all necessary information and approvals.

TTBIC facilitates permitting, licensing and offers regulatory consultation and clearance, business analysis and support, and fast-tracking of approvals.

Tenants also have access to marketing consultation, and seed-funding.
Tamana also offers a world-class infrastructure that ensures access to connectivity, security, reliability and convenience. Cutting-edge security and surveillance systems deliver crucial data protection, while the Park's advanced IT and communications infrastructure offers a range of critical benefits.
Of importance to note is the location of one of the region's only Tier III data centers at Tamana InTech Park delivering high-capacity, flexible and cost-effective data management and storage.
A Paradise of Progress
The islands of Trinidad and Tobago are widely known as idyllic havens, but these Caribbean jewels offer much more than a great place to escape. With one of the highest literacy rates in the Western Hemisphere—98.6 percent, according to the U.S. Dept. of State—the Republic of Trinidad and Tobago offers an educated, ready workforce. The islands' long experience in heavy industry has formed the basis for its highly capable and skilled workforce.
Trinidad and Tobago also boasts a higher gross national product per capita than Brazil, Costa Rica, Jamaica, Mexico and Venezuela, while offering highly competitive labor costs, as well as customized incentives that have proven helpful for a number of companies that already call the islands home.
If you'd like to see what it would be like to be part of this paradise of progress, the islands of Trinidad and Tobago are ready to welcome you. Find out more about Tamana InTech Park at www.tamana.com.
About the Author