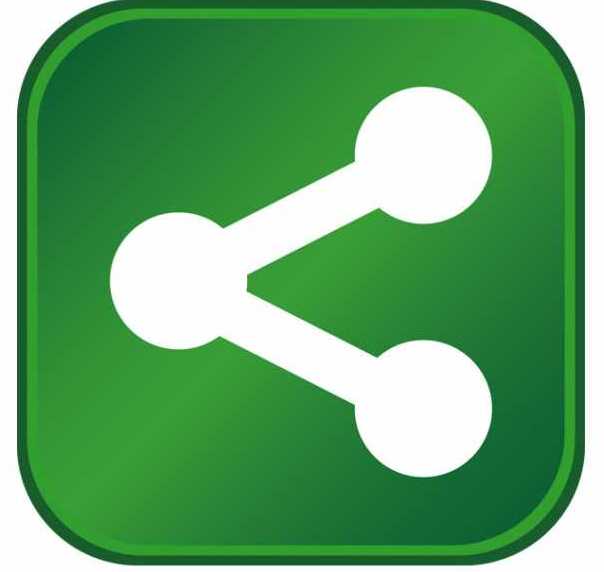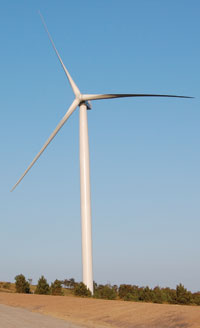 Wind power is ready today–ready to support hundreds of thousands of jobs, avoid carbon emissions on a large scale, and strengthen America's energy security. According to a 2008 U.S. Department of Energy (DOE) study, for an investment costing the average American household less than a can of soda a month, wind power could generate 20 percent of the nation's electricity by 2030–as much as nuclear power today.
Getting a fresh breeze in its sails from economic recovery legislation passed in early 2009 by Congress, the U.S. wind industry broke all previous records, installing over 10,000 megawatts (MW) of new generating capacity (enough to serve over 2.4 million homes) during the year. The excellent news on new installations, however, was tempered by a short-term slowdown in wind turbine and component manufacturing, which left total wind industry jobs at year's end essentially flat compared with the end of 2008.
The centerpiece of the recovery legislation for wind was a provision allowing wind farm developers to receive a direct payment from the U.S. Treasury, rather than the previously existing Production Tax Credit (PTC). Under this provision, the Treasury provided more than $1.5 billion in 2009 in crucial capital to at least 37 different wind projects using large and small turbines, powering the equivalent of 800,000 homes and providing a lifeline for the industry. Even more importantly, 40,000 jobs were saved.
While 2009's manufacturing slowdown was bad news, the good news is that a solution is readily available: a strong national Renewable Electricity Standard (RES) with aggressive and binding near- and long-term targets which will create the market certainty that manufacturers need in order to invest, enabling the U.S. to become a wind turbine manufacturing powerhouse. According to a recent national poll conducted by Public Opinion Strategies and Bennett, Petts & Normington, a bipartisan team of pollsters, an RES is also politically popular among American voters and has support across party lines, with 65 percent of Republican voters, 69 percent of Independents and 92 percent of Democrats favoring the legislation. Turbine manufacturing needs long-term policy certainty and market pull in order to grow. We urgently need comprehensive energy and climate legislation that includes a strong national RES, to provide the certainty manufacturers need to invest billions of dollars and create hundreds of thousands of American jobs.
Long History of Promoting Wind Power
Formed in 1974, the American Wind Energy Association (AWEA) is a Washington, D.C.-based national trade association representing wind power project developers, equipment suppliers, service providers, parts manufacturers, utilities, researchers and others involved in the wind industry.
With over 2,100 business members, AWEA promotes wind energy as a clean source of electricity for consumers in the U.S. and around the world.
Through Congressional outreach and education, AWEA supports policies aimed at generating investment in the U.S. economy, improving U.S. energy security, and slowing climate change, including extension of the federal PTC for wind energy, establishment of a national RES, support for efforts to strengthen and expand the U.S. electric transmission system, and more.
AWEA also hosts the annual WINDPOWER Conference & Exhibition, which is the largest annual wind conference and exhibition in the world. WINDPOWER features an exhibition of wind energy technology as well as presentations on industry trends, technology developments and renewable energy policy developments. The WINDPOWER 2010 Conference & Exhibition took place May 23-26 in Dallas, Texas.
A Growth Industry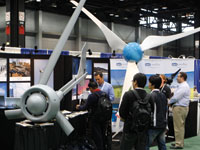 In 2009, wind installations increased by a very strong 39 percent (10,012 MW added), bumping up wind energy's five-year average annual growth rate to 39 percent as well. U.S. wind projects today generate enough electricity to power the equivalent of 9.7 million homes.
With more than 35,000 MW of wind generation operating at the end of 2009, the U.S. today has more wind capacity installed than any other country. Yet a closer look at the numbers gives a different picture. In 2009, the U.S. installed more wind capacity (10,012 MW) than it ever had before, but even so, it trailed both Europe (10,500 MW) and China (13,800 MW). Why do these regions continue to outpace the U.S. despite its huge industrial capacity and enormous wind resource? Because both the European Union and China have made binding long-term commitments to install renewable energy, while the U.S. has not.
Wind Works
Wind works to create jobs. A major study released in February found that a strong national RES would support hundreds of thousands of new American jobs. The "Job Impacts of a National Renewable Electricity Standard" study, conducted by independent firm Navigant Consulting, Inc., and released by the RES Alliance for Jobs, found that a 25 percent by 2025 national RES would support an additional 274,000 renewable energy jobs (the equivalent of a cumulative 2.36 million job-years of work) over a no-national-policy option.
Wind works to cut electricity costs and reduce fuel price risks. This is because wind power does not need any fuel for its operations. Instead, wind "backs out" more expensive sources of generation–that is, whatever costs the most at any given time during the day when the wind is blowing. In large, competitive electricity markets, this lowers the electricity market price for all generators. Renewable energy protects customers when they need it the most: when gas or other fossil fuel prices rise.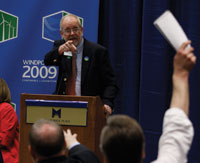 Wind works because it is abundant. In early 2010, the National Renewable Energy Laboratory (NREL) released a new assessment finding that U.S. onshore winds could generate 37 trillion kilowatt-hours of electricity annually, or nearly nine times the nation's total electricity use.
Wind works to create economic opportunity across the country and across different sectors of the economy. Wind projects in windy rural areas generate local construction and wind technician jobs, land rental payments to landowners and farmers, and tax income, revitalizing the rural communities in which they are located. Wind power also creates manufacturing jobs across the country, often in the Southeast or in industrial states in the Northeast and Midwest.
Wind works to reduce the environmental and health impacts of energy production. A National Academy of Sciences study released in 2009 found that fossil fuels cost the U.S. $120 billion a year ($400 per person), including $62 billion from coal plants, in damages to human health. Strikingly, those figures do not include damages from climate change, harm to ecosystems, or effects of some air pollutants such as mercury. The NAS study is a reminder of the enormous hidden cost that energy-related pollution inflicts on our society.
Wind works to cut carbon emissions. The electricity generated by the entire fleet of wind turbines installed and operating in the U.S. at the end of 2009 will avoid emitting over 57 million tons of carbon dioxide annually, based on the average emissions of the mix of fuels we currently use for electricity generation. That is equivalent to taking over 9.5 million cars off the road.
Wind works to save water. Each year, the electricity from the entire fleet of turbines installed by 2009 will conserve over 20 billion gallons of water which would otherwise be withdrawn for steam or cooling in conventional power plants.
After years of anti-wind groups raising the specter of neighboring property values being reduced by wind farms, the U.S. Department of Energy's Lawrence Berkeley National Laboratory released a comprehensive study of the issue in December 2009. The study, which looked at 7,500 home sales in nine states over 11 years, found that "[N]either the view of the wind facilities nor the distance of homes to those facilities was found to have any consistent, measurable, and significant effect on the selling prices of those homes."
Similarly, in a December 2009 report, a multidisciplinary panel of experts concluded that sounds produced by wind turbines are not harmful to human health. The panel of medical doctors, audiologists, and acoustical professionals from the U.S., Canada, Denmark, and the United Kingdom convened by AWEA and the Canadian Wind Energy Association undertook extensive review and analysis of the body of peer-reviewed scientific literature on the topic.

About the Author