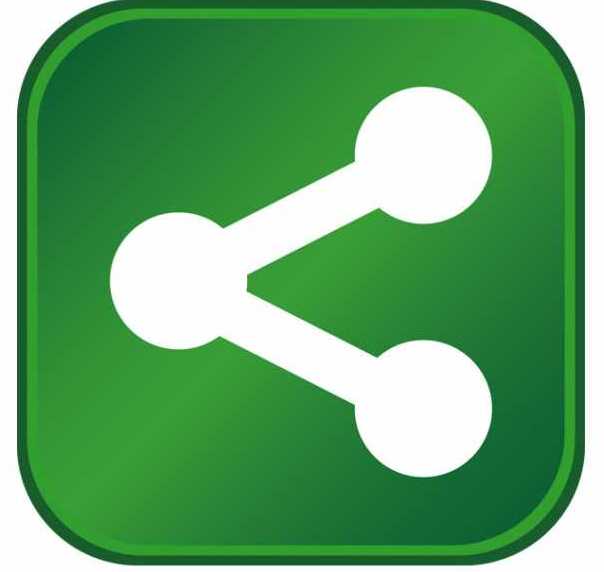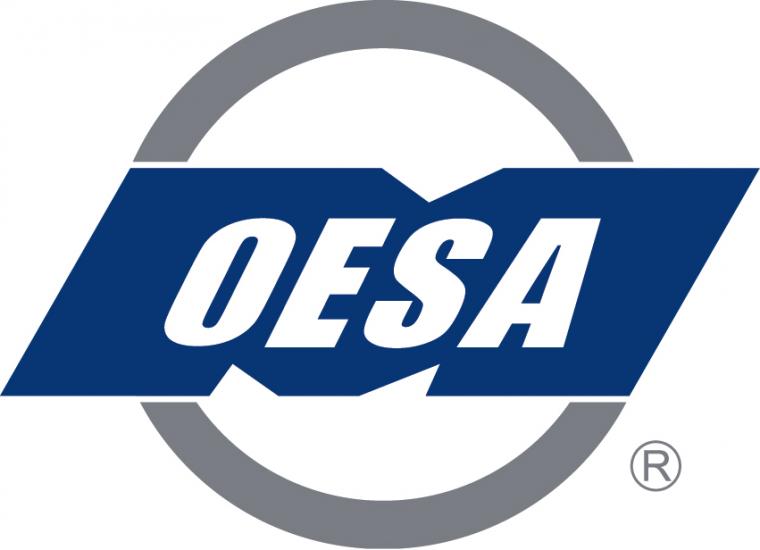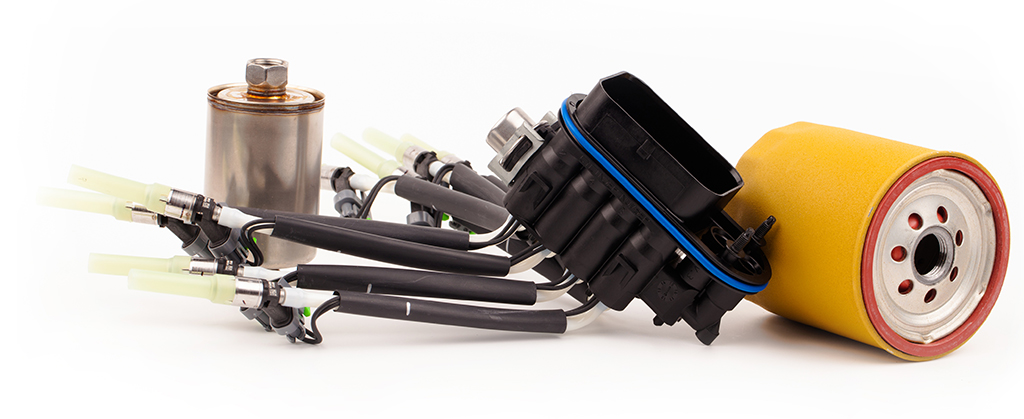 The OESA Automotive Supplier Barometer, sponsored by RSM US LLP, captures the pulse and 12-month business sentiments of top executives in the North American supplier industry. The Barometer is a quarterly snapshot of supplier sentiment on commercial issues, the business environment and strategies influencing the supplier industry.
The Supplier Barometer Index (SBI) for Q1 2019, a numeric measure of suppliers' outlook on the automotive industry, continues to reflect a negative sentiment. This pessimism is due primarily to the uncertainty in global trade policies and persistent weakness in U.S. passenger car volumes. Despite strong economic fundamentals (i.e. low unemployment and high consumer confidence), the SBI posted a negative reading of 35, 15 points below a neutral level of 50, and the lowest reading since Q2 2009. This reading is a dramatic 22-point reversal from Q1 2018 when tax breaks and planned infrastructure spending pushed the SBI to a positive reading of 57.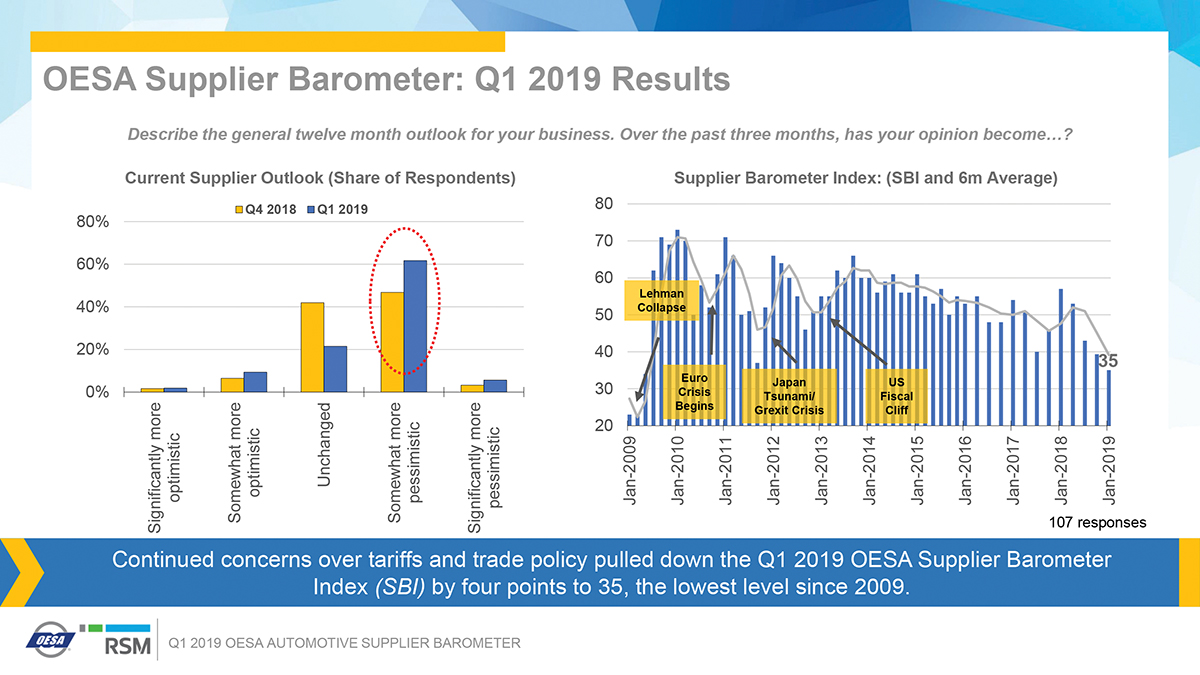 According to the results of the 2019 Q1 Barometer:
• Trade policy is the most significant industry threat to automotive suppliers.
• Sub-tier material cost premiums are increasingly impacting suppliers' profitability.
• Research and Development spending remains at 4 percent of total sales, holding at 4Q 2018 levels.
Trade policy concerns include tight supply chains, rising commodity prices, the impact of Section 232 and Section 301 tariffs, prospects for passage and implementation of the U.S.-Mexico-Canada Agreement (USMCA) trade pact, as well as limited availability of skilled labor. Each concern adds uncertainty to the planning environment, causing automakers and suppliers to reassess, revise and potentially postpone incremental investments until greater clarity can be determined.
Suppliers have been remarkably resilient in the face of U.S. trade policy uncertainty. As investment decisions approach, suppliers must proactively analyze and prepare a range of optimized solutions that can be deployed once policy outcomes are confirmed.
Material Cost Premiums are impacting more than 80 percent of suppliers, up from 60 percent last year. At the same time, shortages of components and raw materials are impacting a third of suppliers.
R&D spending remains unchanged from last year, at 4 percent of total sales. Approximately 80 percent of suppliers' R&D budget is allocated toward the development of specific programs, while 20 percent is allocated to researching future technologies. Advanced materials and Industry 4.0 are the leading areas for future technology investment.
It is encouraging that suppliers have expressed commitment to their planned investments in R&D over the next two to three years—despite current economic and political uncertainty.
The Q1 2019 Supplier Barometer survey also focused on Production and Planning:
• Production: Responses suggest a median North American production expectation of 16.7 million units in 2019, down about 300,000 units from 2018. Breakeven volume estimates are well below the current outlook, yet the gap continues to tighten compared to prior years. Median capacity utilization fell 5 percentage points from 2018 to 80 percent, and the range of responses widened a bit.
• Planning: The availability of skilled labor, both white-collar and blue-collar, continues to be the most common challenge suppliers face. As a result, many companies are planning for overtime premiums in 2019. Additionally, cancelled or scaled-back program volumes are adding to inventory costs. Long term, the greatest amount of volume uncertainty remains in the car segment and programs related to alternative propulsion.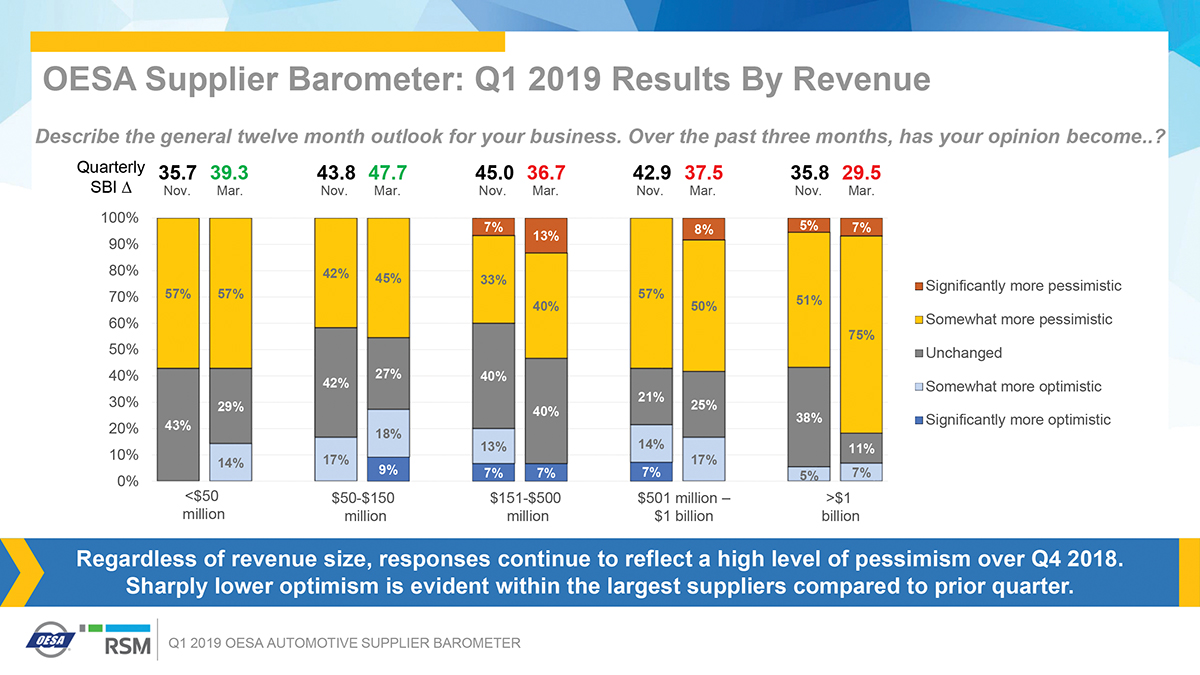 Industry Outlook and Trends
Despite a myriad of market forces impacting the supply base, the economy is expected to remain on track with growth near 2.5 percent this year. Vehicle demand and output remains strong, as OESA's Affiliate Forecast Matrix projects a North American production volume of 16.9 million units in 2019. Suppliers that plan well will be better positioned to capitalize on emerging opportunities and triage undesirable outcomes resulting from the dynamic market environment.
In collecting the full supply-chain outlook, OESA and Harbour Results Inc. (HRI) completed a similar survey of automotive tool makers. The results from the latest Automotive Tooling Barometer indicate the tooling industry experienced a soft start to 2019 with increased business anticipated for the second half of the year.
"We expect 2019 North American vendor tooling spend to be around $8 billion. However, there are a number of factors, including tariffs and automaker restructuring, that could significantly impact the industry and tooling spend," said Laurie Harbour, president and CEO of HRI. "As a whole, the tooling industry is slow, but we are seeing some shops that remain busy—primarily because they have diversified their customer base."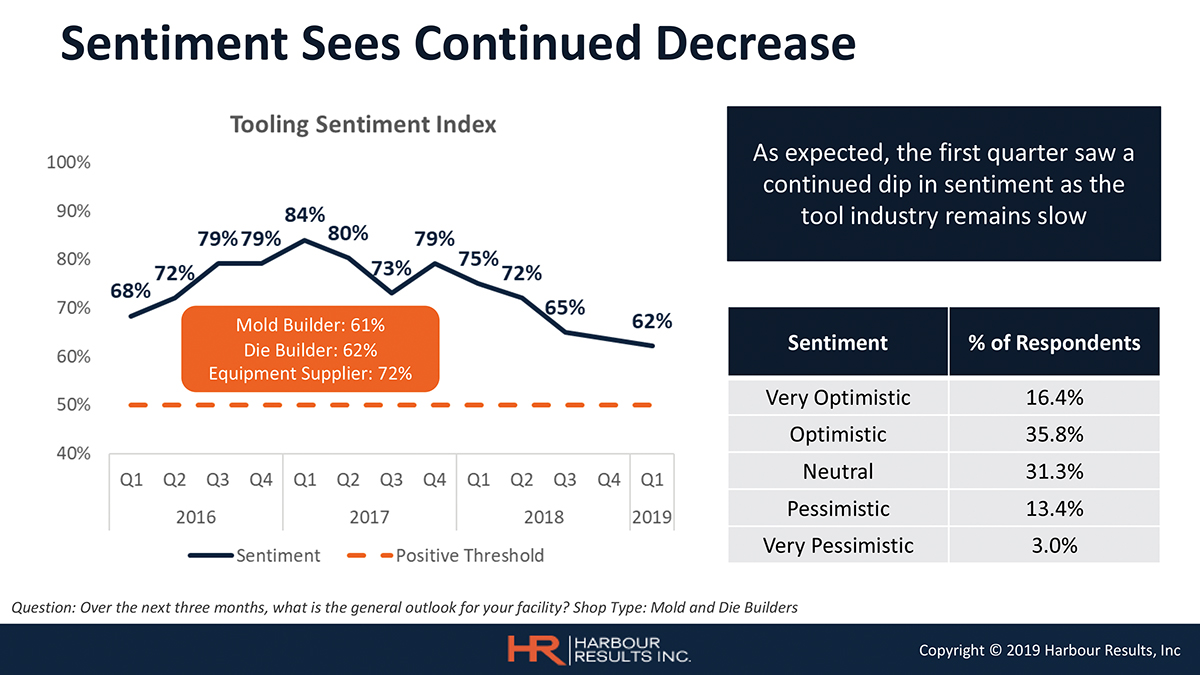 In Q1 2019, mold shops experienced a slight utilization increase of 2 percent compared to Q4 2018 (77 percent to 79 percent), while die shop utilization dropped drastically from 85 percent to 74 percent in the same timeframe. This decrease in the die market is due to the manufacturing industry slowdown. Because dies require a longer lead time than molds, it is an indicator that mold shop utilization will likely dip in the near future.
Work on hold continues to trend upward with an average of 12.6 percent, driven by several automotive program delays. Based on these factors, tool shop owner sentiment dropped to 62 percent, the lowest point recorded since measurement started in Q1 2016.
The study also looked at shops' investment strategies. Despite decreased revenue from 2017 to 2018 at both mold and die shops, both made clear efforts to invest in design talent in 2018. Additionally, in 2019, mold builders are planning to contribute 5.2 percent of revenue toward new capital expenditures, compared to 5.6 percent in 2018. In 2019, die builders expect to invest 4.0 percent of revenue, compared to 3.9 percent in 2018.
"Across the tooling industry, we expect investment from 2018 to 2019 to remain relatively flat," said Harbour. "Shops are investing in improving their business, but much of the focus is on process improvement and software purchases such as CAM, scheduling and machine monitoring tools."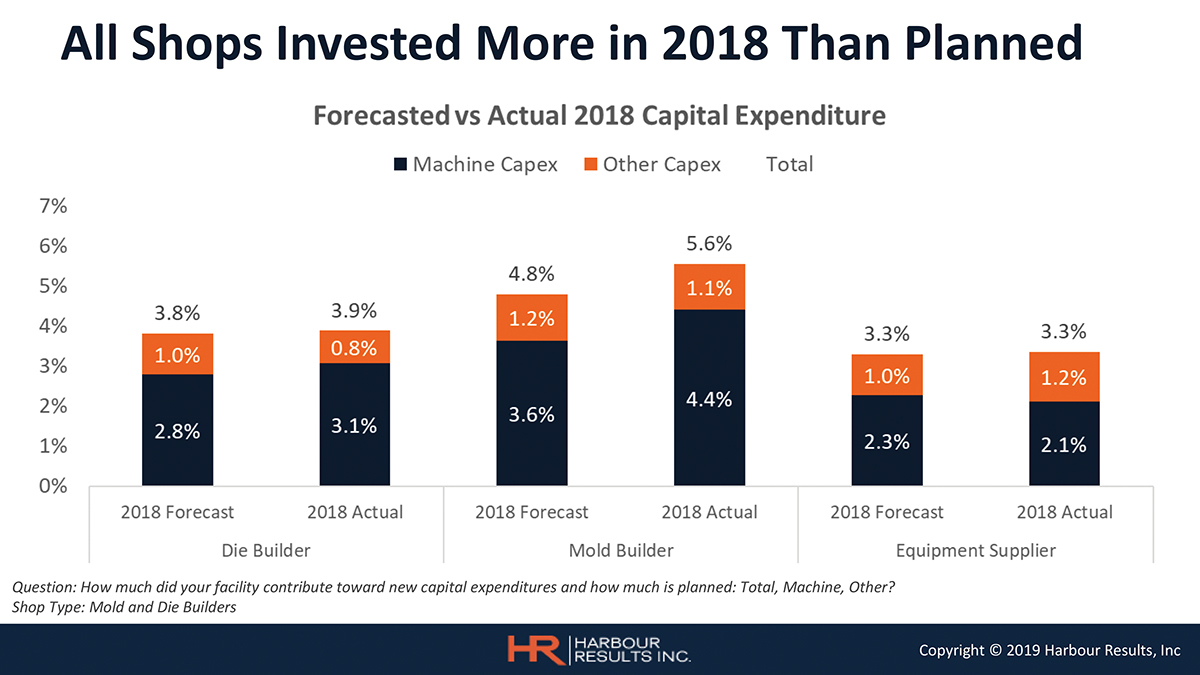 Finally, the survey looked at shop profitability. Although still considered within the good range, because of the industry slowdown, on average tool shop profitability is down.
"With continued uncertainty throughout the automotive industry due to trade concerns, tariffs and program delays, we anticipated there would be a Tooling Barometer sentiment dip," said Julie A. Fream, president and CEO, OESA. "We continue to work with OESA Tooling Council members to address these issues and increase tool shop involvement in OESA activities in Washington, D.C. The annual MEMA/OESA Legislative Summit is an opportunity for tool shop owners to voice concerns directly with Congressional staffers on Capitol Hill."
The survey population was comprised of mold shops (68 percent) and die shops (20 percent) in the U.S. (45 percent), Canada (42 percent), Europe (7 percent) and Asia (3 percent). Shops with revenue ranges less than $5 million up to greater than $40 million were represented, with the largest percentage of shops (29 percent) coming from the $10 million to $20 million range.
A copy of the Q1 OESA Automotive Supplier and Automotive Tooling Barometer results and the Sentiment Index chart are available on the OESA website at www.oesa.org/resource/oesa-automotive-barometer-studies. T&ID
About the Author