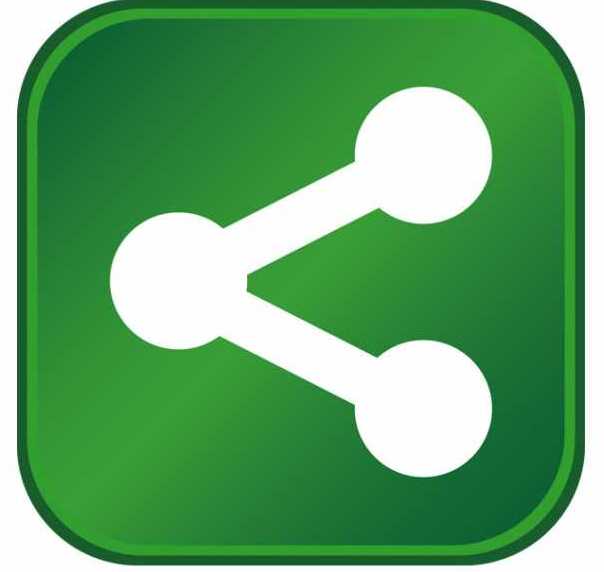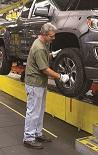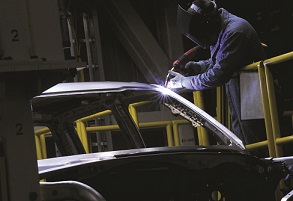 The risk mitigating benefit of diversification is an axiom that spans a multitude of applications.  From investing and finance to energy policy to biology, the old adage "don't put all your eggs in one basket" encapsulates sound advice and an implied warning. The cost of diversification can mean forgoing some short-term gain through scale and efficiency; however the buffering effects of diversification can help ensure stability and maybe even existence over the long run.  
Though almost no industry escaped the last recession unscathed, the automotive industry perhaps suffered more than others on account of the lack of diversification that permeated through many segments of the business. Leading up to the economic collapse in 2008 and the subsequent downfall of the big three U.S. automakers, the industry as a whole was made vulnerable by a lack of diversification at many levels. It was inherent in the manufacturers themselves and had become pervasive broadly in the regional economies that relied on them and narrowly in the individual suppliers that supported them. 
The impact is most dramatically displayed in the tragic and rapid decline witnessed in Detroit and its surrounding towns. With an automotive industry that account for nearly four percent of GDP, the effects have been felt nationally. It also has been felt individually by the many employees whose jobs disappeared effectively overnight as the singular product their employer supplied was suddenly not in demand.  
If you make one thing, or several very similar things, especially in an industry that is not known for quickly responding to changes in market demands, you run a high risk if the market suddenly shifts. For a time, the prominence of the automakers gave them the luxury of being able to steer the market. Over the course of a century they profitably designed, manufactured and sold a product making mostly incremental changes. Along the way, the makers succeeded in wringing out productivity from its supply network, leaving many suppliers solely dependent on their demand. Aside from the Great Depression, during which the industry was still relatively young, the domestic automakers had not been confronted with such an abrupt and intense challenge to their existence as they experienced starting in 2007, an event that would test the strength of their foundation like no other. 
At a glance, it might have appeared at the time that manufacturers were extremely diverse, at least in the sense of the variety of models being offered. GM had as many as 95 models at one point in its portfolio, while some of its competitors that weathered the economic crisis much better, particularly foreign brands, had far fewer offerings. As it turned out, while the domestic brands were indeed producing many different vehicles or at least several versions of them across various brands, they essentially were only making money in one segment of the market — light trucks and SUVs. While there was an appearance of diversification from the outside, the segment of business that was producing reliable profits was very narrow. At the peak of this phenomenon, light truck sales accounted for as much as 55 percent of total U.S. vehicle sales. For domestic manufacturers, the share was even greater.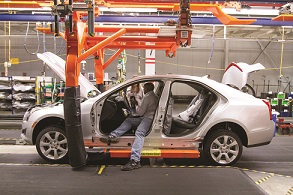 With only one sturdy leg to stand on, it was no wonder the whole thing came crashing down once it was swept out from under. A sharp spike in gas prices quickly shut off the tap. With those prices lingering, a growing awareness by consumers toward the environmental impacts of fossil fuel consumption and a fundamental shift in the economy which has made consumers more keenly focused on efficiency and value, U.S. automakers found themselves ill-suited to meet these new demands. Outside of their industry-leading lines of trucks, the array of what these companies had to offer was not very compelling.
With assistance from the government, foreign investment and dramatic restructuring, the big three automakers have managed to collect themselves and plot a new course. And while manufacturers are currently reaping the benefits of strong truck and SUV sales, their return to profitability this time appears to have the underpinnings of a more diverse overall lineup of vehicles that more broadly address the demands of today's consumers. With a renewed focus on the evolving future of the auto market, the makers have eliminated redundant and unprofitable brands and shifted resources to expanding their offerings in more relevant segments. Evidence of this can be seen in improved fleet fuel economy which has increased from an average of about 18 mpg in 2008 to 27 mpg in 2014. Most notably, this is a largely due to the introduction of more high-quality, smaller, economical vehicles and not just powertrain improvements. 
GM is has announced its intent to compete with Tesla in a race to introduce the first mass-produced electric vehicle with a range above 200 miles costing less than $35,000. Even as fuel prices have plummeted, demand for electric vehicles is growing strong, up 33 percent year over year in 2014. Some are tempted to predict the eventual takeover of electric vehicles. The more likely scenario is that the automotive industry, and transportation overall, will more closely mirror the direction of the energy sector. Energy is being produced from an increasing variety of sources from the booms in North American oil and natural gas to mainstream implementation of wind and solar. Much like energy, it is likely automotive transportation will consist of an increasing variety of vehicle types and fuel sources that will be employed where they make the most sense. If that turns out to be the future, diversification will prove critical for automakers.  
The manufacturers' sheer size and entrenched place in the American economy ultimately ensured their survival through a very challenging period and continues to shield them from risks. Unfortunately, among the network of individual suppliers to the industry their fate is not guaranteed. The lack of diversification symptomatic of the industry at large was perhaps nowhere more apparent than at the supplier level, and its effects more dire. It was not uncommon at the time, and still is not, for second-tier automotive suppliers to effectively rely on only one product or one customer, sometimes both. As makers slowed or shut down production lines, small suppliers that might have produced one or few very specific parts were left with no buyer and in many cases had no choice but to shut down. The business model wrung out a great deal of efficiency, primarily to the benefit of the automakers, but it left the individual suppliers in a position of great risk. 
Larger suppliers, which produced a wider variety of components, or which had the capability to retool, managed to survive and remain in operation. But even these businesses struggled to find their way forward. One example is Kokomo, Indiana's Delphi, a primary supplier of electronic components to GM, which floundered. The facility, which at its peak employed in excess of 4,000, sustained less than a quarter of that capacity in the wake of the GM restructuring. GM has since shown limited interest to effectively supply itself and continues to move work elsewhere as contracts with the facility expire. The fate of the business now lies largely in the hands of the local managers. In an interview with the Indianapolis Business Journal, plant directors highlighted the importance of a "diversification thrust" and the need to pursue contracts in other industries that have a market for their product including government and commercial aerospace and healthcare if they are going to survive long term. With respect to bringing in new customers, their admission that, "these things take a long time to materialize," further stresses the importance of customer and product diversification as a long-run strategy. The alternative is that it becomes a strategy for rebuilding or merely surviving. 
Zoom out from the few, large automakers to their network of suppliers and then to the communities and economies depending on them. Detroit notwithstanding, there are hundreds of smaller cities and towns whose economy was, and in many cases still is, almost entirely dependent on the existence of the auto suppliers. There are places where going to work for the local auto parts manufacturer has been the only known way of life for generations of workers. The downside of a monolithic economic base has been painfully felt in cities with large suppliers employing thousands, as well as in rural regions where a collection of smaller shops might represent the bulk of very few employment opportunities. With more than 50 percent of all auto manufacturing-related jobs being held by workers in Michigan, Ohio and Indiana, these states have most acutely felt the impact of having so many of their resources dedicated to one industry.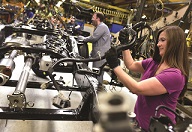 Not surprisingly, the economies of major metros, save Detroit, are mostly returning to strength thanks to the benefit of a larger, more diversified economy.  Midwest cities like Louisville, Indianapolis and St. Louis have received a sizable chink in the armor, but live to fight on. Each has strong automotive ties, but the scale and diversification of these economies has buffered them. Over the past decade, Louisville has made a notable transition from an industrial to a service economy, with considerable growth in healthcare, food services and logistics. Indianapolis is home to a number of prominent life sciences companies, is a leader in healthcare and continues to grow as a Midwestern technology hub boasting tech firms such as Interactive Intelligence, Angie's List and Exact Target, recently acquired by Salesforce.com.  
Missouri, in spite of a high volume of auto manufacturing plants and industry suppliers, has developed an inherently diverse economy over time by focusing on a variety of assets including geography, natural resources, education and human capital. Strong aerospace, financial services and agricultural sectors, along with niche strengths such as an animal health corridor, have allowed the state and many of its most affected cities to focus on shifting employees and resources during these times rather than growing new sectors of business from the ground up. 
Unlike their metro neighbors, many smaller outlying communities did not have much of a cushion to fall back on. Those hoping to have a greater hold on their destiny through the next downturn are taking this time to evaluate and reinvent themselves. One community taking this approach is the nine-county region known as East Central Indiana. At one point, this region was home to 40 or more automotive suppliers. Realizing many of these businesses and jobs would not likely return, the region's representative organization, Energize ECI, has led a combined effort to build on other strengths and develop new opportunities. The region is taking on the task of supporting existing business, growing new industries and revitalizing what was left behind by the auto industry. 
For instance, the Energize ECI region has continued to develop strong food processing and agribusiness sectors with the attraction of a national deli product manufacturer that will employ 200 at a newly constructed plant, and with a rapidly expanding aquaculture business that is taking advantage of the region's plentiful water supply. Blackford County is leveraging a mix of good transportation infrastructure, proximity to customers, including one of the world's largest producers of glass containers, and funding from a state recycling grant program, to develop a cluster of recycling operations utilizing a mix of legacy facilities and new development. In Wayne County, the city of Richmond assisted in redeveloping the site of a defunct piston ring manufacturer into modern office space in a successful bid to combine multistate shared services operations for a national apparel brand.  As a result, the community retained 130 jobs and has since added another 120. These are the actions of a community that learned a hard lesson during hard times.
The economy, at long last, is steadily gaining strength. As the auto industry and others begin to move ahead near full speed, it is a good moment for businesses and communities to pause and reflect on the value of diversification. Now is the time to evaluate what characteristics, conditions and strategies served as a buffer from the automotive recession, or what vulnerabilities were most painfully exposed.  For those who have made it to the other side, the return to strength in the automotive sector should not be cause to back away from a diversified strategy in search of short-term benefits. It is not too late to start taking action, but now is the time to make these decisions or determine to stay the course on a more diversified strategy before the light of good times becomes too blinding to see the challenges that surely lie ahead.
About the Author