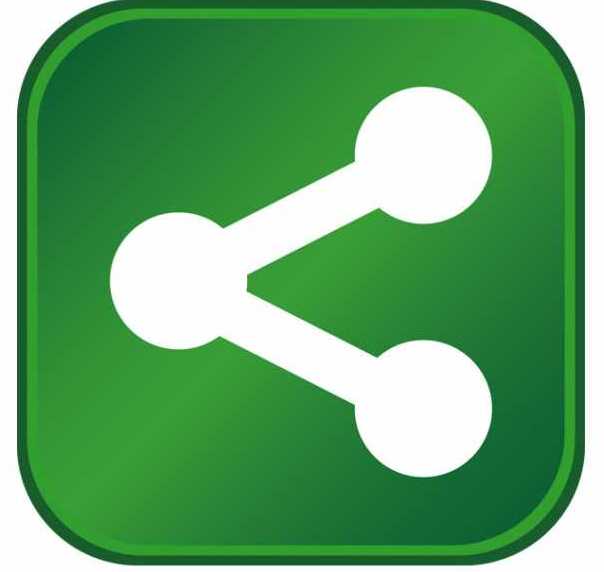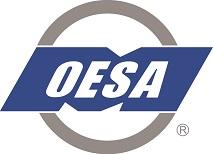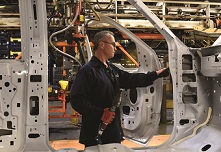 The Original Equipment Suppliers Association (OESA) is a non-profit trade association that represents the business interests of OE automotive suppliers doing business in North America. One of the many resources offered by OESA is a survey of top executives from supplier member companies called the Automotive Supplier Barometer. The OESA Automotive Supplier Barometer takes the pulse of the suppliers' 12-month business sentiment and provides a snapshot of industry commercial issues, business environment and business strategies that influence the supplier industry.
The most recent Automotive Supplier Barometer survey focused on production-related issues, launch activity and strategies that suppliers are implementing to manage expected volume increases this year. Suppliers indicated they continue to feel good about sales and production projections, with new business awards and continued momentum going into 2016. Caution was raised around the 2016 elections, interest rates and global economics.
Though breakeven volumes for suppliers continue to increase, it is important to note that between the 2009 trough and present, production volumes have increased by 112 percent while supplier breakeven volumes have only increased 51 percent against the projected production volumes this year of 18.2 million units. That said, breakeven levels are now well above the production levels experienced in 2008-2011, arguably constituting risk in a downturn. Companies continue to focus on strategies that increase productivity and efficiencies and keeping costs down.
Capacity utilization rates have increased compared to 2015 across all quartiles. The median utilization rate moved up five points to 85 percent, the upper quartile increased from 86 to 90 percent, along with a lower quartile increase from 66 percent utilization in 2015 to 75 percent in 2016. Suppliers' primary barriers to OEM requests for increased capacity are labor shortages, capital investment and financing, short lead-times and production volume commitments.
Overall, suppliers are feeling less confident that customers' production releases are matching their sales and inventory levels as compared with last year; the decrease is slight, but down dramatically from 2011-2012. Better news is that five percent of suppliers now feel very confident about releases when zero did in 2015. As one respondent stated, "It is a mixed bag, some customers are right on and some are fluctuating monthly." Given the uncertainty in release information received, 23 percent of suppliers inflate releases while 19 percent deflate releases through their supply chains.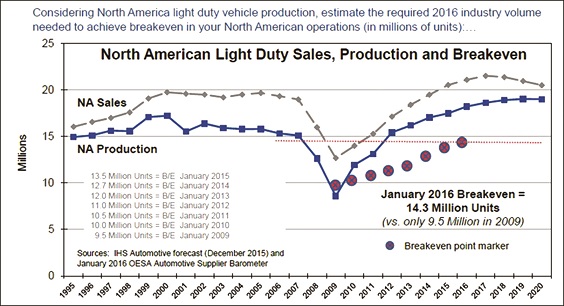 Through continued focus and inventory management, supplier finished goods inventory levels are decreasing. In 2014, 51 percent of suppliers indicated some level of increasing inventory. This year, only 34 percent of suppliers have increasing inventory levels while decreasing levels have gained traction.
When asked what issues suppliers will face internally in meeting increased levels of production, the lack of engineering talent and skilled labor shortages continue to be top-of-mind for more than 60 percent of survey respondents. To address these issues, companies are looking at workforce-related strategies in the areas of recruitment, developing and growing interns, co-op and apprenticeship programs, employee training and development for succession planning. Production overtime premiums are less of a concern this year compared to 2012-2014.
The most significant supply chain concern in meeting increased levels of production continues to be production scheduling. Companies continue to monitor their supply chain for risk, communicating on many fronts. Advanced planning is a focus along with increased supplier development activities.
Half of the survey respondents have or are planning to bring production facilities into Mexico this year, showing there is great confidence that customer releases to those operations will be met. Sixty percent of those suppliers feel either very confident or somewhat confident in their capabilities. In contrast, the South American region continues to present a concern regarding political and economic obstacles to a return to production volumes of 4.0 million units. Thirty-five percent of survey respondents believe volumes will return to that 'normal' before 2020; 26 percent believe volume will be achieved in 2020, while 38 percent believe 4.0 million units of production will not return until after the year 2020.
Along with increasing production volumes, suppliers also need to manage the increasing number of vehicle launches in 2016 and 2017. Over the next two years, the median number of launches that companies face range from 12 to 50.  Risks associated with these activities are reflected in production, including engineering talent and production ramp-up. Companies are implementing intern and apprenticeship programs, developing training programs and utilizing outside resources to help in recruiting.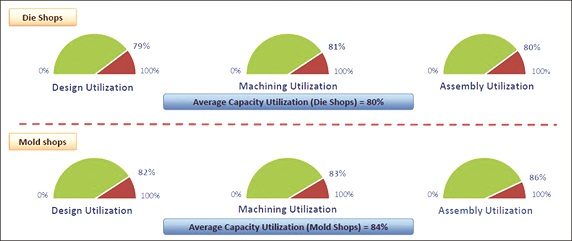 In collecting the full supply chain outlook, OESA and Harbour Results Inc. (HRI) recently completed a similar survey of automotive tool makers. The Automotive Tooling Barometer showed more than 75 percent of tool shops said they were optimistic about the future. With 2016 being forecast as a heavy sourcing year for automakers, many tool shops are assuming this current downturn they have experienced in late 2015 and early 2016 is temporary.
The overall sentiment of the tooling sector was down seven points from August 2015 due to a significant amount of work on hold due to program delays. Additionally, the results indicate that, on an annualized basis, almost 20 percent of business is on hold – this corresponds to $2.3 billion in tooling revenue, or the equivalent of more than 100 tool shops, sitting idle at any given time. This is a five percent increase from the previous Tooling Barometer conducted last summer.
Overall capacity utilization metrics were flat at around 80 percent. Using a standard tool shop 50-hour workweek, most respondents were hovering near 40 hours or 80 percent. The situation may actually be more dismal than the 80 percent indicates as tooling manufacturers are often reluctant to have employees work less than 40 hours per week. HRI, having been in more than 30 shops over the last four months, observed some shops finding 'other' work for employees to perform to offset the impact of the on-hold work. Labor cost containment can only go on for so long as tool shops gear up for a busy second quarter of 2016.
The Automotive Tooling Barometer also solicited feedback from automakers, Tier 1s and tool shops to better understand cost drivers. HRI's analysis of the survey indicates that tool complexity, communication and engineering changes are the main cost drivers in tool construction. The majority of respondents stated tools could be simplified to focus on functionality rather than perfection, but that this would require significantly better communication throughout the supply chain.
"It is important that the automotive industry collectively addresses the tooling industry's concerns to ensure we are able to support the record number of upcoming vehicle launches," said OESA President and CEO Julie A. Fream. 
About the Author