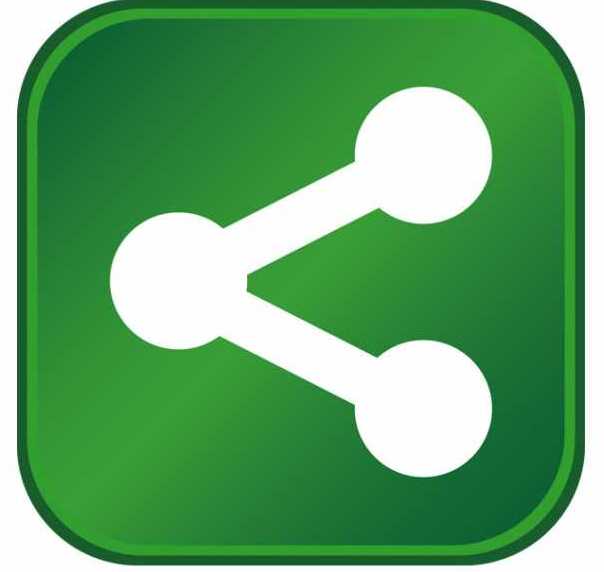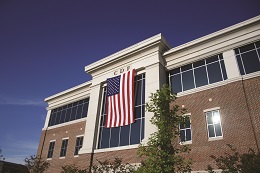 The growth of the U.S. Foreign-Trade Zones program over the past 40 years has made the acronym "FTZ" more familiar to many. However, when most people think of Foreign-Trade Zones, they think of large water ports, international airports and large industrial complexes. However, as 70 years of trade globalization continues to squeeze the operating margins of U.S.-based businesses and increase the number of instances in which value-added operations are "outsourced" to foreign locations, the U.S. Foreign-Trade Zones program has become one of many tools smaller American communities use to meet the challenges of the trends created by globalization and the expansion of free trade initiatives.
Round after round of duty rate reductions created by multilateral and regional trade agreements (e.g., the Uruguay Round Agreements, NAFTA, etc.) offer a number of benefits for U.S.-based manufacturing operations – especially opportunities to expand export sales. Conversely, reduced U.S. tariffs, combined with the free flow of capital investment, mean there is a world of competition for production and market share within the U.S. market. For any American plant, this competition no longer comes from other U.S. brand names; it comes from foreign brand names and, on an ever-increasing basis, from foreign "sister plants" within the same global corporation. For individual communities, the competition no longer involves the town just down the road or across the river, it comes from many towns and cities across the globe.
One can tune in to newscasts today and hear the pro and con arguments of expanding free trade. However, even if one accepts the argument that free trade promotes long-term worldwide peace and prosperity, the stark question remains: How do we keep our hometown USA factory doors open and attract new investment and jobs until the arrival of that wonderful day when worldwide free trade erases the economic distortions that still exist today?
If one wants to examine one American town in which the local community has made a sustained, successful effort at meeting the challenges of a changing world, then the town of Tupelo, Mississippi, would be a good one. Tupelo is a city with a population of just over 35,000 people – less than one tenth the population of its largest metropolitan neighbor, Memphis, Tennessee, which is located about 100 miles away. Tupelo is perhaps best known as the birthplace of Elvis Presley. It is also known as a significant furniture manufacturing center. However, before the birth of Elvis and furniture manufacturing, Tupelo was very much a typical southern town. Thanks to a number of visionary people whose work has extended for decades, it is anything but typical today.
During the 70 years that have seen the rise of globalization, the citizens of Tupelo have seen their economy evolve from highly localized agrarian activity to a mixed economy that includes manufacturing by major global corporations. Even so, this change has been planned and managed in such a way that one can cross Main Street on foot today and safely make one's way from the hardware store that was established nearly 90 years ago to the department store that was established more than 100 years ago.    
One of the key organizations in managing this change has been the local Community Development Foundation ("CDF"). CDF was organized in 1948 in the Blue Room of Hotel Tupelo by community leaders who saw the need for a unified effort to coordinate the economic and community development activities of the region. CDF's first economic development project was decidedly agrarian: Cattle breeding. From there it branched out into a number of areas: industrial park development, recruitment of furniture manufacturing, road, water and electrical power improvements, local education and workforce training. All of these efforts led to more successful recruitment of industries that raised local standards of living without creating industrial and urban blight. One notable success has been the location of the $800 million Toyota Blue Springs plant, which employs more than 2,000 and produces the Toyota Corolla model. In hindsight, the location of this facility was dependent upon all of the physical, service and human resource tools that had been carefully and sequentially crafted from the 1940s until today: roads, rail links, energy, innovative education and workforce development programs, intergovernmental cooperation and local tax restructuring.
Another tool that CDF has brought to bear is the Foreign-Trade Zones program. However, the focus of the FTZ program has been more closely associated with the retention of existing jobs and industry rather than industrial recruitment. Shane Homan, CDF senior vice-president of economic development, explained, "In the early 2000s, we noticed an alarming trend of job losses in our local upholstered furniture industry. We began looking at causes and effects and discovered that foreign competition and the U.S. tariff structure created by the Uruguay Round Agreements were driving local jobs to the Far East."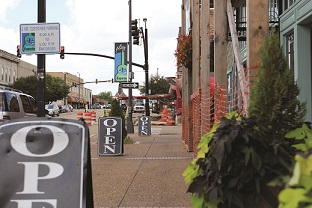 Next, CDF began looking for solutions. Its leaders were aware of Trade Adjustment Assistance, but given the fact that most of the displaced workers were married women who could not afford to relocate upon retraining, there was concern that the downward pressure on both employment and wages would undo a lot of the work  done over the past several decades that has seen the area's per capita income rise to 22 percent above the State average. CDF leaders asked themselves the question: Can we find a way to assist the local furniture industry 'adjust' to the new trade environment and retain the jobs that are being lost?
Shane Homan added, "This question helped make us aware of the larger truth that we need our community to be a beneficiary of globalization – not one of its victims. We fully realized that companies looking to build new value-added facilities have a world of potential site locations, and that our area's existing industries can close or leave tomorrow. We quickly found one area that needed to be explored: The U.S. FTZ program."
"First, we discovered that the FTZ program could theoretically mitigate the furniture industry's problem by offering relief from the 'inverted' tariff structure that was driving local jobs offshore. However, when we studied the matter further, we discovered that all previous attempts to obtain relief from inverted tariffs on textile inputs – which in our case included upholstery fabrics – had ended in failure. As it was explained to us, the U.S. FTZ Board was not about to grant our furniture companies authority that would be used to undermine the interests on domestic fabric producers. However, we were fortunate enough to learn our requests for FTZ production authority could be limited in a way that would allow the FTZ Board to issue grants of authority that would also protect domestic fabric producers."
CDF's next task was to figure out how to get a Foreign-Trade Zone. At the community level, the FTZ program is delivered through local or regional grantee organizations. In large port or metropolitan areas, grantee organizations are typically port or airport authorities, city of county government organizations or economic development organizations. David Rumbarger, president and CEO of CDF, explained the organization's thinking in bringing the FTZ program to the Tupelo area.
"We were glad to learn that Congress had created the grantee model when it passed the FTZ Act in 1934. Who better to promote the use of the program than local public entities who knew the needs of their own communities? I'm pretty sure that the members of Congress in 1934 could not have envisioned the growth of the program to smaller inland communities such as ours, but it was clear from the models that had been developed in the State of Mississippi that the FTZ program's flexibility and its accommodation of local stakeholders had been a driving force in its growth."
"We looked at the prospect of establishing our own Zone project with CDF as the grantee; however, there were two existing zone project models within the State that moved us to join an existing grantee organization. What was once known as the Vicksburg-Jackson FTZ is now known as the Greater Mississippi FTZ. Our grantee organization's Board members are appointed by local government entities and the State government. This creates a broad base of public support and makes sure that parochialism has no place in the decisions of our grantee organization. Whatever serves the competitive needs of the business community is what we do."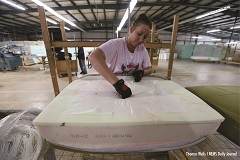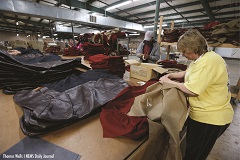 To date, the FTZ program has saved more than 1,000 jobs in northeast Mississippi's furniture industry, and is about to contribute to more than 500 new jobs in that industry. One of the FTZ's furniture manufacturers, H.M. Richards, recently announced an expansion that will create 500 new jobs. Joey Tarrant, the company's vice-president of operations, explained how the FTZ program has been essential to the company's survival and success.
"Back in 2009, we were really hurting from the combined effects of the economic recession and the way in which our competitors had responded to the trend of globalization. In our business, the retail customer chooses both the frame style and the fabric covering. About 99 percent of our production is in direct response to retail orders. For us, flexibility and cost effectiveness are both essential. Our flexibility is directly dependent on our ability to maintain in-house cut-and-sew operations. This is the only way in which we can meet the needs of our retail customers. Unfortunately for us, we were saddled with Customs duty costs on imported rolled fabrics, while a number of our competitors were importing pre-fabricated upholstery covering sets at a zero Customs duty rate."
"When CDF introduced us to the FTZ program, we were pretty much in the position of having nothing to lose. By obtaining relief from inverted tariffs on rolled fabric that is not produced in the United States, we were able to afford to maintain our in-house cut-and-sew operations. This enabled us to also maintain our existing relationships with domestic fabric producers and maintain the operational flexibility that is essential to maintaining and expanding our domestic customer base. What's really great about our story is that the FTZ program came along when we needed it most and gave us a way of adjusting to the U.S. tariff structure in a way that maintained jobs for us and our domestic suppliers. We are excited about some of the new fabric products that are being developed by U.S. fabric producers. We are hopeful that some of these will find success in the American marketplace and reduce the lead time and logistical challenges associated with purchasing fabric from the Far East. We are thankful that we had a committed grantee organization that was willing to overcome the policy concerns that were unique to our situation."
Added David Rumbarger: "We understand that a key fundamental of the FTZ program is that zone-related activities must serve the public interest. From the outset, we knew that trade policy inertia was going to be a seemingly insurmountable obstacle in our attempt to save jobs in our furniture industry through the FTZ program. We made the climb anyway and did so with the belief that we could and would overcome any obstacle in our way. As Mr. Jack Reed, one of our great community leaders for decades, once said, 'Never underestimate a community that overestimates itself.' This sort of self-belief has driven us to assemble a variety of tools – one of which is the FTZ program – to make life better for our fellow citizens." 
About the Author