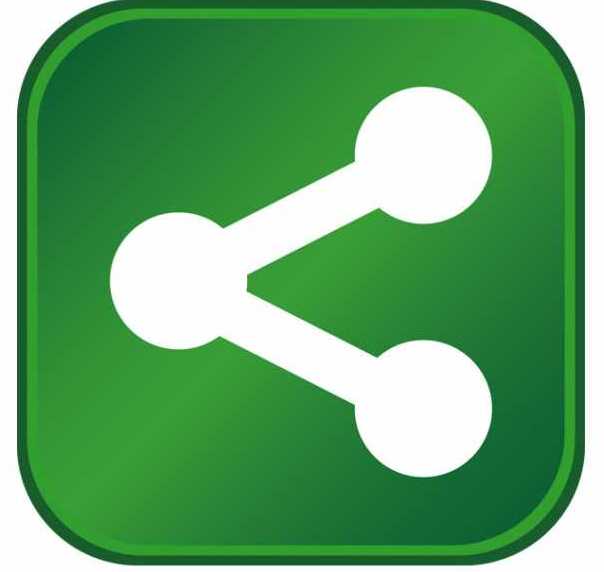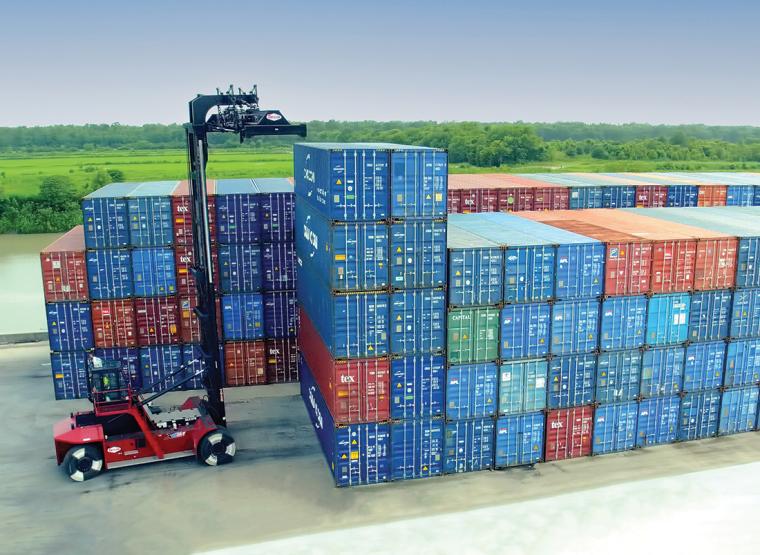 Nations survive and thrive on their economic input and output, and a primary element of this cycle is its ports, inland ports and depots. Ports serve as critical transportation hubs that facilitate the movement of raw materials, finished goods and everything in between. The distribution of freight by all modes of transportation including marine, air, rail and truck and its importance cannot be overstated for businesses in local communities, workers and worldwide markets.
Following the lessons learned during the COVID-19 pandemic, many U.S. ports are making changes to accommodate higher traffic, different supply chains and changes in the labor force. In some cases, smaller ports are stepping in to relieve pressure from the larger ports.
Following are some highlights of several critical U.S. ports, inland ports and depots, including the economic impact they have on communities.
Port of Baltimore Baltimore, Maryland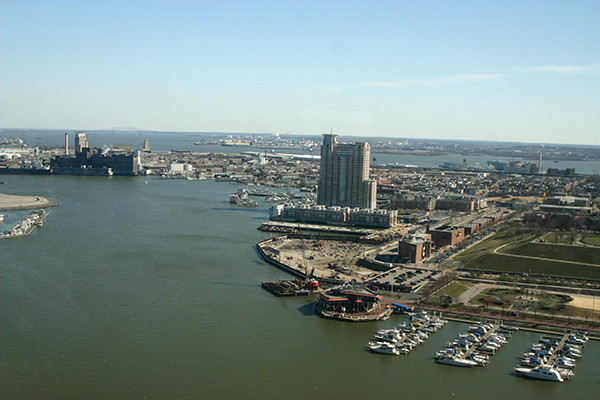 The Port of Baltimore is the nation's largest port facility for specialized cargo and passengers. It is operated by the Maryland Port Administration, a unit of the Maryland Department of Transportation. The Port added new container services last year on two of the largest international container shipping companies in the world, Mediterranean Shipping Company (MSC) and Maersk. The MSC Indus 2 service is an Indian Subcontinent and Mediterranean service that includes an eight-ship string of 8,500 twenty-foot equivalent container (TEU) vessels, while Maersk started a new Southeast Asia/Vietnam and China service through Baltimore including a string of up to 13 ships with carrying capacities of 4,500-plus TEU containers.
Last year, groundbreaking was held for Baltimore's Howard Street Tunnel Expansion project, which will expand the CSX-owned tunnel to allow for double stacked container rail cars, clearing a longtime hurdle for the Port. It will also give CSX rail on the East Coast seamless double stack capacity from Maine to Florida. The project involves clearance improvements in the tunnel and at 22 other locations between Baltimore and Philadelphia. With the tunnel expansion, Baltimore will be able to send double stacked containers by rail into the Ohio Valley and onto Chicago.
"The Port of Baltimore has had a successful year recovering from the effects of the pandemic and has played a key role supporting the supply chain up and down the East Coast deep into America," said MDOT Secretary Greg Slater. "The infrastructure investments Maryland and its partners are making at the Port are laying the foundation for new jobs, greater capacity and even more business in the future."
Port of Greater Baton Rouge Baton Rouge, Louisiana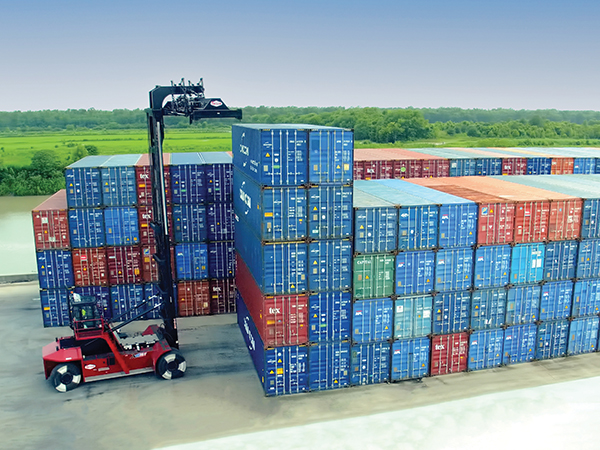 The Port of Greater Baton Rouge is strategically located on the Mississippi River and is an integral part of the national maritime industry and Louisiana economy. Handling a diverse range of cargo and accommodating special requests is a trademark of the port, which ranks among the U.S. top ports in total tonnage. Located in Port Allen, Louisiana, the port is situated at the convergence of the Mississippi River and the Gulf Intracoastal Waterway and is linked to other major ports between north Florida and south Texas and through the Mississippi River inland waterway system.
The port is adjacent to the Port Allen Lock, the northernmost point on the Mississippi River where barges can access the Gulf Intracoastal Waterway. It is the head of deepwater navigation on the Mississippi River: a 45-foot shipping channel to the mouth of the Mississippi River that is maintained by the U.S. Army Corps of Engineers. The port provides excellent accessibility to all types of intermodal transportation. It is located adjacent to U.S. Interstate 10, and is in close proximity to U.S. Interstate 12, 49, 55 and 59; U.S. Highway 61, 65 and 90 and LA Highway 1. The port's public infrastructure and connectivity provide direct access to ship, barge, truck and rail.
Due to an increase in container movement, the port is expanding the Inland Rivers Marine Terminal's container storage yard. The $4.5 million expansion will include 3.5 acres of concrete poured to expand the Port's container storage capacity.
"We are excited about the success of the COB service and the opportunity to expand our capacity," said port Executive Director Jay Hardman. "Every container that goes down the Mississippi River to New Orleans for export is one less 18-wheel truck on our roads and bridges."
Indianapolis Airport Authority Indianapolis, Indiana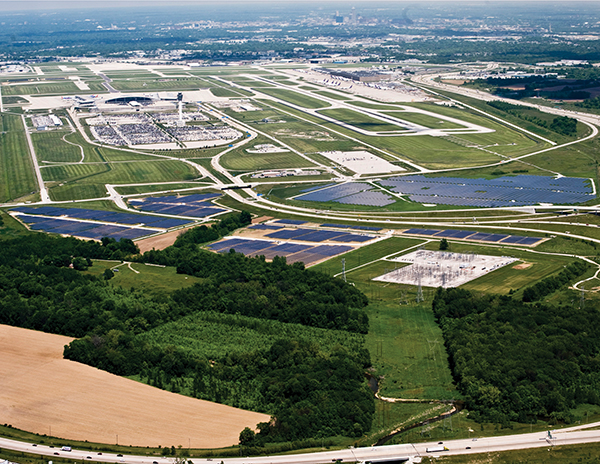 The Indianapolis Airport Authority owns and operates Indiana's largest airport system in the Indianapolis metropolitan area. In addition to the Indianapolis International Airport (IND), its facilities include the Downtown Heliport, Eagle Creek Airpark, Hendricks County Airport-Gordon Graham Field, Indianapolis Regional Airport and Metropolitan Airport. IND generates a $7.5 billion total annual economic impact to the state of Indiana – without relying on state or local taxes to fund operations. More than 11,000 people work at the airport each day, and nearly 54,000 jobs statewide have a connection to the airport. In 2021, IND served more than 7.1 million business and leisure travelers. IND is consistently ranked, year after year, as the best airport in North America and the nation, based on ease of use, passenger amenities, customer service, local retail offerings and public art. The airport is home of the world's second largest FedEx operation and the nation's eighth-largest cargo facility. For more information, visit IND.com.
Port of Fort Pierce Fort Pierce, Florida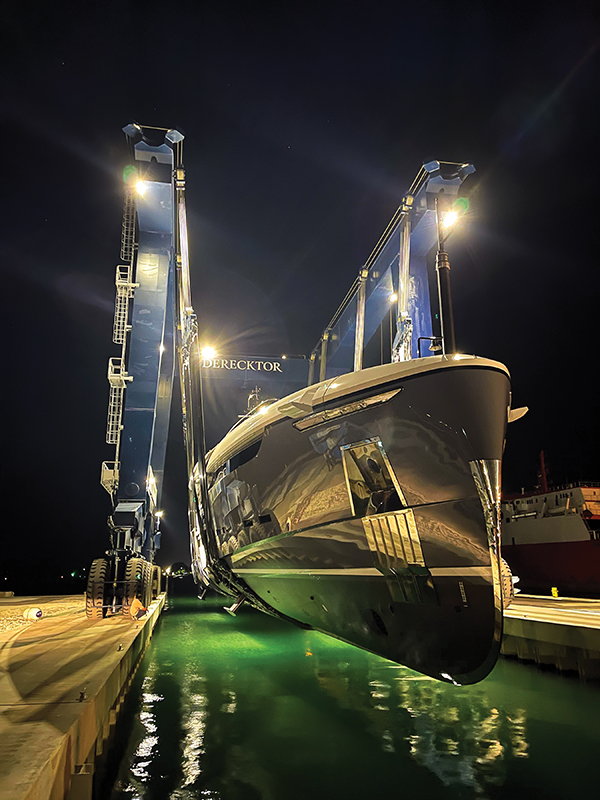 One of only 14 deepwater ports in Florida, the Port of Fort Pierce is 255 acres of land and water areas and serves St. Lucie, Indian River, Okeechobee, Highlands, Hendry, Glades and Martin counties. The entrance channel is 400 feet wide, 30 feet deep and links to a 28-foot-deep internal channel and turning basin. Overhead clearance is unlimited. The FEC railway mainline is less than a mile to the port, with spurs going to the port property.
The port is undergoing dramatic change. Used primarily since 1920 for shipping citrus and produce, the terminal and working waterfront had been in private hands until 2018 when it was acquired by St. Lucie County. In the previous decade, shipping volumes had fallen drastically due to the loss of citrus trees to disease. In 2019, the county chose Derecktor Shipyards to operate a mega yacht repair, maintenance and overhaul facility on the site.
St. Lucie County has a major stake in the "blue economy." The county is home to multiple sportfishing boatbuilders. Paving upgrades to support heavy vessels were made and utility upgrades are underway. In 2021, North America's largest mobile boat hoist was delivered to Derecktor Fort Pierce at the port.
The City of Fort Pierce owns three acres of property within the port and is in the process of selling the property to Pierce1Marina which has plans to invest $75 million to upgrade boat ramps and develop Fisherman's Wharf, a waterfront tourist destination. The planned no-forklift boat storage facility, the number one of its kind in the country, will be designed to withstand a Category 5 hurricane.
St. Lucie County recently negotiated a land swap with the owner of a privately held parcel within the port and is moving forward with plans for Harbour Pointe, a publicly-facing, mixed-use recreational district to include a public boat ramp, marina, sundries shop, restaurant walking paths and reef restoration center.
"After years of dormancy, the Port of Fort Pierce is now rapidly becoming one of the engines of St. Lucie County's thriving blue economy," said Pete Tesch, president, Economic Development Council of St. Lucie County. "While we no longer use the port for shipping operations, Derecktor's yacht repair and maintenance activity is fostering growth and investment in related marine industry services at the port and beyond."
Port of Gulfport Gulfport, Mississippi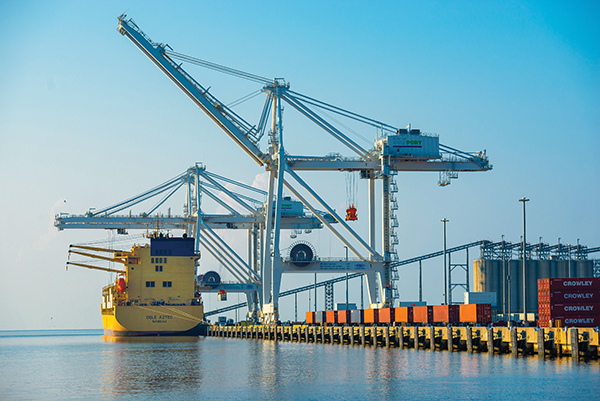 The Port of Gulfport is a deep-water, international seaport located in Gulfport, Mississippi. The Port handles more than two million tons of cargo and 200,000 TEUs annually. As a key gateway for Latin America, the Port of Gulfport is the second largest green fruit import facility in the U.S. Its strategic location on the northern Gulf of Mexico allows customers to distribute products to a majority of the U.S. market within 24 hours. Vessels have a short 90-minute transit from sea buoy to dock, with no congestion and no traffic delays for cargo exiting the gate.
The Port recently completed a nearly $600 million post-Katrina reconstruction effort that resulted in a new state-of-the-art, hurricane-resilient freight operation currently hosting four container terminals, with ro-ro and dry bulk capabilities. On-dock Class I rail connections and congestion-free truck access offer easy alternatives for moving land-side freight.  The Port of Gulfport is equipped to handle nearly any type of cargo, routinely handling bulk, breakbulk and containerized cargo in the form of perishable goods, textiles and paper.
The Port recently began a US Army Corp feasibility study to deepen and widen the navigational channel. Various rail, pavement, access road and warehousing projects are either in progress or planned in the near future.
"With a wide diversity of tenants and operations here at the Port of Gulfport, we are ready and available to service nearly any type of cargo, and we continue to invest in the Blue Economy, welcoming industry partners that realize the value of the Mississippi Gulf Coast as a technological hub for emerging research and development, specifically surrounding uncrewed systems," said Jon Nass, CEO and Executive Director of the Port of Gulfport.
Port of Lake Charles Lake Charles, Louisiana
The Port of Lake Charles (Lake Charles Harbor and Terminal District) is the nation's 12th-busiest port district, according to U.S. Army Corps of Engineers waterborne statistics. Established in 1926, it encompasses 203 square miles in southwestern Louisiana and owns more than 5,400 acres for marine and industrial operations.
The port's marine business is comprised of three deepwater marine terminals: Bulk Terminal No. 1, City Docks and Bulk Terminal No. 4. The port is located on the Calcasieu Ship Channel, which is 40 feet deep, 400 feet wide and 68 miles long, extending from the Interstate 10 bridge area into the Gulf of Mexico. The Calcasieu Ship Channel supports 19 businesses and handles over 52 million tons of cargo per year.
A 2020 port-commissioned economic impact study by Martin Associates found that cargo moving via marine terminals along the Calcasieu Ship Channel supported 158,485 jobs nationally — 108,773 of them in Louisiana, or six percent of statewide employment; and 42,075 of them in the Lake Charles MSA, or 45 percent of local non-farm jobs.
The Port of Lake Charles recently constructed two new tension fabric warehouses, totaling 100,000 square feet, at its City Docks facility to add additional covered storage. It has also installed a new traveling import hopper at the Bulk Terminal No. 1 facility. These projects totaled more than $8 million.
The Port of Lake Charles is spending approximately $20 million on two purpose-built ship loaders that will be installed this year at its dry bulk terminal facility. They will replace two ship loaders that were lost in Hurricane Laura in 2020.
"A recent study showed the Port and Ship Channel generate 67 percent of the region's GDP and support 45 percent of local jobs," said Port Executive Director Richert Self. "Another $41 billion in planned projects over the next few years will mean the Port of Lake Charles will remain an economic powerhouse in Southwest Louisiana."
Port Muskogee Muskogee, Oklahoma
The Muskogee City-County Port Authority is located on the nation's most inland, all-weather waterway. Port Muskogee is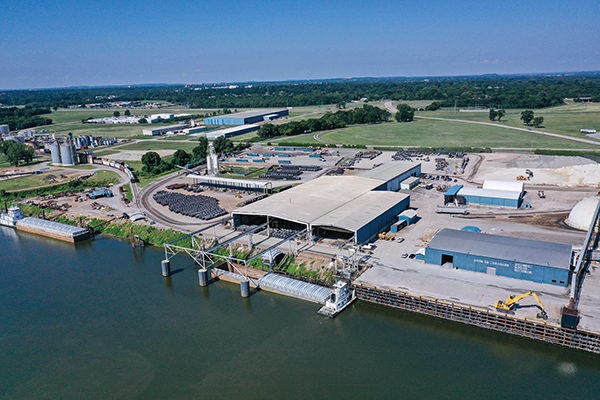 situated on the McClellan-Kerr Arkansas River Navigation System, home to nearly 85 industries employing more than 6,000 people with more than $300 million in annual payrolls, including hydropower generation facilities providing renewable, low-cost electricity. The waterway supplies water for industries and municipalities, provides recreation, and allows for the efficient movement of goods and waterborne commerce as Marine Highway 40. The Port offers advantages such as a central location, diversity of transportation methods, and favorable trade designation. The area connects several freight rail networks and is near the Muskogee-Davis Regional Airport. The Port is designated as Foreign Trade Zone 164, which gives Port industries a competitive edge through reduced costs and increased profitability.
Port Muskogee has made significant investment and exerted effort to secure funding to implement other projects to address critical infrastructure and build resiliency at the Port. The $10.2 million Flood Protection Improvement Project, partially funded through an Economic Development Administration Grant, will construct a levee to a height that meets minimum flood elevation to protect most of the Port property. A Port Entrance Improvement Project; $13.5 million Rail Improvements Project; and Security Improvement Project are either being constructed or planned to begin soon to improve the safety, efficiency and reliability of Port operations. Lastly, through a $30 million Waterfront Recovery and Resiliency Project, the port is rebuilding critical infrastructure damaged in the 2019 flood, including dockside rail, the main cargo wharf and warehouse facilities.
The Port is an economic driver in the region, working closely with the City of Muskogee and Muskogee County to identify investment opportunities for businesses that will create good-paying jobs for those in the area.
Port of Wilmington, Delaware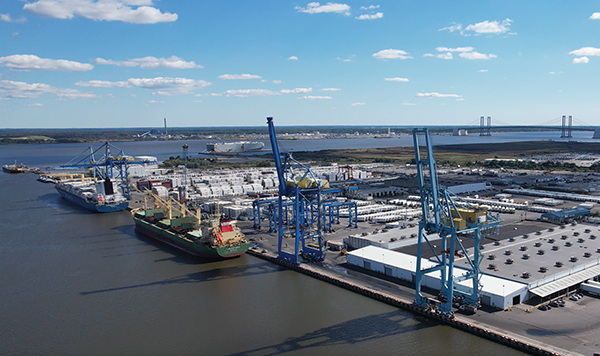 The Port of Wilmington, which is celebrating its 100th anniversary this year, is a 308-acre seaport that specializes in importing and exporting container, bulk and break bulk cargo. It features four ship to shore gantry cranes and one mobile harbor crane, and serves more than 400 ships and over six million tons of cargo annually.
The Port of Wilmington is about to embark on a planned expansion of a new container terminal at the Edgemoor site of 100 acres. GT USA Wilmington has invested in civil work and equipment at the current facility to optimize the existing container yard footprint and surrounding land to increase container throughput. GT USA will build out the facility and add equipment based on increased volume up to a capacity of 1.2 million TEUs. Construction will commence in 2023 and it is anticipated that the new, state-of-the-art, common user container terminal with an initial capacity of 600,000 TEUs will be ready for use in 2025. GT USA will utilize an RTG yard configuration that will be seamlessly integrated to maximize operational efficiency, and there are plans to add a new refrigerated warehouse.
Other recent additions include reach stackers, trailers, yard trucks and fork-lifts, as well as refurbishment and reenforcement of berths 5 and 6, an extension of rail for the ship to shore cranes from berth 4 to berth 6, phased upgrades to the roofing of warehouses A, B and C, and the installation of additional racking for palletized cargo.
"The Port of Wilmington is a resilient, diversified maritime hub port, which is uniquely positioned on the Delaware River," said Joe Cruise, CEO of GT USA Wilmington. "It is strategically located on the Central U.S. East Coast, with a short sailing distance to/from the Atlantic Ocean and direct highway (I-495/I-95) and onsite rail access creating large extended hinterland coverage, making it appealing to cargo owners and shipping lines." T&ID