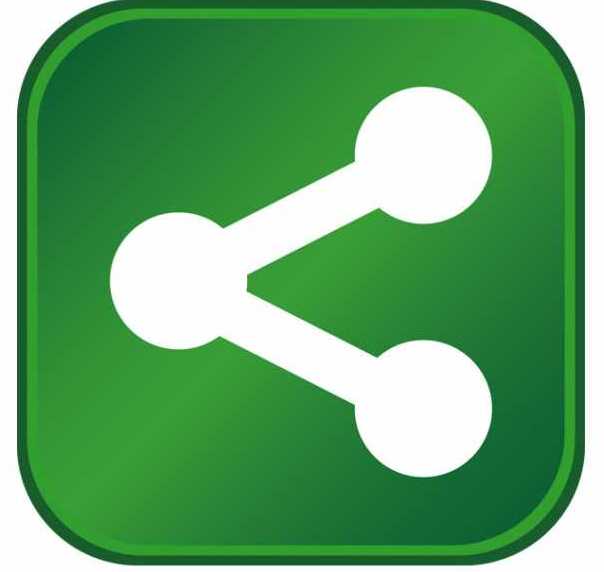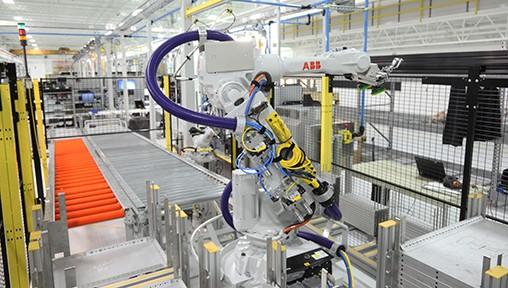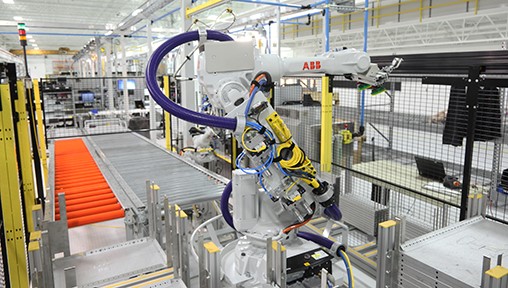 MACHINERY AND EQUIPMENT MANUFACTURING, a major subset of the metalworking industrial sector, is displaying many trends influencing site selection. The industry employs 1.1 million U.S. workers, accounting for nine percent of domestic manufacturing. There are almost 30,000 production facilities employing an average of nearly 40 people.
While the preponderance of machinery producers is small to mid-size, there are quite a few large, recognizable, global players. These include Komatsu, General Electric, Haas Automation, Yale, Crown, Yomazaki Mazak, Caterpillar, Deere, Sandvik, Halliburton, Kennametal, Applied Materials, Eaton, Bosch, GEA, ABB, Kawasaki Robotics, Rockwell, Dover, Parker Hannifin, Ingersoll-Rand, Illinois Tool Works, and Stanley/Black and Decker.
The all-encompassing NAICS code for this industry segment is 333. Major industry subsets are:
Agricultural/food processing equipment

Construction equipment

Energy equipment (electric power, green power, oil/gas)

Mining machinery

Industrial machinery (e.g., paper, metals, plastics)

Process control equipment (including automation/robotics)

HVAC equipment.
Machinery is classified as a capital good. The industry's vitality is heavily influenced by economic conditions especially business capital spending. Key production processes involved in machine manufacturing are forging, stamping, forming, machining and welding. The industry is both technology and capital intensive. 
New machinery plants are highly automated and efficient. In addition to state-of-the art products, manufacturers also offer customers value-added services (e.g., installation, optimal utilization, training and repair). In siting new facilities, machinery manufacturers will gravitate toward areas with a robust resource base, especially human capital.
Marketplace Dynamics
On balance, market conditions for the machinery and equipment industry have remained soft. Momentum for new orders was progressing nicely from the 2008/2009 severe recession. However, sales began to stall in 2015. An upswing in revenue/profitability is projected to take hold in mid-2017.
Among headwinds facing the industry are:
Decline in oil and gas prices

Decline in commodity prices

Challenging economic conditions in heretofore rapid growth BRICS (Brazil, Russia, India, China and South Africa) countries

Strong U.S. dollar (tamping down exports)

Slow growth in domestic manufacturing

Above average inventory to sales ratio in both manufacturing and wholesaling.
On the plus side:
Consumer spending remains buoyant, which propels increased capital expenditures in selected durable and non-durable goods sectors

Housing starts are steadily increasing

Household income at all levels is now rising at a solid clip

Employment/job creation is relatively strong

Labor productivity within the machinery sector has been increasing

The producer price index for this industry has remained constant (meaning relatively less direct pressure on profitability).
Among the industry sub-sectors that have performed reasonably well are robotics/automation, food processing equipment, commercial HVAC and energy efficiency. Underperforming sectors include construction equipment, ag equipment, mining equipment and oil/gas equipment.
Drawing from various analyst forecasts the industry, depending on sector, will see modest growth next year especially in the second half. Market conditions should continue improving in 2018.
One recent positive sign for the industry is that orders for business equipment climbed in June and July, advancing the most since January. This suggests U.S. businesses are becoming less reluctant to invest in new equipment. Consequently, the main trends that will lead resurgence in sales/profits are a rebounding U.S. manufacturing sector, solid consumer spending, decent pace of new job creation and the bottoming out of lower oil, gas and commodity prices.
This should translate into a greater level of new and expanded manufacturing facilities within the machinery and equipment industry. Domestic producers will lead the way but foreign-owned investment will also be strong especially from counties such as Japan, Germany, South Korea, Sweden and Switzerland.
Geographic Deployment
The machinery and equipment industry is well represented throughout the U.S.  In the past, this was partly due to the existence of smaller, often specialized manufacturers. However, three regions have historically represented the lion's share of industry employment/establishments. These are:

 
| | |
| --- | --- |
| Region | Rationale |
| Midwest | Agriculture and diversified manufacturing |
| Southwest | Oil and gas, mining, growing manufacturing |
| Southeast | Strong population and growth in non-residential construction growth |

These macro deployment patterns will likely continue well into the future. But other regions will also see new investment based on varied factors ranging from emerging clusters of specific industries (from craft beverages to life sciences), strong talent pools and efficient transportation networks.
WDGC rank ordered all U.S. metros both on total machinery employment and concentration (percent of manufacturing employment). Table 1 lists the top-50 employment centers (metros) for the industry. The proportion of industry to overall manufacturing employment by metro area is shown in Table 2.
Table 1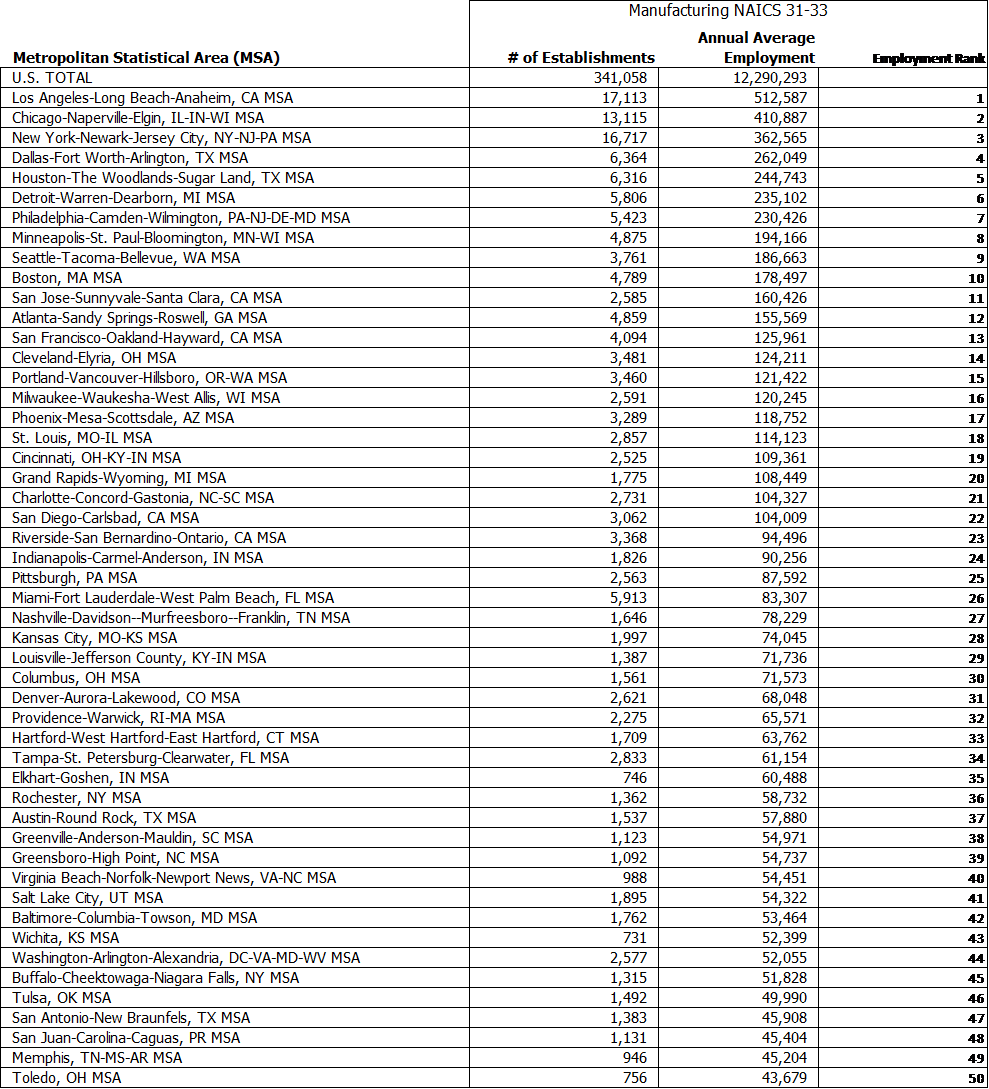 Table 2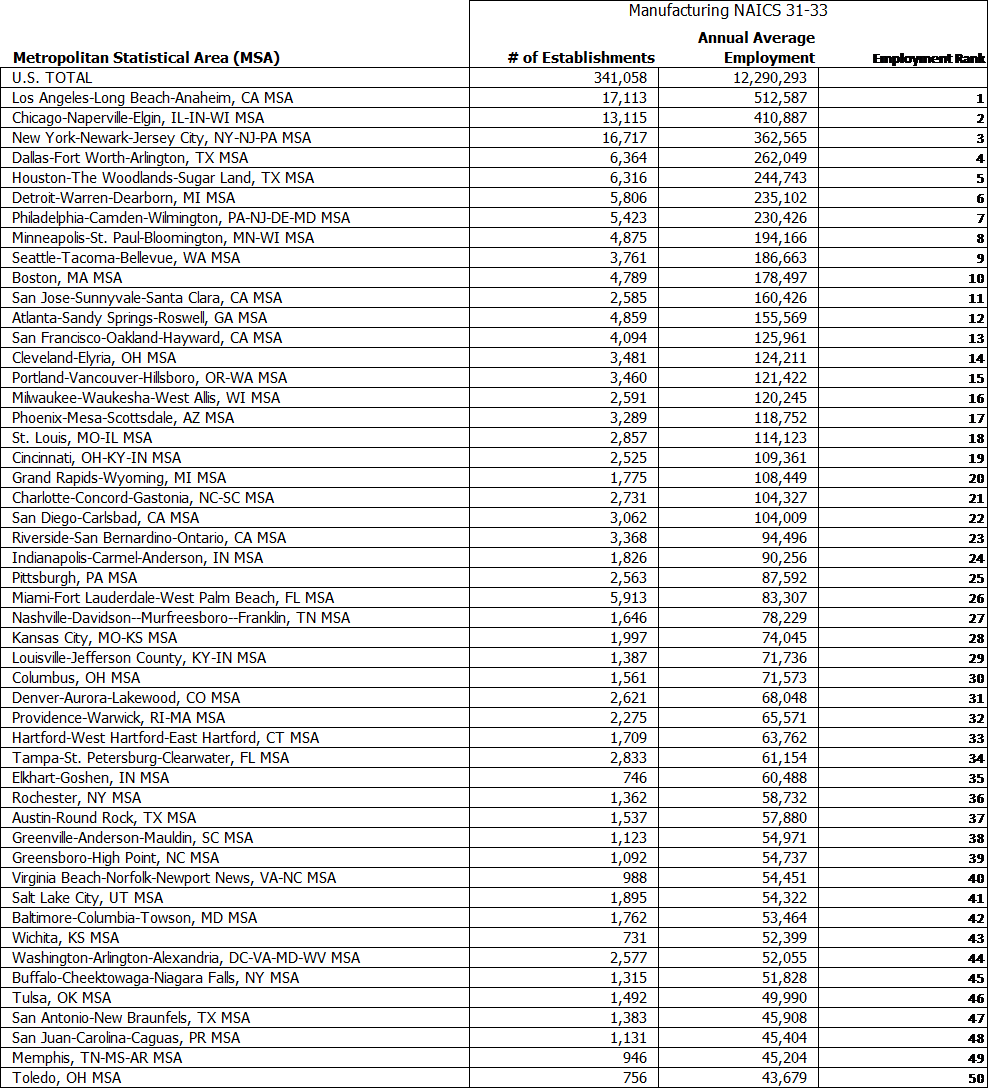 A baker's dozen (metros) makes it to the top 50 on each metric. The 13 areas with the greatest industry concentration (proportion of all manufacturing employment) span from 16.9 percent (Rochester, New York) to 53.4 percent (Peoria, Illinois). Note that the U.S. average is 9.1 percent. All 13 areas have at least 5,000 employees working in the machinery and equipment industry. Among them the employment base varies from 5,000 (Lafayette, Louisiana) to 56,000 (Houston, Texas). As might be expected, concentration can be attributable to several factors such as proximity to agricultural and energy-producing states, mega companies founded in a city that typically was also strategically located to end-users and geographic orientation to states with a substantial manufacturing presence.
In siting new facilities, it is instructive to consider both industry employment and concentration. But the metric utilized to keep any area in the running can dramatically vary based on the specific headcount requirement of the subject business. Corollary factors such as extent of resident skills by occupation like machine operator, which cuts across industry lines, also need to be gauged. But having said that, the presence of at least a modest industry ecosystem should be a guidepost for locating new facilities in the machinery and equipment industry.
Key Locational Criteria
Human Resources
While there are many important factors shaping location decisions for this industry, labor availability is far and away the most critical. Machinery plants require experienced manufacturing workers in middle- to upper-skill positions and increasingly technical professional fields. Companies will search out locations with an ample supply (existing talent pool and the pipeline for ensuring future supply) in occupations such as:
CNC machine set-up

CNC machine operator

Machinist

Machine maintenance

Tool & die specialist

Welder

Electronics/engineering technician

Process control technician

Quality control technician

Mechanical engineer

Other engineering (e.g., manufacturing)

Computer programmer

Well-qualified entry-level for support positions (e.g., shipping/receiving).
As with nearly all manufacturing, jobs in the machinery industry have become ever-more sophisticated. Successful workers possess up-to-date technical prowess, strong basic skills (especially reading and math) and post high school education (often an associate degree and increasingly a bachelor's degree for the highest-skilled and professional positions).

When companies initiate the process for finding a new manufacturing site, statistical thresholds should be established to start identifying potentially qualified locations. For instance, if 25 experienced machine operators are required, any candidate area should probably have at a minimum 250 people employed in this occupational grouping. It is a good idea to establish numerical thresholds both for occupations (e.g., machine operator) and industries (e.g., metalworking).
While talent pool size is a vital measure, so is occupational and industry concentration (percent of total employment). Areas with a very high concentration could signal an imbalance of supply/demand. If an area has a low concentration, it very well might lack an ecosystem supportive of the industry.
Then there is the issue of cost. While workers in this industry are well-compensated due to requisite skills, it usually does not make good business sense to pay a marked premium for recruiting/retaining workers. Consequently, examine published average wages for key positions. Areas well above what is desired per the business plan should likely be eliminated from further consideration unless there is a powerful, countervailing reason.
Statistics can only bring the process so far. There are two additional steps necessary to validate labor market conditions. First is obtaining relevant information from economic development groups in "long-listed" locations (often 10-15). Such information as it relates to labor includes:
Major employers

All manufacturing

Machinery

Other metalworking

Additional sectors.

Announced new and expanding industrial employers

Downsizing industrial employers

Charter of manufacturing prospects seriously considering the area for new facilities

Training programs applicable to the industry

Annual graduates by pertinent field

Two-year degree

Four-year degree

Unionized manufacturing

Union election activity

Local wage surveys, if available.
Combine statistical data and information from EDOs to score/rank long-listed areas on talent-related considerations. The ideal would be a large base of requisite skills, moderate demand for those skills, adequate pipeline for future talent, reasonable labor cost and predominantly nonunion.
This exercise (in tandem with looking at non-HR factors) would yield a short list of the most promising locational alternatives. Then comes task two — undertaking field investigation in short-listed areas. The local economic development organization can arrange and coordinate field visits.
Interviews with machinery and other manufacturing employers is the most crucial element of field assessment. Employers will be able to relate actual hiring experiences, proffer opinions on future conditions and suggest HR practices to ensure preferred employer status. During interviews, explore dynamics such as:
Competitive demand by skillset

Supply/qualified applicant flow by skillset

Most challenging positions to fill

Outlook for future demand/supply

Training resources

Ideal sub labor market (geographic sector)

Annual turnover

Unscheduled absenteeism

Reliance on internships and apprenticeships

Salary structure by skillset
Start

Mid-point

Maximum

Time to reach maximum
Pay-for-performance

Key fringe benefits

HR practices (e.g., time off, wellness, recognition, career advancement)

Staffing off-shifts

Workers' Compensation

Labor/management relations

Opinion on ability to staff the proposed plant over the planned ramp-up period.
In addition to employers, interview other groups that can shed light on labor market dynamics. These include workforce/career centers, staffing agencies and employer associations.
Each short-listed area and site will then be ranked/scored on HR-oriented factors. There should be discernable differences among the finalist locations. When infusing analysis of additional factors (e.g., logistics), the top choice will surface.
Note that most areas will offer incentives for new and/or expanding businesses. Some of these can be cash rewards, over multiple years, for job creation. While these can be of reasonably significant value, it is far more important to land in a location that will sustain staffing requirements at an affordable cost well into the future. As an illustration, the labor equation played a major role in ABB's decision to site a robotics facility in southeast Michigan.
Given the national shortage of middle- to highly skilled labor, finding areas with a balance of demand/supply will be paramount for successful operation of new machinery and equipment machinery plants. If training, repair and consulting are included at the new site, technical professional skills (e.g., engineers) will also assume greater prominence. Getting the labor component right will materially impact operational performance of the new facility well into the future.
Additional Criteria
Customer proximity/logistics often dictates a   geographic search region for siting a new facility. An example is Komatsu Equipment which placed a training, customer outreach and repair center for heavy equipment in Salt Lake City. The center serves customers in three western states.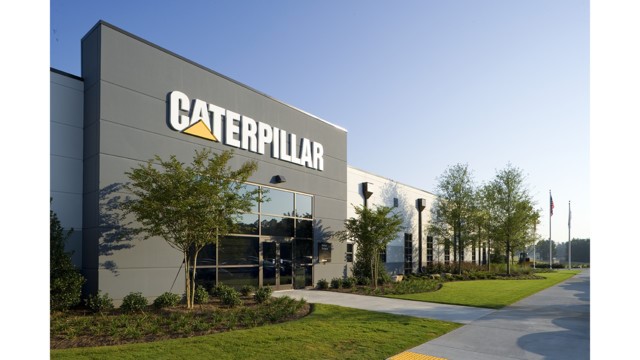 Similarly, Caterpillar's Athens (Georgia) plant will serve all of North America.
Access to a large base of customers within second morning delivery by truck and proximity to two seaports (Charleston and Savannah) were instrumental in final site selection. Reflecting a growing trend, the new Caterpillar facility will reduce carbon footprint. For example, in construction, recycled materials were utilized. The plant is also LEED certified.
In siting new machinery and equipment facilities, other prominent criteria include:
Available, modern building

Fully serviced (all utilities in place) site

Close proximity to a limited access four-lane highway

Electric power reliability, with dual feed from two separate substations desirable

Quality public education

Higher educational resources

Tax exemptions or abatements on personal property, reflecting significant capital investment of manufacturing plants in this industry

Good vendor support network (e.g., machine shops)

Reasonably attractive quality of life as a small cadre of executive/professional talent will likely be relocated.
Synopsis of the Site Selection Process
Companies planning to establish new production capacity for machinery and equipment would be well advised to follow a structured, multi-phase process for siting new facilities.  In a snapshot, the process entails:
Phase One: Discovery (Definition)
Business case

Operating requirements, year one and future

Labor (entry-level, experienced)

Site/building

Transportation

Utilities

Environmental

Green/Sustainability

Support services

Capital investment

Geographic search region

Confidentiality

Study team composition.
Phase Two: Short List Development (Screening)
Multi-round screening process

Statistical thresholds applied

Areas eliminated

Areas accepted

Long list generated

Request for Information (RFI) issued to economic development agencies

Statistical data/RFI combined and analyzed

Long list ranked/scored

Labor

Other qualitative factors

Cost

Short list (3-5 areas) generated.
Phase Three: Short List Assessment (Field Evaluation)
Employer interviews

Other interviews

Site/building tours

Site/building reviews

Incentives offer

Additional due diligence

Areas/properties ranked/scored

Top location and most attractive

Alternation.
 Phase Four: Final Due Diligence (In at Least Two Areas)
Real estate

Tax

Legal

Human resources

Utilities

Environmental

Incentives

Ultimate site secured

Construction phase milestone tasks/timeline delineated.
Conclusion
There will likely be a heightened level of location activity within the machinery and equipment sector starting mid-2017. A logical, well-thought-out game plan for site selection will be necessary to arrive at a prudent decision. The process demands that a significant effort be devoted to locating in a labor market conferring both short-term and longer-range advantages. There is no other single factor that will influence success of the new facility more than human resources. Beyond HR, other key criteria must also be favorable. These include logistics, available building or at least ready-to-go sites, electric power and tax practices/rates. Incentives should be viewed as "icing on the cake" and only one element influencing the final decision.
About the Author