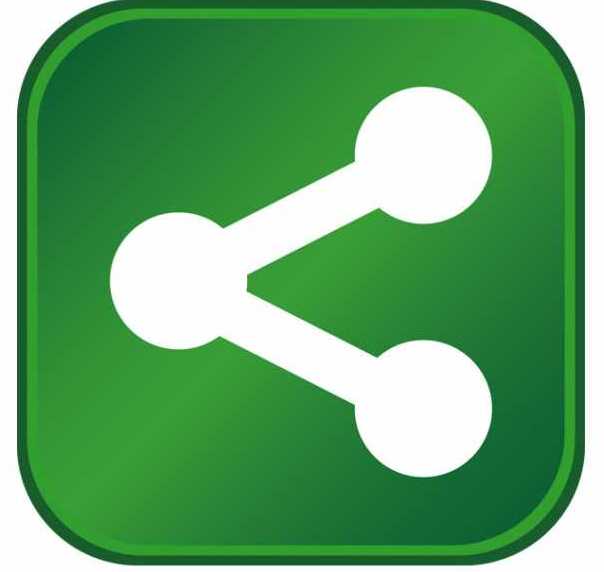 Continues Aggressive Economic Development Efforts
When Governor Riley went into office six years ago, the primary objective of the Alabama Development Office (ADO) was recruiting manufacturing industries to the state.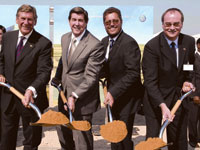 Since that time, changes in the economy, the needs of business, and the importance of Alabama's existing companies have forced a dramatic shift in gears for economic development in the state. Now, not only are the state's economic development leaders working aggressively towards winning projects, they are also renewing their focus on continued growth from within the state.
ADO is going to great lengths to meet with companies located in Alabama, as well as the parent companies, to determine how both local and state governments can help them sustain current jobs and be positioned to expand when the economy rebounds.
Alabama is also working with communities to help them determine what needs to be done to make their areas more competitive for new job creation as well as encouraging regional partnerships that make sense for a more effective, powerful, and well-funded approach to economic development.
The state will also be more aggressive in trying to boost economic development in the next year than ever before, says Alabama Governor Bob Riley, who recently returned home, along with ADO Director Neal Wade, from an industry-seeking mission to Europe. Gov. Riley said in the next two to five years, many overseas companies will be looking to build in the United States because of the power of the dollar and the need for a presence here.
Marketing Plan
Alabama is more than prepared for future growth. The state has long recognized that a successful economic development marketing plan requires a total package which includes factors such as a good educational system; a qualified and trainable work force and workforce training program; prepared communities; a good quality of life; and a superior transportation network. The state has proven that it has the total package in order to attract industry leaders such as ThyssenKrupp, Mercedes-Benz, Toyota, and hundreds more that have set up shop in Alabama.
Education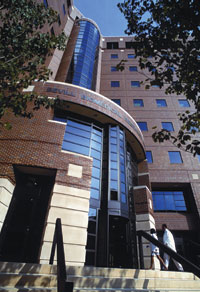 In a boost to the state's educational system, Alabama schools had the nation's largest increase in student participation and performance on Advanced Placement tests in the 2008-09 school year. The state also jumped 12 points in one year in the National Assessment of Educational Progress test.
The state also has a workforce training program, Alabama Industrial Development Training (AIDT), which is considered the best in the nation and a model for other states to follow.
Quality of Life
In quality of life, economic development representatives often say the friendliness of Alabama's people is their secret weapon in recruiting international businesses looking to invest in new North American operations. The results of a recent statewide poll suggest that multinational industrialists are not the only ones to have noticed, Auburn University researchers said in September.
"The people of Alabama are now being recognized around the globe for being hospitable and welcoming," said Don-Terry Veal, director of the Center for Governmental Services that conducted the quarterly 'Ask Alabama' poll. "This friendliness makes the state a great place to live and a profitable site for investments in human resources. Companies are looking for happy and cooperative employees."
Economic Incentives
In the past, Alabama's statutory economic incentives have been focused almost entirely on manufacturing industries. In May, the Alabama Legislature approved new statutory economic development incentives to include corporate headquarters, research and development facilities, financial institutions and 'green' employers. A continued focus on manufacturing, along with new emphasis on knowledge-based jobs, will create a strong combination for the 21st century and potentially impact the entire state.
Thriving Industries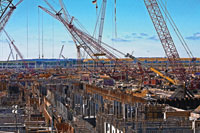 In addition to thriving automotive and aerospace sectors and a strongly emerging biotechnology sector, Alabama is becoming a central hub for the production of both metals and steel.
In September, Wise Alloys landed a multi-year contract with one of the world's largest beverage companies – a move expected to bring stability to the northwest Alabama (Shoals) labor force for years. The deal with Anheuser-Busch InBev means Wise Alloy's operation in Colbert County will produce aluminum sheets that will be turned into cans for Anheuser-Busch products. As part of the deal, Anheuser-Busch's recycling division will supply Wise with scrap metal for its sheet rolling mill. Wise is one of the world's largest processors of used beverage cans. The move is expected to bring stability to the Shoals area labor force for years to come.
Construction is also underway in the area for National Alabama Corp., a railcar manufacturing company that is expected to bring 1,800 jobs to the area when it is completed.
In Mobile, construction is well underway for the new ThyssenKrupp steel facility. The new $4.2 billion facility will house the first-ever collaboration of ThyssenKrupp Steel USA and ThyssenKrupp Stainless USA. The new facilities will bring a major increase in shipments for the Port of Mobile.
Port Facilities
The Alabama State Port Authority owns and operates the State of Alabama's deepwater port facilities at the Port of Mobile. The Port Authority's container, general cargo, and bulk facilities have immediate access to two interstate systems, five Class 1 railroads, a four-day rail ferry service to Mexico, and nearly 15,000 miles of inland waterway connections.
Many developments for the Alabama State Docks have given the facility the potential to become one of the most economically viable ports due to the proximity to emerging trade routes on the Gulf of Mexico.
Last September, the Mobile Container Terminal opened its new $300 million facility, making Mobile the nation's 10th largest port. The new terminal provides an improved option in the U.S. Gulf for reaching Midwest markets, helps recruit new businesses to the state, and fulfills the transportation needs for Alabama's existing companies. The facility will ultimately have three components - the $300 million container terminal, which opened almost a year ago; a rail yard linking the marine terminal with up to five major railroads; and an industrial park.
This important project will have a huge impact, not just for the Mobile area, but for the entire state of Alabama and makes the state an important player in the water transportation network.
Alabama's Synergy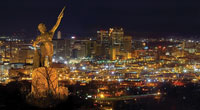 From Huntsville to Birmingham to Mobile, all of these new facilities compliment each other rather than compete, giving Alabama a true synergy that should attract many companies to the state and help the existing ones prosper.
The objectives set forth by Governor Riley six years ago are truly taking shape – a diverse economy that positively impacts the whole state and positions Alabama as one of the leading growth states in the nation. The state is in a strong position to bring in new companies as economic conditions improve.
Alabama will continue its drive to bring a better quality of life to the people who live there through better jobs.
About the Author