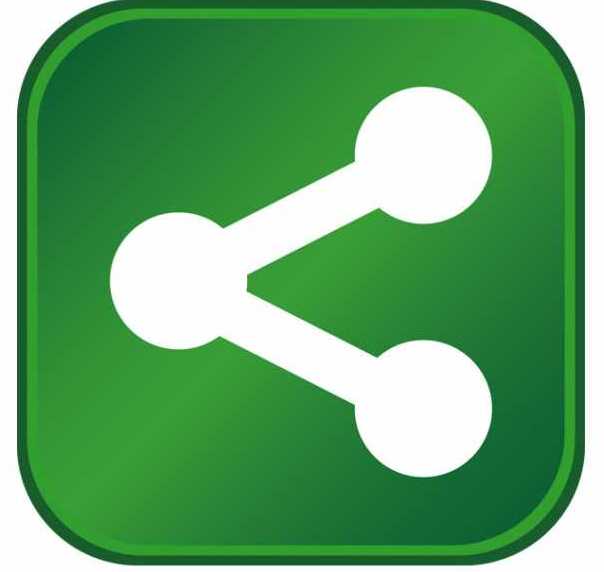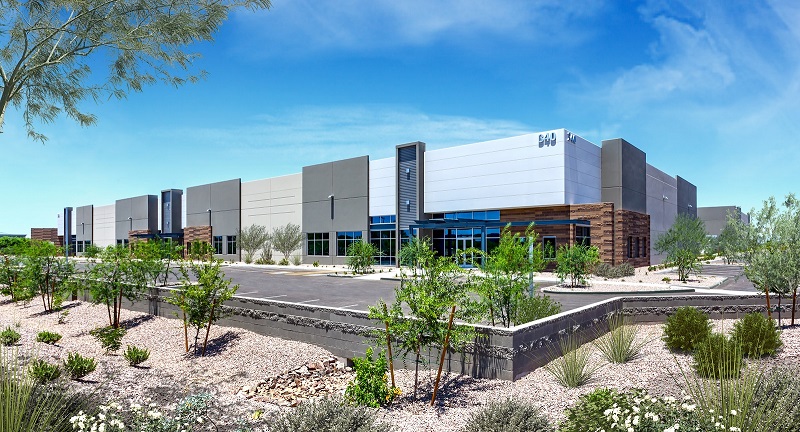 Ranked the #1 best place to live in Arizona, Gilbert combines big city amenities and small-town urban charm. Gilbert is a family-friendly, vibrant community that has seen substantial growth over the last decade as businesses thrive and more people call it home. It offers a high quality of life, premier education, and a strong local economy. Gilbert's blend of independent stores and restaurants, along with one of the best-known entertainment districts in metro Phoenix, gives Gilbert an appeal all its own.
Located in the southeast part of the Phoenix Metropolitan Area, Gilbert was named the most prosperous city in America by public policy organization, Economic Innovation Group, and the top city where millennials are purchasing homes by financial technology company, SmartAsset. It has also been cited as the best place to live in Arizona and the seventh-safest city in America by personal finance website, WalletHub.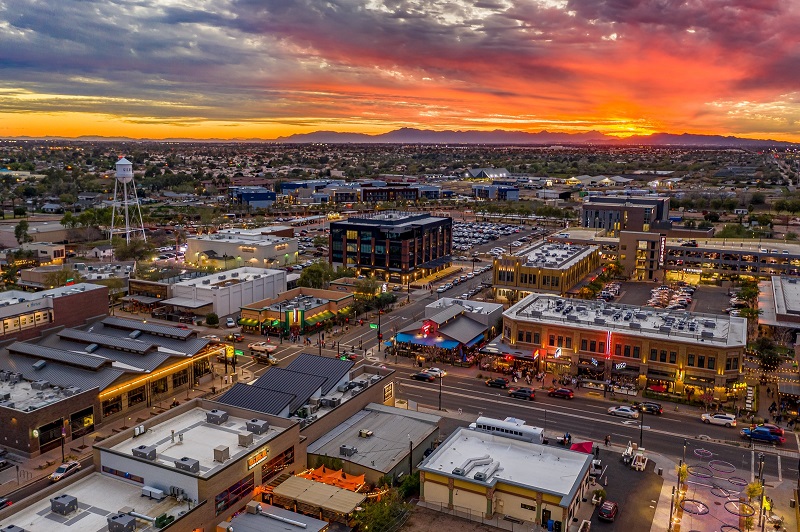 Gilbert's advantageous business climate has helped drive economic growth. This climate is advanced by things like low taxes, state incentives in the form of tax credits and job training, expedited permitting, infrastructure investment, and a responsive local government. A highly educated workforce and strategic proximity to major transportation infrastructure assets are additional attractions.
Gilbert is part of the rapidly-growing greater Phoenix Metropolitan Area that has become a destination for emerging technologies like autonomous and electric vehicles, cybersecurity, medical technology, sustainable products, and semiconductors. Within Gilbert, healthcare, life sciences, and professional services companies have also seen tremendous growth through top employers like Banner Health, Dignity Health, Deloitte and Isagenix International.
 

Well-educated residents abound. An estimated 44.1 percent of people (25+) in Gilbert have at least a bachelor's degree (versus 33.1 percent across the United States). The median age is only thirty-three, and nearly a third of the residents are between the ages of twenty-five and forty-four—an ideal talent pool for growing companies.
Gilbert has four major 'employment areas' in which commercial development is strongly encouraged and facilitated by responsible planning.
 
The northwest employment area contains a cluster of science, technology, aerospace, and manufacturing industries. Notable employers include Lockheed Martin and Northrop Grumman.

The Banner employment area is focused on healthcare and hospitality, and has recently seen $300 million in private investment. Top employers include the Banner Gateway Medical Center and the Banner MD Anderson Cancer Center.

The Gateway employment area along Gilbert's eastern boundary, near the Phoenix-Mesa Gateway Airport, is poised for significant investment with some of the largest new employment industrial oriented developments in the community.

The Central employment area is Gilbert's most diverse employment area. It is home to Mercy Gilbert Medical Center, one of three US Delivery Centers for Deloitte, Footprint's headquarters and R&D operation, and the US Headquarters for Silent-Aire. Corning also just announced a major new investment into the corridor, bringing a 300K+ square-foot fiber optic cable manufacturing facility to the community.
The Phoenix Sky Harbor International Airport, located a few miles outside Gilbert, is a massive transportation hub that serves several key airlines and dozens of U.S. and international cities daily. The town is close to Interstate 10, which crosses from California to Florida, and local industries also enjoy access to the Union Pacific rail line.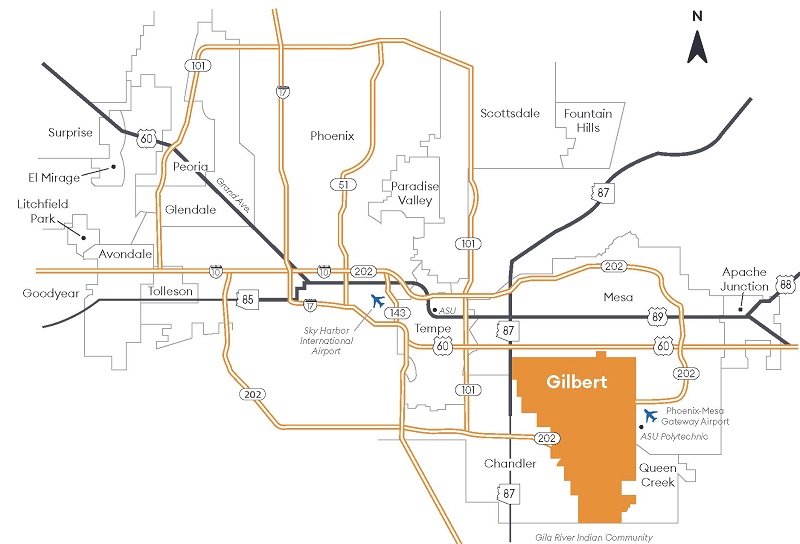 In addition to its first-rate K-12 system, higher education has a growing presence here. A university building constructed in the downtown Heritage District is currently home to Park University and the University of Arizona. Park University is a private liberal arts university offering both undergraduate and graduate degree programs, while the University of Arizona operates its Bachelor of Science in Nursing and its Master of Science for Entry to the Profession of Nursing (MEPN) from the university building. The Arizona State University Polytechnic Campus, meanwhile, is sited near the Phoenix-Mesa Gateway Airport. Gilbert also offers an excellent community college system. Chandler-Gilbert Community College currently educates over 17,000 students annually, with programs in pharmacy technology, nursing, biomedical research technology, and solar installation, to name a few.
In support of Gilbert, Arizona's mission to become the City of the Future, the Office of Economic Development is focused on making Gilbert the destination-of-choice for firms in professional, science, and technology-oriented industries. Gilbert works with state and local partners to attract national and international investment. We are focused on producing talent that is job-ready, supporting innovation and technology, and understanding the long-term impact of the decisions that are being made today. We choose to "ANTICIPATE change. CREATE solutions. HELP PEOPLE and businesses". In Gilbert, we are shaping a new tomorrow, today.