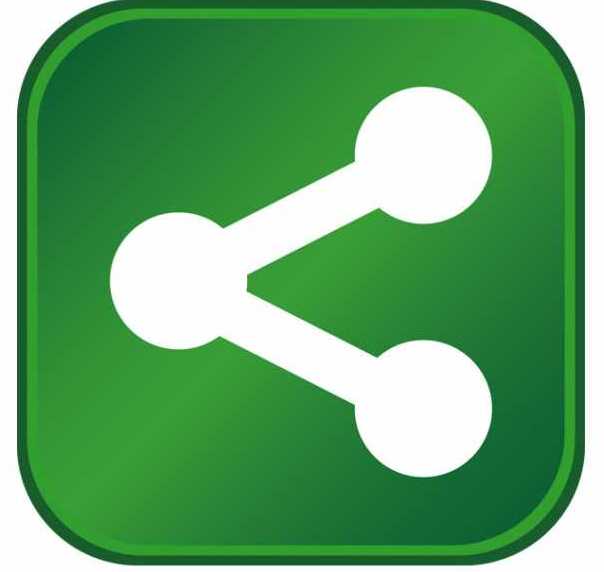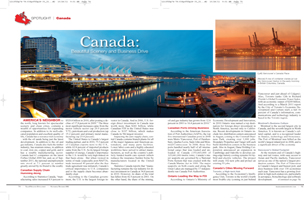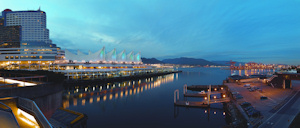 Vancouver's Canada Place
America's neighbor to the north, long known for spectacular scenery and clean cities, contains a wealth of opportunities for expanding companies. In addition to its well-educated population and excellent quality of life, Canada has a resource-rich economy – with the oil sands being just the latest development. In addition to the oil and gas industry, Canada also fuels the timber industry, has uranium mines, in addition to coal, iron ore, copper and gold, and it has a sizable manufacturing sector. Canada had 67 companies on the latest Forbes Global 2000 list, and, as of September 2011, the national unemployment rate stood at 7.1 percent (a number greatly envied by its friend to the south).

Canadian supply chain humming along
According to Statistics Canada, "manufacturing sales increased 8.9 percent to $529.8 billion in 2010, after posting a decline of 17.8 percent in 2009." The three most significant increases came from the motor vehicle sector (up 29.9 percent Y/Y), petroleum and coal production (up 15.2 percent) and primary metal manufacturing (up 23.8 percent).
The United States is Canada's largest trading partner, and in 2010, 73.3 percent of Canadian exports were to the U.S., while 62.8 percent of imported products came from the U.S. As its largest foreign supplier of energy, Canada's importance to the U.S. would be very high indeed on that basis alone. But when viewed in terms of trade (especially post-NAFTA; trade increased 40 percent after the free trade agreement was initiated), Canada's critical importance to U.S. companies and to the supply chain becomes abundantly clear.
According to the Canadian government, the U.S. is the largest foreign investor in Canada. And in 2006, U.S. foreign direct investment in Canada was worth more than $241 billion, while Canadian FDI in the United States was close to $197 billion, which makes Canada its 5th largest investor.

Impacting the auto supply chain, central Canada contains branch plants for all of the major Japanese and American automakers, and many parts facilities. Lower labor costs and a highly educated workforce have served to attract manufacturers, as well as the country's publicly funded health care system (which reduces the insurance burden borne by manufacturers located in the United States).

Statistics Canada reports that "manufacturing remains the top industry for direct investment in Canada at 34.8 percent in 2010. However, its share of the total has fallen from 42.9 percent in 2001. On the other hand, the share of the mining, oil and gas industry has grown from 12.8 percent in 2001 to 16.4 percent in 2010."

Canadian ports driving business
According to the American Association of Port Authorities (AAPA), the top five international Canadian ports in 2008 were Metro Vancouver, Port of Hawkesbury,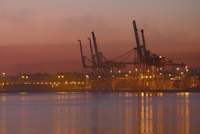 A row of container cranes jut out into Vancouver Harbor in the early morning in British Columbia, Canada.
Quebec/Levis, Saint John and Montréal/Contrecoeur. In 2008, those five ports handled nearly half of all international cargo that was loaded and unloaded in Canada (153,663,000 of 325,681,000 metric tons). Canada's major seaports are governed by a National Ports System that was created with the Canada Marine Act in 1999. The major seaports on both coasts and along the Great Lakes are managed by 17 independently run Canada Port Authorities.

Ontario leading the way in FDI
According to Ontario's Ministry of Economic Development and Innovation, in 2010 Ontario was named a top destination for foreign direct investment in North America, second only to California. Recent developments in Ontario include two distribution centers announced in August, coming to the Cornwall Business Park, creating over 1,000 jobs. Boundary Properties and Target will each build distribution centers in the business park. Also in August, Dana Holding Corporation announced an expansion in Cambridge and Oakville to develop cutting-edge battery cooling systems for hybrid and electric vehicles. The project will create 102 new jobs and protect an existing 53 jobs.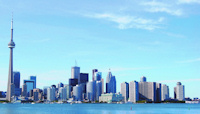 Toronto skyline
Canada's cities moving forward
Toronto, a high-tech hub
According to the Economist's Intelligence Unit, Toronto is the world's fourth most livable city (coming in just behind Vancouver and just ahead of Calgary). Also, Toronto ranks 12th in Richard Florida's Global Economic Power Index, with an economic output of $209 billion. And according to a March 2011 report by the City of Toronto's Economic Development and Culture staff, a full 30 percent of Canada's information, communications and technology industry is based in the Toronto region.
Montreal's business culture
Montreal is the second largest city in Canada, and the seventh largest in North America. It is known as Canada's cultural capital, and is a recognized leader in finance, technology and bioscience. The Port of Montreal was billed as the world's largest inland port in 2008, and is a significant driver of the economy.
Vancouver's global footprint
At the western end of Canada's highway and rail routes, with easy access to Asian and Pacific markets, Vancouver serves as one of the nation's largest production centers. The Port of Vancouver is Canada's largest and busiest port, and does business with over 130 economies each year. Vancouver has a growing footprint in high-tech endeavors, particularly in aerospace, biotechnology and software development.

Industries on the move in Canada
Aerospace
In December 2010, Pratt & Whitney Canada announced that it plans to invest more than $1 billion in research and development over the next five years to develop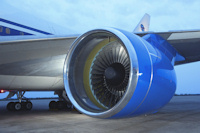 Pratt & Whitney PW4000-100 Advantage70 Engine On-Wing.
the next generation of high-performance aircraft engines. And that's just one announcement of many. As Invest in Canada (investincanada.gc.ca), the country's main repository for FDI knowledge, points out: "Canada's aerospace industry ranks 5th in world output with revenues over $23.6 billion in 2008. With over 400 dynamic firms, a highly-skilled workforce of about 83,000, significant R&D investments and exporting about 80 percent of its production, Canada is poised to capitalize on strong growth in global aerospace."
Automotive
According to Invest in Canada: "The auto industry is Canada's largest manufacturing sector, with over 1,300 companies, 153,000 workers and annual revenues of $96.7 billion. Canada hosts six global automakers—Chrysler, Ford, General Motors, Honda, Suzuki and Toyota—and truck and bus manufacturers such as Hino, MCI, Navistar and PACCAR." In 2009, Toyota opened its $1.1 billion vehicle assembly plant in Woodstock, Ontario. And in August this year, Toyota announced its decision to assemble the electric version of its RAV4 SUV in Woodstock.
Chemicals and Plastics
According to Invest in Canada: "With 6,100 companies employing more than 183,000 workers, Canada's $ 72-billion chemicals and plastics industry is a sophisticated and multifaceted sector encompassing plastics products, machinery and moulds, synthetic resins, petrochemicals, adhesives and sealants, and paints and coatings." Of particular note was Norway-based Renewable Energy Corporation's decision to construct a $1.2 billion plant in Quebec to produce polysilicon.
Bio-pharmaceuticals
According to Invest in Canada: "Canada's pharmaceutical market is the world's 7th largest. And Canada has the G8's highest rate of increase in biotech R&D workers, external patent applications and business expenditures on R&D." This explains why Bayer, Bristol-Myers Squibb, Eli Lily, GlaxoSmithKline, Johnson&Johnson, Novartis and a host of other multinational pharmaceutical companies have facilities in Canada.

In closing, as the Minister of International Trade and Minister for the Asia-Pacific Gateway, Ed Fast, recently said: "Thanks to government support for local communities, low-tax policies, strong economic fundamentals and a skilled, innovative workforce, Canada remains an excellent destination for new investment."
That would be a winning formula anywhere.
About the Author