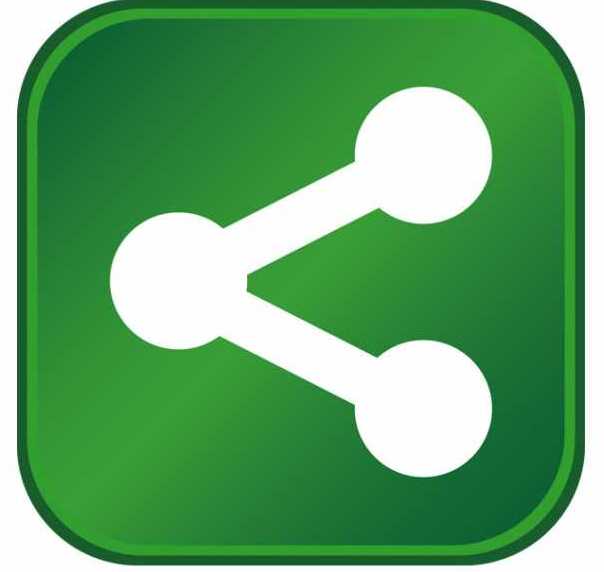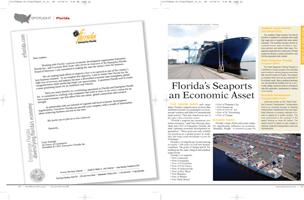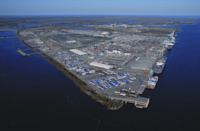 Docks at Jaxport.
For cruise ships and cargo ships, Florida's seaports serve as more than destination points for passengers on recreational ventures and hubs for international trade activity: They also function as one of the state's key economic assets.
"Florida's seaports are enormous economic resources," said Gray Swoope, president and CEO of Enterprise Florida, the state's primary economic development organization. "These ports not only solidify our position as a global power in trade, they also help create thousands of jobs for Floridians."
Florida's 14 seaports are located among its nearly 1,200 miles of Gulf and Atlantic coastlines. The ports of Tampa and St. Petersburg are the state's largest and smallest, respectively.
Florida's 14 seaports
Port Canaveral

Port Everglades

Port of Fernandina

Port of Fort Pierce

Port of Jacksonville

Port of Key West

Port Manatee

Port of Miami

Port Palm Beach

Port of Panama City

Port Pensacola

Port of Port St. Joe

Port of St. Petersburg

Port of Tampa

Economic Impact
Florida's trade efforts and cruise industry significantly influence its economy. Annually, freight worth billions of dollars is exported and imported through the state's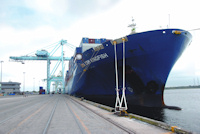 Unloading containers.
seaports, which serve as embarking and disembarking points for millions of cruise passengers. Florida's trade efforts and the cruise industry also generate and support thousands of jobs for Floridians. According to The Florida Seaports Council (FSC), a professional association for the state's 14 seaports:
2.84 million containers moved through Florida's seaports in 2010, accounting for $69.7 billion. This figure represented just more than half of the state's $130 billion international trade total. Florida ranks fourth among the nation's top exporting states, and recorded nearly a 4 percent share of total U.S. international trade.

In 2010, the ports in Miami, Jacksonville, Palm Beach and Port Everglades ranked among the nation's top 20 container ports.

550,000 direct and indirect jobs have been created, contributing $1.7 billion in state and local revenues. The average wages for these jobs were $55,400, which is at least $15,000 more than the state's average wage.

In 2010, Florida's ports were embarking and disembarking points for 12.7 million passengers.

Forty-five percent of direct cruise line employment accounts for 14,000 jobs, with the cruise industry as a whole accounting for 115,000 jobs in Florida.

Port of Miami, Port Everglades and Port Canaveral are ranked as the top three multi-day cruise ports in the world.

Several cruise lines are based in Florida including Carnival Cruise Lines, Disney Cruise Line and Norwegian Cruise Line.
The Future of Florida's Seaports

Since Florida's seaports have such a critical effect on its economy, the state aims to explore all options for keeping them competitive. For example, in May Florida Governor Rick Scott signed House Bill 283, which removed regulation and redundant state requirements established in 2000, prior to current federal requirements adopted during the aftermath of 9/11.
Scott believes that by reducing some of these regulations, businesses will be able to grow, ultimately creating more jobs for Floridians. The FSC finds that this will save the maritime businesses about $3 million annually because they will not have to perform additional and duplicative criminal background checks at Florida's seaports.
There also has been considerable discussion about the expansion of the Panama Canal, which will double in size, allowing passage for larger ships. This expansion, scheduled for completion in 2014, will be vital to strengthening Florida's position as a global trading power.
Florida's proximity to Latin America, diverse workforce and industry infrastructure already serve as strategic selling points to businesses that want to establish roots in the state and export their products from its ports. But the addition of a quick and easy access to the Panama Canal and ports that will be able to receive post-panamax ships (ships that exceed current canal size limits) could give Florida a distinct advantage over other eastern seaports and states desiring to attract new businesses.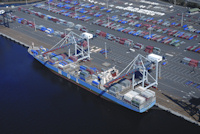 Container ship at port.
Several eastern seaports already have begun projects to accommodate the Panama Canal expansion. In Florida, the Port of Miami has begun the upgrading process with improvements being made to the cargo wharfs and reinforcements to the piers where ships tie up. Officials from Miami-Dade County, which owns the Port of Miami, reported to the Miami Herald in September that the upgrades were necessary and should be completed before the port is dredged next year. The $150 million dredging project is scheduled for completion in early 2014.
The development of inland ports will factor into Florida's future. While there is speculation about where inland ports should be located, it would seem that locations nearest to the state's busiest seaports would be at an advantage. For example, in 2010 a north central Florida location was being considered for the state's first inland port. However, several issues including local and state support and the status of the dredging of the Port of Jacksonville have put the project on hold. Competing firms are currently considering St. Lucie, Hendry and Palm Beach counties reported the South Florida Business Journal in August. The purpose of the creation of an inland port is to have the ability to move cargo quickly from ships to trains and eventually to a distribution center.
Securing support from state and local officials will be essential. Beginning or completing any project could be difficult without sufficient backing from local and state officials. They must collaborate to secure funding, endorsement from the local community and see the project from beginning to end. "It would be hard to imagine an undertaking like development of an inland port being done without support on the local and state levels," said Manny Mencía, senior vice president of international trade and business development for Enterprise Florida.

Florida's 14 seaports always will be a significant asset to its economy. To keep progressing and remain competitive, the state's economic development organizations continue to explore all beneficial options. Creating legislation that streamlines regulations and funding of projects such as the Port of Miami dredging are steps that are deemed in the right direction.

To learn more about Florida's international trade initiatives, logistics and distribution efforts and incentives visit Enterprise Florida's website at www.eflorida.com.
About the Author