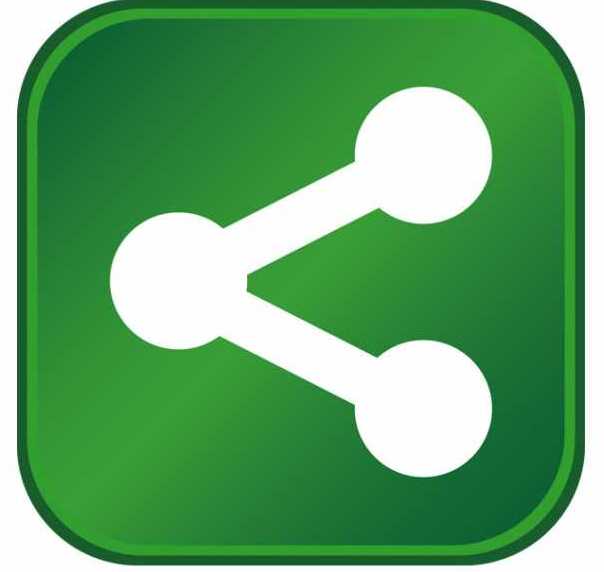 From left, Michael Rem of JBL Development, Fort Pierce Mayor Linda Hudson and Sandra Pabon of Itasca Construction Partners sign the cornerstone of the Interstate Commerce Center.   Photo by MaryAnn Ketcham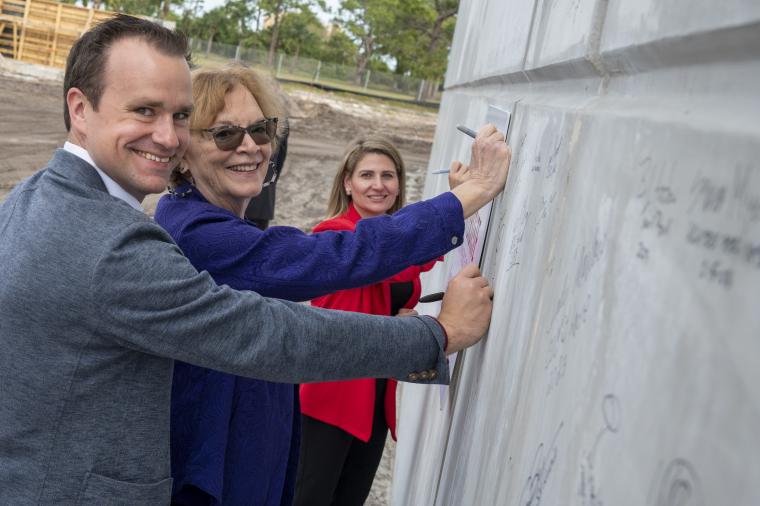 Dozens of dignitaries gathered along Interstate 95 in Fort Pierce on Feb. 15 to add their signatures to a cornerstone for the Interstate Commerce Center (ICC). 
Currently under construction at 3800 Crossroads Parkway in the Crossroads Park of Commerce, the 207,458-square-foot Class-A industrial building has 1,300 feet of clear I-95 frontage and is located in St. Lucie County at the northernmost point where I-95 and Florida's Turnpike intersect. 
The facility is being developed on 12.7 acres by JBL Development and will be managed by JBL Asset Management. Itasca Construction Partners is the general contractor. Designed for mid-size users with space requirements from 20,000 to 200,000 square feet, the facility will be ready for occupancy this spring.
ICC is located within one mile of both Exit 129 on I-95 and Exit 152 on the turnpike.  The facility's location provides for access to Orlando, Fort Myers and Miami within two hours.  When complete, the facility will have 32-foot interior clear heights, a 60-foot speed bay, 60 dock-high loading bays, and several at-grade ramps.  Separate parking areas and entrances for employees will prioritize safety and visitor experience with a total of 302 parking spaces on site.
"There is currently quite a bit of product being developed for large users, so we are very excited to be able to offer attractive Class-A facilities for mid-size users with I-95 frontage and excellent access to both the interstate and Florida's Turnpike," said Michael Rem with JBL Development. "These distinctive and desirable qualities are driving interest from efficiency-minded businesses seeking brand exposure and quick access to Florida's most densely populated hubs."
"JBL's choice of Fort Pierce as the home for this excellent facility was a wise one," said Fort Pierce Mayor Linda Hudson. "Not only is the Interstate Commerce Center located at the northernmost point where the turnpike and I-95 come together, there is easy access to the Treasure Coast International Airport, the Port of Fort Pierce, the Florida East Coast railroad, our safe Fort Pierce Inlet connecting the Indian River Lagoon to the Atlantic Ocean, and our pristine uncrowded beaches."
"Since the inception of this project, JBL Asset Management has engaged with the St. Lucie County community to ensure the end users at the Interstate Commerce Center will not only have first-class space to lease in a great location but also have connections to the community to assist with employment and business services," said Pete Tesch, president of the Economic Development Council of St. Lucie County. "Our signatures on the building's cornerstone are tokens of our ongoing commitment to assist the tenants -- future local employers -- who will be joining us here in the Sunrise City."
"We are pleased to work with JBL and the Economic Development Council of St. Lucie County in taking this top-tier industrial project to market," said Michael Falk, executive vice president at Colliers. "We anticipate high demand for the facility given its ability to provide for tenants as low as 20,000 square feet with brand new, quality space in Fort Pierce's booming market with excellent visibility along I-95."  Leasing inquiries can be directed to Falk at 561.478.6400.