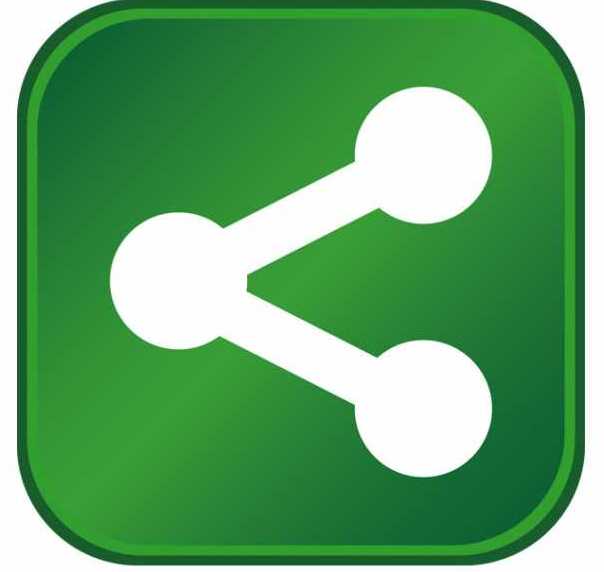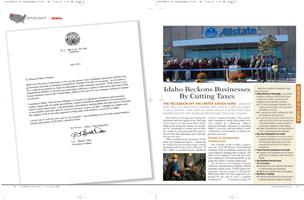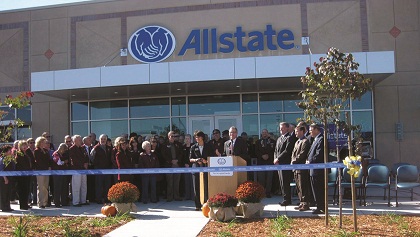 The recession hit the United States hard – private and public alike, as a nation and as individual states. Now, as a slow and sluggish recovery continues, many states are raising revenues to bridge budget gaps, backfilling holes left when funding got tight and tough choices were necessary.
But instead of raising taxes during the downturn and then again at the first sign of recovery as some states have done, Idaho kept easing the burden on taxpayers by continuing to ratchet up its sales tax credit on groceries and this year reduced both the individual and corporate income tax rates.
Idaho weathered the recession in the same way businesses had to—balancing the budget by prioritizing needs, cutting spending and being more efficient. In fact, Idaho is constitutionally mandated to have a balanced budget. That responsible foundation, along with public policies aimed at enhancing Idaho's business-friendly reputation, is speeding Idaho's recovery and providing a more competitive environment in which employers can grow.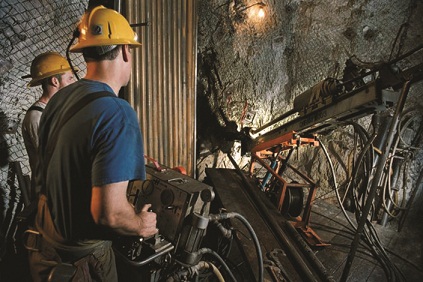 Workforce Development Training Fund
One example of this is Idaho's aggressive use of its Workforce Development Training Fund to reimburse employers for costs related to training their workers. The fund can be tapped to provide new full-time employees with needed skills or upgrade the skills of current employees.
The Workforce Development Training Fund was instrumental in helping Allstate Insurance build a new 75,000-square-foot customer service center in Pocatello. With more than 500 new employees expected by the end of 2012, a quality workforce is key for serving Allstate branches nationwide.
Allstate Customer Service Center Success
"As we think about the employees we need, we really look for employees who can serve our customers," said Mark Pitchford, Allstate's vice president of Direct Sales and Service. "We really do feel like the people living here in this community will provide us a great pool for that workforce. We know in working with Idaho State [University] they're going to help us with some of the early training, so we know we've got great support. It's incredible to be able to bring together that kind of effort to truly bring great employees who will serve our customers wonderfully every day."
While many other factors helped Allstate choose Idaho—including the ability to work closely and collaboratively with state and local government officials—it was the company's ability to hire a high-quality workforce that made the deciding difference.
"The people are what tipped the scales for us. Employees that we see here really have the attitude, the energy, the commitment, the stability," Pitchford said. "It's really what we're looking for in employees that can serve our customers across the country."
Idaho Business Advantage
Another program many companies benefit from is Idaho Business Advantage. Businesses that invest in new or existing facilities and create at least 10 new jobs qualify for a variety of incentives that include everything from property tax exemptions to sales tax rebates on construction materials to credits off their tax liability.
Chobani Greek Yogurt Success
An example of a business that qualified is Chobani Greek Yogurt. The New York state-based company constructed the largest and most advanced yogurt manufacturing facility in the world in Twin Falls, Idaho, investing $250 million in the 950,000-square-foot plant for Chobani's first production facility in the West.
It will employ more than 400 workers.
Milk availability was another factor in Idaho's favor for the Chobani project, as was a strategic location for transportation throughout the West, low electricity costs, and the fact that Idaho has a chief executive who cut his teeth in agribusiness and understands the importance of government regulations that educate and empower rather than proscribe and punish.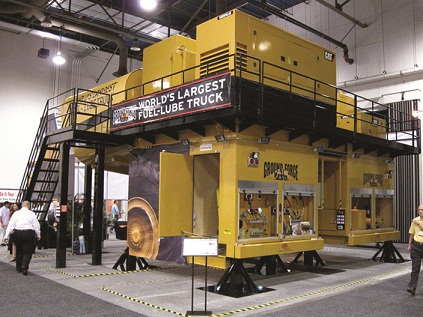 "We picked Idaho for a few reasons," said Hamdi Ulukaya, CEO of Agro-Farma Inc., Chobani's parent company. A native of Turkey, Ulukaya made fast friends with Idaho Governor C.L. "Butch" Otter, who had done business in Turkey and scores of other countries as president of Simplot International.
"We're a business and wanted to make sure we were competitive, we could supply, we could deliver, we could make quality products," Ulukaya said. "We found that in Idaho. The incentives that we got made it easier for us to make the decision, and there were four states that wanted us and we picked Idaho."

Hire One Program
Idaho also now has the Hire One program, which provides a refundable income tax credit to employers who fill newly created positions with full-time employees earning qualifying wages and benefits. Once those employees have worked for nine months, employers can claim the credit for up to six percent of the gross wages paid to each new employee for the first 12 months of employment.
Ground Force Manufacturing Success
Ground Force Manufacturing in the northern Idaho city of Post Falls is among employers putting the incentives to good use. Ground Force is pursuing a new venture called Underground Force and building a $4.5 million expansion to manufacture mining machinery and equipment. The 50 new employees it plans to add make the Hire One program an attractive option.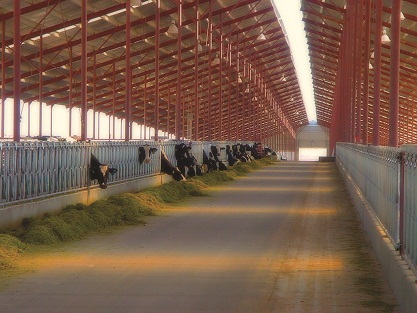 "The new Hire One program gives Idaho companies a chance to work with the state to help improve our economy," said Ron Nielson, CEO of Ground Force Manufacturing and Underground Force. He credits the Hire One program as a driving factor enabling him to expand his business.

Idaho Global Entrepreneurial Mission (IGEM)
Another new state government initiative is called the Idaho Global Entrepreneurial Mission (IGEM). IGEM is a partnership between Idaho's three research universities, the U.S. Department of Energy's Idaho National Laboratory and its Center for Advanced Energy Studies, the Idaho Department of Commerce and industry leaders to commercialize innovative and viable technologies. Businesses will have the opportunity through IGEM to tap into globally competitive technologies, a world-class talent pool and an innovative, top-performing economy.
Idaho is a place where companies will find a stable government that is accessible and ready to be a partner to business. As Governor Otter states, "In Idaho, we are deeply committed to maintaining the fiscal discipline necessary to give predictability to our businesses. We know that growing business – not government – is the key to a robust economic recovery. Businesses can count on Idaho's commitment to reducing regulatory and tax burdens on entrepreneurs."
With new programs such as IGEM and Hire One, falling tax rates and an entrepreneurial spirit that has earned the state the fifth-best economic outlook rating from a well-known association, Idaho already is living up to its promise of economic strength.
 
About the Author