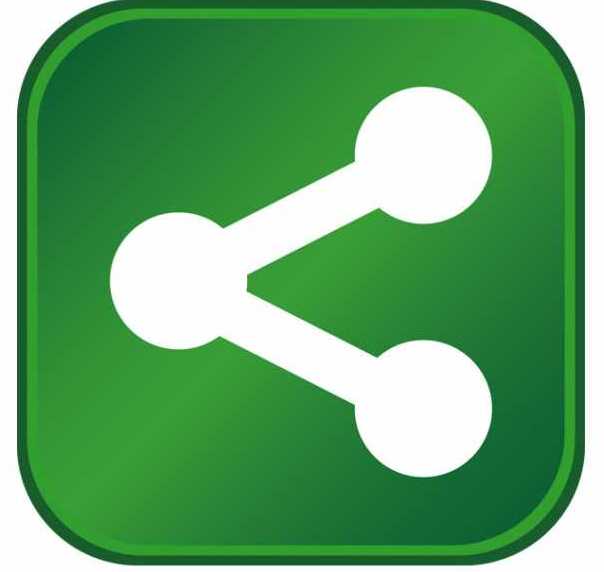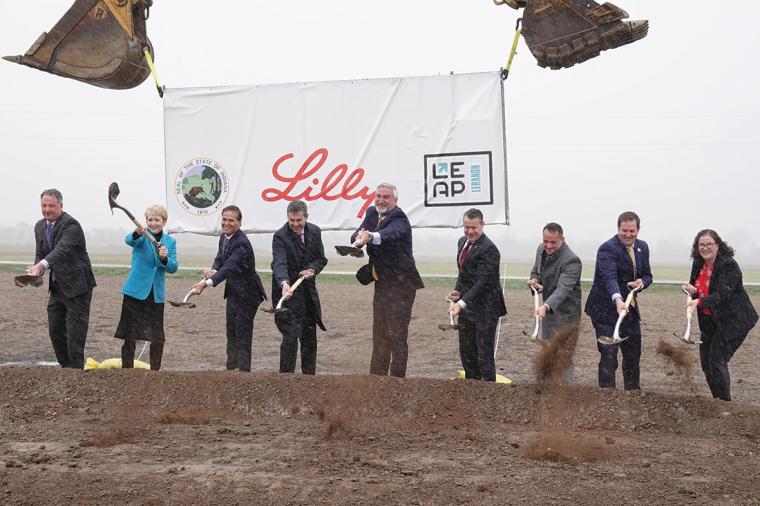 As a centrally located state,  Indiana was once considered flyover territory. Now? Indiana's economy is in the spotlight on the worldís stage, capturing headline after headline as industry leaders and innovators alike look to the Hoosier State to support their growth and drive success.
Continually named a top state for business, Indiana has grown accustomed to setting economic development standards. The state's recent wins, however, are shattering even its most impressive historical records. Last year, Indiana secured more than $22.2 billion in committed capital investment statewide – an unprecedented 260 percent increase from 2021 and the highest to date for this Midwest state. More importantly for Indiana, though, is the new career opportunities that will come from this investment, promising average salaries that top $72,100 – nearly 28 percent higher than the state's average wage – and providing a better quality of life for its residents.
Indiana is done being humble. That's a message continuously shared by the state's Secretary of Commerce Brad Chambers, who was appointed to lead the Indiana Economic Development Corporation (IEDC) in July 2021. He came into the role with a bullish vision and a bold plan to win against the best global competitors, targeting the businesses, economies and ecosystems that will benefit the state not just for years, but for generations. Under his leadership, Indiana rolled a new roadmap, dubbed the "5Es," to build on Indiana's built environment and improve quality of life, cultivate an economy of the future, enhance its climate of entrepreneurship and innovation, usher in the impending energy transition, and tout the state's successes far and wide through increased external engagement.
In short, Indiana is playing to win. And winning it is.
Future-Critical Sectors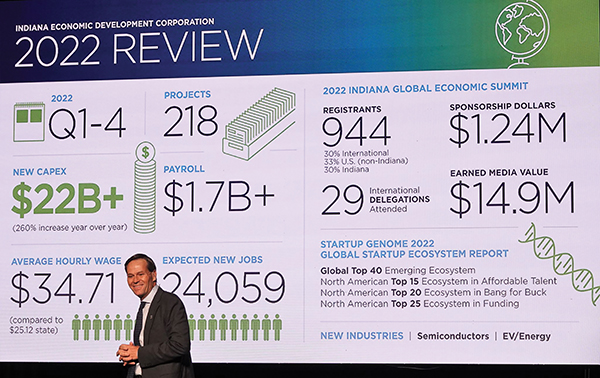 Indiana has long been known as a heavy agricultural and manufacturing state, but that reputation is evolving with its focus on fostering high-tech industries that are critical to tomorrow's global economy. New investments, new initiatives and a new focus enable new growth and innovation in future-looking industries like semiconductor fabrication and design, electric vehicles and batteries, life sciences, agbiosciences and industry 4.0.
When it comes to automotive, it's clear that Indiana will be at the forefront of developing and building the future of mobility. Companies like Toyota, Honda and Cummins have committed to building next-generation electric and hybrid technologies in Indiana, and the state landed a new, large-scale battery manufacturing plant: a Stellantis and Samsung SDI joint venture that will result in $2.5 billion invested and 1,400 new jobs created in Kokomo. Indiana has such impressive momentum, the EV supply chain is also following suit as companies like ENTEK and soulbrain MI are making plans to establish operations in Indiana.
In addition to driving on-road innovation, Indiana is set to be a key player in the reshoring of semiconductor research and manufacturing in the U.S. thanks to extraordinary state efforts to attract chip companies. The state created and launched a new Accelerating Microelectronics Production and Development (AMPD) taskforce in 2022 to help companies in the semiconductor supply chain locate, innovate and produce in Indiana. Soon after, Taiwan-based MediaTek announced plans to establish a new semiconductor design center in partnership with Purdue University, and in July 2022, U.S.-based SkyWater Technology announced plans to establish operations in Indiana, building a $1.8 billion semiconductor research and development and production facility in West Lafayette.
The state is also investing in WestGate One, a new microelectronics hub in Daviess County near the Naval Surface Warfare Center, Crane Division (NSWC Crane), to advance American-made microelectronics. The new campus has already attracted four semiconductor companies: NHanced Semiconductors, which will anchor the development; Everspin Technologies; Trusted Semiconductor Solutions; and Reliable MicroSystems. Together, these companies plan to invest more than $300 million in Indiana and create up to 549 new jobs in the coming years.
Inspiring Entrepreneurship and Innovation
Indiana is making unprecedented investments in its entrepreneurial ecosystem, inspiring dreamers, funding innovators and supporting small businesses statewide. The state's venture development efforts helped Indiana's venture market surpass $1 billion for the first time in 2021, and new funding through the State Small Business Credit Initiative is expected to result in at least $990 million in new dollars invested in Indiana's innovation and entrepreneurial ecosystem in the coming years.
These efforts have earned Indiana recognition as the number one state to start a business by Forbes and as a global top 40 emerging ecosystem by Startup Genome, with six Indiana cities named among the best startup cities in the Midwest.
A Focus on People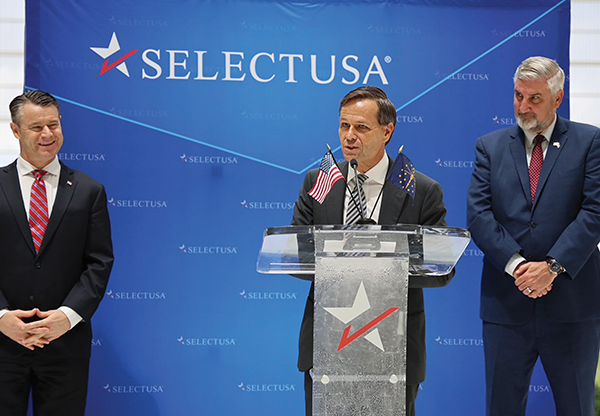 While the numbers are indeed impressive, Indiana's focus is ultimately on people. That's why the state is rolling out new investments like the nationally recognized Regional Economic Acceleration and Development Initiative (READI) that is expected to result in more than $8.5 billion of public, private and nonprofit dollars invested in Indiana neighborhoods and communities, helping enhance the lives of current and future generations of Hoosiers.
Through READI, the state is investing $500 million to help fund regional strategies and accelerate quality of place, quality of life and quality of opportunity projects and programs. In just 16 months, Indiana designated 95 percent – or more than $474.9 million – of the initiative's grant funds to 347 projects and programs that will help attract, retain and develop talent for years to come. Across the state, ground is being broken on new community gathering places and support systems, inclusive parks for kids, performing arts centers, trails and parks and more, enhancing the vibrancy and livability of Hoosier communities.
READI has been so successful that Governor Eric J. Holcomb and Secretary Chambers called for another $500 million – a request approved during the 2023 legislative session – over the next two years to expand these quality of place and quality of life investments, resulting in an estimated $16 billion of economic impact across the state.
Playing to Win
Indiana's focus on aiming higher, running faster and playing to win is working and shows no signs of slowing down. The state continues to look for new ways to accelerate innovation, whether through programs like Manufacturing Readiness Grants, which is helping small- and medium-sized businesses invest in smart technologies or through clean energy initiatives like a seven-state, public-private effort to accelerate hydrogen research and development and production.
Indiana continues to push forward, listening to and delivering on what today's businesses will need tomorrow. That's why the state is modernizing its economic development toolkit, with increased tax credit flexibility and a new deal closing fund, and why it's investing in strategic site identification, helping bring more competitive greenfield sites to market, and developing new state-led megasites like LEAP (Limitless Exploration/Advanced Pace) just outside its capital city.
Indiana is investing in its future, in its communities and in its businesses like never before. Whether helping a small business achieve its dream, building a multibillion-dollar hard-tech manufacturing facility, accelerating pharmaceutical innovation, or developing the products and industries of tomorrow, Indiana is playing to win – not just for its state, but for its people and for the future global economy.
Learn more about what makes Indiana the perfect place for global investment at iedc.in.gov. T&ID
About the Author