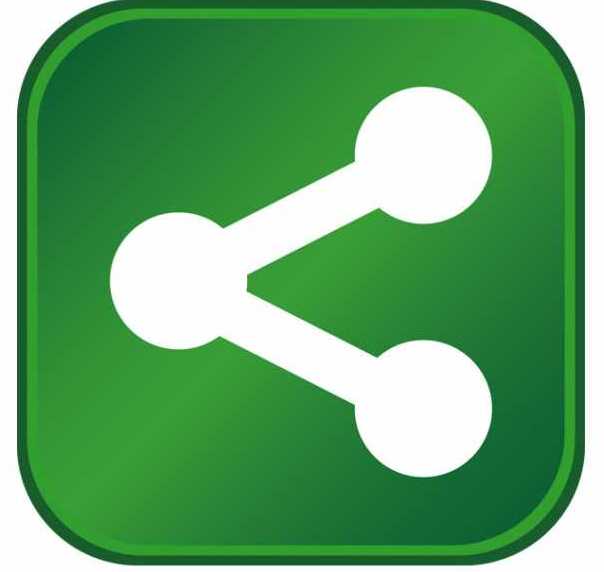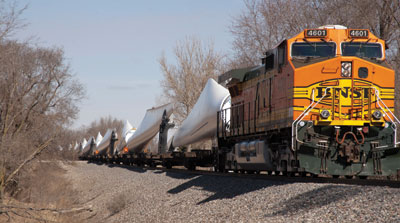 A drive through the Iowa countryside brings a sight impossible to miss – thousands of towering wind turbines powering the future. Iowa's wind energy industry has boomed in recent years thanks to the state's progressive renewable energy policies, put in place more than a decade ago.
Iowa leads the nation in the percentage of its electricity generation that comes from wind. Wind generation makes up 14 percent of total power output in Iowa, where more than 2,500 wind turbines dot the landscape. The American Wind Energy Association has described Iowa's "explosive success" in leading the way nationally in wind energy installations and manufacturing. The state's relentless focus on growing its wind energy industry shows no signs of letting up.
Governor Chet Culver has challenged utilities to increase the state's wind energy capacity and has encouraged a goal of creating 25 percent of Iowa's electricity from renewable sources by 2025. "The state of Iowa and its wind energy industry are leading the race to become the renewable energy capital of the nation," Gov. Culver said.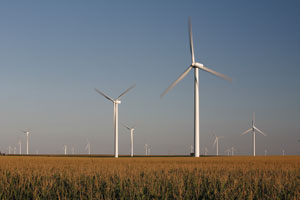 The state's wind energy capacity topped 3,600 megawatts this year. To put that in perspective, 1,000 megawatts of energy can power 250,000 homes. Iowa ranks second nationally in wind generation output, but the growth of Iowa's wind energy industry didn't happen overnight.
Iowa was among the first to offer an array of incentives meant to spur the development of wind farms. Those incentives include grants, loans, rebates, property tax reductions and sales tax exemptions. In addition, Iowa put a mandate in place in the late 1990s requiring utilities to derive a certain percentage of their overall energy portfolios from renewable energy sources. Two of the state's major investor-owned utilities – MidAmerican Energy and Alliant Energy – have made notable investments in wind energy.
Wind turbine, tower, blade manufacturing and supply chain grows
Iowa has drawn manufacturers of wind turbines, blades and towers to the state with its skilled workforce. In the last three years, Iowa has led the country in attracting wind manufacturers and has also developed a supplier network of over 250 companies.
A study by Wind Utility Consulting predicts that roughly $5.7 billion in wind generation projects will be built each year over the next five years within a 600-mile radius of Iowa. Currently, Iowa and Texas are the only states that manufacture all three of the main components of wind turbines.
Iowa's three public universities and five community colleges have teamed up to form the Iowa Alliance for Wind Innovation and Novel Development (IAWIND). The group's focus is to attract newcomers to Iowa's wind industry and other related industries and to nurture the industry through research and education. Iowa Lakes Community College is home to a two-year certificate program for wind turbine operation and maintenance, one of the first and most established programs in the country.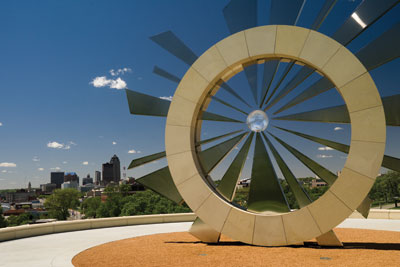 The state also is offering lucrative incentives to renewable energy companies looking to set up shop in Iowa. Those incentives include the state's $100 million Iowa Power Fund, which has dollars for a broad range renewable energy research efforts. The Iowa Office of Energy Independence also helps support advanced renewable energy development.
Other factors have helped draw companies to Iowa such as the state's strong transportation infrastructure. Two major interstates – I-80 and I-35 – crisscross the state and converge in Des Moines, Iowa's capital; a comprehensive network of railroads that offer additional options; and barge opportunities via the Mississippi River on Iowa's eastern border.
Renewable fuels key
Wind energy is not the only renewable energy area where Iowa is a leader. Renewable fuels remain an essential component of Iowa's green economy. Iowa is the top ethanol producing state in the country and ranks second in biodiesel production, two industries that continue to flourish in the state.
Iowa is assured a commanding place in renewable fuel production in the future as technological advances make the use of biomass -- such as cornstalks and cobs or switchgrass -- more viable as sources for second-generation ethanol production. Thanks to an $80 million grant from the U.S. Department of Energy, POET is moving forward at a facility in Emmetsburg to produce ethanol – 25 percent of which will be derived from cellulose. Called Project LIBERTY, it is poised to become the world's first commercially viable cellulosic energy plant in the world. That plant is expected to realize environmental benefits as well, producing 11 percent more ethanol from a bushel of corn. The plant will use 83 percent less fossil fuels than is used to operate a traditional corn-to-ethanol plant and will use 24 percent less water.
High rankings for business climate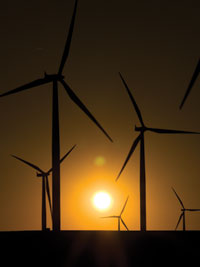 Centrally located in America's upper Midwest, Iowa lies in the heart of a 12-state region that has proven logistical cost savings and supply-chain efficiencies that give Iowa manufacturers strategic advantages – making it a prime location to expand, relocate or start a business. The network of divided four-lane and interstate highways, intercontinental and short-line railroads and barge routes combine to provide unequaled and competitive transportation choices. Companies select Iowa locations because the costs of shipping components in and finished product out are significantly lower than in other states.
Iowa has a number of advantages that greatly benefit businesses. Like being number one in the production of corn, soybeans and eggs. Iowa has plentiful raw materials for food manufacturing, while water and electrical power are also readily available. Plus, Iowa has the lowest cost of doing business in the United States. (America's Top States for Business, CNBC 2009)
Iowa is consistently recognized as a national leader in education and consistently ranks very high in the quality of elementary and secondary schools, as well as high-school graduation rates. An educated work force means more motivated employees, lower startup costs, lower training costs, fewer job-related accidents, shorter training periods, and an excellence – a pride – in quality and productivity.
The IDED staff is headquartered in Des Moines. The state has offices located in Japan and Germany, and also has a presence in China and Mexico. IDED's dedicated team of professionals can assess opportunities and assist companies that are looking to expand or locate a business in the United States. Learn more at:  iowalifechanging.com.
About the Author