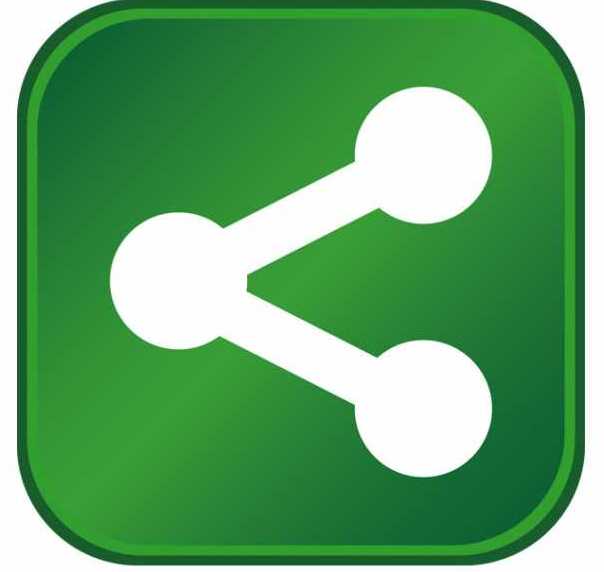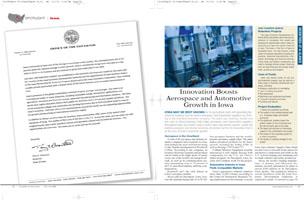 Iowa may be best known for its agricultural roots and expanding biosciences industry, but the state's aerospace and automotive suppliers are thriving in this heartland innovation economy. The state's pro-business climate and low cost of doing business help make aerospace and automotive suppliers throughout Iowa successful. Iowa's world-class educational system, model job training programs and diverse economy all provide fuel for the innovation that is at the core of Iowa's economic growth.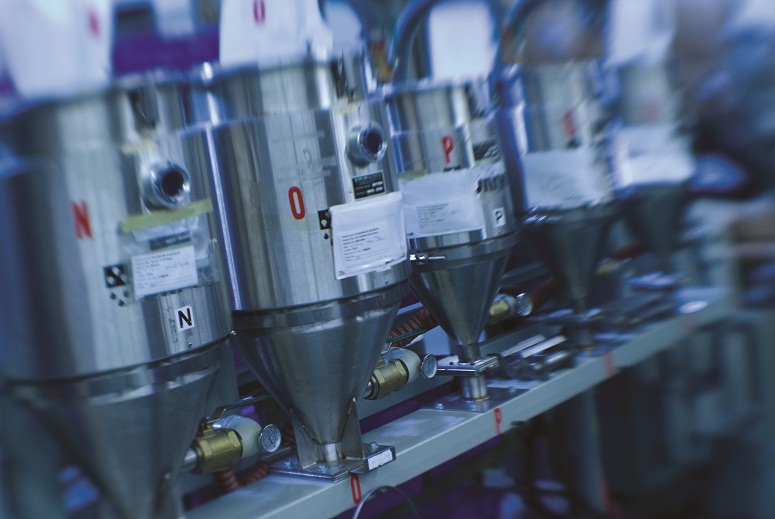 Aerospace in the Heartland
A total of 40 aerospace and defense industry companies have locations in Iowa, with perhaps the most well-known being Cedar Rapids-headquartered Rockwell Collins. According to the company, its aviation electronics systems and products can be found in the flight decks of nearly every one of the world's air transport aircraft, as well as its communication systems transmitting close to 70 percent of all U.S. and allied military airborne communication.
 
Rockwell isn't the only player in Iowa's aerospace market.
 
Alcoa calls its Davenport, Iowa, location the manufacturing hub of its $3 billion aerospace business and the world's premier aerospace supply plant. The plant makes advanced products for all major aircraft, including the Airbus A380, as well as Boeing's 747-8 and 777.
 
Cobham Mission Equipment recently announced it will supply Boeing with components for the U.S. Air Force's tanker program. Its Davenport, Iowa, facility will complete work for the project.
 
Automotive Industry in Iowa Finds Compatible Markets
Iowa's automotive industry employs more than 72,000 Iowans, according to the Center for Automotive Research. Using employment as the measure, a recent Iowa Auto Industry Supply Chain Study reveals Iowa is eleventh in the nation for automotive components and ninth in the U.S. in both forgings and stampings and in small vehicles and trailer production.
 
Alcoa, the world's leading manufacturer of primary and fabricated aluminum, recently announced its plans to invest $300 million in its Davenport, Iowa, facility. The expansion, which received incentives from the Iowa Economic Development Authority, is expected to create 150 jobs and will help the company meet a rising aluminum demand in the automotive market.
 
Vehicular parts and components, as well as motor homes and campers, are a vital subsector of Iowa's advanced manufacturing industry. Industry anchors with a manufacturing presence in Iowa include Winnebago Industries, Inc., a leading manufacturer of recreational vehicles (RVs) based in Forest City, Iowa. Other parts manufactured by the company consist primarily of original equipment manufacturer (OEM) parts, including aluminum products for other companies.
 
Many Iowa companies that supply parts for the automotive industry also supply parts for other compatible markets, such as agricultural and construction heavy equipment. Encouraging innovation in this sector, the state of Iowa looks to support greater product and market diversification so that auto supply companies are well-positioned to produce other goods for companies such as John Deere and Caterpillar, two of the world's leaders in farm and construction equipment that have operations in Iowa.
 
Innovation Driven by Profitable Research
Iowa offers a key incentive for businesses looking to grow their research and development operations in the state. Iowa's Research Activities Credit, more commonly known as the research and development tax credit, has consistently been offered by the state, even when federal credits have seen intermittent expiration dates. Iowa is one of a handful of states to offer a refundable research activities credit. Companies earn refundable tax credits of up to 6.5 percent for their qualified research and development investments, which can be paid directly in cash to the company once its tax liabilities are met.
 
Aerospace technology and global security leader Rockwell Collins is an Iowa company that can testify to the value of Iowa's Research Activities Credit.
 
"In the changing global economy, the state of Iowa's refundable Research Activities Credit remains a tremendous strategic asset to companies and industries with intensive research demands," said Tom Stanczyk, a vice president at Rockwell Collins. "Technology innovation fuels our future growth and is what will differentiate our company in tomorrow's highly competitive global marketplace."
 
Iowa companies may be eligible for supplemental tax credits for qualifying research and development activities through the state's Enterprise Zone or High Quality Jobs initiatives.
 
These are not the only tax benefits that being located in Iowa brings. Iowa offers sales tax exemptions for manufacturing machinery and equipment and electricity used in manufacturing. The state does not tax personal property, inventory or corporate sales made outside of the state.
 
Collaborative Research Partnerships with Higher Education Institutions
Iowa's emphasis on innovation benefits strategic research partnerships between businesses and world-class research facilities like those at the University of Iowa. Both the aerospace and automotive sectors have benefitted from research performed at the U of I's National Advanced Driving Simulator (NADS) and Operator Performance Laboratory (OPL). Strategic research partnerships in tandem with the available Research Activities Credit are helping Iowa aerospace and automotive supply companies to innovate and bring new products to market.
 
NADS, the world's most advanced driving simulator, has collaborated with such entities as the Food and Drug Administration and the National Highway Traffic Safety Administration and can be used by those with an interest in driving-based development and research.
 
OPL's research capabilities include flight deck technology, airborne sensor systems, unmanned aerial vehicle systems, as well as automotive user interface systems. The OPL has worked with Rockwell Collins to improve flight simulators and to make pilot training more effective. AirCover Integrated Solutions recently announced plans to assemble its unmanned surveillance systems in Cedar Rapids, Iowa, and in a media report cited the importance of the proximity to the OPL as one reason to locate in Cedar Rapids.
 
Favorable Business Climate
Besides the advantages Iowa offers the aerospace and automotive industries, it offers an overall favorable business climate to companies that operate in the state. A right-to-work state, Iowa was named by CNBC as the state with the lowest cost of doing business and the ninth-best state for doing business overall. Along with those advantages, the state is taking steps to ensure a solid infrastructure is in place to ensure innovative companies have the support they need to flourish.
 
About the Author