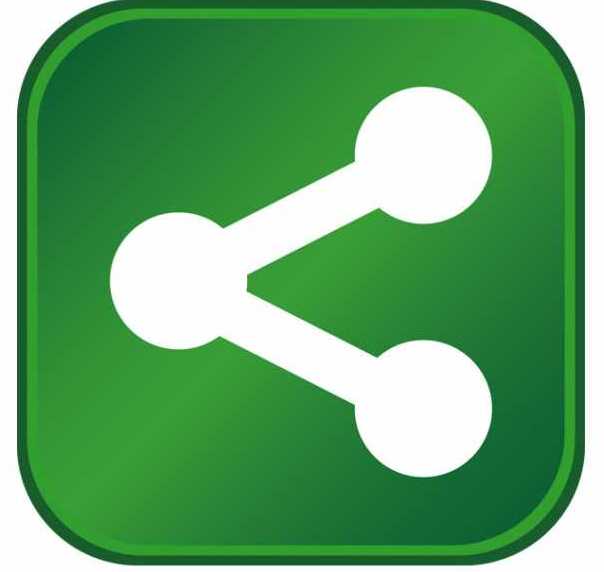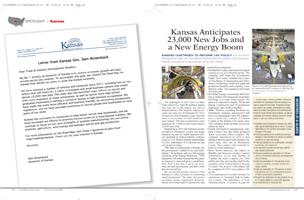 Kansas continues to reform tax policy and economic development under the Brownback Administration to create a more business-friendly environment to spur private-sector job creation.
The highlight of 2012 was on May 22nd, when Gov. Sam Brownback signed into law one of the largest tax cuts in Kansas history. The measure reduces income tax rates for all Kansans by 14 to 24 percent and eliminates state income taxes on more than 191,000 small business owners. The law is expected to save taxpayers $1.1 billion and create almost 23,000 new jobs.
Beginning in 2013, the business income exemption eliminates certain non-wage business income for small business owners operating as limited liability corporations (LLCs), limited liability partnerships (LLPs), Subchapter-S Corporations and sole proprietorships.
"My faith is in the people of Kansas, not the government's ability to tax and redistribute," Brownback said at a bill-signing ceremony at the Kansas Statehouse. "This legislation will make Kansas the best place in America to start and grow a small business. Now is the time to grow our economy, not state government, and that's what this tax cut will do."
No one should assume, however, that Kansas is only focused on nurturing small businesses. The state was active on many recent, significant developments involving major corporations and established companies: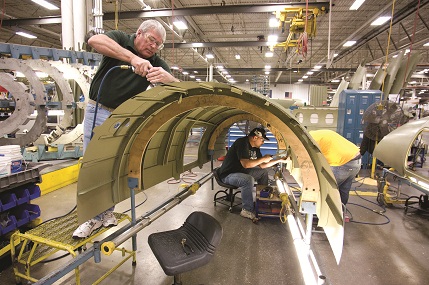 • Bombardier Learjet announced its largest expansion ever at its Wichita facility. The company will build the Bombardier Flight Test Center, establish the Center of Excellence of Engineering and Information Technology, build new paint and production facilities and construct a new delivery center. The expansion will create 450 new jobs.
• BP Wind Energy is investing $800 million to build a 419-megawatt wind farm, Flat Ridge 2, in south central Kansas. The project is expected to employ 500 people during construction and 30 permanent employees once work is finished.
• AMC Theatres, a leading theatrical entertainment company, announced it will move its headquarters and 450 employees to Leawood, a suburb of Johnson County in the Kansas City metro area. The company broke ground on its new offices in April.
• Health information management company Cerner Corp. also broke ground in April on its new office complex. The company announced in 2010 it was adding a third location in the Kansas City metro area, this one in Wyandotte County. The complex will eventually be home to 4,000 employees.
• Mars North America, the maker of M&Ms and Snickers candies, started construction on its new facility in Topeka, the state's capital city. This will be the first new facility built by the company in the United States in the past 35 years. The project's first phase will be complete by 2013 and employ 200 people.
• Teva announced it would relocate its operations to Overland Park in Johnson County. The subsidiary of Teva Pharmaceutical Industries will build a new 154,000-square-foot building. The company plans to have 400 employees working at the site, with 200 additional jobs planned for future growth.
In addition to successful projects in the state's larger communities, there have been significant developments to spur economic development and revitalize rural areas of the state:
• Valent Aerostructures, which manufactures components for the aviation industry, officially opened in May its expanded facility in Fredonia, a community of 2,300 in Wilson County in southeast Kansas. The 50,000-square-foot building will allow the company to double its employment at the site moving forward.
• Spirit AeroSystems, a major commercial airplane builder based in Wichita, opened a sub-assembly operation in Chanute in Neosho County. The facility will eventually employ 120 workers, providing a major economic boost to the community of 8,800 people in southeast Kansas.
• Kansas Dairy Ingredients plans to build a dairy ingredient and cheese plant in Hugoton, a community of 3,500 near the Kansas-Colorado border. The plant will bring 60 permanent jobs, along with 150 temporary, construction-related jobs. The company expects to process 2.3 million pounds of milk per day at the plant by the end of 2013.
The Valent Aerostructures and Spirit AeroSystems projects represent a trend to reshore operations and jobs currently overseas back to the United States – and Kansas offers some distinct advantages, especially in rural areas of the state.
"Rural Kansas offers a high quality of life and low cost of living," said Kansas Commerce Secretary Pat George. "But the biggest advantage is the skilled workforce we can offer, especially in manufacturing sectors like aviation and renewable energy."
Kansas also can offer Rural Opportunity Zones, an incentive that allows workers moving from out of state to live state income tax free for up to five years in one of 50 Kansas counties and to have up to $15,000 in student loans repaid by the state.
Thanks to refinements in the drilling technique known as horizontal fracturing (first developed in Kansas in 1947), the state could see a new oil and gas boom. The Mississippian Lime Play (MLP) is a formation containing natural gas and oil that encompasses areas of northern Oklahoma, and southern and western Kansas. The region was considered tapped out by vertical drilling decades ago, but "fracking" has the potential to significantly revive oil and gas activity in the region.
Major companies like Chesapeake Energy, Shell and Sandridge Energy are drilling wells and actively exploring the potential in the Kansas portion of the MLP.
"If the potential these companies see in the MLP in Kansas is even close to being true, the state could realize billions of dollars in economic activity and thousands of jobs created from the boom," George said.
Meanwhile, Kansas has received a laudable distinction involving a different kind of energy. The state is solidifying its status as a wind energy hub, according to the American Wind Energy Association (AWEA). Kansas tops the list of all states for wind projects under construction in 2012, with 1,189 megawatts in the works. The AWEA also welcomed Kansas into what it calls the "Gigawatt Club." Only 14 states have more than a gigawatt of wind energy capacity.
The state also has been recognized as an innovator in advanced manufacturing. Last October, the National Governors Association (NGA) announced that Kansas was one of seven states selected to participate in the organization's Policy Academy on developing strategies to expand advanced manufacturing industries.
The initiative focused on the state's immense opportunities for growth in advanced manufacturing and the efforts to develop new tools and strategies for economic development. Kansas will create strategies to improve the environment for innovation and align state research and development investments, workforce development and education systems with the current and future needs of the state's advanced manufacturing industries.
About the Author