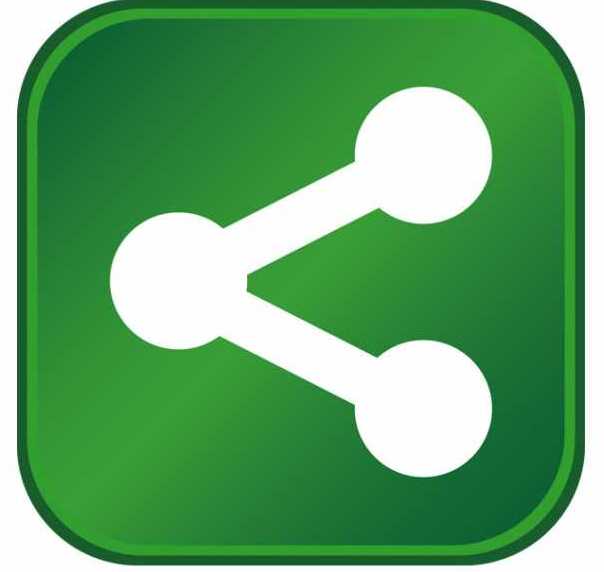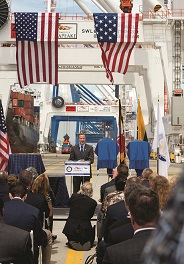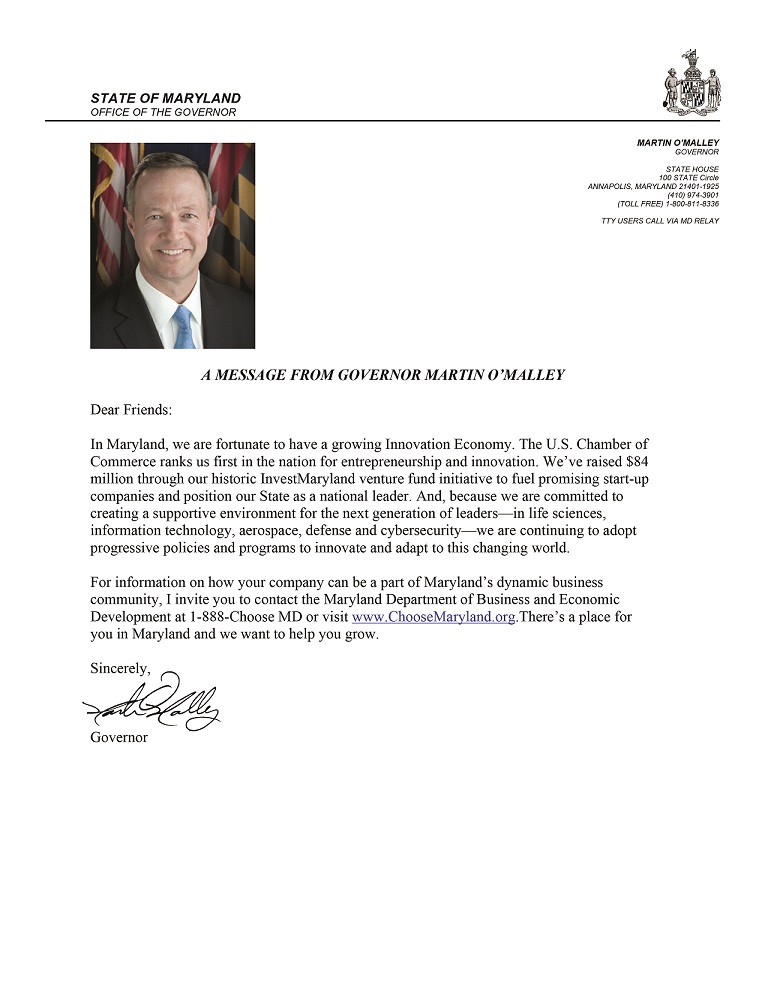 Maryland is a state of innovation, discovery and cutting-edge startup companies. World-class laboratories, highly educated workers and a thriving community of entrepreneurs fuel the state's economy today and ensure the future for Maryland is a bright one.
Recognition is spreading. For two years in a row, the U.S. Chamber of Commerce has ranked Maryland as the No. 1 state in the country for innovation and entrepreneurship. Entrepreneur.com concurred in April, putting Maryland atop its list of the best states to start a business. The Milken Institute tapped Maryland as the No. 2 state for science and technology and Fast Company labeled Maryland No. 3 in innovation, due in large part to Maryland's wealth of startups. These accolades acknowledge an economy that is strong, growing and poised for great success in the critical, fast-changing industries of the 21st century, including biotechnology, cybersecurity, clean energy, aerospace, defense and advanced manufacturing.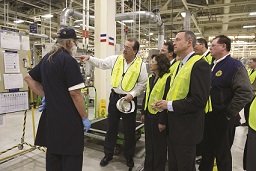 "Decades of smart investments in education, infrastructure and other priorities made by the people of Maryland have positioned our state for tremendous growth and success," said Governor Martin O'Malley. "As the economy struggled during the recession, Marylanders chose to make record investments in education and, as a result, the state's public schools have been ranked No. 1 in the country for five years running by Education Week. Maryland has also done more than any other state in the nation to hold down the cost of college tuition, bringing the dream of higher education within reach of more families than ever before."
The children educated in Maryland's top-ranked schools grow up to be significant contributors to the state's workforce. Maryland is, in fact, home to the highest concentration of employed scientists and engineers with doctoral degrees, according to the National Science Foundation (NSF). Maryland is first in mathematical sciences, biological sciences and health, and third in physical sciences. These workers ply their trades in a state rich in high-tech research and development. Maryland is first in per capita federal R&D spending and second in "R&D intensity," according to the NSF.
Maryland is also making new investments in its transportation network to move people and goods faster around the state, as well as overseas. In May, the state celebrated the opening of a 50-foot berth built through a public-private partnership at the Port of Baltimore, now one of only two ports on the East Coast capable of handling the largest cargo ships in the world.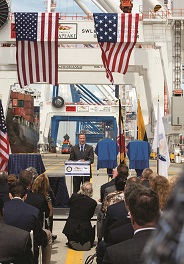 Maryland is also investing in its entrepreneurs and startups. In 2012, the Governor created the Maryland Innovation Initiative, a partnership between the state and public and private research universities to provide the seed money to commercialize at least 40 promising technologies every year. Also that year, through a program called InvestMaryland, the state raised $84 million that is being invested as venture capital in promising, young, high-tech Maryland companies. As another example of Maryland's commitment to working hand-in-hand with the private sector, two-thirds of InvestMaryland funds are being invested by private venture firms. Most of the remaining third is being invested by the state-run venture capital fund, the Maryland Venture Fund. Launched in 1996 with $25 million, the Fund has generated $67 million in returns, created more than 2,000 jobs and spurred more than $1 billion in private investment.
The success of InvestMaryland also prompted the creation in 2012 of the InvestMaryland Challenge. The national business competition attracted 259 entrants in its first year. About 10 percent were from out of state, from as far away as Massachusetts, Georgia and California. Earlier this year, prizes worth more than $425,000 were awarded, including three $100,000 top prizes in the life sciences, information technology and general industry categories. The second InvestMaryland Challenge will launch later this year.
"Just as businesses must identify and invest in their core strengths and competitive advantages, Maryland is committed to the development of key, high-tech industries that form the core of the state's 'Innovation Economy,'" said Governor O'Malley. "This year, the state redoubled commitments to research and development and the highly skilled workforce that powers our state's economy, and ramped up investments in cybersecurity and biotechnology."
Governor O'Malley championed increases in the Research and Development Tax Credit, which is now funded at $8 million per year to support that most critical work that fuels the growth of all manner of technologies and companies. The Governor also created the new Maryland Employment Advancement Right Now (EARN) program, funded with $4.5 million, which will bring the private sector together with state and local government to train workers for high-skill jobs in fields such as advanced manufacturing.
Maryland is undeniably the epicenter of cybersecurity , home to U.S. Cyber Command, the National Security Agency, the National Institutes of Standards and Technology (NIST) and a growing cluster of industry-leading cybersecurity companies. That is why, in 2012, the National Cybersecurity Center of Excellence was founded in the State. The Center, housed at NIST, brings together federal agencies, the state, local government and industry pillars like Intel, McAfee, RSA and Cisco to confront the cyber hackers and terrorists menacing vital computer networks.
On a trade mission to Israel, Jordan and Palestine in April, Governor O'Malley announced four Israeli companies, including cybersecurity firm Hybrid Security, would soon open offices in Maryland.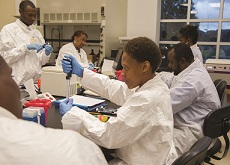 "We chose Maryland for our U.S headquarters because we see it becoming a leader in the cyber industry," said Hybrid Security CEO Raviv Raz. "Hybrid Security is a technological leader and Maryland was also the first state to reach out and offer its generous support. I believe it is the right time and the right place in light of emerging cyber threats against the American economy and national security."
During the most recent legislative session, Governor O'Malley created the Cybersecurity Investment Incentive Tax Credit — funded at $3 million in its first year — to help young cyber firms attract more capital to fuel their growth.
That program is modeled on the very popular Biotechnology Investment Incentive Tax Credit, which has played a critical role in the growth of many of Maryland's young life sciences startups. It was just increased to $10 million per year in the spring so it can continue its tremendous run of success. Maryland is home to 59 federal labs, numerous academic and research institutions and more than 500 life sciences companies, including the largest producer of adult stem cells in the world. Under the BioMaryland 2020 plan that Governor O'Malley introduced in 2009, Maryland planned investments totaling $1.3 billion in the industry over a decade. So far, the state has invested more than $600 million in incubators, infrastructure and other support for life sciences companies.
In the same "Enterprising States" reports in which the U.S. Chamber of Commerce ranked Maryland No. 1 for innovation and entrepreneurship, Maryland was also listed among the top 10 states for growth and economic performance and the next "boom states," the states "best positioned to grow, create jobs, and prosper in the coming five to 10 years."
About the Author