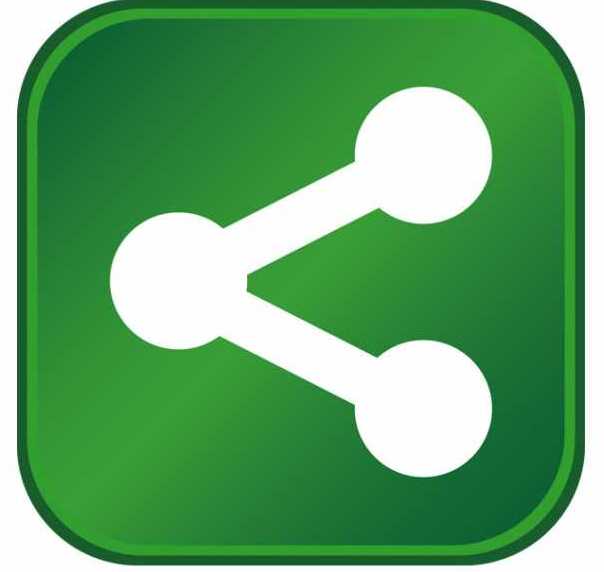 Flash back to the beginning of the 20th century – a time when agriculture and heavy manufacturing alone were enough to drive Missouri's economy.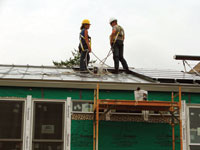 Fast-forward to 2009, when these sectors continue to be essential pillars of the state's economic foundation. Yet Missouri families – like those nationwide – are hurting, in the midst of difficult economic times gripping the country. More than 175,000 Missourians are out of work, small businesses are fighting to keep their doors open, and good-paying jobs are getting shipped overseas.
In a new century built on microchips and nanotechnology, it is clear that agriculture and heavy industry alone can't sustain the state's economy. To compete in the new global economy, Missourians must race forward in new fields, including life and plant sciences, high-tech research and alternative energy – while also revitalizing agricultural and manufacturing industries.
In short, to insure the economic future and prosperity of the state, there is a need to "Transform Missouri."
Governor Jay Nixon isn't letting those challenges define Missourians. Day one of his administration found Nixon literally hitting the ground running. Just minutes after being sworn into office in January, Nixon's first official act as Governor was to meet in his office with young entrepreneurs from around the state to pick their brains about the challenges they face each day in growing their businesses.
It was the first step on a new journey of taking bold, urgent action designed to create jobs and transform the Show-Me State's economy for the 21st century. The new agenda geared toward creating jobs, making the state more economically competitive and ensuring the state's workforce was ready for the jobs of the future has been focused on three key initiatives.
Next Generation Jobs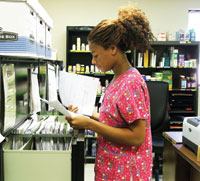 Dana Parack thought she wanted to be a speech therapist, but still had some uncertainty. Then she took part in a unique summer internship, gaining valuable experience as a technician at Rusk Rehabilitation Center in Columbia, Missouri. Now, the Barry, Illinois native is certain she's found her life's calling.
"I really liked it," Parack said of her foray into her future career field. "It really opened my eyes up to other therapy departments besides speech. I was kind of unsure about speech therapy, but this experience has helped me decide that this is what I want to do."
Parack was one of more than 7,000 young Missourians who got a sneak peak at their future careers, thanks to Nixon's Next Generation Jobs Team program. The program was established to ensure that Missouri has the talented, highly-skilled workers who are ready to compete for the jobs and careers of the future.
Funded through the American Recovery and Reinvestment Act, Nixon's Next Generation Jobs team provided youth between the ages of 16-24 with on-the-job training and real-world work experience this past summer. The program helped them to earn money and build skills while experiencing careers in cutting-edge industries, including Green energy, technology, health care, and life and plant sciences, through paid jobs and internships with employers across the state. It is just one way Nixon is fulfilling his top priorities of transforming the state's economy by preparing Missouri workers for the jobs of tomorrow.
Show-Me Jobs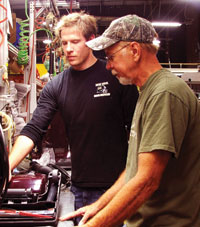 In addition to preparing Missourians for the jobs of the future, Nixon is positioning Missouri to be a natural choice for "green" companies wanting to manufacture the next generation of high-tech, energy-efficient vehicles. Kansas City-based Smith Electric Vehicles U. S. Corporation announced last spring plans to jolt the local economy, by assembling all-electric, zero-emission commercial vehicles in Kansas City. The assembly plant is expected to create 120 jobs by 2010 with an investment of $10 million in the KC Metro area.
"As production of these cutting-edge vehicles ramps up, I will continue to fight to ensure that the Show-Me State becomes a hub for the production of next-generation automobiles," Nixon vowed. "By working together, we will make Missouri the global leader in producing the next-generation vehicles, create high-tech jobs for our workers, and transform our economy for the 21st century."
For example, Nixon's administration has been aggressively marketing two former Chrysler assembly plants in the St. Louis suburb of Fenton as potential destinations for out-of-state automobile manufacturers. The idled plants, as well as the thousands of displaced, highly-skilled auto workers in the area who are anxious to get back to work in the industry, represent an attractive resource that manufacturers of green vehicles in other states would be wise to consider.
Such businesses should also pay attention to Missouri's many economic advantages. In June, Nixon signed into law a comprehensive jobs initiative that significantly expanded the state's most effective tax incentive programs, making the state more competitive against competitors. The bill also cut taxes on approximately 16,000 small businesses while increasing job training.
Small Business Loan Program

On Nixon's first full day in office, he issued an executive order to create a tool for giving small businesses access to low-interest loans to help them through challenging economic conditions. That tool became the Missouri Small Business Loan Program.
"Small businesses are crucial to the health of Missouri's economy and will play a critical role in our economic recovery," Nixon said when announcing the initial Small Business Loan Program recipients. "These low-interest loans will assist several dynamic small businesses in accessing capital so they can create jobs and help grow our economy."
Beth Daniels, of Eureka, Missouri, is well aware of those challenging economic conditions. Her small business called 'Around the Table,' which produces portable "conversation games" for families, was at a pivotal time in its young existence.
Daniels had been building her brand and product awareness for over two years. The company had momentum, brand awareness and sales, but was having difficulty keeping an adequate inventory on hand to meet the demand.
Enter Nixon's Small Business Loan Program, where Missouri businesses with five employees or less could apply for low-interest loans of up to $25,000. Daniels' business was one of the first businesses to receive one of the loans.
"The loan really came at an absolute pivotal time," said Daniels. "We had this tremendous need for inventory going into the fourth quarter and were literally tapped out on all of our personal resources. We were scratching our heads and wondering how we were going to come up with the funds for inventory. (The loan) was the difference of the business basically closing down or continuing to go."
Nixon recently announced that the program will be an ongoing process. Additional businesses that did not apply during the initial round are eligible to apply.
"Despite a substantial number of applicants for the program this first time around, we know that there are many more qualified small businesses across the state that did not apply," Nixon said. "We are making the application process ongoing in order to reach out to those businesses and encourage them to do so. Getting our state economy turned around is going to take a coordinated effort and we need a healthy small business sector to succeed."
For more information on Missouri's economic advantages, please visit www.ded.mo.gov.
About the Author