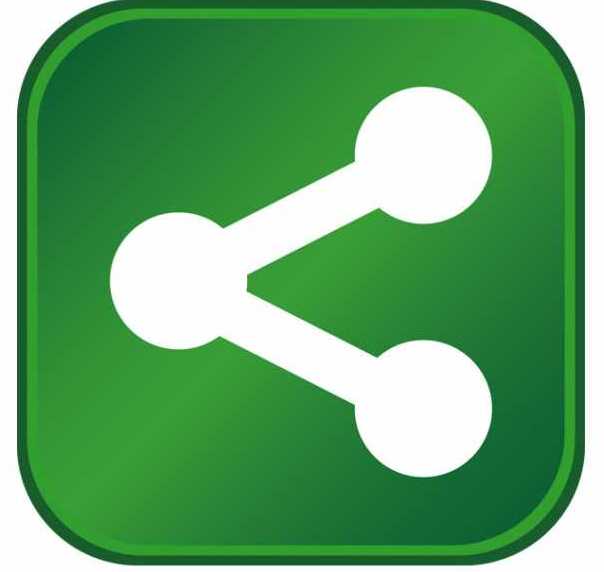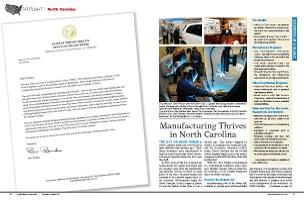 The way we make things in North Carolina today has evolved and is quite different than decades ago. Traditional industries have transitioned to high-tech and knowledge based sectors. Advanced manufacturing has also seen this shift.
In 2010, seven of the top 10 project announcements for capital investment and job creation came from the manufacturing industry, several of those in rural parts of the state. Manufacturing will continue to be a growth engine and a vital economic development target for North Carolina. In fact, output is almost 20 percent higher today than it was a decade ago. This doesn't happen by chance. According to an American Institute for Economic Research (AIER) study, North Carolina has the second lowest manufacturing costs in the nation, coming in fourth after the three states that tied for first.
With Gov. Bev Perdue's commitment to a well-trained workforce and a business friendly climate with an attractive tax structure, it's no wonder businesses thrive in North Carolina.
Invest in the brainpower
Manufacturing jobs of the future will continue to require more advanced skills and training. Our leadership in high-tech manufacturing and innovation requires that we invest in the kinds of research and development that produces breakthroughs and new projects. It requires us to invest in the brainpower of our workforce. In North Carolina, our university system and our community college system provide a solid pipeline for talent. In addition, the community college system works closely with the N.C. Department of Commerce and private businesses to customize training programs to meet their needs.
Roads, ports, air, rail and, yes, broadband
Available properties, lower land costs, skilled and productive labor, and supportive communities are some of the positives manufacturers will find in
North Carolina, including in our rural communities. The continuing investment we make in rural infrastructure will simply add to those positives. In rural regions, the distance to large markets may be greater, so there must by key investments in adequate infrastructure like roads, ports, air, rail and broadband. In North Carolina, when we give a discretionary grant to a company that decides to locate to a more prosperous county, part of that grant goes to pay for infrastructure improvements in many of our rural areas. It makes them more attractive to companies looking to relocate, or to expand.
#1 Business Climate
Perhaps one of the biggest factors is for states to have a business-friendly climate. For nine of the last 10 years, North Carolina has been rated as the #1 business climate in America by Site Selection magazine. That kind of consistency requires strong from not only government leaders but the private sector. And recently, CEO magazine ranked North Carolina the #2 best state for business. CNBC declared North Carolina as 3rd best state for business.
Biz Boost
In 2009, Gov. Perdue launched an initiative that takes an innovative approach to using Federal Workforce Investment Act Funds. There is the capability of using the funds for job loss aversion…but few states were really doing this. A pilot project in the Charlotte region used these funds for job loss aversion, especially in the financial services sector. The pilot worked so well that we have taken it statewide. In 13 months, 1,324 companies participated, 5,100 jobs were created and retained, nearly $70 million in capital formation was committed, and 814 government contracts for $213 million were awarded. More than a third of the clients in this program are in the manufacturing sector. Clearly this initiative is helping in an industry that matters to us, and in parts of our state that need it.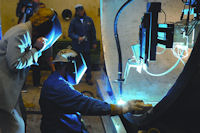 Jobs, jobs, jobs
Manufacturing matters in North Carolina, in the Southeast and in America. It matters because it means jobs, it matters for the stability and future of our nation's economy, and it matters for the strength and survival of many of our rural communities. It's the backbone of many of our communities across the South and across America. In North Carolina, more than 430,000 people rely on a manufacturing job for their livelihood. In rural North Carolina, one in every five private sector jobs is in manufacturing. That means approximately 11 percent of the state's population is involved in manufacturing, which is the 9th largest manufacturing workforce in the nation and the largest in the Southeast.
A quality of life that attracts talent
In today's global economy, people are the most important asset to any company, and North Carolina gives the company and its employees what they need to flourish.
The highly specialized pools of talent give companies a strong competitive advantage. Productive, happy workers create better business. In fact, North Carolina workers are 10 percent more productive than the average U.S. worker.
Universities, community colleges and other training programs coupled with a growing population provide a workforce with the skills that are in demand globally. The low cost of living makes it easier for our residents to take part in and enjoy our culture-rich history, world-class sports events and varied recreational activities. The cost of housing, utilities, supplies and groceries, transportation and healthcare are all below the national average.
It all comes down to this: North Carolina offers an exceptional quality of life that contributes to a highly desirable place for businesses to attract and keep skilled workers.
You're in good company
Choosing to bring your business to North Carolina means you join a long list of distinguished names that already call the state home.
Recent announcements include SAERTEX USA LLC, a manufacturer of technical fabrics for lightweight composite structures for the green energy sector, will expand its current facility in Mecklenburg County. Spirit AeroSystems Inc., one of the world's largest independent suppliers of commercial airplane assemblies, will add a new program to its manufacturing operations at the N.C. Global TransPark in Kinston. Semprius Inc., a privately held company that produces high concentration photovoltaic (HCPV) solar modules, will locate a pilot production plant in Henderson. Linamar Corporation, a leading supplier of engine, transmission and driveline components, will locate its newest manufacturing facility in Asheville, to supply precision machined components for customers of Linamar's Industrial, Commercial and Energy Group.
That's good company.
We look forward to welcoming you to the great state of North Carolina. For additional information, please visit www.nccommerce.com.