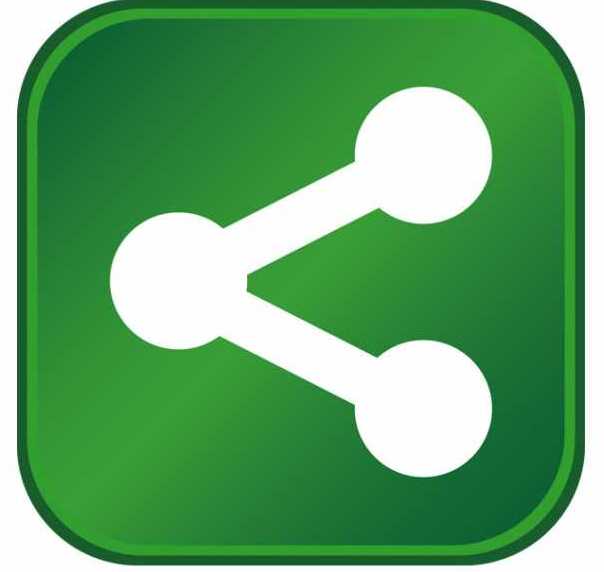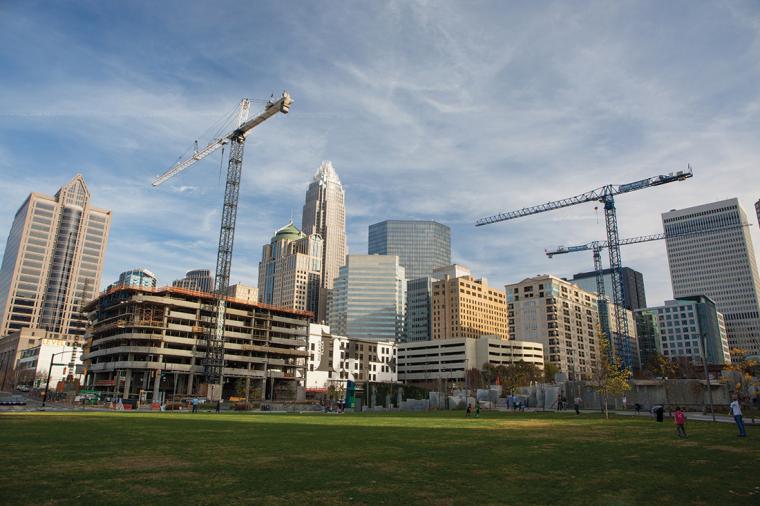 North Carolina is continuing its reign as a top state for business. This year, CNBC named North Carolina Americaís Top State for Business for the second year in a row, and North Carolina is riding a wave coming out of 2022 after announcing the biggest economic development wins in the stateís history. One of the most notable projects comes from Vietnamese electric vehicle maker VinFast, which recently broke ground on its new North American vehicle and battery manufacturing plant. The company is investing $4 billion and will create 7,500 jobs. Home grown semiconductor company Wolfspeed also announced it is investing $5 billion into its new semiconductor manufacturing plant and will create 1,800 jobs.
In the first two quarters of 2023, North Carolina announced 67 projects for a total of over $4.6 billion in capital investment and 6,512 new jobs. These projects represent new and existing businesses across many industries, such as manufacturing, clean energy and life sciences. Bosch announced it will invest $130 million to expand its power tools manufacturing facility in Lincolnton, North Carolina, creating 400 new jobs. Global rail transportation vehicles and control systems manufacturer Siemens Mobility announced it will invest $220 million and create 506 jobs for its carbon-neutral advanced manufacturing facility in Lexington, North Carolina. Late-stage cellular therapeutics company ProKidney announced it will build a new biomanufacturing facility in Greensboro to commercialize its cell therapy used to treat chronic kidney disease. The company will invest $458 million and create 330 new jobs.
In addition to being named America's Top State for Business by CNBC, North Carolina also won Site Selection magazine's Prosperity Cup for the third year in a row, which recognizes the competitiveness of state-level economic development agencies and their success in landing capital investment projects. North Carolina also won Area Development magazine's 2023 Platinum Shovel Award, which recognizes states that went above and beyond the gold standard for investment and job creation, as well as Business Facilities magazine's State of the Year award after a historic year of economic development and job growth.
North Carolina's economic development successes are made possible by a very talented and highly skilled workforce, a world class education system, a business-friendly climate and robust infrastructure.
A Highly Skilled Workforce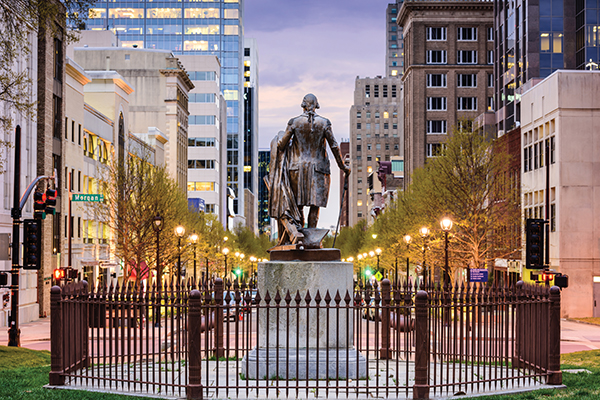 At the heart of any successful business lies its workforce. North Carolina boasts a highly skilled, diverse and educated labor pool that provides a competitive advantage to companies across all industries. The state's commitment to education has fostered a culture of learning and innovation, ensuring a steady stream of talented individuals ready to contribute to the workforce.
The state has one of the fastest-growing populations in the country, with over 10.5 million people and counting. In 2021, North Carolina's population grew at a rate nine times higher than the U.S. average. The state has the largest manufacturing workforce in the Southeast, and over 275,000 people in STEM-related fields, positioning the state well to support emerging and expanding industries such as life sciences and biotech, aerospace and clean energy. Plus, the state also has the second highest percentage of women in the tech workforce.
"Our workforce is the key factor that sets us apart as the top state for business in the nation," said Christopher Chung, CEO of the Economic Development Partnership of North Carolina (EDPNC). "North Carolina's rising in-migration, university and community college graduates and military personnel re-entering the workforce annually from our seven military instillations help comprise our very talented labor pool. Our education systems play a vital role in producing and preparing those individuals for the jobs of today and tomorrow, and North Carolina is a leader in this category."
Educational Systems Nurturing Excellence
The foundation of North Carolina's ability to provide consistency and quality in its workforce is its strong and accessible educational system. North Carolina is home to three Tier-1 research universities, Duke, North Carolina State University and the University of North Carolina at Chapel Hill, and a total of 52 public and private colleges and universities enrolling over 330,000 students each year. The 58-school-strong North Carolina Community College system is the third-largest system in the nation, enrolling more than 525,000 students each year. North Carolina also has 11 Historically Black Colleges and Universities (HBCUs) and has the highest student enrollment of HBCUs in the nation.
Furthermore, North Carolina's higher education institutions collaborate closely with businesses to offer tailored programs that address the specific demands of the market. For example, Wolfspeed is working closely with North Carolina A&T to train students in silicon carbide semiconductor manufacturing and further the development of workers in the industry. Wolfspeed and NC A&T will also be developing a new silicon carbide research and development facility on the school's campus.
This collaborative approach ensures that graduates are not only well-prepared academically but also possess the practical skills that employers seek. This symbiotic relationship between education and industry enhances the employability of graduates, thereby benefiting both businesses and the state's overall economy. As a result, businesses in the state have access to a pipeline of fresh talent, making it easier to find employees who can adapt to the rapidly changing demands of the modern business landscape.
A Business-Friendly Climate
North Carolina's business-friendly climate is a cornerstone of its appeal to companies of all sizes. The state consistently ranks high in various business-friendly indexes, which speaks volumes about its commitment to creating an environment conducive to growth and innovation.
One of the key elements contributing to North Carolina's attractiveness for businesses is its tax structure. The state's corporate tax rate is competitive, allowing companies to retain a larger portion of their profits, which can then be reinvested into expansion, research and development and other growth initiatives. North Carolina's current corporate income tax is 2.5 percent, which is the lowest rate among the 44 states that levy this tax. In 2025, the tax will decrease to 2.25 percent and will continue to decrease until it reaches zero percent in 2030. The state is also one of four states to receive a AAA bond rating from S&P for over 55 years.
Also, the state's average construction costs in North Carolina's metropolitan areas are almost 17 percent below the national average, and industrial electricity costs are about 14.5 percent below the national average. North Carolina is also one of 27 right-to-work states. The state's cost of living is low, 11 percent below the national average, and the personal satisfaction ranking is high.
A Robust Infrastructure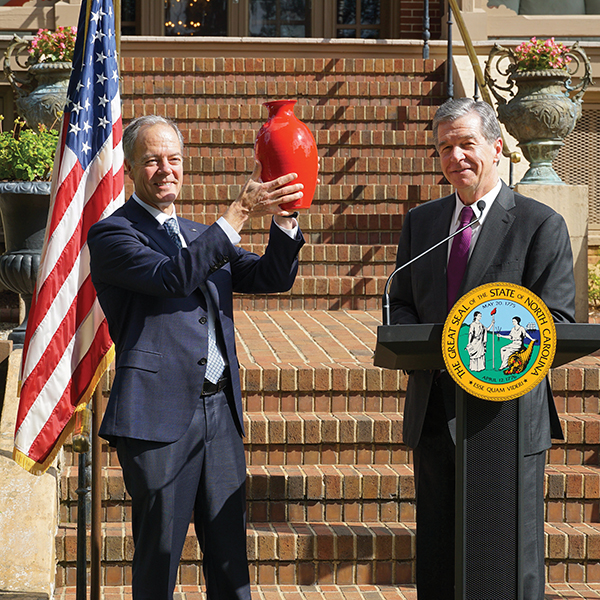 A well-developed infrastructure is the backbone of a thriving business ecosystem. North Carolina excels in this aspect, offering a comprehensive and modern infrastructure that caters to the needs of various industries. The state's strategic location on the East Coast provides easy access to 150 million people reachable within a day's drive, making it an ideal hub for distribution and logistics.
North Carolina's robust transportation infrastructure connects companies to domestic and international markets. Ten airports offer commercial services, including four international airports that connect North Carolina to major cities in the U.S. and abroad. North Carolina also has the second-largest state-owned highway system and major controlled-access arteries such as I-95, running the length of the East Coast; I-85; and I-40, running from North Carolina to California. Two deepwater seaports and an integrated rail system ensure that North Carolina companies can easily reach suppliers and customers.
Moreover, North Carolina's commitment to technology and innovation is evident in its investment in broadband connectivity and digital infrastructure. By the end of 2026, North Carolina will have invested $1.03 billion in expanding broadband infrastructure, access and affordability across the state. This focus on digital advancement ensures that businesses have access to the tools and resources required to thrive in the digital age.
Looking Ahead
North Carolina's impressive attributes make it an undisputed contender for the title of the best place for business.
"Our state's reputation as the top state for business is very attractive to companies that are looking to relocate, or North Carolina companies looking to expand," said Chung. "In addition to our highly skilled workforce, robust education system, business-friendly climate and well-developed infrastructure, are partnerships that work together with one goal in mind – to improve the economic well-being and quality of life for all North Carolinians. Governor Cooper, the North Carolina General Assembly, the EDPNC Board of Directors and other local, state and federal partners have worked hand-in-hand to make this come to fruition." T&ID
About the Author