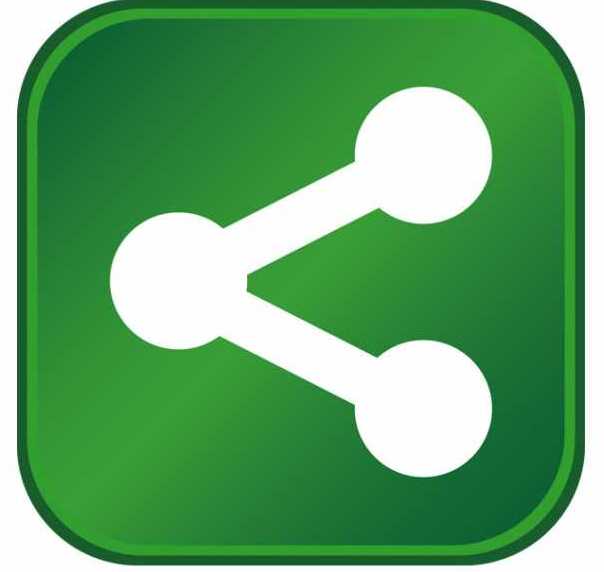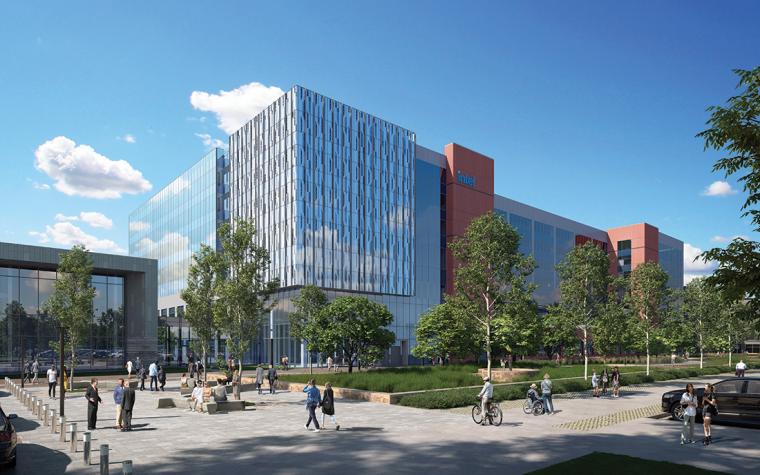 An industrial renaissance is underway in the heartland of America. Bold, transformative investments are remaking the economic landscape, and all roads lead to Ohio. Last year, Ohio secured more than 26,000 new jobs and nearly $32 billion in capital commitments across manufacturing, automotive, technology, biotech and other essential sectors.
From Intel's $20 billion investment in semiconductor chip fabrication to Honda and LG's $4.2 billion electric vehicle battery plant to Joby Aviation's $477 million eVTOL production facility, global companies are staking their futures in Ohio as the place to innovate and grow for decades to come. These investments are not just about erecting buildings or installing cutting-edge equipment — they signal the birth of the Silicon Heartland, which is positioning Ohio as a global powerhouse in manufacturing and reshaping the industrial landscape of the Midwest.
Ohio is not just a participant in the American industrial renaissance, it is a driver, setting the pace and defining the direction. With its eyes firmly on the future, Ohio is accelerating full steam ahead, welcoming the best and brightest to be part of its exciting industrial growth and innovation journey.
Planting a Flag in the Silicon Heartland
Intel's partnership with Ohio anchors semiconductor research, supply chain growth and talent development in the state. With the Silicon Heartland pulsating with progress, Ohio is solidifying its leadership role in the industrial renaissance of the American Midwest.
Intel Ohio's impact includes:
• Two new leading-edge chip factories (and plans for eight)
• 3,000 direct Intel jobs
• 7,000 construction jobs
• $100 million pledged toward partnerships with educational institutions in Ohio
• $300 million water recycling facility
• 100 percent renewable energy
Further, in June, Amazon Web Services announced it is investing $7.8 billion to expand its data center operations in central Ohio. This adds to the already large AWS footprint in the area, as well as Meta and Google Cloud's massive data center campuses. Artificial intelligence and the chips that power the technology are now all part of the Silicon Heartland.
Charging Ahead: Ohio's EV Manufacturing Boom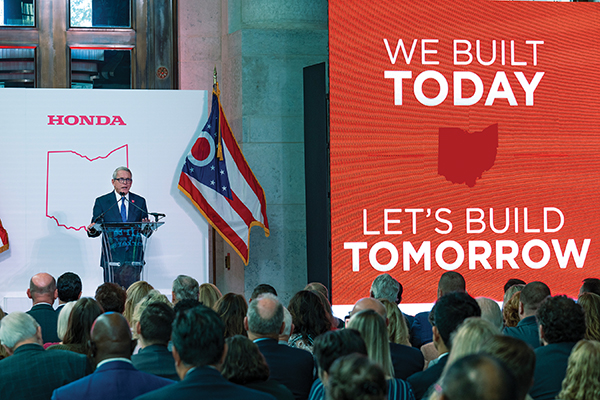 Ohio's push toward cutting-edge technological advancements extends to electric vehicle and battery manufacturing, as well. Major investments by automakers and energy companies are turbocharging the state's advanced manufacturing sector.
The EV boom in Ohio is headlined by Honda and LG Energy Solution's $4.2 billion joint venture investment to build a state-of-the-art battery plant in Fayette County. Once completed, the 2.8 million-square-foot facility will supply Honda plants and provide batteries for Honda and Acura electric vehicles.
Honda also recently announced a $700 million investment to retool several existing Ohio plants for EV production. That decision establishes the company's EV manufacturing base in Ohio and leverages the state's deep automotive supply chain.
In addition, Ford has committed $1.5 billion to expand production of its commercial-grade E-Transit vehicles in Avon Lake. The factory will add 2,000 new union jobs to assemble next-generation electric vans and trucks for company fleets.
Leading the Way
Ohio possesses inherent strengths that make it an attractive destination for business growth, from its prime location and logistics infrastructure to its deep pool of skilled talent. One of the state's unique advantages is JobsOhio, Ohio's privately funded nonprofit economic development corporation. Created in 2011, JobsOhio offers industry expertise, confidentiality and flexibility unmatched by economic development organizations in other states.
With a board and staff made up of seasoned professionals drawn across Ohio's key sectors, JobsOhio provides real-world experience to understand and meet the needs of companies exploring expansion or relocation.
As a private entity, JobsOhio protects sensitive company data and has more candid strategic conversations so companies can grow and thrive in an environment of trust and collaboration.
Finally, JobsOhio's flexible and stable revenue source means it can fund incentives and quickly commit capital to close long-term deals. This ability to have open dialogue, provide agile solutions and commit resources is Ohio's true competitive advantage for driving economic growth.
Ohio, the Heart of it All
Ohio is boldly leading the charge to transform the Midwest into a place where every innovator and entrepreneur can turn their ideas into high-growth businesses.
Through JobsOhio's Inclusion Grant program, Lightship Foundation Bootcamps, Vibrant Communities Program, Growth Capital Fund and other initiatives, JobsOhio is actively investing, opening doors and unlocking capital for women, veterans and minority founders to build the future.
JobsOhio knows Ohio wins when everyone can achieve their highest potential — no matter their background. And while historically underrepresented populations and geographic areas are launching successful tech startups, collaborating in world-class research and leading more companies than ever before, more work remains.
The vision is clear: Ohio is the heart of inclusive industry and the tech hub of the heartland, where innovators readily find community, capital and the chance to change the world.
Being in the Right Place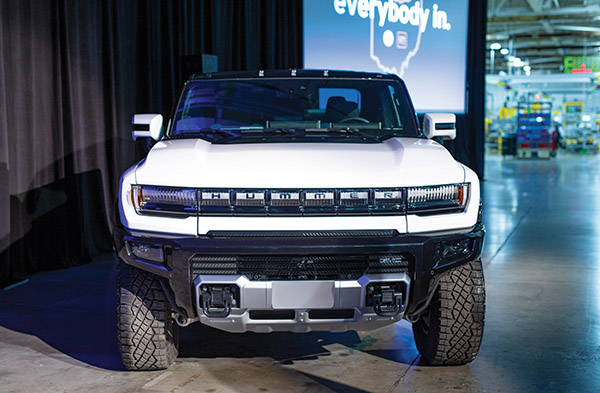 In today's world of tight supply chains and demanding customers, a company's location and available infrastructure matter more than ever. Fortunately, Ohio stands at the center of it all. The Buckeye State is within a day's drive of 60 percent of North America's manufacturing centers and customers. For businesses requiring quick regional access, Ohio delivers.
Robust highways crisscross the state, connecting urban hubs such as Cleveland, Columbus and Cincinnati. An integrated rail network links ports to facilitate multimodal transport. Major airports offer easy global reach. And, located along the Ohio River and Lake Erie, the state boasts inland ports connecting to the St. Lawrence Seaway and beyond.
In our hyperconnected economy, companies need flexibility and options. With its prime location, transit infrastructure and connectivity, Ohio empowers businesses to move fast and thrive.
Creating a Skilled Workforce
Regardless of a state's ability to attract business investment, it is ultimately the local workforce that keeps companies growing and innovating. In Ohio, businesses find workers renowned not just for their skills but their unmatched Midwest work ethic — a prized asset.
Ohio has a strong system of higher education and a deep talent pool with 38,000 STEM graduates annually. Recognizing that industry's future lies in fields such as engineering, information technology and data science, the state is actively investing in expanding STEM education and technical training. The state's fiscal year 2024-'25 budget allocates $50 million to renew the highly successful TechCred program, which will generate 20,000 technology-focused credentials in each of the next two years. The state is investing another $300 million to expand, build and equip career technical centers with the tools and technologies students need to prepare for employment in current and next-generation industries.
Partnerships between industry and higher education further bolster Ohio's workforce development efforts. These collaborations foster a symbiotic relationship where academia provides industry-specific training and education, and in return, industries offer valuable real-world experience and employment opportunities for students. This collaborative approach ensures a steady flow of job-ready graduates who can hit the ground running.
JobsOhio further strengthens workforce development through initiatives such as:
• Talent Acquisition Services, which identifies a company's talent challenges and builds sustainable talent strategies that provide support at every stage of the candidate journey.
• JobsOhio Workforce Grants, which provide funding to companies for employee development and training programs.
• Find Your Ohio, which recruits impressive out-of-state candidates and connects them with exciting roles at Ohio companies.
By cultivating technical education and enabling collaborations, Ohio keeps its talent engine humming. Workers gain skills to excel while businesses access a dynamic workforce driving future growth.
Embracing the Future
In the heartland of America, a renaissance of trade and industry is in full swing, and Ohio is at the helm. The state's bold, transformative investments are not only reshaping its economic landscape (ranked number nine among U.S. states for industrial diversity) but also setting the pace for the entire Midwest.
For business leaders considering expanding or relocating, Ohio offers a choice of large cities, midsize metros and smaller towns to fit any space requirements and lifestyle preferences — all with friendly, welcoming communities.
Ohio is the place where bright minds and big ideas converge, innovation thrives and the future of business is being shaped today. T&ID
About the Author