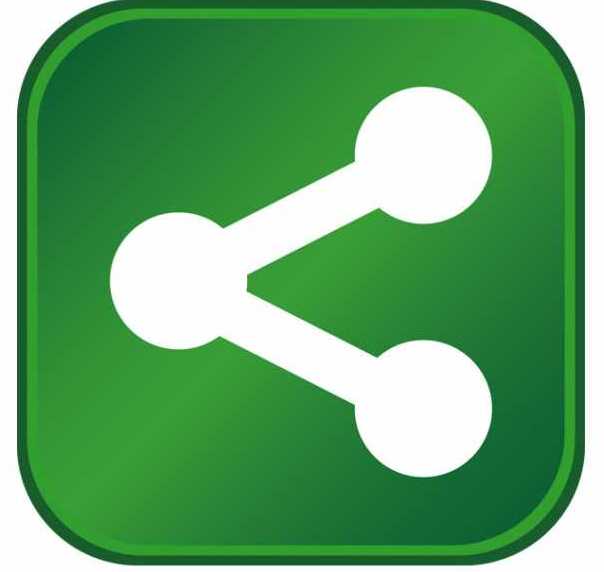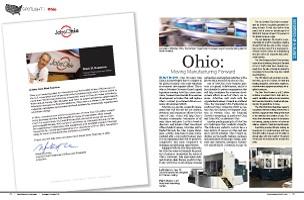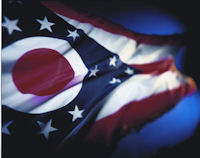 Early in 2011, Ohio Governor John Kasich acknowledged that to compete in the global economy Ohio must transform its economic development efforts. That is why in February Governor Kasich signed legislation creating JobsOhio, a new, innovative, business-based model for economic development activities that will replace Ohio's current government-driven economic development efforts.
JobsOhio is a private, nonprofit organization that will execute the job creation, retention and expansion efforts for the State of Ohio. It also will help Ohio's business community, businesses of all sizes, thrive and grow. Led by a board of directors, and interim Chief Investment Officer Mark Kvamme, JobsOhio will be funded through the Ohio Liquor Enterprise, a stable, long-term revenue source, modeled after a successful business plan. It is an organization that will be proactive, competitive and more responsive to emerging and promising opportunities.
Equipped with the best talent and tools, the JobsOhio team will identify the potential of projects, understand the needs of Ohio's customers, take appropriate risks, and structure deals that are good for Ohio. It also will focus on developing regional partnerships and targeting industries with a proven track record of success in Ohio.
One of JobsOhio's key business practices is regional collaboration, and so it has identified a partner organization that will help coordinate the economic development efforts in each of Ohio's six regions. JobsOhio will work with the Appalachia Business Council in southeast Ohio, the Cincinnati USA Partnership in southwest Ohio, Columbus 2020! in central Ohio, the Dayton Development Coalition in western Ohio, the Regional Growth Partnership in northwest Ohio and Team NEO in northeast Ohio.
Another guiding principle of JobsOhio is to build upon Ohio's industry strengths. The following industry sectors have a long history of success in Ohio and also show growth potential. Ohio's target industries are bio-health; banking, insurance and information technology; energy, polymers and chemistry; aerospace, automotive and advanced materials; food sciences and bioproducts; logistics and distribution.
Ohio is located within 600 miles of 60 percent of all U.S. and Canadian manufacturing locations. Ohio is a leader in logistics with a long history of manufacturing success. The establishment of JobsOhio, and a manufacturing sector that is adapting to the global marketplace and transforming its traditional assets into the manufacturing centers of tomorrow, will continue to make Ohio a manufacturing leader.
Manufacturing makes up 15 percent of Ohio's economy, employing more than 600,000 Ohioans. The industry continues to be integral to Ohio's economic success with Ohioans manufacturing a wide variety of items, from cars to yogurt, and washing machines to solar panels.
Ohio also has built its world-class manufacturing base in glass and plastic films to support the automotive industry. This infrastructure is now being repurposed to create truly innovative materials and products for solar photovoltaic technologies.
"Ohio is becoming a national and international leader in the solar industry," said Rick Stansley, co-director of the Wright Center for Photovoltaics Innovation and Commercialization, a world-class science and technology platform dedicated to research, development and commercialization of new photovoltaic solutions.
"The state's long history as a manufacturing leader shows that we have the workforce and expertise to succeed in the evolving
manufacturing sector and provide a world-class supply chain for the solar industry," continued Stansley.
Recently, Isofoton, a leading solar energy technology company, chose Napoleon, Ohio, as the new home for its North American manufacturing facility. Angel Luis Serrano, CEO of Isofoton said, "Our intention is to advance to all corners of the North American marketplace from our Ohio base, including advanced research and development."
Isofoton has worked with many Ohio partners to produce an "all-Ohio" supply chain. After extensive research, Ohio was determined the best location choice because it is a top five electricity generator and consumer, top 10 in population, top five in strength of state solar carve-out, as well as home to several top-5 utilities and has a strong solar energy cluster.
While the energy industry is a large part of Ohio's manufacturing future, the State of Ohio continues to see development in other manufacturing sectors, such as food production. The Dannon Company announced an investment of more than $80 million dollars in its northwest Ohio facility, creating more than 100 new jobs and making this the largest yogurt manufacturing plant in North America.
However, the connection to the automotive industry still runs deep in Ohio, as evidenced by Makino Inc., located in Cincinnati, a global manufacturer of high precision machining centers and provider of engineering services, to various metal cutting markets including the automotive industry. It has expanded its portfolio of high tech products to serve a wide variety of component manufacturing customers, including those in the medical, defense and industrial markets.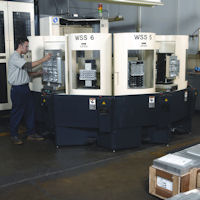 "Recently, we have seen an increase in the need for new aerospace components, medical and electrical communication devices, as our customers have diversified from a purely automotive portfolio," said Don Lane, CEO of Makino. "Our customers' needs have changed and evolved. We have transitioned to new manufacturing technologies especially around the use of automation and new machine designs that can process sophisticated materials and alloys like Titanium. We have also expanded the services we offer including turnkey engineering and applications assistance as well as software support and training."
Makino has been able to respond to customer demands by making its machines more productive and accurate. It also added electronic monitoring and advanced adaptive control technologies to make the machines more reliable and easy to use.
"Because of the density of manufacturing in our key markets in the Midwest, we have the opportunity to have a higher degree of customer intimacy in Ohio," said Lane. "Ohio also provides us with excellent mechanical and electrical engineering talent from the nearby universities."
While Ohio has a strong background in manufacturing, a strong transportation infrastructure, a central location, and a highly-skilled workforce, it also has an arsenal of resources in its job creation tool box. Ohio is transforming its dilapidated industrial sites into sites optimal for new and developing industries through the Job Ready Site program. These sites are strategically chosen based on their ability to attract investment and their infrastructure capabilities. The Job Ready Site program, along with various restructured financial incentives, equip the State of Ohio and JobsOhio with the tools needed to actively work to provide businesses the necessary resources to create, retain or expand in Ohio.
The state's manufacturing strengths, skilled workforce and central location make Ohio a preferred location for advanced manufacturing businesses. Companies continue to discover the benefits of investing in Ohio, finding a preferred location for capital investment and a competitive business environment.
 
About the Author