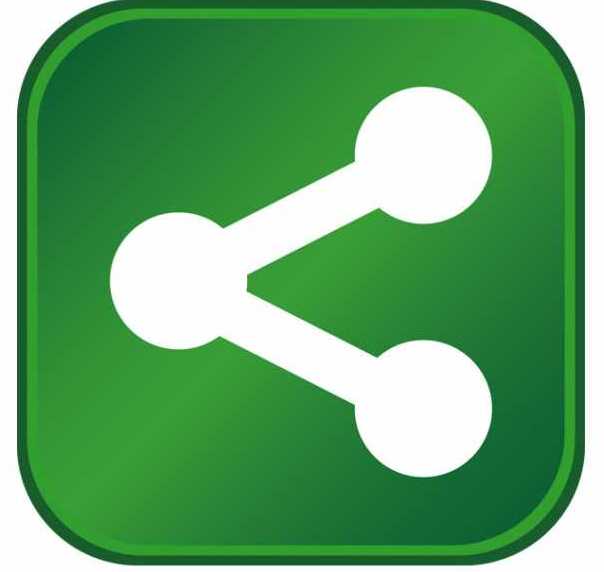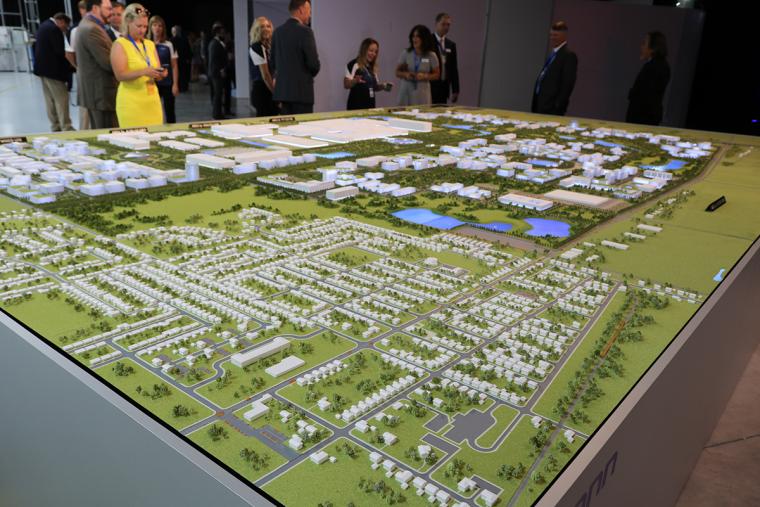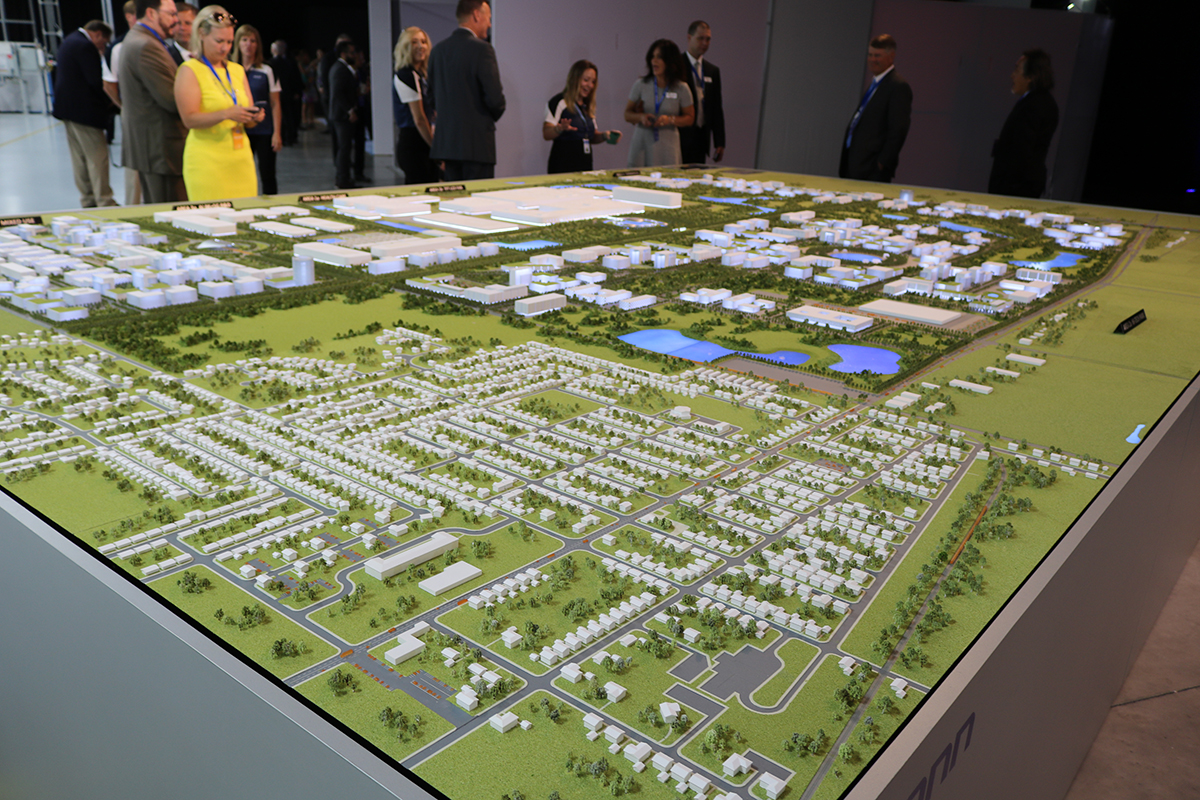 When the Foxconn Technology Group announced last year that it would build a state-of-the-art $10 billion advanced manufacturing campus in Wisconsin, the decision took some by surprise.
After all, the world's fourth-largest technology company had a myriad of location options for its first manufacturing facility in North America, and other states competed aggressively for the project. Ultimately, however, the company decided that Wisconsin—with its strong manufacturing legacy, dedicated workforce, pro-business climate, access to major markets and proven supply-chain strengths—was the ideal choice.
"Wisconsin has a rich manufacturing history in industrial automation, health care and more, and a strong talent pool of engineers, technicians and craftsmen who are the backbone of America," says Terry Gou, founder and chairman of Foxconn. "We are looking forward to building on that history and tapping into that pool."
Now under construction in Racine County, Foxconn's liquid-crystal display manufacturing facility is expected to create 13,000 jobs once operational in 2021—in addition to the tens of thousands of indirect and construction jobs it will bring to the state. It is by far the largest economic development project ever in Wisconsin, as well as one of the largest greenfield investments by a foreign-based company in the U.S. and the largest U.S. corporate attraction project as measured by jobs.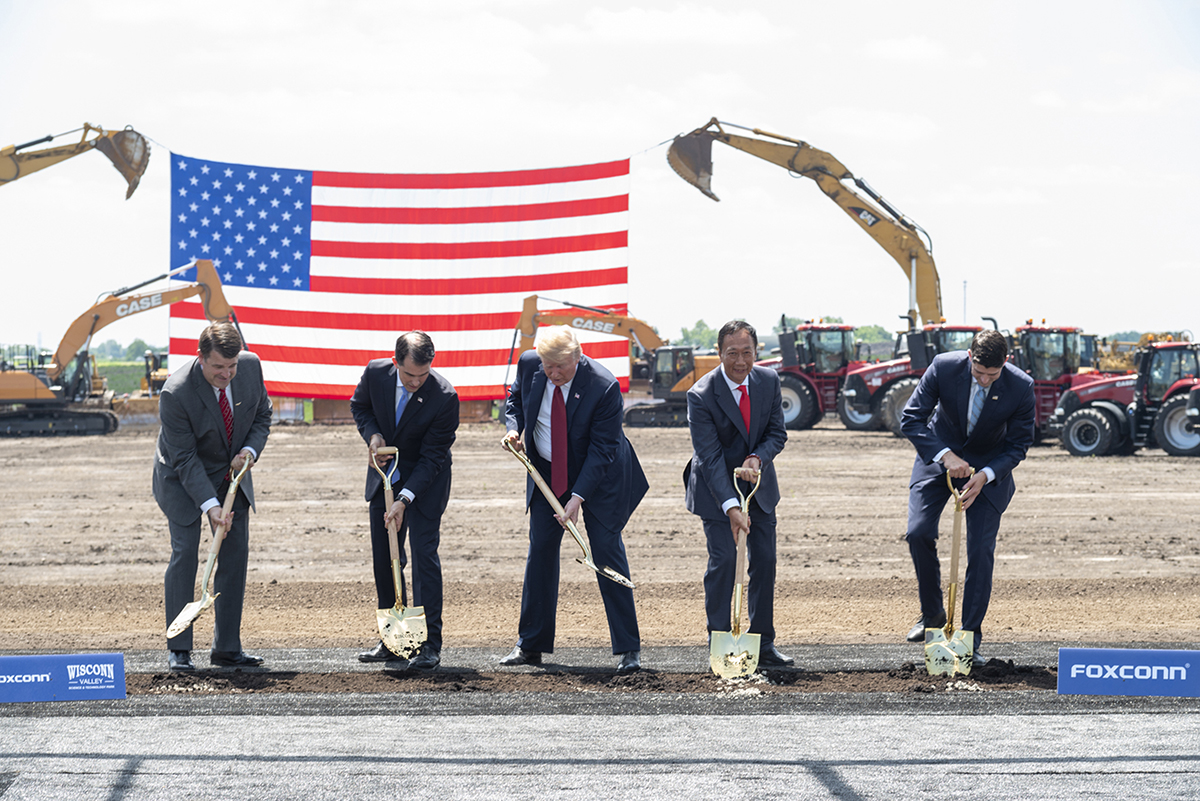 Economic Growth Beyond Foxconn
While Foxconn's investment in Wisconsin has received international attention since it was first announced, other global companies also have decided recently to expand or establish operations in the Badger State. In the last two years alone, nearly 80 companies have announced plans to grow in Wisconsin—projects expected to create more than 20,000 jobs and $12.8 billion in capital investment.
In September, Komatsu Mining Corp. announced it was building a new state-of-the-art headquarters and manufacturing campus in Milwaukee—a project with the potential to create more than 400 jobs. The company, whose history in Milwaukee dates to 1884, is part of the global Komatsu family of companies, indispensable partners to the mining, forestry, industrial and construction industries.
HARIBO, the German confectionary company and maker of the popular GOLDBEAR gummy candies, finalized plans to start construction in 2019 on a manufacturing facility in Kenosha County. The $242 million facility will be the first North American plant for HARIBO, which operates 16 facilities in 10 countries. Founded in 1920, the company now sells its candies to more than 100 countries.
"This is going to be a very special development. It's our first manufacturing presence in North America, so this is our home now," says Wes Saber, executive vice president/chief financial officer of HARIBO of America Inc. "We're coming here to make a home for us—it's not a building, it's not a factory—and we're going to be an active partner with the community."
Several major Wisconsin employers also recently announced plans to expand their existing operations in the state.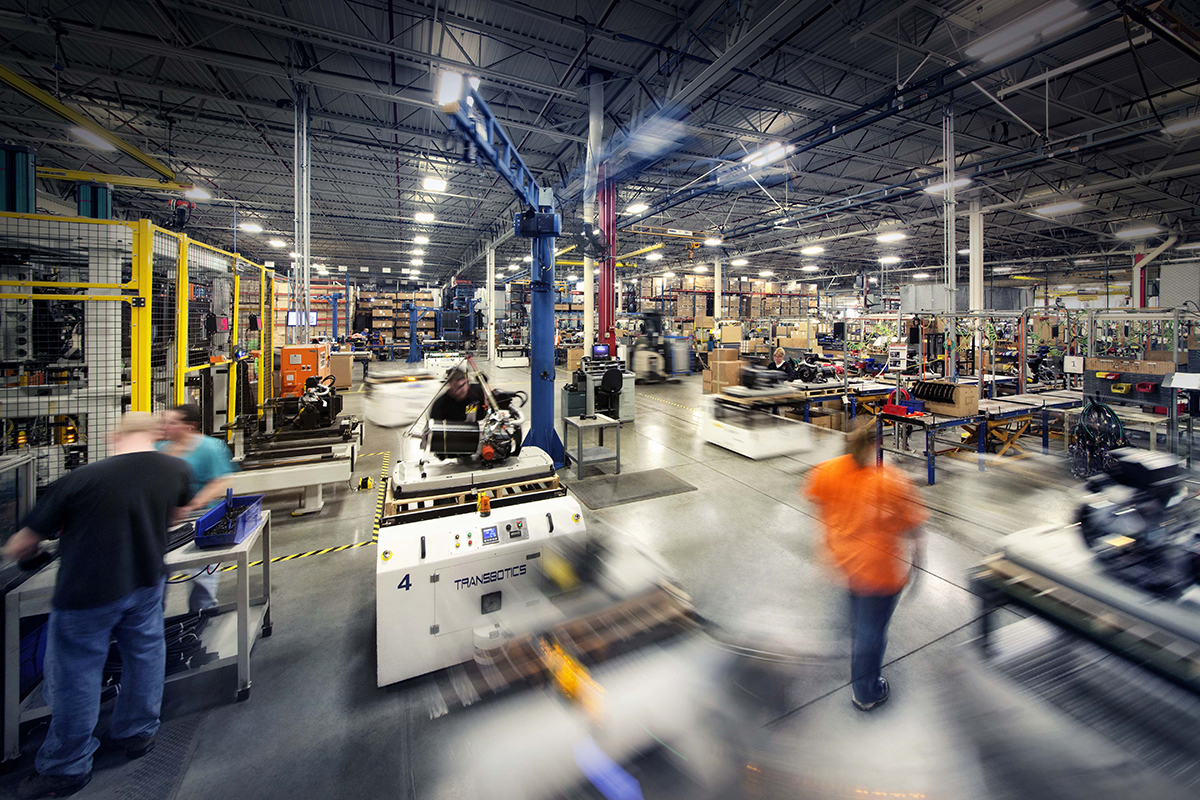 Generac Power Systems Inc., a leading manufacturer of power generation and engine-powered products, is investing $73 million in renovations and new construction throughout Wisconsin. The company expects to retain its current 2,000 jobs while creating at least 400 more positions.
In a sign of continued strength in Wisconsin's papermaking industry, Green Bay Packaging Inc. is building a new recycled paper mill and an expansion of the Green Bay shipping container division. The company's $500 million investment, one of the largest economic development projects in state history, is expected to create 200 jobs and retain 1,400 jobs.
And Allegheny Technologies Inc., a global manufacturer of technically advanced specialty materials and complex components, is expanding its operations in the Milwaukee area with a $95 million project expected to create about 125 jobs and help the company meet the growing demand from the aerospace jet engine market.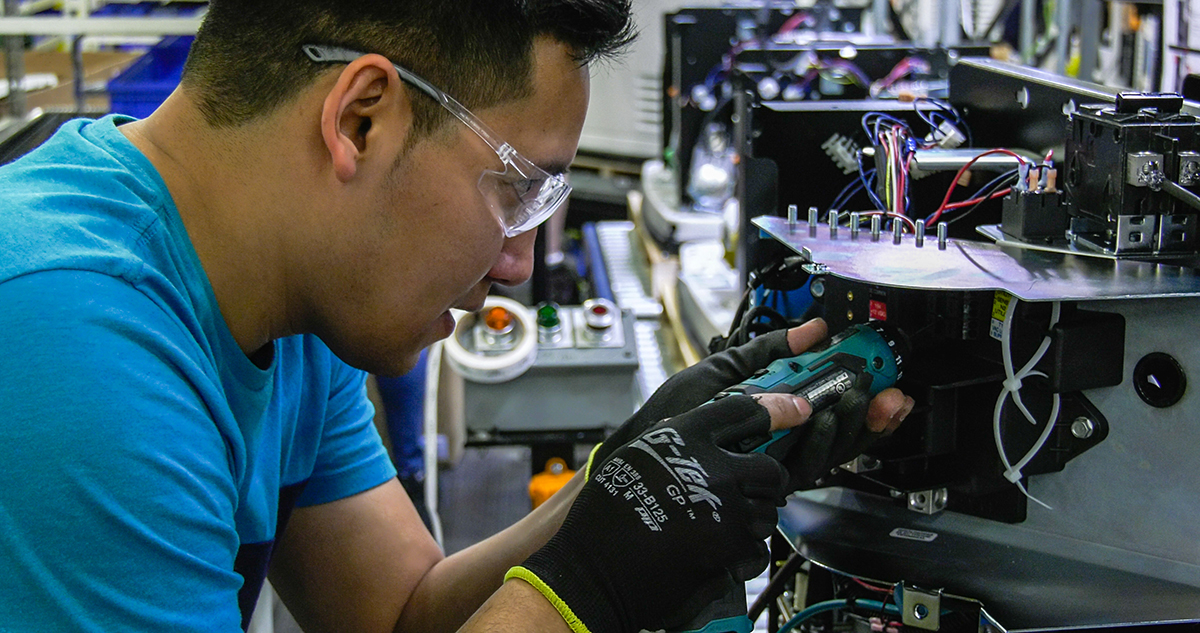 A Focus on Industry Strengths
A key part of Wisconsin's success in attracting and retaining businesses is the strong partnership between state, regional and other entities to ensure the continued strength of those industries with the greatest potential for future growth.
Through the Wisconsin Economic Development Corporation (WEDC), the state's sector development team works closely with businesses, industry sector organizations, and regional economic development partners to provide companies in key industries with the tools and resources they need to compete and thrive in a rapidly changing global economy. In addition to initiatives that cross all sectors, like workforce and talent development, WEDC also supports specific industry-led collaborations in manufacturing; water technology; agriculture and food and beverage processing; energy, power and control; aerospace manufacturing; and biohealth.
To promote innovation, collaboration and technology commercialization in those vital industries, the state has invested in centers of excellence that serve as cluster "anchors" around which educational R&D, corporate R&D and commercialization, external investment and company attraction connections are made.
In 2018, the state provided funding to launch two new centers of excellence: the Connected Systems Institute at the University of Wisconsin-Milwaukee and a biomanufacturing center of excellence in Madison.
The Connected Systems Institute focuses on ensuring Wisconsin manufacturers can leverage supply-chain opportunities created by the Industrial Internet of Things. The biomanufacturing center of excellence will help to bring groundbreaking research happening in Wisconsin out of the labs and into the marketplace and will offer entrepreneurs and researchers the resources necessary to effectively translate discoveries into commercial products in the emerging area of biomanufacturing.
The state has two additional centers of excellence—the Global Water Center and the Energy Innovation Center, both in Milwaukee.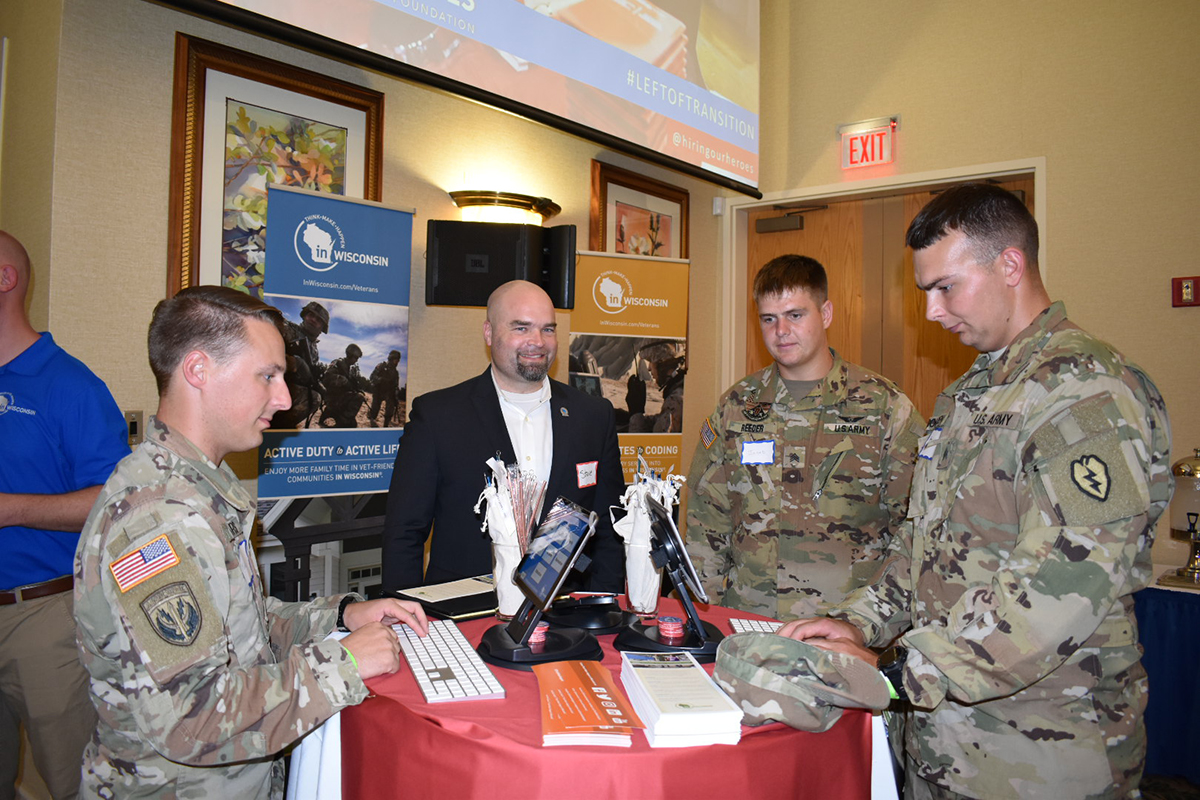 National Leader in Talent Attraction
As more companies locate and expand in Wisconsin, it's more important than ever to attract and retain highly skilled workers to meet the workforce demands of today and tomorrow. That is why the state this year launched a multi-agency, coordinated marketing plan aimed at attracting talent to Wisconsin. The marketing initiative is targeted to the following audiences:
• Midwest millennials: In 13 Midwest regions, millennials will see geo-targeted social media ads and creative out-of-home marketing showcasing Wisconsin that are tailored to their current career or lifestyle profile.
• Transitioning military personnel and their families: Wisconsin is the first state to embark on a nationwide campaign in which it sends a multi-agency state delegation to participate in 15 transition summits nationwide and in Japan and Germany to engage face-to-face with military personnel about to enter civilian life.
• Wisconsin university and college alumni living out of state: The state is working with universities and colleges statewide to reach alumni through targeted social media ads inviting them to "come home" to Wisconsin.

"Eighty percent of Wisconsin's business leaders say they are having trouble finding workers, according to our latest economic survey," says Kurt Bauer, president and CEO of Wisconsin Manufacturers & Commerce, the state's chamber of commerce with more than 3,700 members.
"Attracting more workers of all skill levels to Wisconsin is the right solution, which is why our survey shows that 81 percent of business leaders support the state's talent attraction plan. Wisconsin is the best-kept secret in the Midwest. This initiative will help get the secret out and bring talent to Wisconsin." T&ID
---
Incentives-at-a-Glance
Enterprise Zone Tax Credit: Refundable tax credits for companies undertaking major expansion projects in Wisconsin or relocating major business operations from other states to Wisconsin.
Business Development Tax Credit: Refundable tax credits for companies remaining, expanding or relocating in Wisconsin.
Manufacturing and Agriculture Credit: Virtually eliminates the tax on income from manufacturing activity in Wisconsin. The credit amounts to 7.5 percent, which results in an effective corporate tax rate of 0.4 percent.
Historic Preservation Tax Credit: State income tax credit for 20 percent of the qualified rehabilitation expenditures for eligible buildings.
Workforce Training Grants: Grants for businesses to upgrade or improve the job-related skills of their full-time employees.
Business Development Loans: Provides financing primarily to small businesses that have limited access to standard types of debt or equity funding.
Qualified New Business Venture Certification: Allows investors in early stage companies to claim a 25 percent tax credit on the amount they invest into a certified business.
Industrial Revenue Bonds: A unique type of revenue bond organized and issued by a state or local government, the proceeds of which are directed to a private, for-profit business.
About the Author