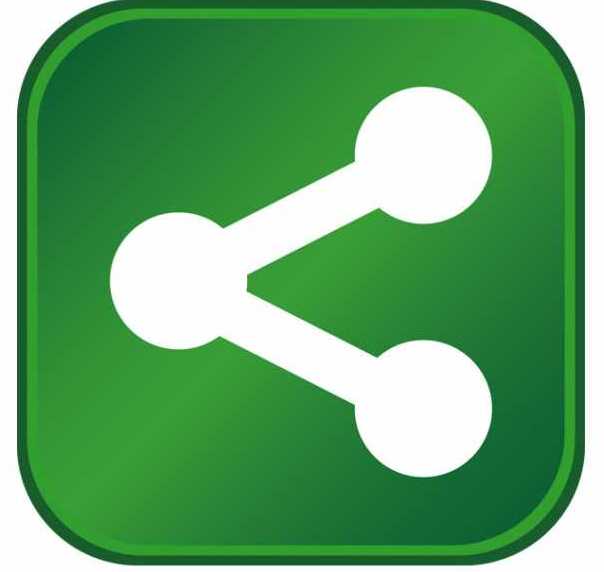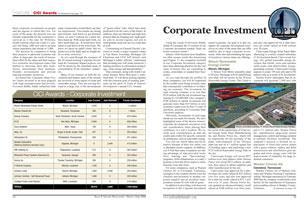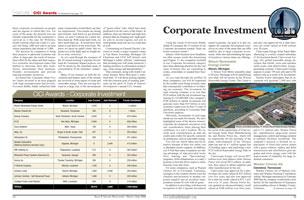 Using the words of Governor Bobby Jindal of Louisiana, the 15 winners of our Corporate Investment awards "buck national economic trends."
 
Indeed, while business news headlines too often scream words like downsizing and Chapter 11, the companies included in our Corporate Investment category have been attracting attention for the vast sums of money they are expending to create, consolidate or expand their businesses.
 
As you read through the profiles of these companies, you will be impressed by the sizable sums being invested, sums that consequently contribute to revitalizing our economy. The investment for each winning company is no less than $210 million with the top investment registering $1,332,000,000. One company's $248 million in capital investment will generate more than $19 billion in new economic output over its first 15 years of operation, according to Louisiana State University analysis.
 
Obviously, investments of such magnitude are not made frivolously. We have highlighted some of the factors winners' corporate development executives took into consideration when placing their confidence in a site's location. We include such considerations as state tax credits and credits for specific commodity production, such as renewable energy.
 
You will see which states proved attractive because of their low utility cost or abundant electric capacity. In addition, you'll find that many companies are taking advantage of state-provided workforce training and "fast-tracking" programs. Solid infrastructure or a state's promise to foot the bill to improve infrastructure were also lures.
 
For some companies, such as Wacker Chemie AG in Cleveland, Tennessee, synergies in the location chosen were the clinchers and proximity to another corporate supplier and an excellent transportation system fit well with its goals.
 
In addition to providing well-deserved recognition to the Corporate Investment award recipients, our goal is to also enlighten all corporate development executives on some of the areas that can offer stability due to large corporate investments, while also demonstrating the types of incentives various states are offering.    
 
Wixom Renewable Energy Center
Wixom, Michigan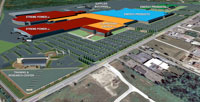 A former Ford Motor assembly plant in Wixom, Michigan will be transformed into what will be known as the Wixom Renewable Energy Center. The Center is the result of the partnership of Clairvoyant Energy Solar Panel Manufacturing Inc. and Xtreme Power Inc., which will be responsible for the purchase of the plant, redevelopment of the 320-acre plant site and its 4.7 million square feet of building space, and anchoring a new $725 million Renewable Energy Park on the site.
 
Clairvoyant Energy will invest $857 million (over four phases) while Xtreme Power will invest $475 million. In addition, they expect to attract suppliers and other manufacturers to the site.
 
Clairvoyant was approved for a photovoltaic tax credit valued at $25 million over five years, and also was approved for a state tax credit valued at $31.2 million over 15 years. Xtreme Power Inc. was granted an advanced-battery credit valued at $100 million over four years, and also was approved for a state business tax credit valued at $106 million over 20 years.
 
Clairvoyant Energy Solar Panel Manufacturing is a newly created subsidiary of Switzerland-based Clairvoyant Energy, AG, global renewable energy developer that builds, ownsand operates utility-scale solar photovoltaic energy-generating systems. Clairvoyant Energy expects to create 750 new jobs and 4,592 indirect jobs as a result of its investment.
 
Xtreme Power anticipates that its investment will generate 2,500 new jobs and 4,711 indirect jobs. Xtreme Power Inc. manufactures large-scale power management, control and storage systems at multiple facilities worldwide. The company's mission is focused on replacement of fossil-fuel power plants with a green solution; replace and defer transmission and distribution grid upgrades and lower energy costs with the improvement of reliability for large industrial customers. 
 
Wacker Chemie AG
Cleveland, Tennessee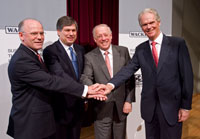 Wacker Chemie AG of Munich, Germany and Wacker Chemical Corporation, Adrian, Michigan announced in February 2009 that the company would build a new facility for the manufacture of hyper-pure polycrystalline silicon in Bradley County, Tennessee. Polycrystalline silicon is a primary component used in the manufacture of solar panels and semiconductors.
 
The company purchased land in Bradley County, Tennessee for this purpose for almost $20 million dollars. Covering approximately 550 acres, the Bradley County site offered adequate space for the new, integrated, silicon-based manufacturing site.
 
Wacker expects a mid-term investment in Cleveland, Tennessee of approximately $1 billion to establish the new plant, resulting in the creation of about 500 new jobs. The size of the site, the availability of reliable power from the Tennessee Valley Authority (TVA), over-the-fence supply of chlorine from the adjacent OLIN Corporation facility and excellent transportation infrastructure made this an attractive site location. In addition, electrical energy costs in Tennessee are uniquely affordable at rates approximately half of comparable sites in Germany.
 
As part of its investment, Wacker will qualify for statutory incentives on the state and local level, including the FastTrack Infrastructure Development Program, the FastTrack Job Training Assistance Program and the Super Jobs Tax Credit.
 
"Under Governor Phil Bredesen's leadership, we've developed a strategy for the creation of 'green collar' jobs in Tennessee," said ECD Commissioner Matt Kisber. "That strategy has resulted in more than $2.5 billion dollars in capital investment and over 1,000 new jobs being announced in the past year and we truly believe Tennessee is well-positioned for the growth of a sustainable economy in the U.S." 
 
The Boeing Company
North Charleston, South Carolina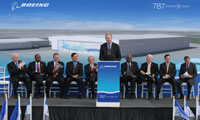 The Boeing Company will invest upwards of $870 million in their second final-assembly site for the 787 Dreamliner program in Charleston County, South Carolina, creating 4,000 new jobs in the process. Boeing's decision to locate in South Carolina is one of the largest economic development projects in the state's history. State officials believe the magnitude of this project speaks volumes about South Carolina's business climate.
 
Boeing's second final-assembly site for the 787 Dreamliner program in South Carolina will significantly impact the growth of South Carolina's aerospace industry and will have a tremendous impact on the region and the entire state as Boeing attracts new suppliers to come to the state and existing suppliers to grow, creating new jobs and lots of new supplier jobs all over the state.
 
Jim Albaugh, president and CEO of Boeing Commercial Airplanes, said establishing a second 787 assembly line in Charleston will help the company expand its production capability to meet the market demand for the airplane. "This decision allowsus to continue building on the synergies we have established in South Carolina with Boeing Charleston and Global Aeronautica," he said, adding that this move will strengthen the company's competitiveness and sustainability and help it grow for the long-term.
 
Boeing is one among more than 100 aviation and aerospace-related companies that have operations in South Carolina. One of the important features South Carolina offers these companies is a highly skilled workforce. According to CNBC's "Top States for Business 2008," South Carolina ranks second for its quality workforce. The state's skilled workforce is augmented by readySC™, South Carolina's nationally recognized workforce training program. 
 
A123Systems, Inc.
Ann Arbor, Michigan

A123Systems, a Watertown, Massachusetts-based designer, developer and manufacturer of advanced rechargeable lithium-ion batteries and battery systems, plans to invest more than $600 million in initial coating, cell manufacturing and pack assembly in Michigan. The planned project is expected to create more than 5,000 new jobs.
 
A high-tech Michigan state tax credit valued at $25.2 million over 15 years and a battery cell state tax credit valued at $100 million over four years have been approved.
 
The A123Systems Ann Arbor site is known as the Advanced Research & Government Solutions Group of A123Systems. A123Systems is one of the state's six Centers of Energy Excellence and has entered into a development and manufacturing agreement with Chrysler LLC to provide battery systems for the company's ENVI product line.
 
In August 2009, A123 was awarded a $249 million grant from the U.S. Department of Energy's (DOE) Electric Drive Vehicle Battery and Component Manufacturing Initiative. Under the terms of this grant, A123 will be required to match the funds over time as they are used.
 
This grant is an important part of A123's U.S. manufacturing strategy, which also includes an application for a loan from the Department of Energy's Advanced Technology Vehicles Manufacturing (ATVM) program. The grant will be used to help implement A123's strategy for the construction of world-class lithium-ion battery manufacturing facilities in the United States, with the first construction location in Livonia, Michigan. In addition, Detroit Edison and A123 Systems will use $5 million from the U.S. Energy Department to see if electric car batteries can be bundled together to store emergency supplies of power for the electric grid.
 
"A123 will play a key role in Michigan's transformation into a high-tech economic powerhouse," said Michigan Congressman John Dingell. 
 
Cisco Systems
Allen, Texas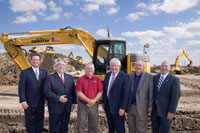 In June, 2009, worldwide Internet and telecommunications firm Cisco Systems announced plans to build a $184 million data center in Allen, Texas. Jennifer Grimm, director of business development for the Allen Economic Development Corporation, said the 160,000-square-foot data center is designed to expand to as much as 350,000 square feet. Counting equipment, Cisco could invest more than $500 million in the facility over a 10-year period, according to Allen officials. The new data center project will create between 100 and 125 jobs.
 
Abundant electric capacity in Allen made the location possible. Additionally, the city of Allen has agreed to improve roads and other infrastructure connected to the 34-acre site in Allen Commerce Center. The state's allowance of communities to use local sales tax dollars to fund infrastructure permitted the community to fast-track the project.
 
Cisco, which is based in San Jose, California, already has a large operation—including a data center—in Richardson, Texas and an office in Irving, Texas.
 
Developers of the Allen Commerce Center expect the new Cisco facility to kick off their mixed-use development. Robert Winningham, executive director of the Allen Economic Development Corporation, said the Cisco data center allows the city to take advantage of a major power transmission line next to the site. "We think it will spur additional growth, particularly related to data centers," he said. "The name Cisco Systems adds credibility to what we have been trying to do in Allen."
 
Agreeing with Winningham, Jennifer Grimm added, "It's huge for us. We've been working for several years to market sites up there for data centers. We couldn't have won any better than this." 
 
eBay, Inc.
Draper City, Utah and
South Jordan, Utah



eBay, Inc. connects hundreds of millions of people around the world every day by providing the Internet platforms for global commerce, payments and communications. Although it is headquartered in San Jose, California, eBay has been a Utah employer (currently of approximately 1, 000 people) for more than a decade.
 
In late 2009, eBay announced plans to deepen its foothold in Utah with a three-part development investment that will encompass the creation of a new data center in South Jordan and the expansion of two of its customer service centers in Draper City.
 
The company anticipates its initial capital investment, with projected expansions, to be $334 million in the new data center. Its capital investment to expand one of its customer service centers will amount to more than $40 million over 10 years, while its capital investment in the other customer service center is estimated at $80-million-plus over 10 years. Fifty new full-time positions will be created by the data center and, together, the customer service centers will increase full-time positions by 407—200 at one facility and 207 at the other.
 
Some of the factors that make Utah attractive to eBay include a very competitive cost of operations. Utah's utility costs are among the lowest in the nation and its logistics infrastructure is solid.
 
Vice President, Customer Service, eBay Marketplaces Chad O'Meara, offered additional rationale for eBay choosing to further invest in Utah. "We have attracted and retained a quality workforce in Utah over the past 10 years, and we appreciate the continued community and economic support from the state of Utah. A pro-business landscape, quality workforce and strong communities have led to a steady expansion of our operations in Utah." 
 
HelioSphera US
Philadelphia, Pennsylvania

HelioSphera US, a thin-film solar panel producer with a sister company in Greece, will open a solar panel manufacturing facility in Philadelphia's Navy Yard, leveraging hundreds of millions of dollars of private investment. The company is planning to invest $451 million in the project. The state offered $20 million from the Redevelopment Assistance Capital Program and the Philadelphia Industrial Development Corporation (PIDC) offered the 40-acre Navy Yard site for $1. The property is in the undeveloped eastern part of the Navy Yard and will require substantial infrastructure investment, as well as some wetlands mitigation, said John Grady, senior vice president of the PIDC.
 
New York State offered an incentive package that Pennsylvania officials valued at $40 million, so Pennsylvania Governor Edward G. Rendell increased the State of Pennsylvania's offer to include other loans and grants, including some pending federal stimulus-grant money. "It was necessary for us to compete at a significant level," Rendell said. But he said the HelioSphera's private funds would total about nine times the state's investment, and the income taxes from the 400 jobs, as well as construction jobs, "will surpass our investment in a short order."
 
In addition to the grants and loans, the project would be eligible for Keystone Opportunity Improvement Zone benefits, which would exempt it from state and local business taxes until 2025.
 
HelioSphera US said the $500 million plant will employ 400 people when it begins operations in late 2011. It will be able to produce 1.2 million thin-film solar modules per year.

The company feels this investment (its first in the U.S.) will allow it to address what it believes is the largest solar market in the world. 
 
Nexteer Automotive
(Steering Solutions Services Corporation)
Saginaw, Michigan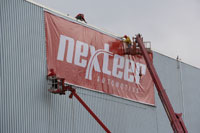 The former steering division of Delphi Corporation, which operates in Saginaw, Michigan under the Nexteer brand name, is the only global Tier One automotive supplier focused on advanced steering and driveline systems technology.
 
The company plans to invest $413 million to expand and actively pursue diverse new business opportunities and retain its independent engineering capability. This investment supports Nexteer Automotive's Michigan-based global engineering center, which includes R&D activities, product and process validation labs, manufacturing process development labs and the Vehicle Engineering Center and test track. It plans to further invest in product line expansions, site development, installation of new production equipment and required retooling.
 
Long-term plans include increasing markets in Europe and Asia-Pacific as well as emphasis on cost-reduction initiatives.
 
The project will retain 2,400 jobs directly by the company. The Michigan Economic Development Corporation (MEDC) estimates the increased economic activity created by the project will retain an additional 6,311 indirect jobs.
 
Based on the MEDC's recommendation, the Michigan Economic Growth Authority (MEGA) board approved a state tax credit valued at $70.7 million over 10 years to encourage the company to expand in Michigan over competing sites in Europe and China. Buena Vista Charter Township is considering an abatement in support of the project.
 
"These MEGA credits are important in terms of retaining high-skilled jobs in the state, and the MEDC's partnership is essential to increasing the long-term economic growth and competitiveness of companies based in Michigan," said Mike Gannon, vice president—business strategy and human resources, Nexteer Automotive.
 
Also looking to the long-term, MEDC President and CEO Greg Main said, "Our MEGA credit is focused on retention, but we're certainly interested in growing our operations." 
 
SNF Holding Company
Plaquemine, Louisiana

SNF Holding Company will construct a new water-soluble polymers manufacturing facility in Iberville Parish, Louisiana. The plant, when fully operational, will employ over 500 permanent, full-time employees with an average salary of $57,400, create approximately 900 indirect jobs and involve capital investment of at least $362 million. Accordingly, SNF's facility will become one of Louisiana's top 150 economic-driver firms based on direct and indirect job impact.
 
An economic impact analysis by Louisiana State University (LSU) suggests the SNF facility will inject more than $3.7 billion in new state economic output from 2010 to 2025.
 
"We are delighted to welcome SNF to Louisiana and look forward to the very significant economic impact this project will bring to Iberville Parish and the Capital Region," said Louisiana Economic Development Secretary Stephen Moret.
 
If all performance requirements are met, SNF will receive a state incentive package worth approximately $39.4 million, including performance-based financial assistance of $26.55 million for a rail spur and other site infrastructure, as well as performance-based incentive payments of $1.28 million per year for the first 10 years of the project. Iberville Parish will contribute $1 million to fund public infrastructure.
 
LSU estimates the SNF project will result in $107 million in new state tax revenue, as well as $29.9 million in new local tax revenue, from 2010 to 2025, which isthe contract term for the associated cooperative endeavor agreement. These estimates exclude property taxes and corporate income taxes.
 
Iberville Parish was selected as the winning plant site after an extensive and competitive multi-state evaluation of potential candidates. Prior to selecting Louisiana, SNF considered sites located in three other states. 
 
Mitsubishi Power Systems Americas Inc. (MSPA)
Savannah, Georgia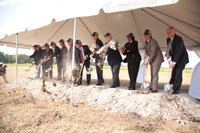 Mitsubishi Power Systems Americas (MPSA) will locate a new, state-of-the-art manufacturing facility near Savannah, investing $325 million and ultimately creating 500 jobs. Groundbreaking took place September 21, 2009 on a 19-acre, shovel-ready site that is part of the Chatham County Industrial Site, also known as Georgia's "megasite."
 
MPSA President and CEO Koji Hasegawa remarked, "We are especially thankful for the support provided to us by Governor Sonny Perdue and his economic development staff, the Savannah Economic Development Authority, Georgia Power and countless other agencies and officials who joined forces to make Georgia and Savannah an extremely attractive site for our project."
 
The economic development team is investing $54 million in the project.
 
In the first of a three-phase construction effort, the plant will manufacture gas turbine combustor components to support operating units in the Western Hemisphere and new turbines worldwide. Hiring commences in early 2010, and Georgia's Quick Start workforce training program will provide training on the assembly and service of the turbines. It expects to begin making components as early as fall 2010.
 
In phase two, Mitsubishi will build comprehensive service capabilities to support turbine rotor, rotor balancing, valve and other large component repairs and upgrades for gas and steam turbines. During the third and final phase, the company will manufacture and assemble the next generation of high-efficiency, low-emission gas turbines.
 
Brian Foster, board chairman of the Savannah Economic Development Authority, remarked that the company will "invigorate the local economy and put Chatham County squarely in the ranks of an international movement toward the production of clean energy."
 
Energy is one of the industries singled out by the Commission for a New Georgia as an area of strategic growth for the state. 
 
Suniva Inc.
Thomas Township, Michigan

Suniva Inc. plans to construct six production lines of its ARTisun photovoltaic cell in Thomas Township, Michigan. Suniva's investment in this endeavor will amount to $250 million. It will receive a state photovoltaic tax credit valued at $15 million over five years and state business tax credit of up to $8.6 million, as well as Renewable Energy Renaissance zone designation with estimated tax savings of $45 million over 15 years.  
At full capacity, the company estimates this project will produce photovoltaic cells with a capacity to provide over 400 megawatts of solar power annually (roughly enough power to generate electricity for 100,000 households).
 
The project involves two phases—the first will support the installation of three ARTisun production lines, scheduled to begin construction in June 2010. The second phase will be the installation of three additional production lines, scheduled to begin construction in April 2012.
 
John Baumstark, Suniva CEO, stated, "For the United States to reach its potential as a leader in renewable energy, it must support not only new innovative technologies, but also must revitalize its manufacturing base to aid these technologies in achieving swift scale. All states have a powerful role to play in bringing new jobs and new technologies to market, and we applaud Michigan's efforts."
 
The decision by Suniva to locate in Saginaw Valley, Michigan is a major achievement in a successful regional strategy to create a solar industry cluster in and around the region. That cooperative effort resulted in Saginaw County being selected for a Dow Corning and Hemlock Semiconductor Corporation $1 billion investment to expand polycrystalline silicon production used for solar development. This third expansion brings total investment in Saginaw County to $2.5 billion in just five years. 
 
V-Vehicle Company
Monroe, Louisiana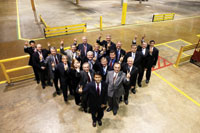 V-Vehicle Company, a new San Diego, California-headquartered American car company, will locate its first automotive assembly facility in Monroe, Louisiana. The project will create 1,400 new jobs at an average annual salary of $40,000, plus benefits, as well as $248 million in capital investment. Louisiana State University estimates the project will generate over $19 billion in new economic output over its first 15 years of operation. V-Vehicle will produce a high-quality, fuel-efficient car with the potential to transform the U.S. auto industry. The company has also received financial backing from numerous top-tier investors.
 
After an extensive, multi-state search, V-Vehicle selected Louisiana because of its confidence in the state, state and local leadership, a competitive incentive package and Louisiana's new customized workforce solution. The state proved it could be on the forefront of re-energizing the automotive industry and could provide a highly skilled workforce to meet the company's aggressive production schedule.
 
V-Vehicle Company is one of six new ventures that will provide economic stability to an area that has had a series of difficult major employer losses over the past few years.
 
Explaining that the V-Vehicle project is not the typical economic investment project for Louisiana, Governor Bobby Jindal said, "Every once in a while, we are presented with an opportunity to throw long—to move the ball down the field in a major way with a single transformational project. This is that kind of project, and for that reason we were willing to pursue an extraordinarily aggressive approach to not only invest in a major economic expansion for the people of Northeast Louisiana, but also a transformational project for the U.S. automotive industry. 
 
Quicken Loans Inc.
Detroit, Michigan

Quicken Loans, the largest online lender and fifth-largest retail mortgage lender in the United States, plans to relocate its headquarters to Detroit, Michigan, consolidating its executive, management, loan production, title production and administrative functions. It plans to invest $240 million in the project, and will create 1,800 jobs by the company. The Michigan Economic Development Corporation (MEDC) estimates the increased economic activity created by the project will create an additional 2,219 indirect jobs. The project also is expected to retain 2,200 jobs directly at Quicken and an additional 2,767 indirect jobs.
 
Based on the MEDC's recommendation, the Michigan Economic Growth Authority (MEGA) board approved a state tax credit valued at $18.1 million over 12 years to help win the project for Michigan over a competing site in Ohio. The MEGA board also approved a $29.1 million retention credit over 12 years to keep jobs in Michigan. The city of Detroit is considering local incentives to support the project. The city supported the project by providing a parking agreement for the mortgage lender's employees valued at $200,000.
 
Speaking of the relocation, Quicken CEO Dan Gilbert told Fortune magazine online: "It's the opportunity to get in low and sell high. It's an untapped market from an intellectual standpoint, and from a physical standpoint, there are great buildings. The idea is to get to the tipping point where companies start believing that they can't afford not to be in Detroit."
 
He realizes his venture into Detroit won't be a total success unless other businesses follow. Currently a primary selling point is inexpensive rents—office space at $18 a square foot, versus $32 in downtown Chicago, often with the first year free on a five-year lease. 
 
Johnson Controls-Saft Advanced Power Solutions LLC
Holland, Michigan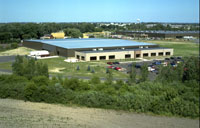 Johnson Controls-Saft Advanced Power Solutions LLC (JCS) is a joint venture between Milwaukee-based Johnson Controls and French battery producer Saft.
 
One of the leading independent suppliers of lithium-ion batteries for hybrid and plug-in hybrid electric vehicles, it has been approved for an Anchor Jobs incentive. Under this designation, a company that attracts or influences a supplier or customer to locate or expand in Michigan can qualify for tax credits.
 
The company was also approved for a Plug-In and all-electric traction battery pack credit valued at up to $20 million over three years to support the manufacture of battery packs using lithium-ion technology. Last April, the Michigan Economic Growth Authority (MEGA) board approved a battery cell manufacturing MBT credit valued at up to $100 million over four years and a high-tech MEGA credit over 15 years for the construction of an advanced-battery manufacturing facility.
 
In addition, the U.S. Department of Energy awarded the project a $299 million grant under the American Recovery and Reinvestment Act to support construction of an advanced battery manufacturing plant to produce lithium-ion cells for hybrid and electric vehicles. These cells will be assembled into packs, including integration of thermal management systems and controlling software.

In a recent Institutional Investor interview, Johnson Controls CEO and Chairman Stephen Roell said, "We recently received a $299 million government grant to build a manufacturing facility for batteries in Holland, Michigan. That's just the government's grant, so we have to match that dollar for dollar, so it's really a $600 million investment."
 
In total, JCS will create up to 1,096new jobs, including more than 2,000 indirect jobs.

ConAgra Foods Lamb Weston
Delhi, Louisiana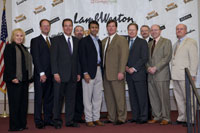 Building from the ground up, ConAgra Foods Lamb Weston will construct the first large-scale processing facility dedicated to high-quality, frozen sweet potato products in Delhi, Louisiana. The company will invest more than $210 million in the new state-of-the-art, environmentally-friendly facility, creating at least 500 new, direct jobs with an average annual salary of $35,000, plus benefits. Upon completion, the facility is expected to become one of the region's 10 largest private-sector employers in Northeast Louisiana.

An economic-impact analysis conducted by Louisiana State University (LSU) suggests the new facility will provide $2.1 billion to $2.4 billion in new state economic output from 2009 to 2025. In addition to direct jobs, LSU estimates the new facility will beget an additional 1,420 to 1,704 indirect jobs. The facility will also generate $70 million to $81 million in new state tax revenues, excluding increased corporate income taxes.

The company plans to take advantage of the state's Industrial Property Tax Exemption program and customized workforce recruitment, screening and training developed by Louisiana FastStart™, a turnkey workforce solutions program.

The facility will be constructed in two phases, with the first phase ($156 million) scheduled for completion by late 2010 and a second phase ($55 million to $100 million) by February 2014.

It will be one of the first food plants in the country built from the ground up with the newest and best processing and packaging technologies in the industry. The facility will also follow LEED, or Leadership in Energy and Environmental Design, standards for environmentally sustainable construction and will be registered with the United States Green Building Council.

Governor Bobby Jindal described the investment as "further evidence of why our state continues to buck national economic trends."