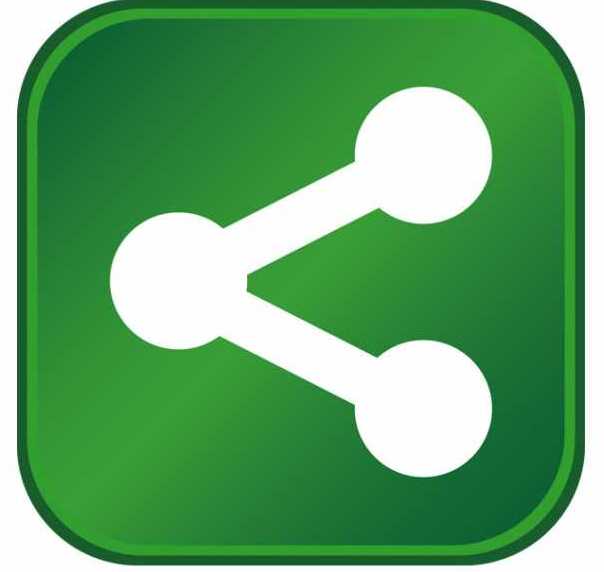 Impacts on Industrial Site Selection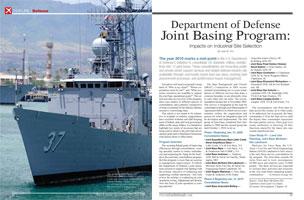 The year 2010 marks a mid-point in the U.S. Department of Defense's initiative to consolidate 26 stateside military installations into 12 joint bases. These consolidations are impacting public and private sector support services and related defense industry site availability through community-based land use plans, evolving joint procurement processes, and performance-based management.
Executives will need a scorecard to keep track of "Who is my client?" "Whose expectations must be met?" and "What economic incentives are available to support the joint base operational goals?" This article provides an overview of the program, three case studies of different aspects of consolidation, and a planner's perspective of what is essential for the defense industry executive's knowledge base.
This article is not meant to be exhaustive or in-depth, as industry organizations have excellent websites and staff keeping track of federal, state and local government affairs in this arena. Rather, it is intended to highlight key points of processes that are being used to achieve the joint base development goals and to familiarize businesses with factors likely to affect them.
Program Overview
The recurring federal goals of improving efficiencies through consolidation, creating specialty centers to reduce redundancies and measuring the "bang for the buck" drive the joint base consolidation program. But this program is more than an exercise in management improvement. It reflects the Department of Defense's joint operations mission to support war fighting with the primary objective of enhancing and supporting combat operations. Just look at how the military is conducting its joint operations in Iraq, Afghanistan and Bosnia. Now this form of joint operations is coming stateside.
The Base Realignment and Closure (BRAC) Commission in 2005 recommended consolidating two or more installations of different services that share a common boundary or are physically close to each other into one base. The recommendation became law in November 2005. One service is designated as the lead for consolidation through joint Memoranda of Agreement (MOA) in which service commanders outline the organization and process by which an integration plan will be developed and implemented. The first group of joint bases completed their integration in 2009 and the second group has until October 1, 2010, to do so.
Phase I Beginning Jan. 31, 2009
Consolidated Bases
Joint Expeditionary Base Little Creek
Naval Amphibious Base Little Creek, VA, & Fort Story, VA
Joint Base Myer
Fort Myer, VA, & Henderson Hall (USMC), VA
Joint Base Andrews
Andrews AFB, MD & Naval Air Facility, Washington, MD
Joint Base McGuire-Dix- Lakehurst
McGuire AFB; Fort Dix; & Naval Air Engineering Station Lakehurst, NJ
Joint Region Marianas
Navy Base Guam & Andersen AFB, Guam
 
Phase II Beginning Jan. 31, 2010
Consolidated Bases
Joint Base Anacostia-Bolling
Anacostia Annex (Navy), DC, & Bolling AFB, DC
Joint Base Pearl Harbor-Hickam
Naval Station Pearl Harbor, HI, & Hickam AFB, HI
Joint Base Charleston
Charleston AFB, SC & Naval Weapons Station Charleston, SC
Joint Base Elmendorf-Richardson
Elmendorf AFB, AK & Fort Richardson, AK
Joint Base San Antonio
Lackland AFB, TX; Randolph AFB, TX & Fort Sam Houston, TX
Joint Base Langley-Eustis
 Langley AFB, VA & Fort Eustis, VA

The circumstances vary from base to base across the country as to what needs to be addressed, but in general, the base commander is from the lead service and the deputy base commander represents the team partner service. Their goal is to create uniformity in directing 49 like functions shared by the bases into one central operational unit.
Case Study #1 – Land Use Planning, Joint Base McGuire-Dix-Lakehurst
McGuire Air Force Base, the U.S. Army's Fort Dix and Naval Engineering Station (NAES) Lakehurst in New Jersey is the only three-service consolidation in the program. The Joint Base extends 20 miles from east to west, encompasses 42,000 acres and employs some 22,000 people. The three services are expected to increase their activities and missions in the very near future impacting nearby communities.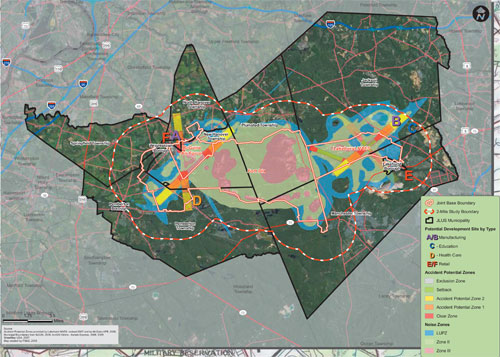 Source: Joint Base McGuire-Dix-Lakehurst Joint Land Use Study, Economic Development, Chapter 10
In 2006, Ocean County and Burlington County became lead agencies to develop a Joint Land Use Study funded by a DOD community assistance planning grant. According to the Ocean County Planning Department, the main goal of the study was "to control encroachment by identifying appropriate locations for development and redevelopment consistent with base operations." The planning process also explored potential public-private partnerships in the areas of high technology, education, training and research. A plan implementation process is now underway with participation from State agencies, Congressional offices, the Department of Defense Office of Economic Adjustment, local planning agencies, and Joint Base staff.
This case illustrates the fact that land use controls designed to minimize noise impacts on affected communities, limit growth in areas near the base to allow for expansion, and to comply with a state's land preservation policies can raise conflicts with industrial development site availability needs. Potential development sites are identified in the plan as illustrated on the above map. Internally, the Joint Base command will have responsibility for property management. They expect over 3,700 on-base jobs will be added between 2010 and 2012 requiring close coordination with local communities. Early participation by the Defense Industry in these planning processes is needed to track how the new Joint Base management will engage the industry in providing sufficient property for mission needs and support services while complying with previously agreed upon land use plans.
Case Study #2 – Consolidation Challenges, Joint Base Lewis-McChord
The Army's Fort Lewis and the Air Force's McChord AFB have been working together since the AFB was founded in 1938 next to the then 21-year old Army base. With the attainment of Initial Operational Capability (IOC) on January 31st this year, Joint Base Lewis-McChord, Washington, has until October 1st to reach Full Operational Capability (FOC). Leaders have discussed some of the consolidation challenges while moving toward full consolidation.
Service Culture and Heritage – Leaders have taken every opportunity to communicate the fact that Army and Air Force unit command structure will remain under the control of the respective military service. Air Force Colonel Michael "Mickey" Addison, the Defense Department's deputy director of joint basing, has said, "That's the hardest thing for our base commanders to do is to assure people that nothing will be lost, then build a joint culture that preserves the cultures and what is special about each."
Real Estate Responsibilities – There are a variety of leases in place both within the fenced installations and outside those fences. The real estate experts from both bases will merge their operations into one joint command unit. In May 2009, Robert Urich from the Office of the Secretary of Defense for Installations and Environment reported that the biggest real property challenge for the new base is recognizing real property issues beyond space inside the fence lines of the two installations. There are outside the fence areas that need to be addressed as well.
Common Output Level Standards – Uniformity in measuring the success of how well goals are accomplished in 49 separate functional areas is one of the heralded accomplishments of the Joint Base process. According to Air Force Colonel Addison, "Without common standards some services would, for example, measure unaccompanied housing by number of beds, while others would measure space." He added that learning to talk to each other is critical as the services all have "different languages." "If you say 'emergency response' to a soldier, sailor, airman or Marine, you may get four different ideas of what that means," he added.
Addressing these and other challenges is a time-consuming and intense process designed to build a successful teamwork environment. The industry executive needs to keep up with the changing terminology, new levels of output standards, and organization assignments across service lines to assess impacts on business.
Case Study #3 – Implementation Complexities, Joint Base Pearl Harbor-Hickam
Sorting out contract workers, civilian workforce and military personnel has been a challenge in combining these two historical bases on the island of Oahu in Hawaii. Given the fact that the combined services at Joint Base Pearl Harbor –Hickam involve command support, community services, environmental services, facilities, fire protection and emergency services, housing services, human resource management, information technology services management, logistics support, law enforcement and physical security, and operational mission services, a private sector contractor and public sector community will need to keep abreast of how the new organization operates. The Joint Base Pearl Harbor-Hickam organization chart visually represents this complexity.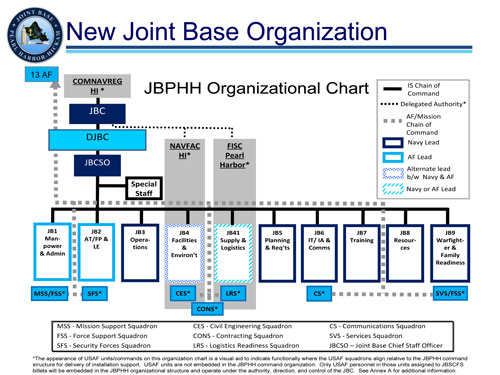 The Joint Base Management Office in its March 2010 on-line newsletter reports on "lessons learned" in implementing the joint base program. Specifically, the Office addresses how Phase II joint bases are doing in migrating real property data to a new joint real property inventory. They want to make sure that data is Real Property Inventory Requirements-compliant and that the business process and audit trail are preserved. The newsletter announces that the Business Enterprise Integration (BEI) Directorate within the Department of Defense is preparing a memo for the Deputy Undersecretary of Defense, Installations and Environment, to detail tasks and milestones for joint bases to transfer real property to the joint command.
Just as with the payroll complexities, merging real property data systems affords challenges not uncommon to business mergers. An industry executive can bypass the Defense Department jargon and communicate with Joint Base leaders using his or her business knowledge to build relationships with the leadership as they implement these processes. As a person dealing with complexities and shifting environments on a daily basis, the business executive is well prepared to be of value in advising the joint base command.
Scorecard and Economic Incentives
As baseball season begins, it is time to familiarize oneself with how to "keep score" so you know "who's on first" and "what's on second." The first item to learn is the Joint Base Definitions, a Department of Defense system of terminology used by all involved in the Joint Base Planning and Implementation Processes. An excellent overview can be found on the Joint Base Pearl Harbor-Hickam news website: www.cnic.navy.mil/PearlHarbor-Hickam/index.htm.
The second critical item to keeping score, is measuring the risk associated with having multiple players with multiple interests attempting to achieve agreement on how land use, information data sharing, budgets and resource allocations should be established for the joint base. In addition to monitoring the "ground rules" through constant review of legislative and regulatory matters, the industry executive should identify the decision maker most relevant to one's interest and establish personal communications with that person. The goal here is to minimize the risk to a business's interest by unknown actions brewing under the surface in a planning and implementation process. It is good to know who the umpire is.
Finally, the business environment associated with the Joint Base program may work for or against an individual business depending on whether contracts are renewed or work is absorbed by the new joint command and that contract is deemed to be redundant. On the other hand, the growth of personnel and mission requirements provide opportunities for the private sector to initiate support services to accommodate growth more rapidly than the government is likely to do so. State Enterprise Zones, Research and Development Tax Incentives and Manufacturing Incentives from federal, state and local governments are designed to attract enterprises to areas and, coupled with Joint Base growth, can prove to be financially rewarding for a business. The game is always in danger of being "rained out" and developing a strategy to minimize risk and maximize benefits can go a long way toward keeping the rain away.
About the Author