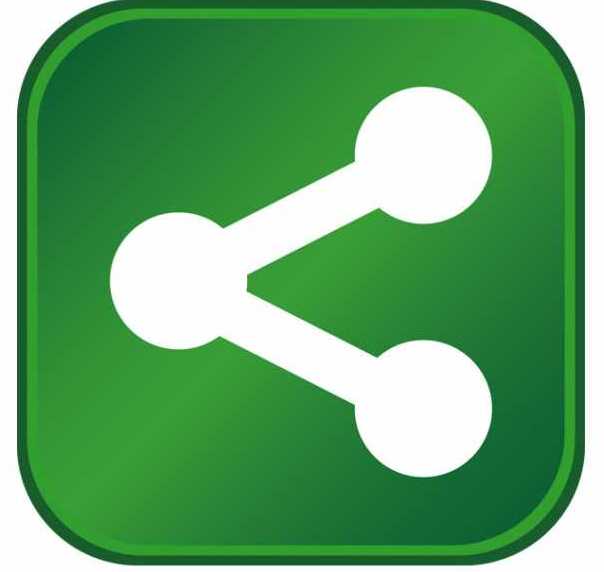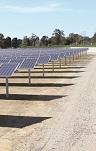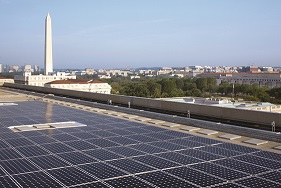 On January 24, 1974 – with Richard Nixon in the White House, but knee deep in the Watergate scandal – five people met in the noisy basement of the Washington Hilton to discuss the possibility of establishing an association for the nascent solar energy industry.
They agreed to create "a broad-based trade association supporting prompt, orderly, widespread and open growth of solar energy resources." This was the beginning of the Solar Energy Industries Association's (SEIA) four decades of successful advocacy.
How times have changed. In the last 18 months, more solar has been installed in the United States than in the 30 previous years combined. That's nothing short of remarkable.
Continuing its explosive growth, the U.S. solar industry had another record-shattering year in 2013. According to GTM Research and the Solar Energy Industries Association's (SEIA) year-end report, photovoltaic (PV) installations expanded rapidly last year, increasing 41 percent over 2012 to reach 4,751 megawatts (MW). In addition, 410 MW of concentrating solar power (CSP) came online in 2013. Consumers nationwide benefitted from this growth as the cost to install solar fell throughout the year, ending 15 percent below the record set at the end of 2012.
When the final 2013 numbers were added up, there were 440,000 operating solar electric systems across the United States, totaling more than 12,000 MW of PV and 918 MW of CSP.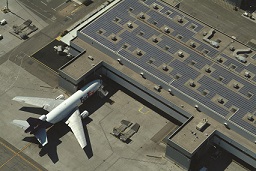 What does this mean to consumers? Well today, solar is the fastest-growing source of renewable energy in America, generating enough clean, reliable and affordable electricity to power more than 2.2 million homes – and we're just beginning to scratch the surface of our industry's enormous potential. Last year alone, solar created tens of thousands of new American jobs and pumped tens of billions of dollars into the U.S. economy. 
California continues to lead the U.S. market and installed more than half of all U.S. solar in 2013. In fact, the Golden State installed more solar last year than the entire United States did in 2011. North Carolina, Massachusetts and Georgia also had major growth years in 2013, installing 663 megawatts – more than doubling their combined total from the year before. On the whole, the top five states (California, Arizona, North Carolina, Massachusetts and New Jersey) accounted for 81 percent of all U.S. PV installations in 2013.
Here are some of the other highlights of the report:
The amount of PV installed last year in the U.S. was nearly 15 times greater than the amount installed in 2008.

Q4 2013 was by far the largest quarter ever for PV installations in the U.S. with 2,106 MW energized, up 60 percent over the next largest quarter (Q4 2012).

The market value of all PV installations completed in 2013 was $13.7 billion.

Solar accounted for 29 percent of all new electricity generation capacity in 2013, up from 10 percent in 2012. This made solar the second-largest source of new generating capacity behind natural gas.

Weighted average PV system prices fell 15 percent in 2013, reaching a new low of $2.59/W in the fourth quarter.

The new report forecasts 26 percent PV installation growth in 2014, with installations reaching nearly six gigawatts (GW). Growth will occur in all segments but will be most rapid in the residential market.

The U.S. installed 410 MW of concentrating solar (CSP) in 2013, increasing total CSP capacity in the U.S. more than 80 percent.

And finally, Brightsource's massive Ivanpah project also began operating this year and SolarReserve's Crescent Dunes project began commissioning.
So while 2013 was a record-breaking year for the U.S. solar industry, 2014 promises to be even better with 30 percent growth being forecast. Part of this unprecedented expansion is due to the fact that the average price of a solar system has dropped by more than 50 percent since 2010, benefitting consumers, businesses, schools and government entities.
Today, 40 years after SEIA was first formed, there are nearly 143,000 Americans employed by the U.S. solar industry at more than 6,100 American companies – with SEIA leading the fight to expand markets, remove market barriers, strengthen the industry and educate Americans about the benefits of solar energy. These efforts have led to the adoption of a wide range of smart public policies, including the solar Investment Tax Credit (ITC) in Congress and Net Energy Metering (NEM) at the state level.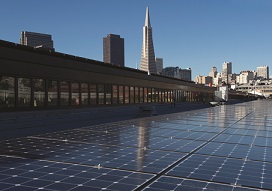 But we want to keep the momentum going. So in celebration of Earth Day 2014 – and as a way to encourage the widespread use of non-polluting energy sources – The Climate Group and the Solar Energy Industries Association (SEIA) teamed up to create a Facebook campaign designed to accelerate the adoption of solar energy in the United States.
The "I LIKE SOLAR" initiative centers around solar energy's widespread popular appeal – demonstrated by a recent national Hart poll that shows that nine out of 10 Americans favor more solar deployment – as well as the "buzz" solar energy creates on social media. In fact, it's estimated that roughly half of all new residential installations in the U.S. result from personal references. What's more, research by IOPscience shows that someone who has a friend, relative or neighbor with solar will make a decision to "go solar" three times faster than other people.
The primary goals of this innovative, new social media campaign include:
Substantially increasing the use of residential solar in America

Significantly reducing harmful greenhouse gas emissions

Harnessing Facebook's powerful social network to create a virtual solar neighborhood

Optimizing solar messaging on Facebook and other social media platforms.
So how is solar helping to protect our environment? When it comes to greenhouse gas emissions, the 13 GW of installed solar in the United States generates enough clean electricity to displace 14.2 billion pounds of coal or 1.5 billion gallons of gasoline. Put another way, it's the equivalent of taking 2.7 million passenger cars off U.S. highways.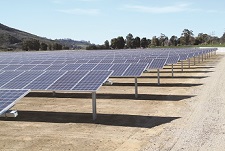 According to the recently released National Climate Assessment (NCA) report, we are facing a watershed moment in our nation's history. Today, climate change is a real and growing threat to America and the rest of the world. It's indisputable. Sea levels are rising. We're experiencing more intense and unpredictable storms. And droughts plague the world. 
This report should serve as a tsunami warning for the world. Climate change is no longer a theoretical assumption debated by scientific scholars. It's a reality of the world we live in – and one of our greatest challenges as a civilization when it comes to the kind of world we hope to leave behind.
Clearly, climate change threatens our economy, our future progress, our health and safety and even our way of life. Every day, the Earth suffers a little more from human neglect. We can't wish this problem away, and pointing fingers won't solve it, either. There's no better way to pay respect to our planet than to embark on a campaign that can have a positive, demonstrable and measurable impact on our environment.
The I LIKE SOLAR campaign holds great promise. Facebook has 180 million users in the United States and reaches 71 percent of all online adults. Creating a robust community of solar owners to share their stories and offer personal testimonials about the value of solar – both from an economic and environmental standpoint – will certainly pay dividends in our fight against pollution and climate change. In addition, it will help to create new American jobs, stimulate our economy and act as a catalyst for future innovation. Any way you look at it, that's a win-win for America.
About the Author