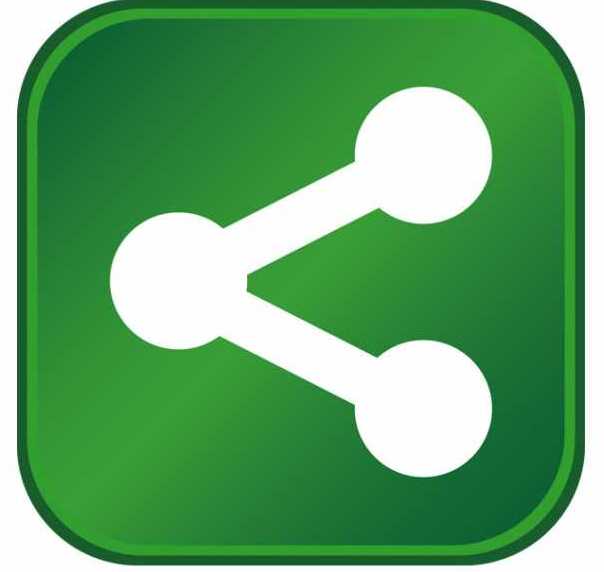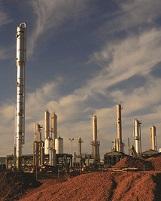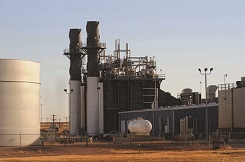 Around the county, changes in the energy industry are turbo-charging economies and spurring the growth of related businesses such as the chemical industry.
In places like Texas, Mississippi and Louisiana, the discovery of shale deposits was the beginning. But it was advances in techniques like fracking and horizontal drilling that have enabled companies to extract oil and liquid national gas (LNG) from the shale, along with all the byproducts and components that occur with these products.
Other states benefit somewhat less directly, but see great economic impact nonetheless. In Tennessee, the last decade's low natural gas prices have literally and figuratively fueled a surge in the chemical industry because the chemical industry is reliant on massive amounts of power, along with the chemical building blocks often found in petroleum-based products.
Tennessee is a Chemical Industry Powerhouse
According to Bill Hagerty, commissioner of the Tennessee Department of Economic and Community Development, the state's chemical industry is flourishing and the lower price of natural gas is one the reasons.
"If gas prices were where they were 10 years ago, we wouldn't be enjoying where we're at with the chemical industry," said Hagerty.
However, the state's chemical industry isn't new.
"The chemical industry has been here for decades. We're centrally located, so you can reach a large portion of the country's population quickly. Because it's an entrenched industry, we've been able to build and gain momentum from our expertise. There's a large number of engineers in the area drawn to companies headquartered here like Eastman Chemical Company and Delek, an energy company involved in petroleum refining, logistics and convenience store retailing."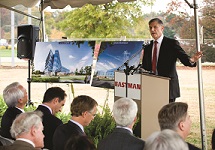 Eastman Chemical Company is a cornerstone of Tennessee's economy. In the 1920s, George Eastman founded the company in Kingsport, Tennessee because of the availability to access timber needed to manufacture the company's early product lines. Today, with approximately 6,500 employees and over 3,000 contractor workers in the area, Eastman is the region's largest manufacturing employer.
Over the next seven years, Eastman has committed to investing approximately $1.6 billion at its global headquarters. Called "Project Inspire" because it's one of the state's largest economic development investments, it will enable Eastman to keep pace with its projected growth. This includes safety and environmental projects, increased warehouse capacity and expansion of its corporate campus in Kingsport.
"Eastman has a strong legacy in our region and we are proud that our continued efforts to grow are also occurring here in Tennessee," said Etta Clark, vice president of global public affairs and policy at Eastman. "The company strives to strengthen the ties between industry and community by promoting a favorable environment for business growth." 
Oil and Gas from Fracking and Horizontal Drilling: The New Gold Rush
The advances in technology that have enabled energy companies to extract oil and gas from deep, hidden shale deposits have transformed the economies of the areas around them almost overnight.
Gonzales, Texas, is one. At the last census in 2010, Gonzales County in south Texas had a population of approximately 20,000. It's located in the midst of the well-known Eagle Ford shale deposits, one of the most active shale plays in the world, with more than 200 rigs extracting oil.
"Gonzales's unprecedented growth is due largely to the Eagle Ford Shale oil and gas activity in south Texas," said Carolyn Gibson-Baros, economic development director at the Gonzales Economic Development Corporation. "The University of Texas at San Antonio's Institute for Economic Development recently released an economic impact analysis of this activity in south Texas. It shows a projected job growth of close to 10,000 in the 10 years between 2011 and 2021 – with an economic impact in Gonzales County from over $1 billion in 2011 to an estimated $3.4 billion in 2021. That is really significant for a county our size."
Gonzales's strategic location has attracted companies such as Dynamic Construction Services, a division of Dynamic Energy Services, to supply and install well site equipment to the rigs in the area.
"We are extremely excited about the potential of our new facility. Gonzales is ideally located at the conjunction of the Eagle Ford shale to the south and west, as well as to the rapidly developing Eaglebine shale to the east and north. Gonzales County and the adjoining counties to the west constitute the liquid-rich 'sweet spots' of the entire Eagle Ford and are also the least-developed counties in the Eagle Ford," said Bryan Delahoussaye, vice president of the technical division at Dynamic Construction Services.
West Texas is experiencing the same growth. Monahans, Texas, is another small community with a population of less than 7,000 at the 2010 census. Monahans is building its reputation as the center of the Permian Basin, the vast section of West Texas and eastern New Mexico known for its prolific oil and gas production. More than 60 percent of the state's oil production occurs in the Permian Basin, which is also home to 16 percent of U.S. oil reserves.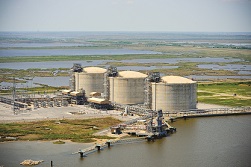 "Our section of the Permian Basin is called the Wolfbone and it's as big as Eagle Ford, said Morse Haynes, executive director of the Monahans EDC. "Our boom took off in 2011 and it's tied to the horizontal drilling where they drill down and go horizontally. They use hydraulic fracturing to get wells that produce much more oil."
Large energy companies including Devon Energy, BHP, Anadarko, Chesapeake and Chevron are drilling in the area or have announced plans to do so. Along with them come related service companies, such as RedZone Coil Tubing, Louisiana Crane and Globe Energy Services.
"We're able to accommodate these service companies and have set up five-  to 10-acre tracts to make it easy for them to locate in our community," said Haynes. "Because of this growth, our sale tax numbers have doubled since 2009. We're already up 15 percent over last year," he added.
A few hours northeast of Monahans is Snyder, Texas, which sits atop Cline Shale.
According to Bill Lavers, executive director at the Development Corporation of Snyder, Cline Shale is the largest find in U.S. history with 30 billion barrels on top of the third-highest producing cumulative field in the nation. Snyder has seen new investment of more than $1 billion over the past 12 months.
"We've seen a 210 percent increase in drilling rig permits from 2012 to 2013. While oil has been here for 50 to 60 years, the new fracking technology lets us get to more oil. Although the Cline Shale is deep, with the new technology, they can get it. We've had 15 major oil companies here for the past 30 years, such as Apache, Baker Hughes and Weatherford," said Lavers.
New ones are moving in too, such as WL Plastics which recently opened its sixth North American location in Snyder. WL Plastics Corporation manufactures high-performance high-density polyethylene (HDPE) pipe and related products for the oil, gas, mining, industrial and municipal water markets.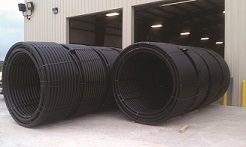 "WL Plastics moved here to Snyder to be closer to our customers. We're centrally located in the middle of all the oil and gas activity. It definitely saves us on freight, too," said Jody Hair, plant manager at WL Plastics Corporation.
According to Lavers, the area's economic prospects are bright.
"The United States economy is performing better than Europe; Texas has the best economy in the United States – and the best economy in Texas is in the Permian Basin," said Lavers.
Other States are Getting in on the Shale-driven Action
Southwest Mississippi is also sitting atop shale – and mining it for economic growth.
"Energy is everything that's going on here. And the biggest part is in the Tuscaloosa Marine Shale, which is similar to Eagle Ford. They're getting the oil by fracking with horizontal wells," said J. Britt Herrin, executive director of the Pike County Economic Development District in southwestern Mississippi.
Big names like Halliburton, Schlumberger, Goodrich and X-Chem have established operations there.
"The drilling started about two years ago with just one oil rig. We're at a point now where we have 10 rigs running and there will be about five more by the summer. We expect that to double next year. In the next three to five years, they expect 30,000 jobs, which is a conservative number. That's just in this area. It's huge," said Herrin.
Herrin attributes some of the area's growth to the state's new sales tax incentive. Effective July, 2013, companies in the energy field pay only a 1.3 percent sales tax until they recoup their costs.
"These oil wells are expensive, averaging about $13 billion. This tax break has made companies more willing to locate here," he added.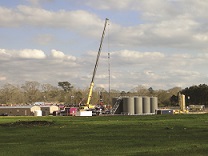 In southwest Louisiana, the energy production is focused on liquefied natural gas (LNG). With a strong, established infrastructure including ports, a pipeline network to distribute the energy and existing LNG facilities, the area is well suited to take advantage of the recently discovered Haynesville shale play. The Haynesville shale runs through northwestern Louisiana, northeastern Texas and the southwestern tip of Arkansas and is projected to produce as much as 40 trillion cubic feet of natural gas.
"We have $65 billion in announced energy projects and we're on the verge of an economic boom that'll enable our region to provide a tremendous amount of energy to the world and reduce our country's dependence on foreign energy," said George Swift, president and CEO of the Southwest Louisiana Economic Development Alliance in Lake Charles, Louisiana.
The area has three existing LNG facilities, including Lake Charles LNG (Energy Transfer Equity, formerly Trumpline LNG), Cheniere Energy and Cameron LNG, an $18 billion investment.
"These facilities were originally built to import gas, but now with change in the world energy prices, it's a better business model to export gas. These plants have spent billions to retrofit the plants," said Swift.
The region also has another LNG facility in the works, Australian-owned Magnolia LNG, representing a $3 billion project.
Plus, Sasol, a South African company that has had a refinery in Lake Charles, Louisiana, since 2001, has two massive projects in the works: a $4.5 billion ethane cracker and derivatives complex and a gas-to-liquids facility, an approximately $16 to $21 billion facility according to Swift. An ethane cracker takes ethane, a component of natural gas found in abundance in the shale and processes, or 'cracks' it, into ethylene.  
"Sasol considered multiple sites across the U.S.," said Mike Hayes, government and public affairs manager at Sasol North America. "We chose Louisiana because it offered a business-friendly climate, predictable regulatory structures and attractive incentives."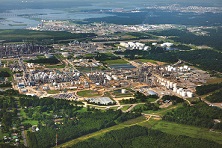 Sasol used tools such as geographic information system (GIS) mapping technology provided by Louisiana Economic Development and its partners to analyze properties in Southwest Louisiana. The GIS technology enabled Sasol to find a site six to12 months faster than a traditional site evaluation approach. The new facilities will be located adjacent to Sasol's existing facility, the Lake Charles Chemical Complex. 
The demands of the booming economy are requiring these communities to take a proactive approach to workforce training and developing affordable housing.
"The increased demand on the labor pool will create a need for more skilled workers. Louisiana is investing $20 million in a Southwest Louisiana Technical Community College (SOWELA) training facility that Sasol will use to support its workforce needs for temporary and full-time employees," said Hayes.
Carolyn Gibson-Baros at the Gonzales (Texas) Economic Development Corporation said, "Housing is also a serious issue with most of the communities in the play. We are working with several developers to bring the needed housing to our area."
Bill Lavers at the Development Corporation of Snyder, Texas, added, "The challenge is that people are leaving retail and restaurants to go into the oil and gas industry. We don't have people to fill those jobs, so we have to import people here and it's hard for them to find affordable housing. Our county just passed a subsidy for housing development so civil servants have an affordable place to live, the first time this has happened in Texas."
However, with economic boom from the oil, gas and chemical industries, there's a great incentive for communities to embrace these industries. And also, to ensure their businesses have the trained – and housed – workforce to sustain them.
"People are very welcoming of the industries here and it's been very compatible with our lifestyles. The oil companies have been very accommodating," said J. Britt Herrin of the Pike County (Mississippi) Economic Development District.
About the Author