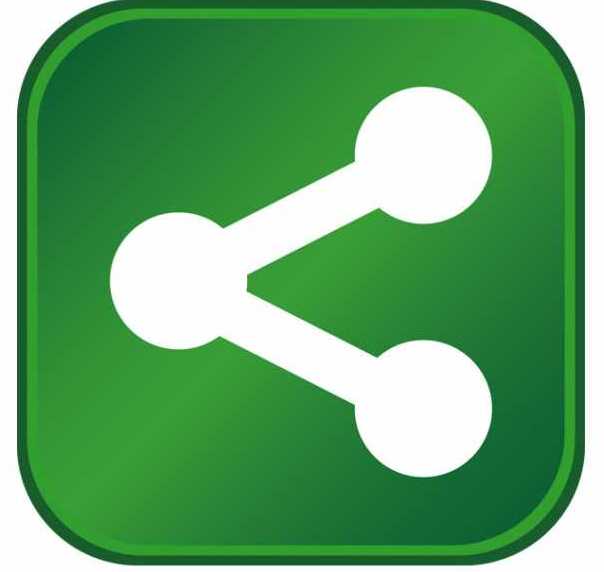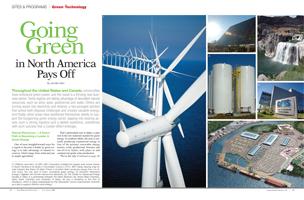 Throughout the United States and Canada, communities have embraced green power, and the result is a thriving new business sector. Some regions are taking advantage of abundant natural resources, such as wind, solar, geothermal and water. Others are turning waste into electricity and ethanol, a two-pronged solution that solves both disposal challenges and creates valuable energy. And finally, other areas have positioned themselves ideally to support the burgeoning green energy sector, tapping into existing assets such a strong logistics and a skilled workforce, sometimes with such success that a cluster-effect emerges.
Natural resources -- a direct path to becoming a leader in green energy
One of most straightforward ways for a region to become a leader in green energy is to take advantage of natural resources, which range from wind and sun to ample agriculture.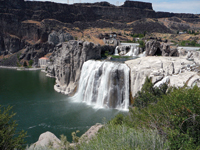 Idaho Power in southern Idaho produces energy from run-of-river hydro, the only type of hydro considered green energy.
That's particularly true in Idaho, a state rich in the raw materials needed for green energy. In southern Idaho, the area is currently producing commercial energy in four of the primary renewable energy sectors, wind, geothermal, biomass and run-of-river hydro, with plans to add commercial-grade solar production.
"We're the only region in the country able to say that," said Jan Rogers, executive director of Southern Idaho Economic Development Organization.
And businesses are stepping in to make the most of this.
For example, in southern Idaho's Twin Falls County, Renewable Energy Systems (RES) Americas is currently developing a wind farm that will use 200 wind turbines to produce up to 400 megawatts (MW) of power and generate enough renewable energy to power more than 100,000 homes.
Ridgeline Energy is another prominent wind producer in the state. After developing the state's first large-scale wind farm, the 65-megawatt Wolverine Creek wind farm near Idaho Falls, the company is continuing to expand. Ridgeline Energy partnered with BP Wind Energy to construct the 124.5 MW Goshen North Wind Farm and currently building another 45 MW wind farm.
Elgin County in Ontario, Canada, is also taking advantage of its wind. One of the area's largest producers of wind energy is Erie Shores Wind Farm, which operates 66 turbines and produces about 2 percent of the country's wind power.
"We selected the site because of the quality of the wind resource as well as extensive community outreach," said Rob Roberti, senior vice president of power generation for Capstone Infrastructure Corporation which owns Erie Shores. "The project would certainly have not been successfully completed without the support of the local community and its willingness to embrace and promote green energy."
IGPC Ethanol is another alternative energy company in Elgin County, Canada's corn belt. Founded by a cooperative of farmers in 2002, the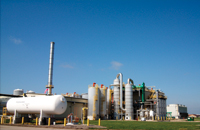 IGPC facility in Elgin County, Ontario.
company produces 150 million liters (approximately 40 million gallons) of ethanol annually as well as animal feed from the corn byproducts.
"The focus on renewable products and a broader-based renewable economy is helpful for our business," said CEO Jim Grey. "There's a growing push, especially in Canada, to look at a broader-based bio-economy."
According to Kate Burns, business development coordinator at the county of Elgin, the area also has three solar farms waiting for approval.
"Most people understand that green energy is the way to go," said Burns. "With the price of oil being so unstable, you have to look at renewable resources – and we have an abundance of renewable resources, such as wind, sun and agriculture."
Man-made resources also fuel development of green energy
In other areas, businesses are jumping in to tap into natural resources of the manmade variety, specifically trash, manure and even the byproduct of the cheese-making process.
In central Wisconsin's Clark County, area leaders have taken waste streams and turned them into energy – and revenue.
"We want to be the haven that people identify as the "no waste" county. We take everything and use it to its fullest potential. We call it the cradle-to-cradle concept, as opposed to the cradle to the grave," said Sheila Nyberg, executive director of the Clark County Economic Development Corporation.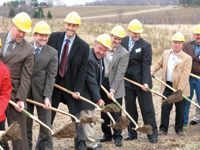 Caseus Energy groundbreaking.
Caseus (which means cheese in Latin) Energy is constructing an ethanol and dry yeast facility in the area that will operation by the end of the year. It will take whey waste, an abundant resource in this heavy cheese-producing region, and turn it into fuel ethanol and dry yeast, a valuable dairy feedstock. It boasts of a clean production process and low production costs of approximately $1 per gallon.
The company states that over 300 million gallons of fuel ethanol could be produced in the U.S. each year and more than 1 billion gallons worldwide from whey waste.
"The future of renewable energy is based on finding and implementing cost effective solutions that address specific market demands," said Caseus Energy CEO Alex Reyter. "The business models must be scalable and standalone profitable, without reliance on government incentives or subsidies."
Canadian-based Enerkem is another company turning trash into treasure. The company converts waste, such as unrecyclable household garbage, demolition debris and residues from used utility poles, into clean transportation fuels and advanced chemicals.
In 2010, the company broke ground on the world's first commercial municipal solid waste-to-biofuel facility in Edmonton, Alberta. Later this year it will begin construction of a facility in Pontotoc, Mississippi, which is expected to begin production in 2013. The waste-to-biofuels plant will produce 10 million gallons of ethanol per year, which is enough to fuel 400,000 cars on a 5 percent ethanol blend.
Marie-Hélène Labrie, vice president of government affairs and communications at Enerkem, said, "Mississippi is an attractive region for biofuels projects because it has an abundance of biomass at a reasonable cost, along with a good infrastructure facilitating the sale and distribution of ethanol and a close proximity to the Gulf Coast refineries. Mississippi offers a business-friendly environment where green projects like ours are welcome as they create jobs and contribute to increasing energy diversity."
Idaho is also getting into the act. A Boise-area company, Dynamis Energy, has finished engineering a sophisticated $40 million-to-$60 million gasification plant designed to convert 250 tons of garbage into electricity.
"Idaho is very focused on renewable energy and is going green fast. I've been impressed how the governor and state agencies have been working to help green energy companies become more successful," said Lloyd Mahaffey, principal of Dynamis Energy.
Even smaller-scale biomass facilities are gaining traction around North America.
In central Missouri, Hampton Alternative Energy Products is slated to open in October 2011. It will be the first facility in the state to convert biomass from manure into electricity, according to Corey Mehaffey, president of the Moberly Area Economic Development Corporation.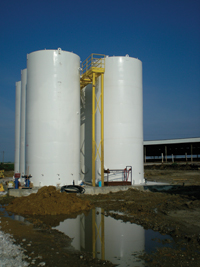 Hampton Alternative Energy's digester will convert manure into electricity.
It will start with the manure generated by the 2,400 head of cattle at the Hampton Feed Lot in Triplett, Missouri. After capturing the methane gas, it will turn that into electricity to power the feed lot, selling the excess to Kansas City Power and Light. The process will generate a byproduct similar to peat moss that will also be sold, and was made possible through an ARRA grant facilitated by Missouri's Department of Natural Resources.
"The project will help the environment and we just think it's the right thing to do," said Jimmy Daniels, secretary and treasurer of the Hampton Corporation.
Manufacturing clusters emerge
Some regions, even those without abundant natural resources, have parlayed other strengths to recruit enough green energy companies to eventually form clusters.
The Little Rock, Arkansas, area is one example.
"Four years ago, Arkansas wasn't involved in wind power. We don't have wind as a natural resource. " said Joey Dean, executive director at the Metro Little Rock Alliance.
However, the area offers excellent logistical infrastructure for wind component manufacturers, including abundant transportation by rail, interstate and barge access to the Gulf of Mexico.
In 2007, the area recruited Danish LM Wind Power, a world-leading manufacturer of blades for wind turbines. The facility at the 135-acre now employs 1,000 people. According to CEO Roland Sundén, the company chose Little Rock because of the large, available workforce, access to major markets, excellent transportation options, the state and region's track record of workforce development and the high-quality colleges serving the area.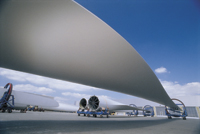 The LM Wind Power manufacturing process in Little Rock, Arkansas.
Following LM Wind Power, Nordex, a leading German manufacturer of wind turbines, opened a facility in Jonesboro in northeast Arkansas. This is a $100 million project that employs about 700 people. And in Fort Smith, in northwest Arkansas, Mitsubishi Power Systems Americas built a $100 million wind turbine manufacturing facility.
"Today, we're internationally recognized as an ideal location for wind companies to manufacture their components. We're getting a look because of how well we've been able to service leaders in the industry. It's a whole new industry sector for us," said Dean.
South Carolina is another place that's gaining traction in wind manufacturing, partly because of the region's entrenched automotive manufacturing expertise, coupled with the region's ample natural wind resources and deep-water port access.
German-based IMO Group recently located its first U.S. manufacturing facility to Dorchester County. It is expected to ultimately employ 190 workers and generate a $47 million capital investment. IMO Group manufactures slewing rings used in applications such as wind turbines up to 5 MW, along with slew drives used in manlift platforms and solar tracking. In seeking its first U.S. home, IMO executives wanted a location within three hours of a major seaport, access to a major airport, along with skilled workers.
"South Carolina is well known throughout Germany as a good place to do business," said Rüdiger Unverzagt, CEO of IMO USA Corp. "Charleston's strong port coupled with its strengthening profile in alternative energy gave us complete confidence in our decision to come here."
This sector in South Carolina received a boost when the Clemson University Restoration Institute (CURI) announced plans to open up a $98 million offshore wind drivetrain facility. This facility will be open to all wind OEMs to test the durability and reliability of offshore wind turbines. The first test bed, a 7 ½ MW test bed, which is 50 percent larger than any turbine on the market now, is slated to open by April, 2012. A second, 15 MW test bed is expected to be operational by December, 2012.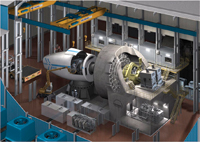 A rendering showing a 15 MW turbine in the offshore wind drive train testing facility that is currently under construction at CURI.
"The economic opportunity for wind energy in South Carolina is enormous," said Elizabeth Colbert-Busch, director of business development at CURI. "We're uniquely positioned to help drive business development."
Jon Baggett, director at Dorchester County Economic Development agrees. "I see wind energy growing rapidly here over the next five years," he said.
Redevelopment also draws in green energy
Another way some areas are spurring the development of green energy is by repurposing existing infrastructure.
In southern New Jersey, the Gloucester County Improvement Authority is redeveloping a port in Paulsboro that was a BP liquid petroleum transfer port, turning it from a brownfield into a breakbulk port. As part of the project, it plans to build a terminal to support offshore wind development and has received about $200 million from bonds and grants to pay for the project.
George Strachan, an administrator for Gloucester County Improvement Authority, says the design of the public port-terminal facility will serve the supply, manufacturing and servicing needs of the offshore wind industry and include manufacturing space. The first two berths are expected to be open in late 2012. Strachan credits New Jersey's recently passed Offshore Wind Economic Development Act for helping support the project.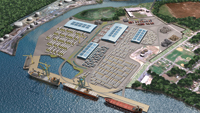 A rendering of the Port of Paulsboro, which is being redeveloped by the Gloucester County Improvement Authority as a site to support offshore wind energy.
New Jersey senate president Stephen M. Sweeney said, "The disaster in the Gulf of Mexico opened our eyes to the need for clean, sustainable energy that we can produce here at home."
This project is bolstered by the Atlantic Wind Connection, a proposed $5 billion network of underwater transmission lines that recently received backing by Google. It plans to bring power from future offshore wind farms to customers along the East Coast.
Public/private partnerships drive growth
Support from higher education, along with public/private consortiums are helping propel business development in green energy.
In Idaho, the Center for Advanced Energy Studies (CAES) is a research and education partnership between the Idaho National Lab, Boise State University, Idaho State University and University of Idaho.
CAES focuses on finding secure, sustainable energy solutions and looking at mitigating the potentially substantial environmental impact. One of its focuses is on biomass and it is also involved in other energy forms including geothermal and wind. CAES has acted as an incubator to start ups, with six successful spin-off companies and has licensed technology to numerous more mature companies.
"CAES looks at energy generation, transmission, distribution and consumption from a lifecycle perspective. For example, in biomass, we were early contributors to the food-versus-fuel debate and provided sophisticated analysis about it," said Bill Rogers, director of CAES.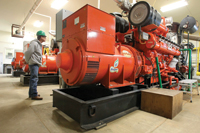 Anaerobic digesters recently received a big boost in Idaho with a partnership between the Center for Advanced Energy Studies, U.S. Dairy and the Dairy Research Institute.
Recently, CAES signed a Memorandum of Understanding with the U. S. Dairy and the Dairy Research Institute to advance best practices of the dairy system. This nationwide partnership is expected to result in 1,300 anaerobic digesters operating across the country by 2020.
"This is really good news, not only for the dairy industry but for the citizens of Idaho as well," said Bob Naerebout, Idaho Dairymen's Association executive director. "Seeing this initiative through will substantially reduce our industry's carbon footprint."
At the community college level in Idaho, the College of Southern Idaho (CSI) offers an innovative two-year wind technician degree program. CSI recently received a $4.4 million U.S. Economic Development Administration (EDA) grant to build the Applied Technology and Innovation Center in Twin Falls, Idaho.
"The Center will help meet the demand for local technicians in wind, solar, hydro and geothermal energy, green construction, and the biofuel industry," said Gynii Gylliam, executive director at the Bannock Development Corporation.
St. Mary Parish in southern Louisiana is turning its deep petrochemical and agricultural history into green economic development with plans for an EcoPreneur Center that is slated to open by mid-2012.
As a public/private venture between the parish, Louisiana State University and New York-based Sukna Global Holdings, the 10,000-square-foot EcoPreneur Center is designed to be an innovative, highly energy-efficient mixed-use space. One of its missions is to house an incubator to help businesses develop and commercialize green technologies.
"With the oil and gas infrastructure we already have in place, the center will be an extension of the potential for biofuels and biochemical development. It's our black gold to green gold transition," said Frank Fink, the director of economic development for St. Mary Parish Government.
And at the Clemson University Restoration Institute, their mission is to drive economic growth by creating, developing and fostering restoration industries and environmentally sustainable technologies in the state.
"Both at a regional and national level, education drives the economy," said CURI's Elizabeth Colbert-Busch. "An educated workforce brings business in. At every level, it's important that education is engaged with business. Research brings innovation and innovation brings new opportunities. We help businesses take that innovation and drive it as rapidly as possible to the market."
The growing push for green energy is good for both the earth and for business.
"We need every form of renewable energy –biomass, solar, wind, hydrogen, geothermal and PV (photovoltaics) – to sustain the energy needs of our country," said Colbert-Busch.
George Strachan at the Gloucester County Improvement Authority agrees.
"The world is changing as far as its view towards energy. With the reliance of our economy on fossil fuels and the instability it brings, along with the nuclear crisis in Japan, we need to diversify. And renewable sources such as wind are not only great for our state, but great for our nation."
 
About the Author