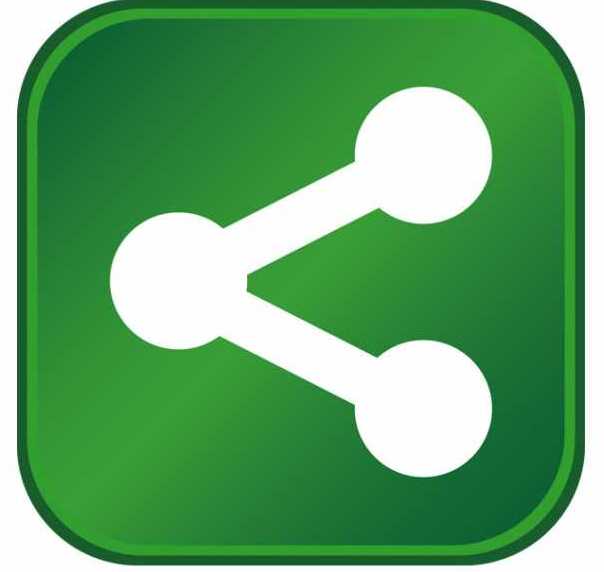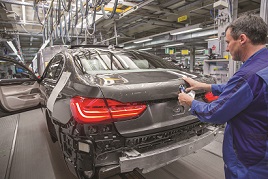 Located about an hour east of Raleigh is the quaint town of Rocky Mount, North Carolina. If you are looking for some good barbeque and comfort food, you can find it at the Prime Smokehouse restaurant downtown. If you also happen to be looking for a 1,000-acre industrial site to fit your next automotive assembly facility, then you would be in luck. The Kingsboro Megasite, 1,500 acres east of North Carolina farmland, is located just five miles east of town.
In 1993, a European automaker, Mercedes-Benz, was considering sites in the southeast for its first U.S. assembly plant. North Carolina, a finalist for this facility, ultimately lost the project to Alabama. In the 23 years since that decision, numerous other automakers (including BMW, Honda, Nissan, Hyundai, Toyota, Kia and Volkswagen) have built plants in the southeast. But just like Mercedes-Benz, none of those automakers chose North Carolina. 
Despite these repeated disappointments, the state is continuing to make efforts to attract the next automotive facility. The Kingsboro Megasite is one of four North Carolina sites that are currently being marketed for an assembly plant. State representatives have even traveled to Europe and Asia in an effort to court and recruit the various foreign car manufacturers. It would seem that North Carolina would rather be late to the party than not show up at all.
The Impact of an Automotive Manufacturer
North Carolina's desire to land the next automotive manufacturer is not without precedent. For more than two decades, North Carolina has watched as its neighbor, South Carolina, has enjoyed the benefits of the German automaker, BMW. In 2014, the Darla Moore School of Business at the University of South Carolina produced an economic study regarding the BMW facility located in Spartanburg County, South Carolina, to quantify its importance to the state. The report describes the facility as having a "potent, enduring effect on the state's economy."
In 1992, when BMW announced its plans to construct a new facility in South Carolina, the company initially pledged to employ 2,000 people. By 2013, it directly employed 7,600. In addition to the direct employment, the presence of BMW has led to over 23,000 new jobs created in the state of South Carolina. For every job that BMW creates, an additional three jobs are created throughout the state.  These additional jobs are primarily a result of suppliers and service providers also locating their operations in South Carolina.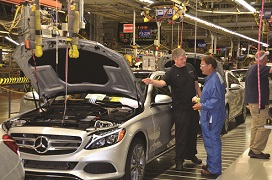 The BMW plant also led to the development of an inland port in 2013. Served by the CSX railroad, this inland port allows for BMW's fully assembled cars to be effectively transported via rail directly to the port in Charleston, South Carolina, to then be exported to customers worldwide. Other companies have been attracted to the upstate of South Carolina due to this inland port. In 2015, Dollar Tree announced it would build a 400-employee distribution center in nearby Cherokee County, citing the access to the inland port as one of the primary reasons for locating in South Carolina.
The education system is being impacted, too. In 2007, Clemson University established the International Center for Automotive Research (CU-ICAR) to support education and research for the automotive industry. Located in Greenville, CU-ICAR is home to the only Automotive Engineering graduate program in the nation. From the college system all the way to elementary schools, outreach programs and automotive classes have been implemented throughout all levels of education.
The positive impact is set to continue. In 2014, BMW announced an additional investment of $1 billion, increasing the plant's capacity to 450,000 vehicles per year. The decision by BMW to further invest and increase production in their Spartanburg plant is an indication that the automotive industry will continue to grow and stay strong in South Carolina.
In May of 2015, South Carolina received more good news. After an extensive site search in the southeast, Volvo announced it would be building its first U.S. assembly plant near Charleston, South Carolina, and employ nearly 4,000 people. What was one of the reasons given for selecting South Carolina? A workforce experienced in the automotive industry.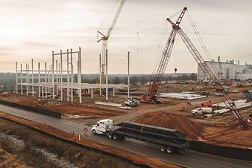 The U.S. Automotive Market
Can North Carolina land the next automotive facility? Even though it lost Volvo to South Carolina, could it win the next one and see the same type of impact throughout the state? These are very good questions, both of which require an understanding of the current automotive market.
Automotive manufacturing makes up three percent of the USA's total gross domestic product. The sector employs the most people and is the nation's largest exporter. When the Great Recession made its way to the automotive industry, it was no surprise that the landscape of entire towns and cities were changed due to the decreased production and sales of automobiles. However, following the recession, the rebound of the automotive industry contributed greatly to the national recovery process. Based on a report from the American Automotive Policy Council from June of 2015, nearly 10 percent of all economic growth from 2009 to 2013 was a result of the growth of the automotive industry. Production during this timeframe nearly doubled, increasing from 5.8 million vehicles in 2009 to 11.5 million vehicles by 2013. During 2015, nearly 17.5 million vehicles were sold in the U.S. And if industry analysts are correct, with cheaper gas prices and low interest rates, 2016 is set to end up being an even better year for automotive sales.
Surely, during this time of industry growth and success, the automotive companies have been investing in new production in the United States. Capacity has been added, but since the recession new production in the US has been solely focused toward existing facilities, rather than new locations.
Competition from Further South
Following the recession, and prior to the Volvo project, all new North American automotive manufacturing facilities were being announced in Mexico. The majority of all major foreign automotive companies have announced the investment of a new facility in the country. Though historically known for the production of low-cost vehicles, even the European luxury carmakers are opening up locations in the country. Audi, the first luxury carmaker to announce a new facility in Mexico, is set to open up its $1.3 billion factory in the second half of this year. BMW also revealed it will construct a 150,000-vehicle per year facility in San Luis Potosi that will be in operation by 2019. Daimler and Nissan, in a collaborative effort, are building a $1.4 billion facility in Aguascalientes that will employ nearly 6,000 people. 
The American brands are also making moves to Mexico. General Motors, the second-largest producer of cars in the country, announced it will invest $5 billion to double its Mexican production capacity. At the beginning of this year, Ford announced it will also double its total Mexico capacity, producing an additional 500,000 vehicles per year.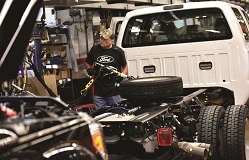 Why is automotive investment rising so tremendously in Mexico? Part of the attraction associated with producing in Mexico is the low labor costs paid to workers. The Center for Automotive Research, a non-profit organization based in Michigan, estimates workers at automotive facilities in the U.S. earn around $28 an hour, whereas their Mexican counterparts earn just below $6 an hour. Operating in Mexico instead of the U.S. could lead to an annual cost savings of over $100 million due to labor prices.
Besides the enormous sums of money companies can save on their labor expenses by producing in Mexico, they can also take advantage of Mexico's trade environment. While the United States has a free trade agreement with 20 countries, Mexico has agreements with 45. For example, any vehicle produced in the U.S. and shipped to Europe is subject to a 10 percent tax; this tax does not exist in Mexico. For a company that chooses to ship a $40,000 vehicle to Europe from Mexico, it saves $4,000 on each vehicle exported. If 25,000 automobiles need to be shipped to Europe from North America, over $100 million could be saved annually by operating in Mexico.
What about all the dangers and risks of operating in Mexico? Access to a qualified workforce, crime, high electrical prices and political corruption are still some of the common challenges to industrial development. Despite these added risks, some of which are non-issues in the U.S., the automotive industry's growth in Mexico has stayed strong. The Volvo announcement in South Carolina may simply be an outlier, rather than the beginning of a new wave of auto plants in the United States.
Will North Carolina Land the Next One?
The Center for Automotive Research, on behalf of the Southern Automotive Research Alliance, recently released a report stating "the pursuit of [future automotive assembly plants] can no longer be at the forefront of economic development strategies." Despite this recommended strategy shift, interviews with automotive assembly representatives in the Southeast have revealed that the best way for a location to compete for investments is to provide competitive incentive packages and to "streamline, centralize and optimize their engagement with companies. "If North Carolina is to land the next big automotive facility, not only does it need to have prepared the right sites, it needs to have the right plan and tools in place.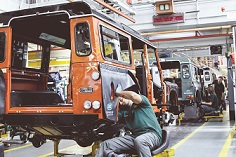 In 2015, Governor Pat McCrory of North Carolina stated, "When I go to Europe or when we go to Japan, there are other governors right before me and right after me, showing a concise strategy and package that they can offer." But when it comes to presenting something similar for North Carolina, "I do not have that to offer." When Volvo was looking at sites in North Carolina during the latter part of 2014, the state's main incentive, the Job Development Investment Grant (JDIG), was running out of money, and there was no agreement in place for the program to receive additional funding. The unknown future status of the JDIG program is one of the reasons North Carolina was removed from consideration for the Volvo project.
After more than a year of trying to fund the JDIG, Governor McCrory finally saw the program receive approval for additional funding in the fall of 2015. There is even a special clause for companies that invest at least $500 million and add at least 1,750 jobs. By 2018 the state will enact a 100 percent single sales factor, which highly favors large manufacturers.
After decades of missing out, will North Carolina finally land that big automotive manufacturer? Jaguar Land Rover, the only major foreign automotive manufacturer not represented in North America, just announced its decision in late 2015 to build a new assembly facility in Slovakia. With all the new investment in Mexico, along with the recent announcement of Volvo and Jaguar, how many companies are actually looking to build a new facility? With prepared sites, incentives and a concentrated effort by state officials to attract an automotive company, only time will tell to see if they have made themselves competitive enough for site selectors to consider them for the next automotive facility they would like to locate in the United States.
About the Author