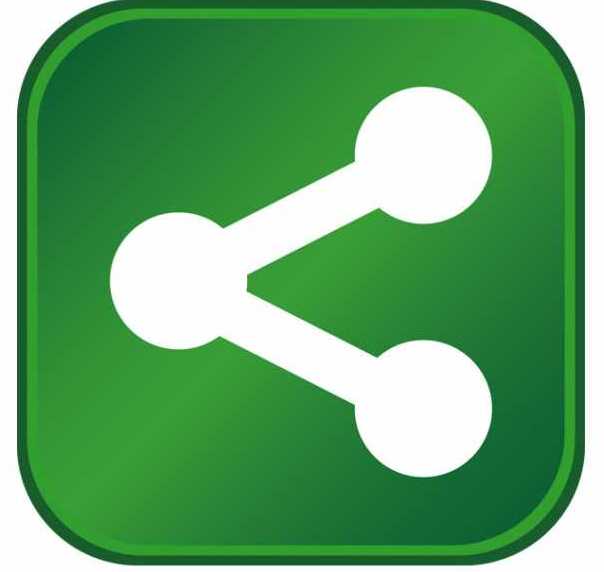 Just west of Salt Lake City, past the scenic Oquirrh Mountains, lays Tooele County. Belying – or perhaps because of – its vast space and friendly, smaller-town demeanor, the area is a burgeoning business center.
With a strategic location, highly skilled workforce and even a world-class racetrack, it's not a surprise that Tooele County boasts of abundant business opportunities, both entrenched and in store, particularly in sectors related to automotive, military and manufacturing.
In fact, the U.S. Census Bureau recently called Tooele County the ninth-fastest growing county in the United States. Money magazine concurs, ranking it No. 1 in the U.S. in terms of job growth because the county's number of jobs increased by 112.5 percent from 2001 to 2007.
The county's population has been rapidly growing as well. Since the early 90s, Tooele County's population has grown at a rate between 8 and 10 percent annually, substantially higher than the statewide average of 2.9 percent over the same period.
The relocation of companies such as Carlisle SynTech, Conestoga Wood Specialties and Allegheny Technologies is one reason driving the area's growth. Another is a push by Tooele County itself.
High Expectations for the Auto Industry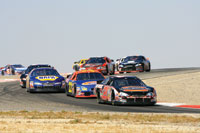 With a number of local and state incentives in hand, the Tooele County Economic Development Department is working to bring even more business to the area with an interest in clustering automotive industries. Nicole Cline, Tooele County economic development director, said that more businesses have expressed interest in either relocating or starting up in Tooele County. She cited the Miller Motorsports Business Park as one example of those in the automotive industry. The automotive industry will undergo the most rapid advancement in technology since the first automobile and Tooele County, Utah is the place it will happen.
This business park, which is currently in the drawing stages, is an outgrowth of the highly lauded Miller Motorsports Park. Only three years old, Miller Motorsports Park is a 4.5-mile, state-of-the-art racetrack for cars, motorcycles and karts. It hosts racing events like the FIM Superbike World Championship, American Le Mans Series, Grand-Am Rolex Sports Car Series and the NASCAR Camping World Series West. In addition to racing, the track has been used by a number of manufacturers for vehicle testing, for forensic and litigation testing, and for advertising and photo shoots.
These ancillary uses of the track gave way to the plans for a neighboring business park. Bryan Miller of Miller Motorsports Park said, "The business park is set to be located across the street from the track and designed to attract companies who are involved in some aspect of the racetrack such as after-market finishers and machine shops as well as distribution and light manufacturing."
To further pave the way, Cline said that the county is giving a "red carpet with minimal regulatory interference or permitting to put those industries here." She said that through avenues such as the Miller Motorsports Business Park, Tooele County is looking forward to seeing extreme advancements in automotive technology, including alternative fuels and efficiency.
Strategic Location Lures Businesses to the Areas
Syracuse Castings is another company that set up a manufacturing facility in Tooele County several years ago, partly because the area's location is ideal for serving their western region customers. Headquartered in Cicero, New York, the company designs and manufactures access hatches used in subterranean vaults, highway inlet grating and manhole covers.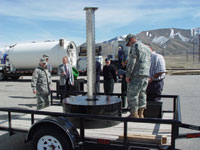 "We could have chosen anywhere in the western United States, but we chose Tooele," said Craig Anderson, general manager of Syracuse Castings West.
He explained that Tooele County is ideal for any company that has customers in the western 11 states. With Denver and Las Vegas being approximately 500 miles away – a one day's trucking drive – and most west coast cities a short, one-hour flight from Salt Lake City's hub airport, the area's central location is key. Situated near I-15, which goes directly to Los Angeles and I-80, a straight shot to San Francisco and Denver, Tooele County is truly at the crossroads of the west.
"Most of our product can be at our (west coast) customers' door within 48 hours, which is fantastic, considering it used to be five to seven days when we had to ship from New York," Anderson said. Plus, on a local level, Tooele County stands out from other locations around Salt Lake City. "It's a great place geographically because it puts you out of the traffic of the Wasatch front (located north and south of Salt Lake City) but keeps you within 25 minutes of Salt Lake," he said
Another company that relocated there is Allegheny Technologies. The company's new titanium plant in Rowley, Utah is expected to open in the third quarter of 2009 and employ up to 150 workers. It will supply titanium to the aerospace, defense, automotive, medical and energy industries.
Military Ties
With three military sites in the area, the role of the armed forces figures prominently in Tooele County as well. The Tooele Army Depot, in particular, works closely to bridge the gap between business and government. The depot's core mission is to ship, receive, store and maintain conventional ammunition. As a civilian-operated base with 500 employees, the Tooele Army Depot designs, fabricates, issues and stores 'ammunition peculiar equipment' that is designed to dispose of out-of-date ammunition throughout the world. It also provides local businesses such as ATK, General Atomics and Safety Management Services with fabrication and testing services, according to Kathy Anderson, public affairs officer at the Tooele Army Depot.
Business-Friendly Incentives Pave the Way
Companies looking to relocate or start up in Tooele County have the added bonus of a number of business-friendly incentives. The county is a HUBZone, meaning that qualified businesses receive preference for federal contracts. Tooele County also has a redevelopment agency that fast-tracks the permitting process. In addition, companies can tap into resources such as the Utah Enterprise Zone which offers tax credits to businesses locating or expanding in the area as well as the Industrial Assistance Fund, which helps in the creation of high-paying jobs.
Michael Wright of Giza Development LLC, who has been instrumental in development of Miller Motorsports Business Park, discussed how the business park is working to tap into county and state incentive packages. "The state currently has incentives for what they call 'cluster' businesses – and motorsports can fall under one of the clusters packages," he said. "We've been working with the Economic Development Corporation of Utah to create incentives to help those types of businesses locate to the state, and especially, to our project."
A Commitment to Education and Training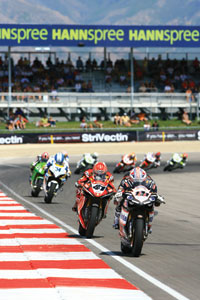 The workforce from Tooele County and surrounding areas is known for a strong work ethic, being educated and highly skilled, due in no small part to the area's commitment to education and training – at both an employee and student level.
The Salt Lake-Tooele Applied Technology College provides innovative, highly accessible career preparation for youth and adults so they can meet the needs of Utah employers. Especially noteworthy is that the school works closely with teenagers to train them for vocational careers, such as CAD design, information technology and manufacturing, while they are still in high school.
"We have students who graduate from high school and get an associate's degree on the same day. Kids come out of high school not just ready to start college, but well underway," said Cline, Tooele County's economic development director.
The Applied Technology College also offers Custom Fit, which offers customized, high-quality employee training for the area's businesses. Funded largely through state grants, the program is a boon for relocating companies needing to train a new workforce. It's designed to help these businesses free up resources and strengthen their competitive edge.
Syracuse Casting's Anderson agrees that the area's training works. "We've sent our employees for AutoCAD training," he said. "And, because of the Applied Technology College as well as Utah State's local campus, we have all the training facilities we need within reach."
Tooele County is Open for Business
With its strong, pro-business climate, strong workforce and proven economic growth, Tooele County has a bright future. Cline sums it up by saying, "If we've ever had problems attracting business in the past, it's because we've kept it too much of a secret. Now, we're inviting the world."
About the Author