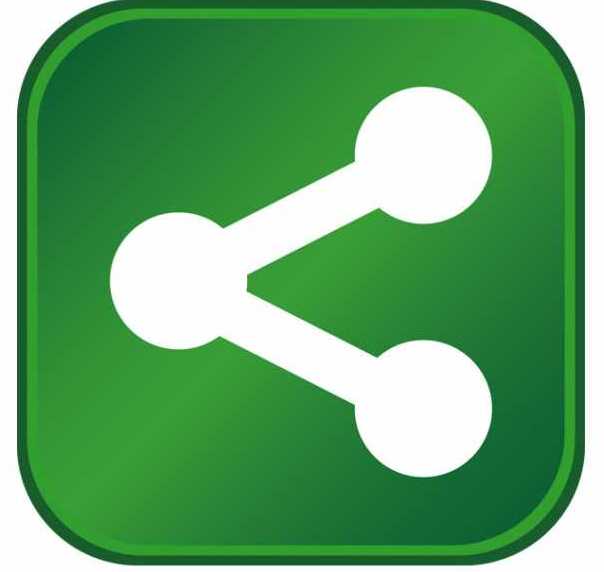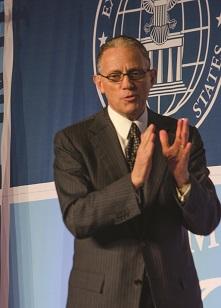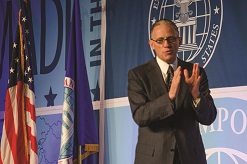 My three favorite words are "Made in USA" – and I work every day at the Export-Import Bank of the United States (Ex-Im Bank) to translate them into more export sales and export-related American jobs. Thanks to the entrepreneurial spirit and innovative products and services of our businesses, the "Made in USA" brand has never been stronger. With the support of Ex-Im Bank, more American companies are selling more products and services to more places around the globe.
We are making progress toward meeting the National Export Initiative goal set by President Obama to double U.S. exports by the end of 2014. At the close of fiscal year 2012, Ex-Im Bank reported a fourth consecutive record-breaking year, supporting an estimated 255,000 jobs. That came from almost $35.8 billion in export financing – up nine percent from the year before and more than twice the amount from FY 2008. 
We're off to an even better start for FY 2013. In the first quarter of this fiscal year, we hit another $7.5 billion in new financing – and are well on our way to another historic year.  In the same quarter, we also had a record 43 percent increase for working capital and credit insurance for minority and women-owned exporters – and increased by half all financing for small businesses.
Since FY2008, the Bank's executed transactions have enabled more than $170 billion worth of American exports. In this period, U.S. exporters working with Ex-Im Bank have created or sustained about one million private sector jobs. Fees charged to parties in the Bank's transactions support the costs of running Ex-Im Bank – all at no cost to the American taxpayer. In October 2012, the Bank contributed $803 million to the U.S. Treasury. Over the past five years, Ex-Im has returned $1.9 billion to U.S. taxpayers.
Because U.S. companies flourish in a global marketplace with a level playing field, we support President Obama's efforts to create a fair and transparent international trade architecture in which companies compete on the quality and value of their products, without the unregulated financing deals we've seen too often of late that distort the marketplace.
One of the most rewarding aspects of my job as chairman is the opportunity to travel across the country and around the world, meet the entrepreneurs who are driving our nation's export growth and visit the workplaces that are creating products the world needs. With each meeting, I gain a deeper appreciation for the companies and employees that embody America's vision and innovation, and why there is worldwide demand for American products and services.
New Horizons for America's Small Businesses
Throughout the past four years, I have seen firsthand how small businesses are driving our economy forward. I'm proud of the success we've had at Ex-Im Bank in achieving our goal of helping small business to compete effectively on the global stage.
For example, since FY 2008, the volume of financing we have done with small businesses has nearly doubled. In FY 2008, Ex-Im Bank provided approximately $3.2 billion in financing and insurance for small companies. In FY 2012, that figure grew to $6.1 billion – a 92 percent increase since FY 2008. Last year, our support for women- and minority-owned small-business exporters was one of the fastest-growing market segments, with financing up almost 17 percent – a new record.
When times are tight in the credit markets, small businesses are often the hardest hit because they have fewer borrowing options. If these businesses don't have access to financing, they are unable to reach potential new customers that can and should be within their reach.
With the financing Ex-Im Bank has enabled, our small-business partners are now able to reach more customers, sell more products and hire more workers. This, in turn, benefits our national economic outlook, as our highly capable, highly innovative small businesses enhance our competitiveness on the worldwide stage.
Government at the Speed of Business
Better, more efficient, more useful customer service is a hallmark of successful businesses. Here at Ex-Im Bank, it is our fundamental operating procedure. We call it, "Government at the Speed of Business."
Over the last four years, we have refused to accept less than stellar performance, consistently reducing turnaround times on transactions. This past year, 90 percent of all transactions were processed within 30 days and 98 percent were processed within 100 days. We developed new products to more quickly underwrite transactions, and we've also continued to streamline our application process to make paperwork a quick and painless experience.
Our process is yielding strong results. By taking a hard look at each application, we have managed a project portfolio that delivers strong economic and financial results for the American people.
I couldn't be more proud of the men and women who are committed to the mission of Ex-Im Bank. They provide dedicated service, expertise and professionalism to the U.S. companies with which we work.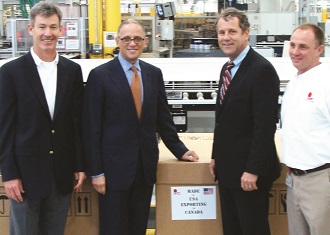 Opening New Markets, Seizing New Opportunities
Here at Ex-Im Bank, we believe unequivocally that we are at the forefront of a new era of growth for U.S. exports. As nations around the globe seek to provide better lives and more economic opportunities for their citizens, they are building roads, railways, bridges, power plants and other critical infrastructure. Through exporting, we are not only disseminating the world's best-quality products and know-how to enable this infrastructure expansion, we are creating jobs and opportunities here in the United States.
Infrastructure spending across the globe is expected to reach $40 trillion over the next 20 years. At Ex-Im Bank, we know that U.S. companies have the knowledge, experience and resources to meet these infrastructure needs. In FY 2012, we provided more than $21.5 billion in infrastructure-related financing, a nearly 155 percent increase over FY 2008. We foresee financing even more of these projects in the coming year.
For example, when Ex-Im Bank helps a California company export the construction, engineering and consulting services necessary to create two large-scale integrated water systems in Sri Lanka, we not only change the lives of millions of people who were without clean water; we also create and support jobs here in the United States.
We provided strong support for manufacturing of all types in FY 2012, approving $11 billion in financing for manufacturing exports – the second-largest industry sector in our portfolio behind aircraft.
We've also seen impressive growth this year in many key markets. Asia and the Middle East were our largest-growing regions in FY 2012, with a $9.5 billion increase in our business there over the previous year. We have also seen a tripling of Ex-Im-supported exports in sub-Saharan Africa over the past four years.
The Road Ahead
Reflecting on the past four years has made me more optimistic than ever about American exporters and the potential for continued growth.
In the short term, Ex-Im financing and the Bank's ability to move swiftly to help U.S. companies take advantage of overseas business opportunities has generated job creation and private-sector growth during an economically challenging time.
Even more important, the Bank is enabling American businesses to connect with overseas partners, significantly expanding their customer bases. With each of these successes, Ex-Im Bank and its U.S. business customers are building a sustainable foundation of growth that will serve our country well into the future.
In other words, we're open for business.  Come talk to us.
About the Author