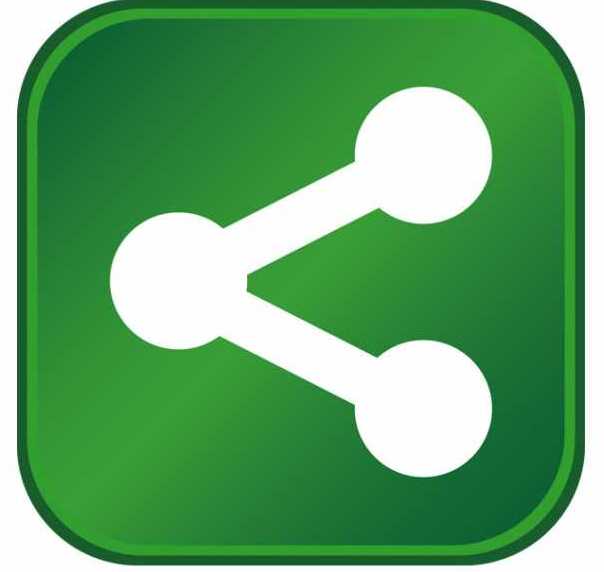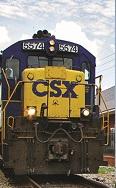 It would be a good bet that any serious manufacturer seeking a new site would place the location's logistics infrastructure on par with its workforce makeup, climate, costs of doing business and other weighty decision influencers. After all, what good is producing a top-notch product if getting it to market is a costly and arduous endeavor, not just in terms of finances, but also in terms of time and customer goodwill? 
To be sure your business doesn't find itself boxed in with lots of product in a location that works against you instead of for you, a great way to launch your site selection search would be to take note of the following areas as they have plenty to boast about when it comes to providing businesses access to market.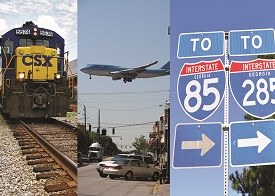 College Park, Georgia
How do you spot the next world market? Economists use analytics that yield intellectual, but analogous results from near-similar growth modules. Silicon Valley is tech-savvy; Paris drives fashion. China's factories make it the world's busiest importer/exporter. But what defines the potential for growth in a mid-size or smaller market?
College Park, Georgia, is a progressive city in the metropolitan Atlanta market, primarily due to the little-known fact that Hartsfield-Jackson Atlanta International Airport lies within its corporate limits. College Park is poised to become the next growth market, primarily due to the following factors:
Hartsfield-Jackson's expanded cargo interests; new international cargo flights and two million square feet of warehouse space on-site

Deepening the shipping port through the Savannah Harbor Expansion Project (SHEP). College Park is a mere 3.5-hour drive from the port; 65 percent of offloaded shipments are destined for metro Atlanta and beyond, via interstates 75, 85, 285 and Roosevelt Highway (Route 29).

College Park's adoption of Freeport Tax Exemption in March 2015: the growth incubator applies to local businesses with inventory exempt from state property taxes, including partly finished goods, raw materials and finished goods destined for out-of-state customers.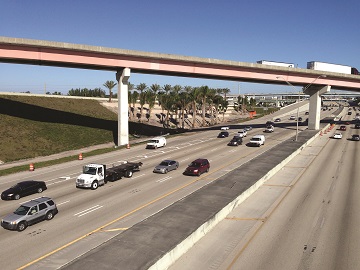 The State of Florida
With its unique geographic position and standing as the third most populous state in the nation, Florida is a global economic hub. The state's multimodal infrastructure offers 15 deepwater seaports, 19 commercial airports, nearly 3,000 miles of freight rail track, more than 12,000 miles of highway and even two spaceports.
In addition to supporting more than 19 million residents, this expansive, top-ranked infrastructure also handles nearly 100 million tourists annually.
To preserve this asset, state leaders approved a record $10.1 billion for infrastructure expansions and improvements and allocated $109.6 million for seaport advancements. 
The state is home to the third-largest cluster of logistics and distribution establishments in the U.S. Companies such as Amazon, Walmart Stores, Inc. and FedEx are building major distribution facilities across Florida, and the state already serves as a hub for leading distributors like Publix, Cheney Brothers, Inc. and O'Reilly Auto Parts.
FedEx Express Latin America and Caribbean Division calls the state's infrastructure the strategic linchpin of the company's success. Connectivity powerhouses like the Miami International Airport exemplify the state's transportation system, which helps companies in Latin America conveniently conduct business with domestic partners and international nations.
"The Miami International Airport has been central to our transition from being a products and services provider to becoming a robust solutions-focused player in the industry," said Juan N. Cento, regional president of FedEx LAC Division.
No other site in the Western Hemisphere can match Florida's strategic location as a gateway to the Americas. Capitalizing on the state's peninsular location, Florida serves as a global launch pad to the highly sought-after Latin American market and a major international trade center and hub for businesses.
With tremendous market opportunities, a highly skilled workforce, easy access to domestic and international markets and a strong transportation infrastructure with intermodal connections, Florida is a good place to be.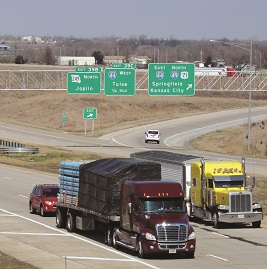 Joplin Region, Missouri
A central U.S. location, efficient transportation connections and a skilled workforce add up to make the Joplin region a great location for distribution and logistics.  
Anchored by the metropolitan areas of Joplin, Missouri, and Miami, Oklahoma, and the Pittsburg and Parsons, Kansas, micropolitan areas, the Joplin region resides in the heart of the U.S. The market reaches from the Midwest to the Southwest, creating market access to more than 30 million people within a 350-mile radius. 
The Joplin Regional Partnership represents more than a dozen cities in seven counties, in the three-state corner of Missouri, Kansas and Oklahoma. With Interstates 44 and 49 crossing the region, most of the continental U.S. and parts of Canada and Mexico can be reached in two days' shipping time. The area also has three Class I railroads and two short-line providers, guaranteeing ample access to rail and additional connectivity to West Coast and Gulf ports. Commercial air service is provided by the Joplin Regional Airport and three other commercial airports from 70 to 110 miles away.  
While the Joplin region has great location and excellent transportation access, it is the workforce that makes many companies successful. The region's workforce gets high marks from area employers, who note employees' ethic and commitment to ongoing training.
Companies seeking a central U.S. location with strong market reach to both coasts, Canada and Mexico will find the Joplin region offers multiple possibilities for sites, buildings, transportation and workforce skills.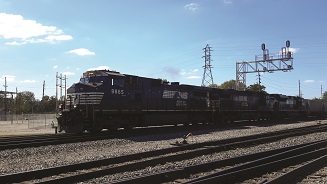 Moberly Region, Missouri
Located not far from the population center of the United States is the Moberly Region of Missouri. The three-county region is chock full of transportation options allowing existing companies to service customers not only in North America but on a global basis.
With access to a quality workforce, the Moberly Region is home to six distribution centers that ship products by refrigerated van, van and flatbed trucks. This provides manufactures with a multitude of options to ship completed products. 
Four-lane U.S Highway 63 connects directly to Interstate 70, the main east-west interstate through the middle of the United States, U.S. Highway 36 connects Kansas City and Chicago and both highways run through the region. 
Those needing rail services can access three Class I railroads — Norfolk Southern, BNSF and Kansas City Southern — providing direct access to ports on both the east and west coasts and points in Mexico. In Monroe City, the Ralls County Industrial Park is home to a 300-acre dual-rail-served greenfield site ready for development for companies requiring access to rail.
The Moberly Region of Missouri is a good place to be for companies that have the logistics need to move bulk product via barge as well. The Howard-Cooper County Port Authority in New Franklin has direct access to the Missouri River with greenfield sites located within a Free Trade Zone.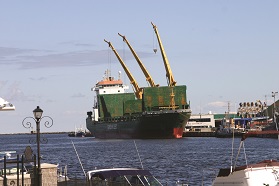 Oswego County, New York
An extensive highway network provides hundreds of miles of efficient navigation throughout Oswego County, New York. Interstates 81 and 90 provide north-south and east-west movement to major cities in the Northeast and along the East Coast.
The Port of Oswego is the first U.S. deepwater port of call on the Great Lakes in the St. Lawrence Seaway. From the port, cargo can be shipped by barge through the New York State Canal System or can continue west through the Great Lakes Waterway all the way to Minnesota. The port has on-dock truck and rail loading capabilities, with service through CSX Railroad to 23 states and parts of Canada. Shipments can be stored on-site for just-in-time transport.
Air transportation is available locally via the fully equipped Oswego County Airport, ideal for small planes and corporate jets. Hancock International Airport is only a short drive from most points in Oswego County and offers general passenger travel and air-freight shipping.
Oswego County's many available Industrial Park sites offer convenient access to the County's transportation network. There are several local third-party logistics companies that can optimize transportation needs.
The ability to use road, rail, water or air allows for seamless multi-modal transportation.
Polk County, Florida
Numerous Fortune 500 companies operate manufacturing, office and distribution facilities in Central Florida's Polk County due to its outstanding business climate and location at the center of the nation's third-largest state. There are nine million people within a 100-mile radius of Polk County, and most of Florida's population of 19 million can be reached within a four-hour drive.
Another significant logistics advantage is that Polk County businesses operate between two of the best international airports in the world — Tampa and Orlando International Airports. These airports have more than 1,300 daily flights to all major U.S. markets and to 30 international metropolitan areas. There are also four general aviation airports in the community with runways ranging from 3,999 feet to 8,500 feet.
Polk County is also located in close proximity to Port Tampa Bay and to the Port of Manatee, which are major international ports. 
CSX operates an intermodal logistics center in Polk County off State Road 60, which is a hub for transportation, logistics and distribution serving Florida and the Southeast. There are approximately 4,000 acres adjacent to CSX primed for business park development.
When combined with Polk County's excellent highway network, including Interstate 4, these logistics and supply chain assets make the community, which is centered in a Super Region representing the nation's 10th-largest economy, a robust platform for business profitability.
York County, Nebraska
York County, Nebraska, offers many competitive advantages; logistics, agriculture assets, skilled workforce, workforce initiatives and existing manufacturing base. Interstate 80 (I-80) provides access to one of America's heaviest east-west truck routes.  Interstate 80 intersects Highway 81, giving trucking access to 90 percent of the lower 48 states in two days or less.
Available sites include two rail-served sites and a 122,745 square-foot manufacturing building with 90,000 of those square feet available for lease.  All sites are within five miles of I-80. Burlington Northern Santa Fe travels east-west, giving rail access to manufacturers, agri-business and logistics companies. 
Available water, quality soil, prime growing conditions and a strong customer base make agri-business a leading industry. Logistics industries are expanding due to the I-81/Highway 81 corridors and BNSF rail. Metal manufacturers have access to iron/steel from Nebraska facilities, creating a competitive supply chain.
Being located between Lincoln and Grand Island gives York County employers access to a labor force of over 300,000.  In fact, over 40 percent of York County jobs are filled by an out-of-county workforce. York College recruits over 75 percent of students from outside of Nebraska. Southeast Community College recently announced the opening of a Regional Learning Center in York. Three other colleges and three community college campuses, all within an hour's drive, provide additional access to graduates. York Public Schools partners on workforce initiatives.
Reliable, low rates for electric and natural gas are offered. Electric generation is a diversified mix including coal, nuclear, wind, hydro and natural gas.
About the Author