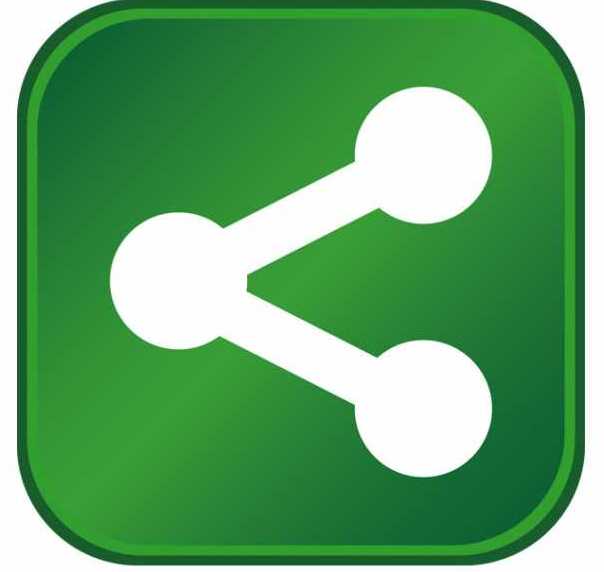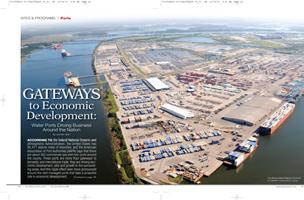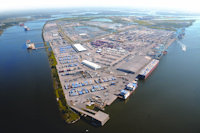 The Blount Island Marine Terminal at Jaxport. © Jaxport, Kelly LaDuke
According to the federal National Oceanic and Atmospheric Administration, the United States has 95,471 statute miles of shoreline, and the American Association of Port Authorities (AAPA) says that there are about 360 commercial sea and river ports around the county. These ports are more than gateways to domestic and international trade; they are driving economic development, jobs and growth in the surrounding areas. And this ripple effect even more pronounced around the well-managed ports that take a proactive role in economic development.
Providing a big ripple effect of jobs and investment
Whether they are located on the Atlantic, Pacific, Gulf, the Great Lakes or on one of country's the extensive river systems, ports pour money in their local economies, largely because of the effect of direct, indirect and induced jobs.
Sea and river ports support the employment of more than 13 million people in the U.S. and account for $650 billion in personal income, according to the AAPA. The organization also noted that for every $1 billion in exports shipped though these ports, 15,000 U.S. jobs are created.
One port that's seen success is the Port of South Louisiana, which stretches 54 miles along the Mississippi River. As the largest tonnage port district in the western hemisphere, in 2010 the port handled more than 246 million short tons of cargo which was brought to its terminals via vessels and barges.
Due to the Port of South Louisiana's proximity to the Gulf of Mexico, the large industrial oil refineries located in the port's district have invested billions of dollars in infrastructure.
"Marathon Oil doubled the capacity of their refinery through a $3 billion expansion," said Linda Prudhomme, director of business development there. "This created more than 7,000 construction jobs over a two year period of time. Plus, Nucor's new steel mill is expected to bring an investment of over $3 billion in our economy and create at least 500 new jobs."
Louisiana's Port of Lake Charles is 34 miles north of the Gulf of Mexico and intersects the 40-foot deep Calcasieu Ship Channel and the Gulf Intracoastal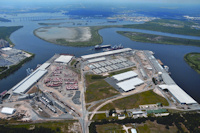 Port of Lake Charles, Louisiana
Waterway. As a key player in the nation's energy supply chain, 7.5 percent of the nation's daily oil consumption is produced and distributed in the Lake Charles port region.
According to Dan Loughney, director of marketing and port operations, the Port of Lake Charles is home to nation's fourth-largest oil refinery, with one-third of the U.S.'s strategic oil reserve located along the Calcasieu Ship Channel. It is also the site of two of the nation's largest liquefied natural gas facilities with approximately 20 billion cubic feet of storage capacity for natural gas.

When this strategic energy waterway was closed by the U.S. Coast Guard for nine days in 2006 because of an oil spill, U.S. energy costs increased $1 billion.
The Jacksonville Port Authority, known as Jaxport, is another economic engine that significantly contributes to the vibrancy of the North Florida economy with a $19 billion dollar annual economic impact on the region. The port is ranked second in the country for vehicle handling and boasts of being one of 13 U.S. Strategic Ports on-call to move military cargo for national defense. It serves the Asian trade markets by westbound ships that come through the Panama Canal, as well as eastbound ships that serve the burgeoning Indian and Vietnamese markets via the Suez Canal.
"65,000 people work in this region, in both the private and public sectors, because we're here. That's significant – and we're working to grow that even more," said Nancy Rubin, director of communications at Jaxport.
In Washington State, the Port of Vancouver is located along the banks of the Columbia River, directly across from Portland, Oregon. Annually, the port handles more than 500 ocean-going vessels and river barges with a total cargo volume exceeding five million metric tons.
"Our activities generate $1.6 billion in economic benefit annually to the region, along with 15,500 jobs in the community. The port is a significant factor in job creation and maintenance – and it's growing," said Larry Paulson, executive director for the Port of Vancouver.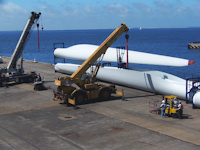 The Port of Pensacola specializes in handling these types of specialized project and heavy-lift cargoes, including these 135-foot-long windmill blades destined for a wind farm in Indiana.
Big push at ports for strong multimodal and logistics operations also drives growth
One reason that ports generate such great economic activity is that many businesses locate their facilities near these sites to take advantage of low-cost inbound transportation of raw materials for production and outbound shipments of finished products to both export and domestic markets.
At the Port of Pensacola in Florida, numerous businesses such as GE Power Systems, GE Wind Energy and International Paper reap the benefits of proximity to the port.
"Given that waterborne transportation is the most cost-effective mode of transportation, these companies benefit from their ability to keep their imported and exported cargo on water longer than on land," said Amy Miller, manager of marketing, finance and administration at the Port of Pensacola.
In addition, Pensacola's local construction industry benefits from the port because bulk construction material suppliers such as Martin Marietta Aggregates, CEMEX and Gulf Coast Asphalt Company operate terminals there.
"The availability of these products locally rather than sourcing from other domestic suppliers and transporting to the area makes the supply less costly for the end user," added Miller.
Port of South Louisiana also recognizes that providing strong, intermodal transportation options and logistics-type operations will help spur growth. They are currently promoting the development of an Intermodal Container Terminal in St. Charles Parish.
"It won't be just a transfer point but value-added center where products are assembled and then shipped out," said Port of South Louisiana executive director Joel Chaisson. "We believe it will attract a significant portion of the increased containerized cargo anticipated to pass through the upgraded Panama Canal."
Many companies locate their distribution centers near ports to reduce transportation costs, increase security and improve their business process.
Coach Services Inc., which makes high-end handbags and accessories, located its major distribution center about 15 minutes from Jaxport.
"About 95 percent of what we import comes through the port for services. We use the port on the export side, especially for goods going down to Puerto Rico, since Jaxport is a major port for trade between the U.S. and Puerto Rico," said James Prior, divisional VP of transportation and trade compliance at Coach Services.
Coach Services started working heavily with Jaxport in early 2009, when the Asian carriers began to call on the port. They were drawn to the $200 million TraPac Container Terminal opened by Tokyo-based Mitsui OSK Line (MOL) with 2 berths and a 158-acre facility.
Previously, Coach Services brought in goods in through Savannah, Georgia, and trucked them to their distribution center in Jacksonville.
"While the cost to bring it into Jacksonville is the same as Savannah, we no longer have to pay truck costs," said Prior. "Being 15 minutes away from the port makes it very easy, safe and secure to move the goods to our D.C. Getting in and out of the port is very efficient and we've found Jaxport to be a highly professional operation. We work closely with the carriers and import operations – and it's worked out well."
Rail is a key component of the focus on multimodal
Jaxport recently signed a Memorandum of Understanding (MOU) with Florida Inland Port that creates a strategic alliance with the state's first rail-oriented, integrated logistics center and helps to pave the way for improved flow of goods throughout Florida and the Southeast United States.
"Having our sophisticated port system supported by a dedicated central inland logistics center will help the ports work effectively to capture the flow of goods coming in through the expanded Panama Canal, Europe and South America," said Paul Anderson, CEO at Jacksonville Port Authority.
Other ports are embarking on rail improvement projects on their own. The Port of Vancouver is working on a $150 million rail improvement project called the West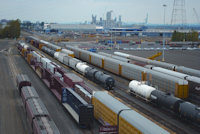 Rail is a big aspect of the Port of Vancouver. Its West Vancouver Freight Access project is working to improve the movement of freight both through the port and along the BNSF Railway and Union Pacific Railroad mainlines.
Vancouver Freight Access Project that will more than triple the line's capacity to approximately 160,000 rail cars per year when completed in 2017. Its goal is to reduce current rail delays and improve the ability to move freight not only through the port but also along the BNSF Railway and Union Pacific Railroad mainlines that connect the Pacific Northwest to major rail hubs in Chicago and Houston, and from Canada to Mexico.
Paulson, the Port of Vancouver's executive director, noted that the rail line between the port and Chicago has only a 2 percent rail grade, making it ideal to move large quantities of goods such as grain, copper concentrate and potash.
The Port of Lake Charles is also working on improving its shortline railroad, constructing two loop tracks at its City Docks facilities. These tracks will serve port businesses and tenants, including a port-owned public grain elevator currently under construction, the first of its kind built on the Gulf Coast in 40 years.
Strong ports are thriving in the current economy
A report released on June 15, 2011, from the U.S. Maritime Administration shows more ships are stopping at U.S. ports. The stops rebounded by 13 percent in 2010, after an eight percent decline in 2009. And, well-managed ports are even noting record growth over the past few years.

A good relationship with its tenants and a strong focus on infrastructure and maintenance are key components of a successful port.
Francis Drilling Fluids, one of the oldest drilling fluids companies on the Gulf Coast, began working with the Port of Lake Charles in 2010. It started as a small project moving 60 million pounds of fracking material called proppants, which is used in the process of retrieving oil through fracking. Their business at the Port of Lake Charles has expanded to 60 million pounds per month and is continuing to grow. The company receives its product into the port, warehouses it there and then ships it out by rail or truck. Constrained to shipping out 100 rail cars per month because of limitations in the port's rail capacity, it will benefit from the port's current shortline rail improvement project.

"We project to see a big increase in business," said Freddie Richards, Louisiana pneumatics manager at Francis Drilling Fluids. "The port is a partner of our company and makes a lot of things possible for us. There are a number of places we could have located, but we picked the absolute best place. The Port of Lake Charles has worked hard to make our jobs easier."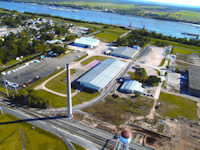 Associated Terminals at the Port of South Louisiana's Globalplex Intermodal Terminal, located at mile 138.6 AHP on the Lower Mississippi River.
At the Port of South Louisiana, Associated Terminals has worked with the port since 2000, first handling bulk cargoes and then taking on the stevedoring for all cargoes in 2005. The company has multiple cargo handling facilities from the mouth of the Mississippi River up to Baton Rouge and is the exclusive operator of the port's Globalplex Intermodal Terminal.
"We partner with the port to market port facilities, create local jobs and enhance the use of local businesses and their products and services," said Barry Hoth, vice president at Associated Terminals. "Working with the port has been advantageous because it allows us to jointly service importers and exporters, which would be difficult without the teamwork."
The Port of Vancouver is another thriving port.
"2009 and 2010 have been our best years and 2011 looks even better," said Port of Vancouver's Paulson.
He attributes this partly to the area's strong labor force along with the Port of Vancouver's investment in infrastructure and equipment, such as its heavy Mobile Harbor Cranes capable of lifting 140 metric tons each. This enables the port to receive and unload goods such as wind turbine components.
United Grain Corporation has an export grain elevator at the Port of Vancouver. The company already ships three million tons of wheat from the terminal – about 16 percent of the country's crop. The company has a proposed $72 million expansion that would add the capacity for another two million tons of corn and soybeans to be shipped through Vancouver and could increase the port's grain exports by as much as 60 percent in a couple of years
Tony Flagg, vice president of business development at United Grain credits the Port of Vancouver in their ability to think long term. He cited the port's support in deepening the channel in the Columbia River to handle the current Panamax vessels. Because the depth of the shipping channel has been increased to 43 feet, the company can load 7,200 tons of additional cargo onto each vessel at the port.
"Also, they're basically rebuilding the infrastructure of the port through its rail system. The rail system in the U.S. is changing to larger units that have to be unloaded faster and faster and they're building a rail system to accommodate that, which is important to us," said Flagg.
Tristar Companies is a regionally based transload reload business also with facilities at the Port of Vancouver. The company has been at the port since 1996 after
Port of Vancouver, Washington
leaving another port with less-desirable facilities and maintenance. They handle a number of goods, including lumber, steel, roofing, aluminum and panel products and their import/export business has blossomed to nearly 40 percent of its total business.
"We have an excellent relationship with the Port and believe that we benefit each other," said Peter Howe, president of Tristar. "One advantage that the port offers is marketing Tristar and other port clients to potential users. They continue to think 'outside the box' and have an open-door policy, which you don't see at every port. They want to make us successful."
Moving goods – and the economy
"As our economy recovers, maritime can play even more of a key role in the affordable, efficient and environmentally sustainable transportation of goods, both within our borders and across oceans," said U.S. Maritime Administrator David Matsuda.
Serving as a gateway to domestic and international trade, the nation's ports connect large and small businesses to the expanding global marketplace. And in turn, this growth fuels the regions around the ports, making ports an all-around smart business proposition.
 
About the Author