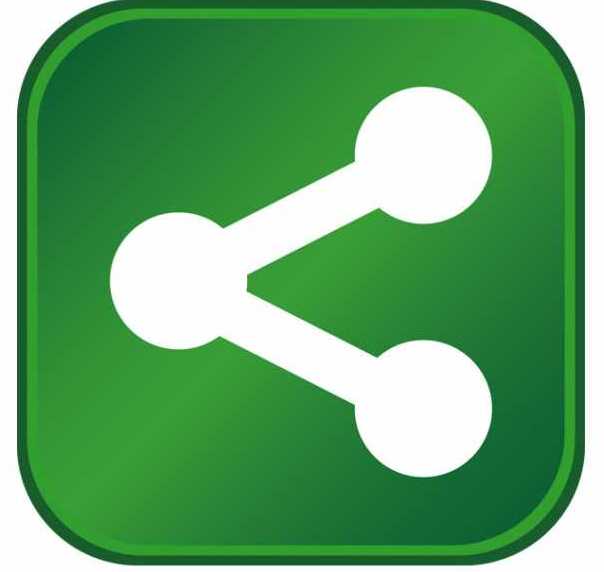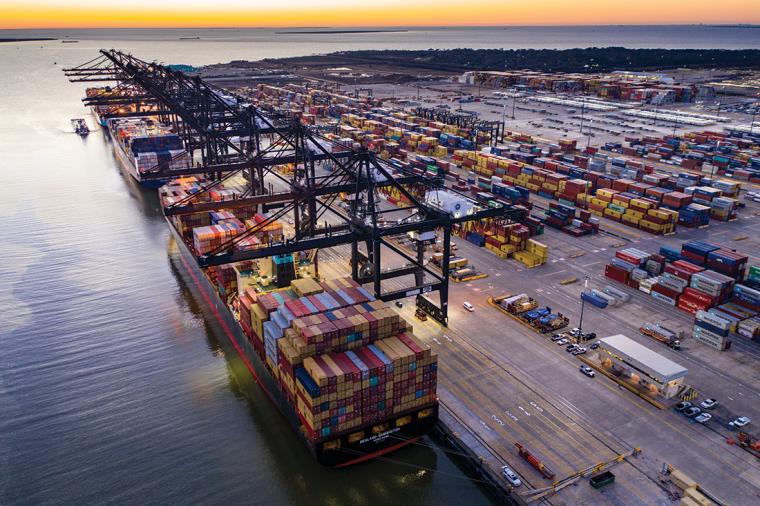 In 2022, the supply chain looks very different than it did just a few short years ago. Shortages and delays, coupled with changes in the way customers – both industrial and end-use consumers – shop, have turned shipping and transportation on its ear. Labor shortages continue to make a big impact on shipping. Delays at some of the nation's largest ports were well documented in the past two years, and not all of the problems have been resolved. In this feature, we're highlighting seven U.S. ports that have taken admirable steps to adapt to the way the shipping and transportation industries need to operate today.
Port of Greater Baton Rouge, Louisiana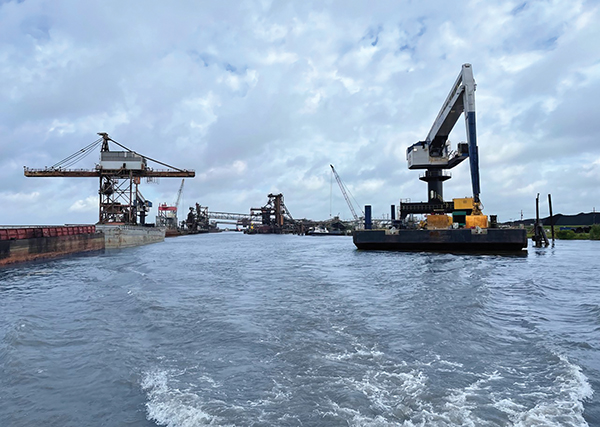 The Port of Greater Baton Rouge is currently in growth and expansion mode, innovating new fabrication to solve tenant challenges, new partnerships and new billion-dollar projects. The goal of these initiatives is to increase access to the Mississippi River to create new jobs and position the port for the future.
In 2020, the port acquired the Port of Pointe Coupee in Lettsworth and the "old ferry landing" on the west side of the Mississippi River close to New Roads. The three paddlewheel riverboats of American Queen Voyages are now making regular stops at the landing. American Cruise Lines and Viking River Cruises have also come on board with planned cruise dates booked for 2022.
"With a resurgence in the demand for river cruises, this has been an exciting partnership for us," said Port Executive Director Jay Hardman. "Private sector entities are already looking to put in some improvements, such as a levee top pavilion where cruise passengers can wait for the buses and vessel mooring devices."
The landing will also be used for cargo movements. Recently, barges of crushed stone were unloaded there and trucked to a site in Point Coupee Parish that will be a future solar farm. Known as Ventress Solar, the 345-megawatt facility covers 2,732 acres near New Roads and will supply renewable energy to McDonald's and eBay.
The firm expects the project to create 400 construction jobs over roughly two years and provide $30 million in increased tax revenues to Pointe Coupee as the facility is built. It also estimates the clean electrical energy generated will curb about 450,000 metric tons of greenhouse gas emissions annually.
As part of the Pointe Coupee inclusion into its jurisdiction, the Port also gained an industrial park that includes a cotton gin, liquid fertilizer distributor and marine transportation company Terral River Service.
"This is different from the deepwater side of the Mississippi for us and will bring growth and job creation there," added Hardman.
Port of Caddo-Bossier, Louisiana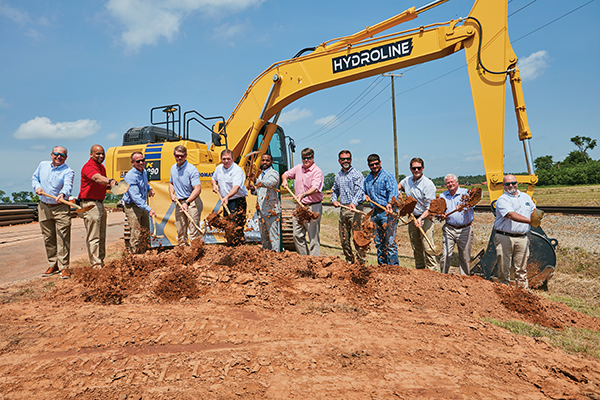 The Port of Caddo-Bossier is an industrial park and inland multimodal transportation and distribution center at the head of navigation on the Red River Waterway in Northwest Louisiana. Located only 212 miles from the Mississippi River, the port has become home to national and international companies that rely on the river, rail and roads to move their goods. The Port has 4,000 acres of land in both Caddo and Bossier parishes.
The Port of Caddo-Bossier is currently home to 17 tenants. The number grew in 2022 with the addition of Sunny Point Aggregates, a subsidiary of Performance Proppants. In May, ground was broken on the company's new sand and proppants processing facility to occupy a 43-acre tract of riverfront property. Sunny Point Aggregates will remove 45 million tons of frac sand from an oxbow lake off the Red River. The sand is used in drilling for natural gas in the Haynesville Shale, one of the largest natural gas fields in the U.S.
In June, the port held a ribbon-cutting ceremony for its new 100,000-square-foot, $15 million heavy-load warehouse, a joint venture between the port, Red River Waterway Commission and the Louisiana Department of Transportation and Development. The warehouse will be used by current port tenant Odyssey Logistics to house materials for another port tenant: Ternium USA. The new warehouse will allow port tenants to stockpile products ahead of any foreseeable issues with the supply chain.
Aside from its tenants, the port has clients who also use the multimodal capabilities to move their products. Vulcraft-Texas (a division of Nucor) ships steel coils from its Blytheville, Arkansas facility to the port, where they are offloaded onto trucks that transport the coils to a plant in East Texas.
Port Houston, Texas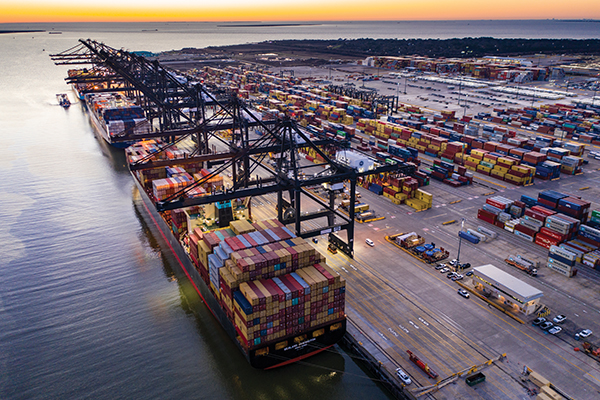 The Houston Ship Channel and its more than 200 public and private terminals, collectively known as the Port of Houston, is the nation's largest port for waterborne tonnage and home to the largest petrochemical complex in the U.S. The Port of Houston is an essential economic engine to the region, with an economic impact of $802 billion nationally, and supports 1.35 million jobs in Texas and 3.2 million jobs nationwide.
Port Houston owns, operates and manages the eight public wharves and terminals along the Houston Ship Channel, including the area's largest breakbulk facility and two of the most efficient container terminals in the country. Port Houston is the seventh-largest container port in the U.S., handling about two-thirds of all containerized cargo in the U.S. Gulf of Mexico. The port's location and extensive sailing schedule facilitate transatlantic, transpacific and north-south trade.
The Houston Ship Channel Expansion Project (Project 11) represents a $1 billion investment to deepen and widen the waterway, allowing bigger ships to navigate the channel safely and efficiently. The project will be completed by 2025. Additionally, the Port Commission has approved the purchase of 26 additional rubber-tired gantry crane (RTGs), the largest order to date. These will support container terminal operations and bring the total RTG fleet to 142. Additionally, the commission approved the purchase of three ship-to-shore cranes for the Bayport Container Terminal. Additional infrastructure improvements include wharf rehabilitation at Turning Basin Terminal, and construction of additional container yard space at Barbours Cut Terminal.
"The Houston Ship Channel supports more than three million American jobs, with more than one million here in Texas," said John Moseley, Chief Commercial Officer for Port Houston. "As the local advocate of the largest and busiest waterway in the country, Port Houston supports our regional economy by ensuring open and efficient access to markets around the world for products grown and made in Texas."
Port of Muskogee, Oklahoma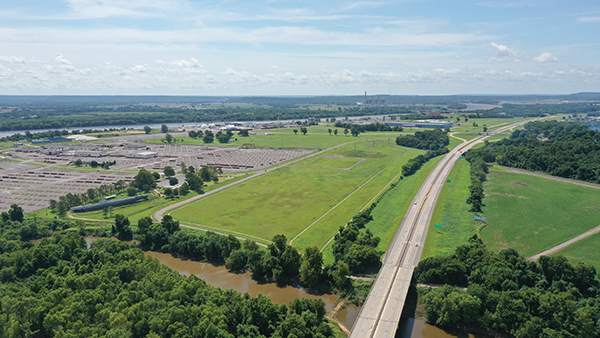 Located at the confluence of the Arkansas, Verdigris and Grand Rivers, Port Muskogee is a 450-acre industrial site providing direct, year-round access to the nation's most inland waterway. Known for its location as one of the most inland ports in the U.S., the multimodal complex offers companies inland waterway access to 20 states and global seaports by way of the Gulf of Mexico.
For decades, industries have relied on the port for rapid market access and global connections backed by a skilled workforce, a cost-effective business environment and a wealth of local incentives. As many as 14 industries depend on access to the port and waterways, which account for capital investments totaling more than $2 billion and 2,500 jobs with a combined annual payroll above $125 million. Five new projects chose the Port Muskogee area during the first two quarters of 2022 and represent a total capital investment of $1.3 billion and 109 new jobs.
In July 2022, Port Muskogee announced a $58 million investment in upcoming infrastructure improvements to bring transformative change to the region and usher in the next 50 years of economic growth. The improvements will help increase safety and operational efficiency, bring resiliency to withstand significant flood events and support continuous growth. Based on a Waterfront Infrastructure Assessment and Resiliency Study, improvements were prioritized for various infrastructure, including facilities, utilities, equipment, waterfront structures, railways, the electrical system and stormwater system. Notable improvements include replacing three terminal cranes, improving stormwater and security infrastructure, dock repairs and enhancements, increasing road and pedestrian accessibility and constructing a robust new 50,000-square-foot rail-served warehouse.
"Port Muskogee plays a pivotal role in the economic transformation taking place in Oklahoma and our community will continue to serve as an ideal destination for companies seeking access to global markets and skilled talent," said Kimbra Scott, Port Director of the Muskogee City-County Port Authority.
North Carolina Ports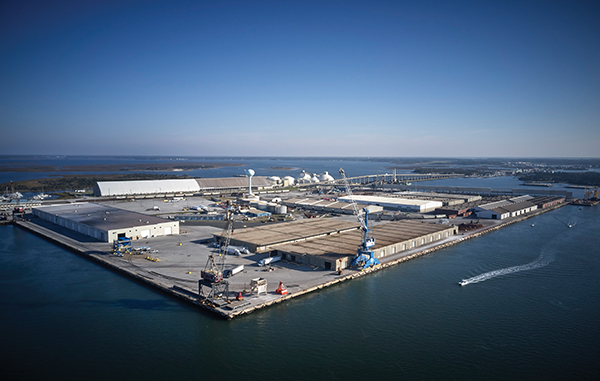 The North Carolina State Ports Authority offers two deepwater port locations in Wilmington and Morehead City, as well as an inland port in Charlotte. The port authority's mission is to be the gateway to global markets and to enhance the economy of North Carolina by supporting and improving the state's logistics network. Both the Port of Wilmington and Port of Morehead City are strategically located within 700 miles of more than 70 percent of the U.S. industrial base. NC Ports terminal facilities serve container, bulk, breakbulk and roll-on/roll-off services.
NC Port's container terminal at the Port of Wilmington was recently ranked by the World Bank Group and S&P Global Market Intelligence Container Port Performance Index of 2021 as the fourth most productive port in North America.
Recent capital investments for the Port of Wilmington include berth renovation and expansion, 212-foot air draft clearance, three neo-Panamax cranes and turning basin expansion. There is also a new South Gate complex that includes new terminal and gate operating systems as well as a container yard expansion. The expansion of a refrigerated container yard has completed its first phase.
Recent and planned changes to the Port of Morehead City include upgrades to Bascule Bridge and trestle bridge and the purchase of a new Liebherr Portal Slewing Crane, which have already been completed, and upgrades to Radio Island rail line, construction of a new 75,000-square-foot warehouse, improvements to the log yard and the rebuilding of berths 4 and 5, all of which are in progress.
"The North Carolina State Ports Authority is a catalyst for economic development, playing a major role in supporting regional supply chains and serving as a global entry point for goods and commodities," said Brian Clark, North Carolina Ports Executive Director. "Through the direct and indirect employment of 88,200 individuals, and a $660 million tax revenue impact, NC Ports delivers on our mission of enhancing the economy of North Carolina."
Laredo, Texas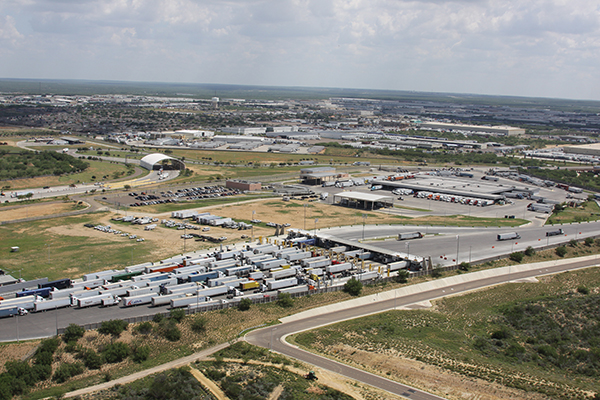 Laredo, Texas, a global logistics hub, is considered the most import land port in North America. It's the only U.S.-Mexico border city strategically positioned at the convergence of all land transportation systems, located on U.S. Interstate Highway, also known as the NAFTA/USMCA Highway, from Mexico to Canada. Not only is the Port of Laredo the number-one inland port on the U.S. – Mexico border, but it also ranked third in the nation of more than 400 airports, seaports and border crossings, supporting over $248 billion in 2021 of total global trade according to U.S. Census Bureau data analyzed by WorldCity.
The TxDOT has numerous projects in the works to alleviate traffic congestion in Webb County. These projects include the addition of three additional interstate highways — I69, I27 and I2 — making Laredo the only land port with four interstate highways.
Laredo is thriving and there are many developments currently in the works for this booming binational city. Plans include enhancing quality of life and beautification efforts with the Binational River Conservation Project and Boulevard of the Americas. In addition, there are over 2.5 million square feet of Class A industrial facilities going vertical, providing much-needed space availability by private industrial development investors.
Mexico is the Port of Laredo's biggest trade partner with autos and auto parts forming more than 50 percent of the port's trade. There are approximately 17,000 commercial truck and 2,000 rail crossings daily through the region's international bridges.
"For its location, site availability, geographic and logistic advantages, and ample competitive labor force accessibility, Laredo is an ideal site for businesses across a diverse range of industries," said Yvette M. Sanchez, VP of International Business Recruitment. "It's no surprise so many Fortune 500 corporations are making Laredo their new home."
Port of Montana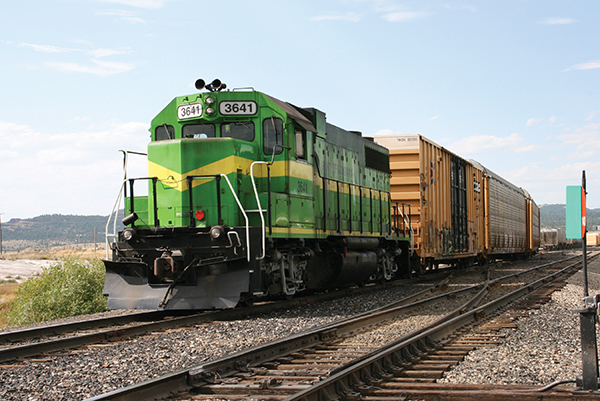 The Port of Montana is strategically located in Southwest Montana at the intersection of Interstates 90 and 15 and is served by both BNSF and UP railroads. The port is a full-service transload, distribution, warehouse and storage facility. It has over 30 years in transloading experience and a wide variety of equipment to move commodities. The Port of Montana and its transload services bring rail access to businesses that otherwise do not have rail opportunities, and acts as a satellite distribution center for customers, providing order fulfillment as well as inventory control. The port has a variety of commodities that move through the facility: asphalt, steel, lumber ethanol, shingles, fertilizer, sand, autos, ore and pipe.
Currently the Port is expanding its auto yard facility by three acres. The Port of Montana partnered with local government (Butte-Silver Bow) to create a 130-acre rail park. In November of 2021, the Port of Montana and Butte-Silver Bow completed an $8.5 million rail project that added 15,000 track feet to the rail park and an additional 4,800 track feet of transload facility tracks. The rail park will consist of six parcels that will be served by the Port of Montana.
In the autumn of 2022, Butte-Silver Bow began construction on $3.5 million of roads and utilities. The project will bring necessary infrastructure to the rail park area. The Port of Montana and Butte-Silver Bow continue to look for additional opportunities to partner on future projects including expanding rail infrastructure to additional land within the Montana Connections Business Park.   
"As an anchor tenant for the Montana Connections Business Park, the Port of Montana is an invaluable partner in economic development for Butte-Silver Bow and southwest Montana," said Kristen Rosa of Montana Connections Business Development Park. "Many new warehousing and distribution companies are looking at the area specifically because of the Port of Montana. Their transloading capabilities, FTZ designation and access to two Class I railroads make the port a very attractive asset."
Port Tampa Bay, Florida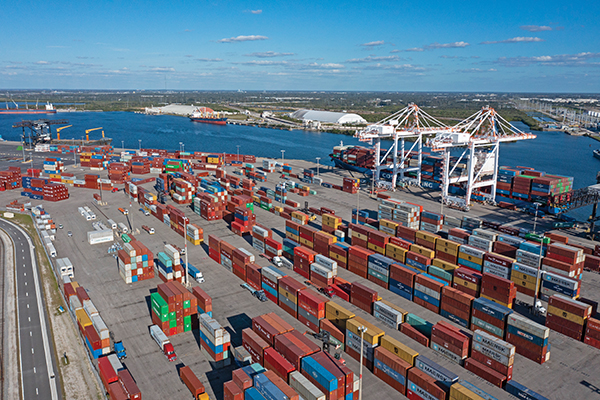 Port Tampa Bay is by far Florida's largest port, handling more than 33 million tons of cargo per year. It's also Florida's largest port in terms of physical size, encompassing over 5,000 acres. Port Tampa Bay supports nearly 85,000 jobs and generates more than $17 billion in annual economic impact. In addition to being a top 10 U.S. cruise port, the port handles a wide array of bulk, break bulk and containers cargoes, and is a major shipbuilding and repair center. The port provides a portfolio of client services that complements client's global supply chain strategies.
Port Tampa Bay recently increased both capacity and client services, with more expansion underway, and stands ready to welcome new business, offering significant savings in inland delivery costs versus other gateways. The port has been working closely with container terminal partner Ports America to add more paved storage and begin construction of a new gate complex. It expects to receive three additional container gantry cranes later this year and will soon break ground on a new on-dock trans-load warehouse. Additionally, several new and existing bulk terminal operators are expanding their facilities, and investing in their terminals, securing long-term positions in the port.
Additionally, Port Tampa Bay has received authorization to have the entire port designated as a foreign-trade zone (FTZ) site. This expansion of client services will allow both existing clients and new clients the opportunity to establish an FTZ complement to their supply chain strategy.
"Port Tampa Bay supports well-paying jobs in our community and helps to strengthen our region's economy and improve supply chain efficiencies," said Raul Alfonso, Executive Vice President and Chief Commercial Officer of Port Tampa Bay. "Due to our proximity to this growing market, our port is an excellent long-term gateway for the container industry in our region. We have more than 400 distribution centers in our backyard and offer an efficient way to serve Florida's growing population."  T&ID