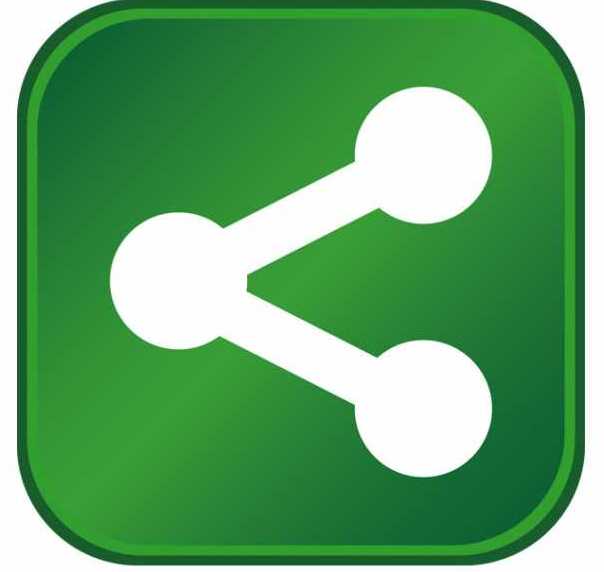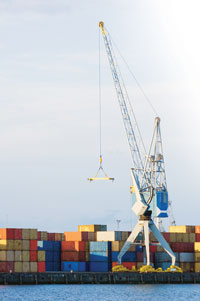 Even in recessionary times, trillions of dollars are generated by ports, be they seaports, river ports or ports of the Great Lakes. That's not much of a surprise. Historically ports have played a critical role in developing and maintaining the global economy.
To visualize the impact ports have on society, one would have to draw a rather elaborate, schematic to illustrate how ports create intertwined economic relationships, from the initial revenue generated by cargo activity, to the jobs created by this activity, to the spending of the income from those jobs, right on down to business and individual tax revenue on local, regional and federal levels.
For logical reasons, in addition to their great economic impact on a region, ports frequently play a major role in manufacturing and processing plant location decisions. The American Association of Port Authorities says that many manufacturing and processing industries locate their plants at or near waterfront sites to take advantage of low-cost inbound transportation of raw materials for production and outbound shipments of finished products to both export and domestic markets. Foreign Trade Zones, located on port property, also provide incentives for value-added manufacturing services and trade.
With all they have going for them, including the promise of new "green" jobs as ports begin efforts to become more environmentally friendly, port locations deserve a second look. To assist in that endeavor, we have highlighted five port sites that may help to start your own economic prosperity percolating.
Port Corpus Christi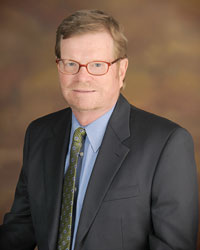 As the economic engine of the Texas Coastal Bend, Port Corpus Christi is experiencing tremendous growth. It is diversifying beyond its traditional ag, petroleum and petrochemical business with project and breakbulk cargo, military and frozen cargo, and wind turbine components.
Cargo Dock 8, the strongest open wharf on the Gulf of Mexico, is moving thousands of tons of wind turbine, military and breakbulk shipments every day. Coastal Bend Cold Storage is a state-of-the-art,100,000-square-foot refrigerated warehouse just 60 feet from dockside with enclosed, temperature-controlled, rail and truck loading docks. The Joe Fulton International Trade Corridor has opened nearly12 miles of roadway and 7 miles of rail, adding 4 miles of channel frontage and 630 green-field acres for development. The La Quinta Trade Gateway is a planned 1,100-acre container terminal with a 3,800-foot shoreline and channel depth for the largest containerships.
Most important is the return of Naval Station Ingleside to the Port in 2010. This military base, which includes a world-class wharf and two piers adjacent to the ship channel, is less than 20 years old and offers outstanding commercial, industrial and shipping opportunities.
Port Corpus Christi is ready to ship whatever needs to be shipped. Learn more at www.portofcorpuschristi.com. 
Port of Mobile
Alabama State Port Authority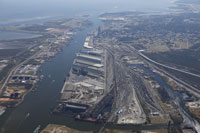 The Port of Mobile, currently ranked the 10th largest U.S. port in total volume, handled more than 64 million tons of cargo in 2007. The Alabama State Port Authority (ASPA) owns the seaport's full service, public terminals handling container, general cargo, bulk and project cargoes.
Since 2003, ASPA has invested more than $500 million in port infrastructure, including the$300 million Mobile Container Terminal, the $85 million McDuffie Coal Terminal expansion program and the $26 million rail ferry terminal. In December '09, ASPA will complete a $100 million steel terminal and just concluded $50 million of site development work to support the construction of an intermodal rail facility.
The Alabama State Port Authority's terminals link to two interstate systems and five Class I railroads - CSX, Canadian National, Burlington Northern Santa Fe (Alabama & Gulf Coast Railroad), Norfolk Southern and Kansas City Southern. The Port Authority is home to the C.G. Railway, which provides waterborne rail service every four days to Coatzacoalcos, Mexico. ASPA terminals also connect to 15,000 miles of inland and Intracoastal waterways, providing shippers with low-cost water access to ports along the Gulf of Mexico, the Tennessee, the Ohio and the Upper Mississippi river systems.
The transportation assets, a favorable labor market as well as community-state-federal support make the Port of Mobile one of the nation's fastest-growing ports. Learn more at www.asdd.com.
Port Freeport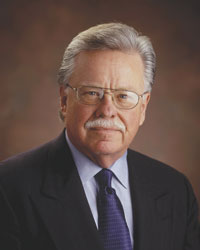 Texas' Port Freeport has had remarkable success in weathering much of the economic storm thanks to its advantageous diversification of activities. Moreover, it has remained on track with major projects that should further broaden its cargo base and facilitate enhanced movement of these diverse goods through the Port.
Most notably, the initial phase of the Velasco Terminal is on target for opening by the end of 2009, giving the facility its first 800-foot-long dock. By the first quarter of 2010, some 20 acres of backlands are slated to be ready at the terminal, which is to ultimately encompass 2,400 linear feet of berthing and more than 90 acres of backlands. Port Freeport is assertively pursuing opportunities to bring traditional as well as nontraditional containerized cargos and other valued commodities across the Velasco Terminal docks.
Meanwhile, work continues in conjunction with federal and state authorities to advance the project to deepen the Port's channel to 55 feet from its present 45 feet, plus substantially widen the channel as well. There is optimism that the seven-year feasibility study due to be completed in mid-2010 will indicate, as have preliminary analyses, that benefits of the channel project should exceed its $300 million cost.
With so many developments pointing toward growing diversified activity at Port Freeport, there is great enthusiasm for the Port's expansion upon its already impressive status as an economic cornerstone of the community and region – a dynamic force directly and indirectly responsible for nearly 60,000 jobs that has an overall annual economic impact in Texas of $10.2 billion. Learn more at www.portfreeport.com.
Central Louisiana Ports


A prime location in the center of the state, close to I-49 and Alexandria International Airport, gives the Port of Alexandria many advantages for commercial and industrial commerce. The port, located on the Red River with its 9-foot draft, includes about 125 acres containing a public terminal, a 60,000 square-foot warehouse, petroleum dock, steel bulk-head dock, general cargo dock with rail access and a 40-ton bridge crane equipped with a clamshell bucket, grappler and hopper-loader. Also, it is located in a Foreign Trade Zone and has access to the Union Pacific and Kansas City Southern rail lines. Learn more at www.portofalexla.com.
The Port of Avoyelles is an inland port located on the Atchafalaya River that has an 18-foot draft. The port is located near Simmesport, where the Atchafalaya River, Mississippi River and Red River meet and provides a convenient stopping point for barge traffic with connections to major ports throughout the country. The Atchafalaya River route to the Gulf of Mexico is 300 miles less than traveling the Mississippi River through Baton Rouge or New Orleans, and more cost-effective because river pilots will not have to be engaged to channel the waters. Learn more at www.avoyellesport.com.
Port of Pine Bluff, Arkansas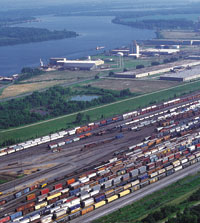 The oldest public port of the year-round McClellan-Kerr Arkansas River Navigation System, the Port of Pine Bluff's 372-acre Harbor Industrial District is located on a natural slack water harbor just off the river's 9-foot channel. Six industries currently operate in the district, in addition to a Corps of Engineers marine terminal and a U.S. Coast Guard station.
Also, a 20-acre public terminal facility, owned by The Port Authority and operated by Kinder Morgan, offers barge transloading, warehousing and bulk storage. Rail service is provided by Union Pacific and Burlington Northern Santa Fe. In addition, a major UP classification yard is located immediately east of the harbor district, plus I-530 can be accessed in approximately five minutes. Learn more at www.jeffersoncountyalliance.com.
About the Author