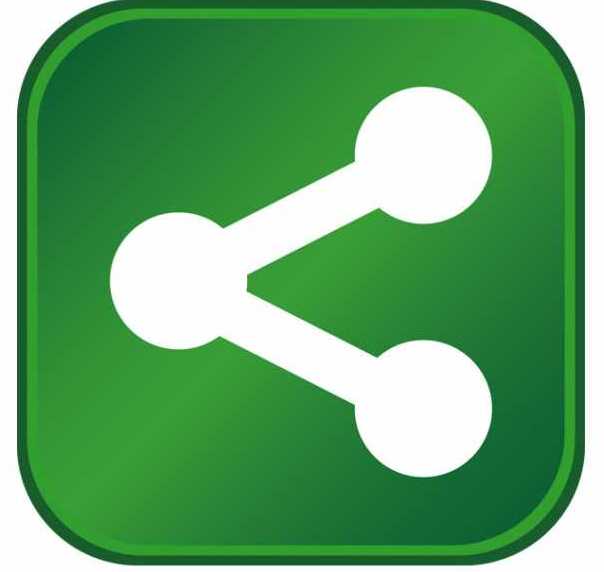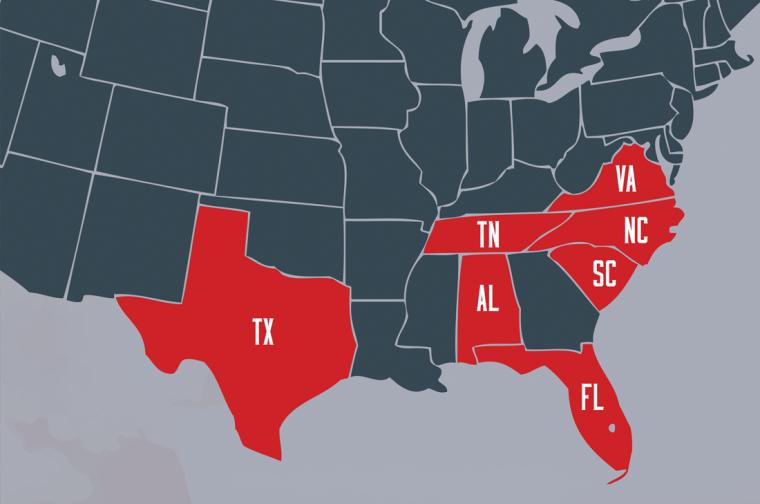 Business today is in something of a flux when it comes to development and expansion. Companies want to be closer to their suppliers as well as their customers, but they need to walk a fine line in how much they spend. They also need access to readily available workforces. When it comes time to change the business model, expand or relocate, companies can get ahead of the process by choosing designated sites, or those that allow tenants to move in and get up and running quickly. Following are some highlights of designated sites around the United States.
Berkeley County, South Carolina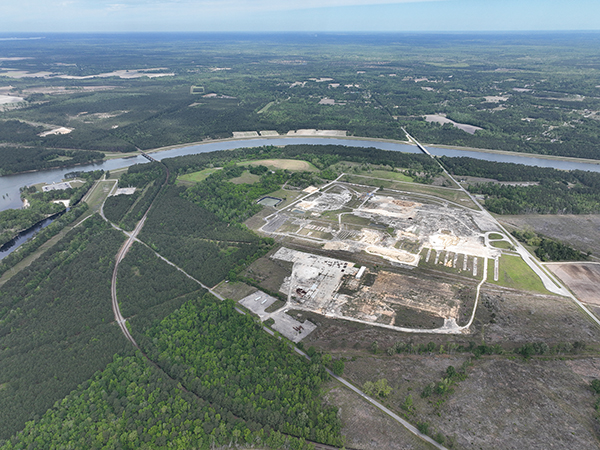 Berkeley Rail Park, a large, heavy industrial site with active CSX rail service and highly reliable power, offers a unique opportunity in South Carolina to be near Charleston-area manufacturers and state port terminals. The 497-acre site in Russellville has Class 1 rail service provided by CSX, and rail is being extended from this site to the Volvo Car and Redwoods plants and other users in Camp Hall Commerce Park. Water is onsite via a 10-inch line, and natural gas and renewable natural gas are available via compressed gas delivery to the site. Sewer lines are approximately two miles away. This is a former manufacturing operation that was demolished, with foundations in place and in use.
Berkeley Rail Park lies in an Opportunity Zone, a New Market Tax Credit Zone and a U.S. Hub Zone. State Enterprise Zone incentives are available. South Carolina has several programs to support workforce training needs. South Carolina, and especially the Charleston area, is a highly desirable place to work and play, with Atlantic Ocean beaches, freshwater lakes, world-class dining and entertainment venues and more.
For additional information, contact Barry Jurs, Santee Cooper Project Manager at barry.jurs@santeecooper.com, or Hagood Morrison, Executive Vice President at Bridge Commercial, at hagood.morrison@bridge-commercial.com.
Childersburg, Alabama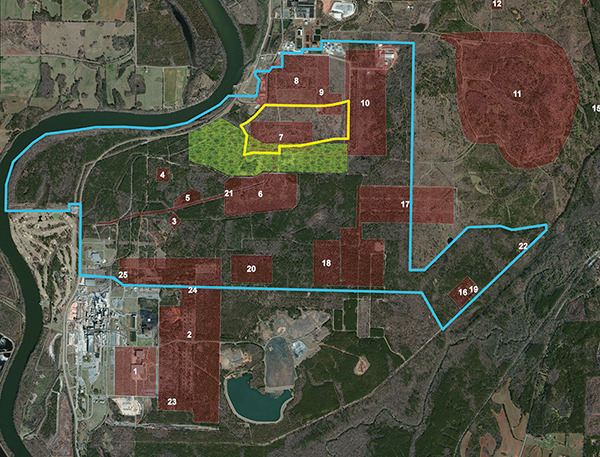 In 2003, the City of Childersburg received title to 2,234 acres of the former Alabama Army Ammunition Plant. Over the years since, five companies have located on the perimeter of the site, leaving approximately 1,500 usable contiguous acres for larger projects. The site's location is unique as it is in a rural area but has a workforce of 318,000 people within a forty-five mile radius.
The Childersburg Mega Site on Alabama Highway 235, four miles from U.S. 280, has four-lane access. The main traffic on the road is from Resolute Forest Products, formerly a newsprint mill that now makes fluff pulp. The site features dual rail service by Norfolk Southern Railway and CSX Railway with the day-to-day switching managed by R J Corman Railway.
Alabama Power Company maintains two substations adjacent to the site and has excess capacity for large loads. The City of Childersburg Water Sewer and Gas Board has utilities available for large industrial sized needs. The site is served by a 10-inch high pressure (500 psi) natural gas line that can be distributed at lower pressures to the site. Additionally, the Talladega County Water System has permits to withdraw 30 million gallons per day of surface water from the Coosa River and has a treatment facility capable of treating eight million gallons per day for potable water.
The Childersburg Mega Site has had a Phase I environmental study updated, wetlands delineated, threatened and endangered species assessment, and a geotechnical assessment. Also, a two-foot contour map of the area has been prepared.
Since the sale of the large mega site in Baldwin County, Alabama, interest in the Childersburg Mega Site has increased and the readiness of the site makes it more attractive.
For more information, contact Calvin Miller of the Talladega County EDA at millercalv@tceda.com or 256-245-8332.
Lake Charles, Louisiana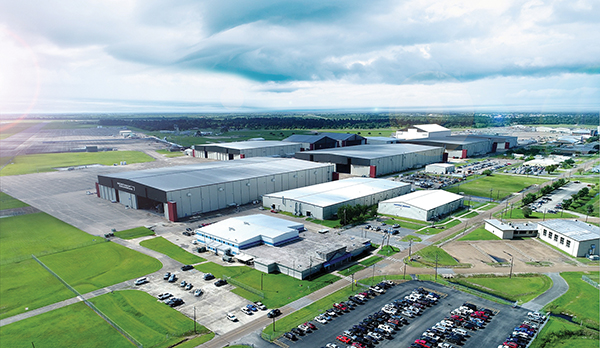 Chennault International Airport is a leading hub of aviation and industrial activity, strategically located in Lake Charles, Louisiana, at the center of the U.S. Gulf Coast. Chennault has 14 sites available for development, ranging from 3.85 acres to 215 acres. Two of the sites are certified development-ready by the Louisiana Economic Development Department: Site 2/2a (185 acres) and Site 5 (160 acres).
Neighbor tenants at Chennault include Northrop Grumman, Landlocked Aviation Services, Citadel Completions, Louisiana Millwork (Masonite) and Million Air — leading companies in the aircraft MRO, manufacturing, transportation and service industries — as well as the Louisiana National Guard.
Chennault offers a number of benefits to tenants. Chennault's airfield boasts a two-mile-long runway capable of handling any size aircraft, an FAA contract air traffic control tower, Part 139 certification, 24/7 security and fire protection, and first-class FBO terminal and fuel service. In addition, Chennault's location provides easy access to interstate highways, Union Pacific rail and a nearby deepwater port. The airport has established foreign clearance with U.S. Customs for international air cargo operations, and a 10,000-square-foot air cargo facility is available for immediate tenant occupancy.
Tenants may be eligible for numerous incentives, such as the Enterprise Zone Jobs Tax Credit, Industrial Tax Exemption, Quality Jobs Tax Rebate and others, plus advantageous Foreign Trade Zone status.
From a workforce perspective, Chennault is adjacent to Sowela Technical Community College, which provides practical workforce training for businesses and industries. Chennault's Lake Charles location offers low utility costs, moderate cost of living, plus local government cooperation and support.
Development inquiries may be directed to Kevin Melton, Executive Director, at ciaa@chennault.org, 337-491-9961 or 800-272-2422.
Cheyenne, Wyoming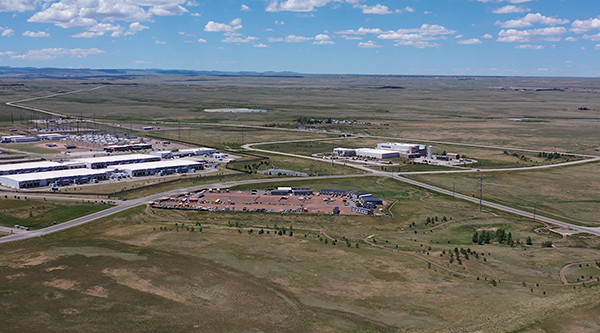 It's usually the first question that a business owner or site selectors will ask. What incentives are available? To start, the Wyoming State Constitution limits how the state can assist those looking for incentives. Although this may seem like a problem for those looking to relocate, it really is not. Wyoming can't offer to abate taxes that it doesn't collect. Wyoming doesn't collect corporate or personal sales tax.  It doesn't have a sales tax on manufacturing equipment or on the electricity and gas used in the manufacturing process. The additional lack of inventory, franchise, occupation and value-added tax are why the Tax Foundation has named Wyoming as the Number One Most Business Tax Friendly State for the last 10 years.  So, business owners keep more of what they make.
That being said, economic developers can never have too many tools in their toolboxes, so Cheyenne LEADS, the economic development organization for Cheyenne and Laramie County, got creative. Through a capital campaign, funding from the State of Wyoming and additional sources, two shovel-ready business parks were created with the sole purpose of supporting economic development.
The 917-acre Cheyenne Business Parkway was acquired in 1992 and is home to Stag Arms, Magpul Industries and Eagle Claw. The North Range Business Park was acquired in 2004. This 620-acre park is home to Microsoft and the NCAR-Wyoming Supercomputing Center. Both parks allow for creative options for businesses looking to Wyoming.
Sometimes, creativity spurs the best solutions. For more information, visit www. cheyenneleads.org.
St. Lucie County, Florida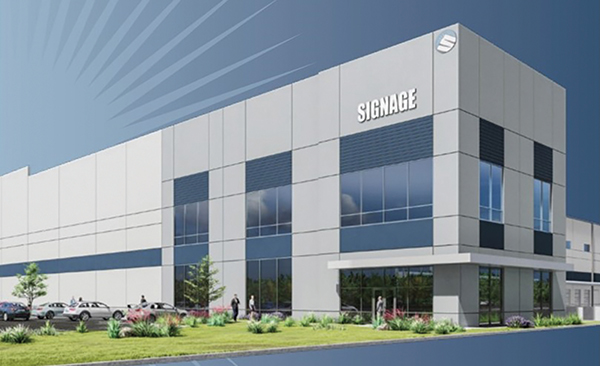 In May 2022, Stonemont Financial Group broke ground on what will be St. Lucie County's largest building, the South Florida Logistics Center 95, a 1.1-million-square-foot Class A cross-dock facility sited on 103 acres with a travel time of less than five minutes to both Interstate 95 and Florida's Turnpike. Also under construction is a companion 245,300-square-foot rear-load facility.
Completion is anticipated in 2023. Clear height is 40 feet, truck court depth is 195 feet, speed bays are 60 feet. Target industries include warehouse, distribution, last-mile and manufacturing. The 103-acre property has 978 parking stalls, space for 603 trailers and can accommodate parking for 1,136 vehicles.
Located midway between Miami and Orlando, St. Lucie County, Florida has seen population growth of nine percent over the past two years (versus a U.S. growth rate of 0.6 percent), and 29 percent growth since 2010. Current population is 358,704 with a local labor force of 156,228 and a regional labor force of more than 315,000, the lowest power rates in Florida (served by FPL), a top-rated school district with a more than 90 percent graduation rate and 58 career and technical programs, plus an award-winning state college with six regional campuses.
For more information, call Jenn DuBey at the Economic Development Council of St. Lucie County at 772-336-6256 or visit www.youredc.com. T&ID
About the Author