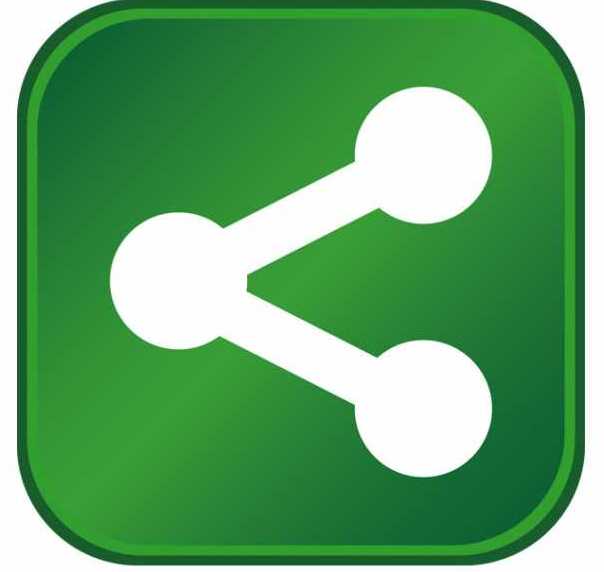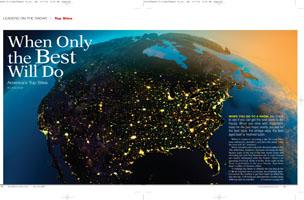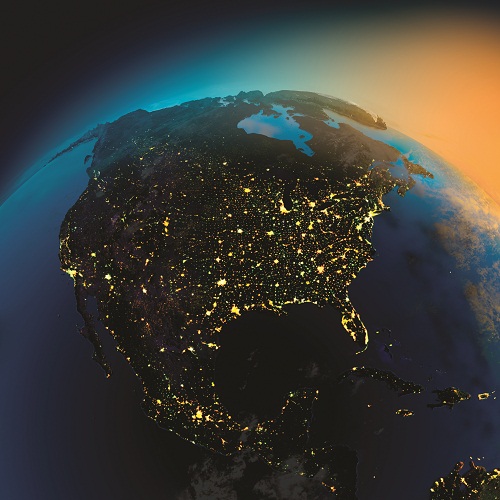 When you go to a show, you check to see if you can get the best seats in the house. When you dine with important, keep-for-life (you hope) clients, you ask for the best table, the vintage wine, the best aged beef or freshest sushi.
 
When it comes to choosing a site for your business endeavors, shouldn't you have the same "only the best will do" mindset? 
 
Most executive site selection decision makers do. The difference, however, between choosing the best theater seats or the top-of-the-line menu items and choosing the very best business site is your choices are clearly delineated with the former. There's no guessing involved. Kobe is Kobe. Row eight on the floor is preferable to the nose bleeds. And there aren't oodles of choices, either.
 
To indulge the desire to identify the top sites in the U.S., we reached out to economic development agencies across the country to get their input on where the top sites are. Following are descriptions of some areas with top sites to consider.
Brookhaven, Mississippi
Strategically positioned for growth along Interstate 55 in Southwest Mississippi between Jackson and New Orleans lies the newly improved 400-acre Linbrook Business and Industrial Park in Brookhaven, Mississippi. In the late '90s community leadership saw the need for future shovel-ready industrial sites and began looking for the right location. A study indicated an area owned by five different landowners right off Exit 40 would be the best location. City, County and private business leaders began the long task of researching the feasibility, purchase and design for a new park.
 
Eager for growth, the community quickly raised over $600,000 in private funding through the local Chamber's Vision Partnership Program. The City of Brookhaven and Lincoln County stood equally ready and quickly raised more than $8 million in funding to purchase and develop the park once agreements were made with landowners. In 2005, the City, County and Chamber formed the Brookhaven Lincoln Economic Development Alliance, which was charged with purchasing and developing the property. Over the next six years, roads, water and sewer improvements were made, along with the installation of fiber optic conduit and a 1,000,000 elevated water tower and deep water well.
 
What started out as a long-term project has come full circle, and now Brookhaven and Lincoln County have a first-class 400-acre site complete with direct interstate access and rail service provided by the Canadian National Railroad.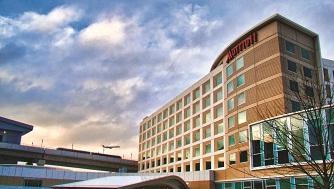 College Park, Georgia
College Park's quaint downtown streets are nestled underneath the shadows of Georgia's Hartsfield-Jackson Atlanta International Airport, the busiest in the world. Eclectic shops, boutiques and a plethora of eateries populate the historic Main Street district, all of which adds up to make College Park the city of choice.
 
Getting around is not a problem with public transportation. The Metropolitan Atlanta Rapid Transit Authority (MARTA) has bus and rail service connecting to the entire Atlanta region. The new College Park GoBus, a complimentary shuttle for local businesses and visitors, offers a lunchtime lift around the Main Street district.
 
The Marriott Gateway, the newest of College Park's 34 hotels opened in 2010. Located next to the Georgia International Convention Center and the SpringHill Suites, the Marriott Gateway enjoys light rail connectivity to Hartsfield-Jackson via the Atl SkyTrain. Hotel Indigo, part of the Intercontinental Hotels Group (IHG) will offer boutique-styled hospitality when it opens in late spring 2012.
 
College Park is home to corporate giant Chick-fil-A, and has a major presence with Southwest Airlines, Coca Cola, Sysco and Buckhead Beef. Woodward Academy, the largest private school in the United States, is also located in this city. College Park operates the largest compressed natural gas (CNG) fueling station in the southeastern United States. Plus, College Park holds large parcels of available land for retail, office and industrial projects.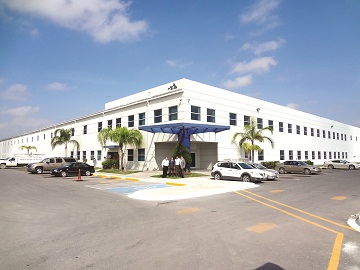 McAllen (Texas)/Reynosa MSA
McAllen/Reynosa MSA is located on the Texas/Mexico border in South Texas and Northeast Mexico. It is strategically positioned between the Toyota plant in San Antonio, Texas, and the Daimler Chrysler and General Motors assembly plants in Saltillo, Mexico.
This young and highly skilled market holds over 200 automotive suppliers within a 150-mile radius that ship components to over 57 assembly plants in 39 countries.
TS Tech North America, a supplier of seat laminations for Honda Automotive, transferred their North American headquarters to a 130,000-square-foot facility in the McAllen MSA in late 2011.
Zanini Industries, an Italian supplier of chrome-plated decorative plastic modules and components used in parts like wheel covers, emblems, name plates and radiator grills, leased a 120,000 square foot space in Reynosa in February, 2012. Zanini is a supplier to Fiat, Volkswagen, Ferrari, Peugeot, Maserati, GM, Chrysler and Ford, to name a few.
With an established automotive supplier base, this market boasts almost 50 million square feet of constructed industrial facilities and an education system generating a young, highly technical labor force every year.
The market has also prepared an automotive site within the 1,200-acre, "Class A" Sharyland Business Park. This U.S.-based site is located adjacent to a new international bridge that will connect it directly to a 16,000-acre industrial development in Reynosa, Mexico located just two miles away.
This positioning provides opportunities for automotive companies to locate established suppliers in Reynosa, Mexico, and an assembly plant in McAllen, Texas. By using American labor, companies can substantially reduce costs and improve efficiency and productivity.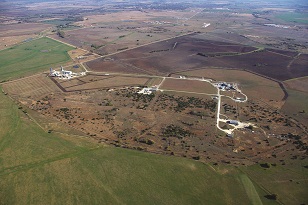 McGregor, Texas
McGregor is at the crossroads of all that's great about the heart of Texas. But what puts McGregor on the map is its 9,000-acre master-planned business park. Once a Naval Weapons Reserve Plant and home to Rocketdyne, Astrodyne and Hercules, this expansive park is one-of-a-kind. It is perfect for any business that needs wide-open spaces and convenient access to all modes of transportation: rail, road and air.
 
The aerospace and defense industry in particular has thrived in McGregor for more than 50 years, and the park is now home to SpaceX's 700-acre Rocket Development Facility. SpaceX designs, manufactures and launches the world's most advanced rockets and spacecraft.
 
The business park offers access to Burlington/Northern Santa Fe rail service, is minutes from the intersection of State Highway 84 and Farm-to-Market 317, and is within 45 minutes of three regional airports and within two hours of two major/international airports and Southwest Airlines/American Airline hubs, making McGregor an ideal location for shipping, receiving and distribution.
 
Affordable and abundant access to land, coupled with proximity to Waco/Temple/Killeen (20-45 minutes), Dallas-Fort Worth (two hours), and Austin (an hour and a half) provide cost-control and convenience. McGregor offers existing infrastructure and necessary amenities such as water and electrical service and a progressive approach to public-private partnerships with its businesses.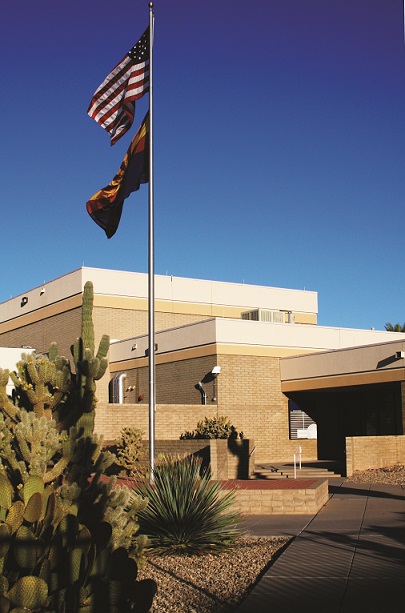 Mesa, Arizona
Mesa is turning up the "HEAT" to expand and attract more companies from the following industries: Healthcare; Education; Aerospace/Aviation; and Technology. Part of that effort involves an innovative plan to adapt state-of-the art, secure assets that the City of Mesa now owns.
 
For instance, located in Mesa, population nearly 500,000, and part of the Greater Phoenix metro area is the Arizona Laboratories for Security and Defense Research (AZLabs). AZLabs offers a concierge service of secure, full-service, SCIF-capable facilities, ideally suited for hosting classified research programs.
 
Encompassing 97,000 square feet, AZLabs retains all certifications of the former US Air Force Research Laboratory in Mesa, Arizona. AZLabs can support a broad range of classified projects, including conferences, workshops, experiments, prototype evaluations, distributed test and training with access to a highly skilled DoD-focused workforce experienced in classified R&D. Short- or long-term lease options are available and scalable to a specific project's needs.
 
The facility is sandwiched between Arizona State University Polytechnic campus, Chandler-Gilbert Community College and Embry-Riddle Aeronautical University with close proximity to existing restricted airspace, COAs and Military Operation Areas. Phoenix-Mesa Gateway Airport is across the street, offering three 10,000-foot-plus runways, taxiways, parking aprons and Defense Energy Support Center.
 
AZLabs is managed by Alion Science and Technology for the City of Mesa, Arizona.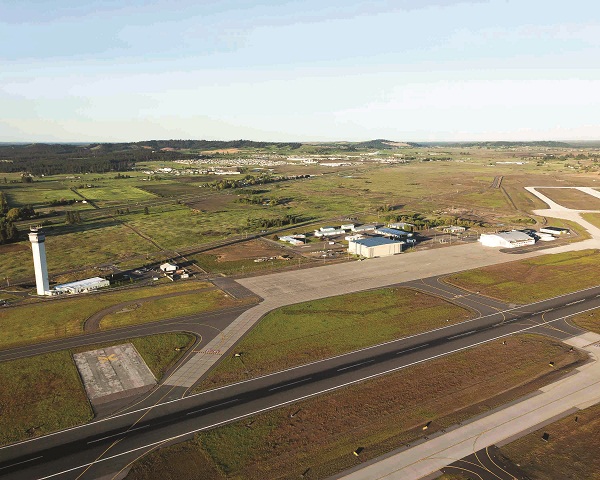 Spokane, Washington
Spokane, Washington's Certified Site Program reduces the time, expense, unpredictability and risk of new development. Spokane offers a portfolio of certified sites throughout the Spokane region, from Cheney's Industrial and Commerce Park to the West Plains properties around Spokane International Airport to Spokane Valley's Business & Industrial Park.
 
Caterpillar Logistics Services, Inc. chose Spokane in the spring of 2011 due in part to site and permit readiness. Large parcels, ideal for logistics and distribution and manufacturing facilities, are near rail, highway and airport infrastructure and are gaining the attention of site selectors and real estate agents.
 
In addition to distribution, aerospace manufacturing and assembly are sectors choosing certified sites in the Spokane region. Clean technology is also an emerging industry, with more than 75 companies in the region. John Overby, president and CEO of Flyback Energy, states, "I helped create and run two successful INC 500 tech companies in the region and am doing another now. We are blessed with the best "biz-rec" right here in the Inland Northwest."
 
Tyler Lafferty, principal of the digital marketing firm Seven2, answers the "Why Spokane?" question this way: "Talented people, cost of living and the quality of life. The quick access to trails, lakes and mountains is unbeatable."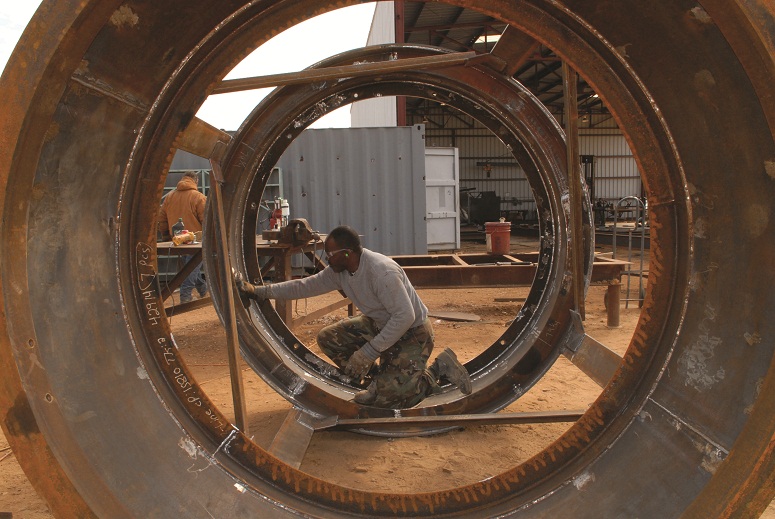 Stone County, Mississippi
Great location, growing population, improved public schools, excellent industrial sites, utility availability, and ample workforce development capacity make Stone County, Mississippi, an excellent place for progress.
 
Stone County is 30 minutes north of the Gulf Coast, 30 minutes south of Hattiesburg, and only 90 minutes from the metropolitan areas of New Orleans and Mobile, Alabama. For industries looking to start-up, expand or relocate, Stone County is—as its tagline says—"In the Middle of It All!"
 
Located on U.S. Highway 49, the county is less than 30 minutes from both north-south and east-west Interstate Highways. Also, the upgraded Kansas City Southern Railway bisects the county.
 
Population has grown more than 60 percent since 1990. County leaders planned for prosperity, completing $40 million in utility and infrastructure improvements over the past seven years.
 
The "Accelerate to 2060" strategic plan provides a wealth of information. Among the county's targeted industries are advanced manufacturing, warehousing and distribution, and alternative energy production.
 
Among county assets is the McHenry East Site—a turnkey industrial facility with below-market lease rates ready today. The site is flexible, with room to expand for almost any industrial purpose.
 
This is a county of prosperity; families enjoy a tremendous quality of life and industry has a future without limits. For all the right reasons, Stone County really is "In the Middle of It All!"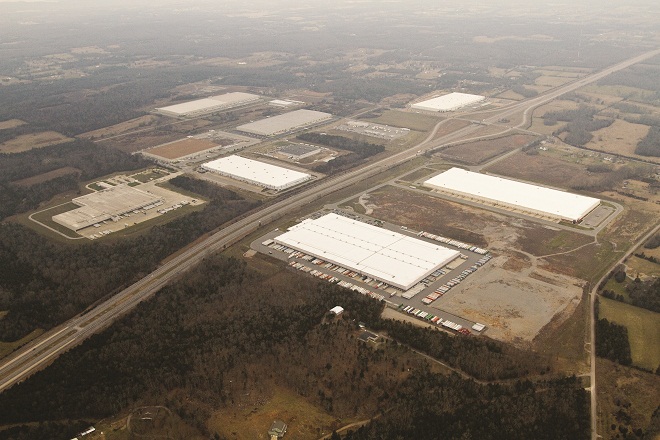 Wilson County, Tennessee
Super Sites in Super Regions is perhaps the overriding location factor in today's supply chain and logistic industry. And with the majority of growth projected to remain within these multi cities, counties or mega regions, communities must determine how to partner with the logistic industry to service these economies.
 
Today's logistic industries must address the issues of Internet sales, delivery demands and the increasing carrying, inventory and transportation costs. Communities that assist in stabilizing or reducing these costs provide a clear and definite economic advantage.
 
Wilson County, Tennessee, and its development partners are accomplishing this through the development of competitive sites. The Nashville East Logistic Center (NELC), located east of Nashville, Tennessee, on Interstate-designed State Route 840, is home to major distribution centers of Nissan, ViJon and Aldi. Certified as "Deal Ready" under the Middle Tennessee Industrial Development Association, the park has been certified to meet the unique demands of the logistic industry. In fact, the NELC will offer additional advantages with the 2012 completion of the 70-mile southern corridor connecting I-40, I-24 and I-65.
Wilson County, Tennessee's development policies are based upon being fair, consistent and competitive. The goal of the policy is to develop long-term partnerships between clients, developers, community and governments. It is a formula and philosophy that distinguishes super sites and super regions from others.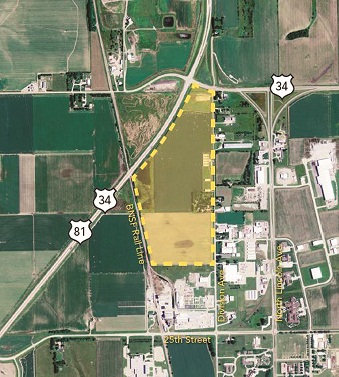 York, Nebraska
The City of York, Nebraska boasts the Witte-State site, located in the Northwest section of the city on 105 acres. It is bounded by U.S. Highway 81 (four lanes) and U.S. Highway 34 (two lanes) with an active Burlington Northern Santa Fe rail line on its West side.
 
A preliminary due diligence assessment has been completed on the property, which has a 10" water main, 12" sanitary sewer main, 2" gas main and 12 kV three-phase electric along the eastern edge of the property.
The entire property is outside of floodplain. Soil conditions for the site area are suitable for foundations and building pad sites.
The Witte-State site is located approximately five miles north of Interstate 80, and offers numerous logistical advantages. It is priced from $8,500-$12,000 per acre.
About the Author