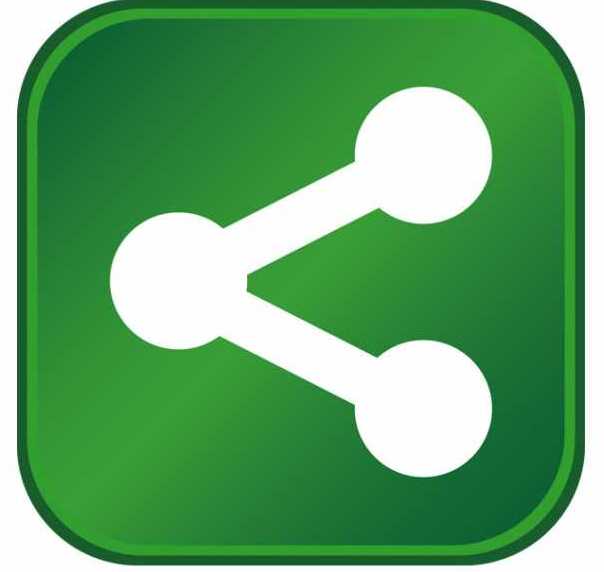 Complexity defines today's world and the corporate real estate (CRE) industry.
 It takes a special skill set to navigate this highly interconnected, interdependent landscape; one that changes constantly and creates uncertainties starting with a very uneven global economic outlook.
 Companies need reliable information to support their strategic decisions. More than ever, they need leaders. CRE is well positioned to play that enterprise leadership role, or to at least contribute substantially to it.
 A multi-disciplined skill set, whether inside your own company or a client's, is one of today's most pressing needs. It's time for CRE upskilling.
New Study Sheds Light on Skill Sets
 CoreNet Global joined recently with CBRE to study the industry's so-called "upskilling" phenomenon. We found some amazing things are happening in two areas known as soft and technical skills.
 Soft skills not commonly tied to CRE management are fast becoming critical to career and company success. It's been evolving quietly over time, but now soft skills are exploding onto the CRE management landscape so that factors like relationship management, strategic thinking, cross-functional collaboration, change management and the ability to influence decisions are tantamount to gaining the fabled "seat at the C-Suite table."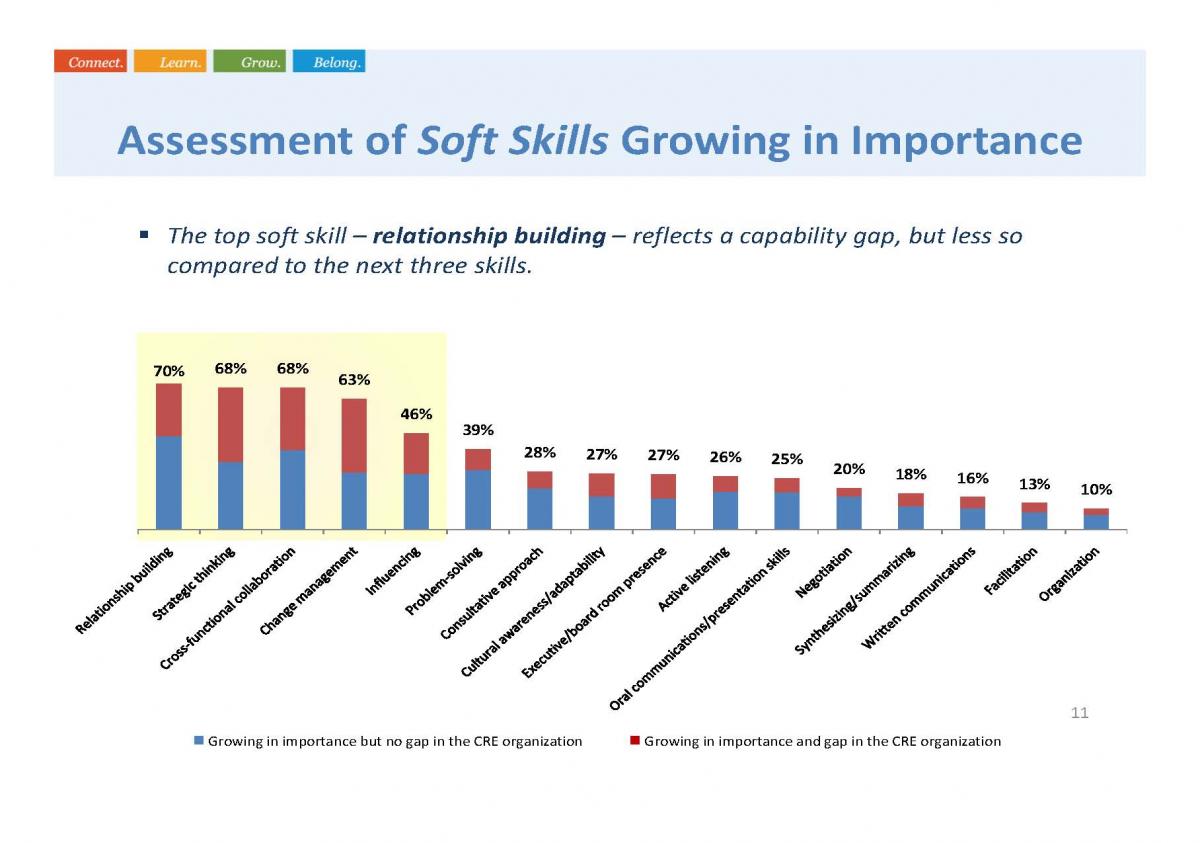 Technical skills remain vital and must combine effectively with soft skills. Today's top-five technical skills are strategic planning, alternative work, sustainability, project management, and – not surprisingly – finance, according to the CoreNet Global – CBRE Upskilling study.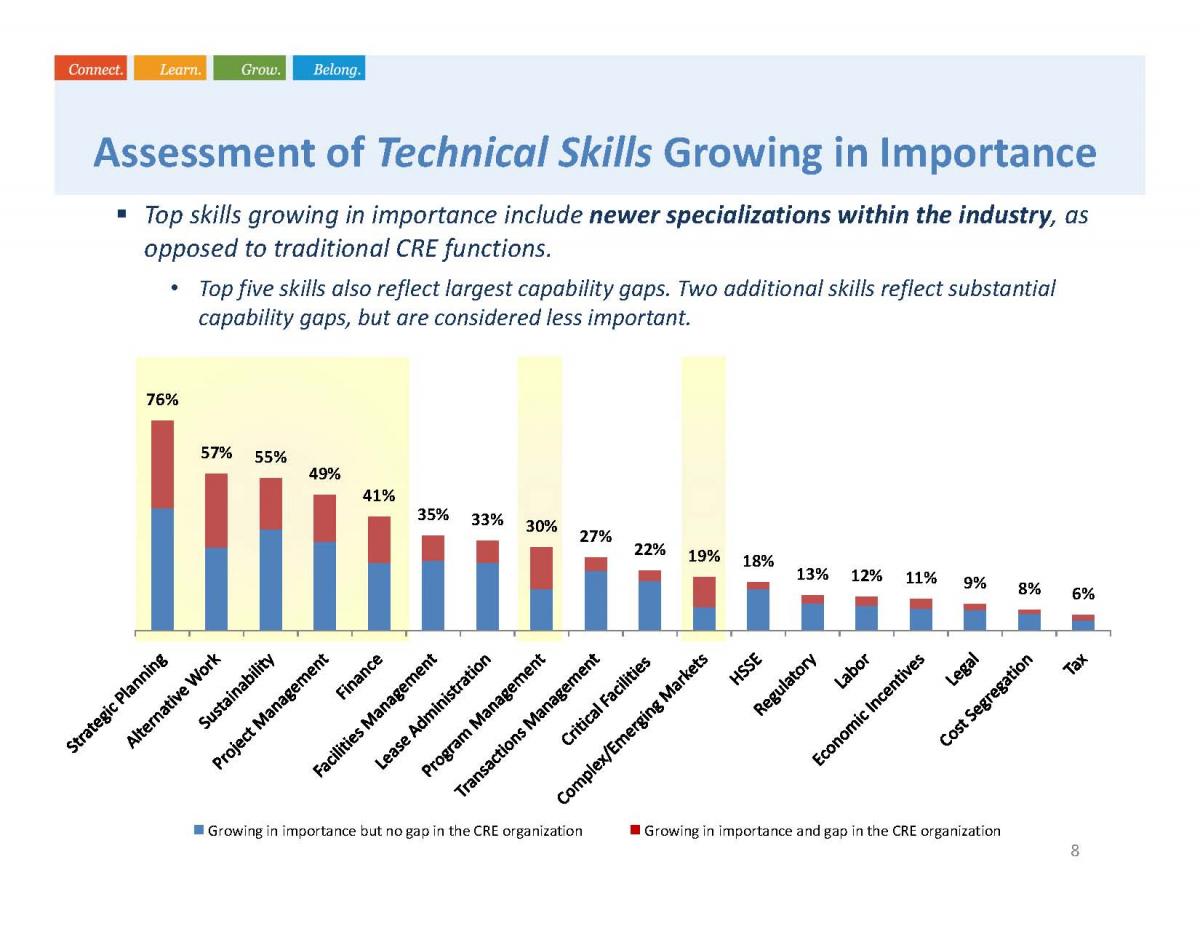 The study also shows soft skills are mostly developed in-house by corporations themselves, but the same companies are increasingly relying on service providers to deliver on technical skills. In the globally outsourced-driven industry that CRE has become, this implies big opportunities for service providers able to deliver both soft and technical skills to their corporate clients.
 The fact is, companies need these blended skill sets more than ever, whether they are embedded inside the global enterprise or outsourced.
 One outcome is that we in CRE are now the practitioners of a difficult balancing act that never ends between effectiveness and efficiency, because corporate real estate executives most often work for companies that demand cost-efficiency yet need to continue growing.
Creating, Not Just Protecting, Value
In today's hyper-demanding, high-velocity world, CRE professionals and their companies continue to turn to CoreNet Global as a neutral hub of thought leadership to provide the framework for the research, education and networking needed to create value, not just protect it, in a complex environment.
 That also means we bring together all of the key parts, pieces and, most important, people who make the key decisions that drive real estate, facilities, workplace, sustainable practices, location strategies, technology-enabled mobility, and so much more.
 We're also a leading advocate of the corporate infrastructure. CoreNet Global actively promotes partnering and collaborating with other key support functions of the business—not only real estate and workplace, but HR, IT, legal, procurement, logistics, and other shared services.
 It's all part of our focus on adding shareholder value, and we've been effective enough doing this sort of high-level integration that CRE is rapidly becoming an extension of the business itself, integral to enterprise competitiveness, speed to market, innovation, talent, productivity, risk reduction and other corporate-business drivers.
 That's why, in 2012 and beyond, we will expand our vision, mission and scope to include adding value for corporations.
 We've always done that for individuals, but considering who pays the bills and where we all take these skill sets back to, becoming an indispensible resource to you and your company or client makes more sense than ever in today's more complex business world.
 Look at what our members are doing every day, not only to advance their careers, but to add strategic value to their companies and clients. They are:
At the forefront of major mergers and acquisitions 
Providing key resources to open new markets, or expand in established ones.

Bringing extensive, diverse data to the table, because without reliable portfolio information, how can the business adjust to the new global lease accounting standards we're facing?

Improving the way companies report the Triple Bottom Line. The C-Suite now turns to CRE to effectively measure things like energy savings vs. demand for new office or industrial space vs. product delivery and ultimately the profit margin and shareholder ROI.

Involved in expressing the company's brand and reputation!
CRE answered the call to action with immediate bottom-line impact during the now-storied recession of 2009. Simply put, it was CRE that handed the C-Suite what has now become known as the 'blended portfolio model.'
 Portfolio optimization used to be focused mainly on lease administration, but now it's tied to critical business performance and efficiency factors like cost and space reduction. Now it's more textured.
 It's also tied to productivity, through alternative workplace strategies delivering more flexibility, a better working experience for employees, higher degrees of mobility, and, of course, greater levels of productivity – all with less cap-ex and space occupied.
Corporate Real Estate 2020
What's next, especially now we're hearing that 2012 may be a bit more like 2009 than 2010 or 2011? Our current Corporate Real Estate 2020 transformational research program is an example. Hundreds of our members are engaged in a global conversation about what business will be like in the year 2020.
 We are forecasting across eight key areas of practice, or domains of CRE that pretty much define our industry and profession today and tomorrow:
The changing nature of work and workplace

Sustainability and corporate social responsibility

Portfolio optimization

Partnering with key support functions

Location strategies and the role of place

Technology's huge impact on work

Service delivery models because outsourcing remains a critical driving force within CRE, as does globalization

Enterprise leadership – the watershed where all of these other forces converge. 
The point is, we all need to become a part of the business we serve, not just a cost center or support function; not just an order taker, but a trusted advisor.
 We are levers for the enterprise, and we can become business drivers if we learn how to effectively position and communicate the value of CRE, especially at a time of prolonged uncertainty and growing complexity.
About the Author