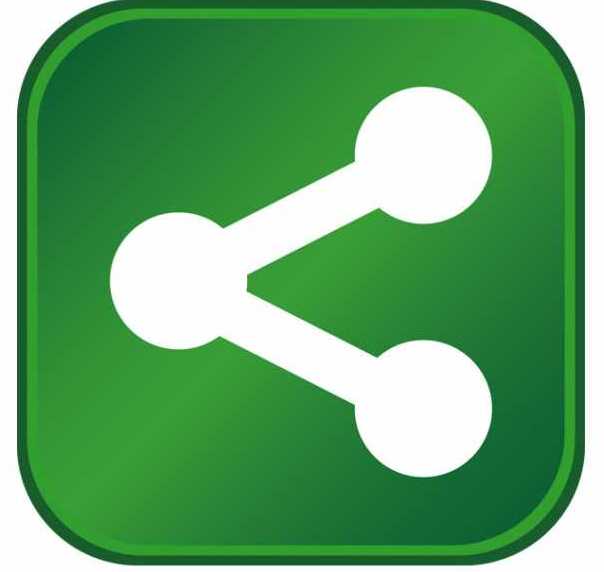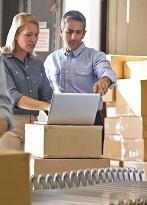 By its very nature, the business of supply chains is full of moving parts. To move materials in and goods out, companies in the supply chain rely on robust infrastructure, a strategic location and proximity to their key markets and customers, as well as highly targeted supply chain programs. And in areas throughout the country, supply chain companies are driving growth that has a ripple effect through the regions' economies.
Strategic Location is a Key Consideration
Strategic location is the good fortune of Jacksonville, Florida. It is becoming known as the place to be located for companies serving the Southeast market. Not only is it the center of the Southeast region demographically, Jacksonville also offers easy access to the lucrative South Florida market.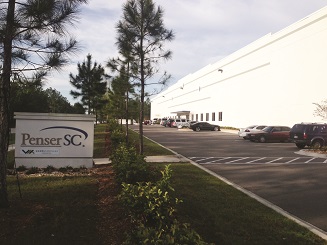 PenserSC, a large warehouse and logistics company with locations in Jacksonville, Orlando and Miami that offers integrated supply chain programs, can attest to the advantages of its Jacksonville location.
Shawn Barnett, CEO at PenserSC, said, "Florida is a difficult state to service because of the peninsula, which creates significant expense for customers. Because of its location, Jacksonville has become a main stocking location for customers shipping into the state. For example, if a product ships into Atlanta for distribution in the Miami area, it first has to go to Atlanta and then back south to Florida. This extra mileage is very expensive."
The U.S. is a large country, so clearly Jacksonville is not the only place to be strategically located for supply chain businesses. Another notable region with a highly strategic location is Cecil County, Maryland. By being situated midway between the metropolitan areas of Baltimore and Philadelphia on I-95 in northeastern Maryland, it has become one of the region's most sought-after business locations. This formerly agricultural county has large, undeveloped greenfields along the I-95 corridor, a rarity in the land-squeezed East Coast.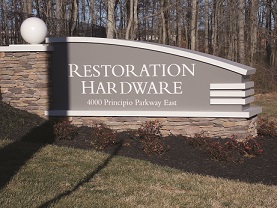 Restoration Hardware is a recent addition to the area that took advantage of ample space. In 2012, it opened up a 1.2 million-square-foot distribution warehouse in Cecil County's Principio Industrial Park. This facility serves as the company's East Coast furniture distribution center and added 150 jobs to the area.
 Burris Logistics in Elkton, Maryland, which is part of Cecil County, is another company that finds the area advantageous. It opened up a 225,000-square-foot facility there in 2004.
 "We primarily service BJ's Wholesale Clubs by shipping perishable goods up and down the East Coast," said Tim Peifly, Burris Logistics general manager. "We're just a few miles from I-95, which is a very big plus. Plus, any time you open a large warehouse, workforce is a huge issue. We're able to draw our workforce from Maryland, Delaware and Pennsylvania. This is a good area for our type of workforce."
 Availability of a strong workforce resonates in other parts of the country, too.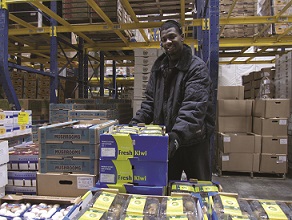 Maumelle, Arkansas, is a rapidly growing community that is part of the Little Rock metropolitan area. BEI Precision Systems and Space Company relocated to Maumelle from Little Rock about 20 years ago. The company designs and produces highly accurate optical encoders and encoder-based motion-control systems for space, military and commercial applications.
"Maumelle is an excellent place to attract a large local workforce," said Wilf Schultheis, material manager at BEI. "Our workforce has grown from about 130 to over 300 in about a 12-year period."
 Solid Transportation Infrastructure is a Must
Closely tied into a strategic location, a robust transportation infrastructure is another important ingredient to a successful supply chain.
 That's another benefit of Jacksonville, Florida's central location: it is bolstered by multi-modal transportation.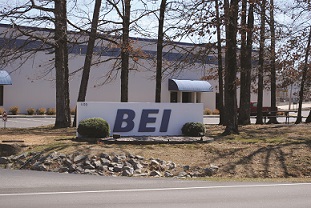 "In Jacksonville, there is a confluence of a full menu of infrastructure, including a large deepwater port with four major terminals. There are three railroads that come together and, in fact, CSX is headquartered here. Plus, we have three interstates including I-95 that runs from Canada to Miami and I-10 that starts here and runs to Los Angeles. Within an eight-hour truck drive, you can reach the entire southeast market and with overnight delivery, you can be anywhere east of the Mississippi River," said Mike Breen, senior director of the international department at JAXUSA Partnership for Regional Economic Development.
 Thanks to its ample transportation avenues, Jacksonville has a number of distribution centers that provide automotive parts for car dealers, including Mercedes, BMW, Volkswagen, Volvo and Toyota.
 "We have a significant number of parts distribution facilities here," said JAXUSA's Mike Breen. "If you're in the Southeast and need a part replaced in your car, it will most likely come from Jacksonville."
 "From a transportation infrastructure perspective, it's best to be able to take advantage of all modes of transportation," said Shawn Barnett at Jacksonville's PenserSC.
Cecil County, Maryland, also benefits from the nearby Port of Baltimore, coupled with its proximity to I-95. Lisa Webb, Cecil County's director of economic development, said the area is poised to benefit from the Panama Canal expansion. This project is expected to be completed at the end of 2015 and will bring in supersize cargo ships from Asia to the East Coast deepwater ports, including the Port of Baltimore.
"Companies involved in manufacturing and distribution will likely want closer proximity to the port – and better access to the Asian market. Here, we offer proximity, plus large amounts of undeveloped space," said Webb.
Landlocked central Missouri is another location that benefits from a strategic location and highly developed transportation infrastructure. The Moberly Area Economic Development Corporation (MAEDC) is a four-county region near the due center of the U.S. population.
"We're in the middle of the country, so if a manufacturer has customers in Mexico City, New York, Montreal and Los Angles, they can easily move product there, by truck, rail or barge," said David Gaines, vice president at MAEDC. "Our region is located within 500 miles of 45 percent of the U.S. population and within 49 percent of all U.S. manufacturing, offering our businesses superb accessibility."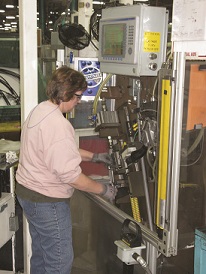 Dura Automotive's Moberly location gives the company a supply chain advantage. Dura manufactures parking brakes and pedal systems for all the major auto and light-truck manufacturers in Moberly. With the automotive industry's emphasis on just-in-time (JIT) manufacturing and shipping, this centralized location lets Dura get its products to the right destinations easily.
Bo Moix, retail support manager at Ace Hardware's distribution center in Maumelle, Arkansas, agrees with the benefits of a sound transportation infrastructure.
"Ace Hardware located our distribution center in Maumelle in 1984. The I-30 and I-40 corridors merging nearby was a key factor, allowing us to effectively serve Ace retailers in several adjoining states. We made the right decision, because the number of team members has grown from 35 employees in 1984 to well over 220 today," said Moix.
Proximity to Manufacturers Leads to Clustering
The interdependence of supply chain companies frequently leads to industry clusters in various regions. Most automotive manufacturers, for example, require their Tier 1 and Tier 2 suppliers to be located within a specific geographic distance, which leads to a thriving web of support companies.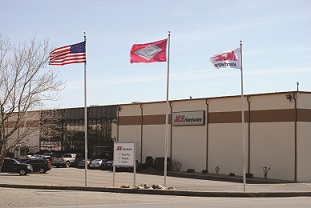 A prime example of this is Honda Tier 1 supplier Newman Technologies. It opened a 415,000-square-foot manufacturing facility in 1987 in Mansfield, Ohio, a town of approximately 125,000 people in north-central Ohio, about 65 miles from both Cleveland and Columbus. Newman Technologies supplies the Honda plant in Marysville, Ohio, located about an hour away, with automotive door frames, automotive exhaust system components, automotive exterior trim and motorcycle components. Its investment in Mansfield didn't stop there. In 2008, the company opened a 39,000-square-foot research and development facility to test new-model automotive and recreational vehicle parts and assemblies.
 Clusters also lead to the growth of smaller companies further down the supply chain.
 "There are a number of subcontractors to the companies in our automotive sector, such as machine fabricators and machine shops. They are tied to companies like Newman and Emerson-Therm-o-Disc, a producer of sensors and switches for the auto and appliance industries," said Tim Bowersock, economic development director at the city of Mansfield.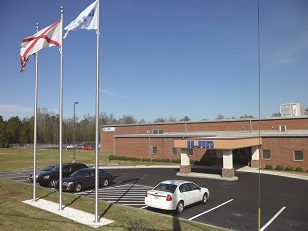 Another region with a burgeoning automotive supply chain sector is Phenix City, Alabama. Located in eastern Alabama, across the river from Columbus, Georgia, Phenix City is 40 miles from the Kia Automotive Plant in West Point, Georgia, and 90 miles from the Hyundai Automotive Plant in Montgomery, Alabama.
"We've seen a lot of growth in the automotive supply chain here. It's an important sector for us, especially since we're in a central location to both Kia and Hyundai," said Shaun Culligan, economic development specialist in Phenix City.
In 2011, Korean-based automotive supplier Iljin opened a plant in Phenix City to supply wheel bearings to nearby automotive manufacturers.
"We have plants located all over the world, including India, China, Europe and the United States," said Iljin Alabama President Dong IL Lee. "We located our plant in Phenix City at the request of Kia and Hyundai. And in early 2013, we added Chrysler to our customer base. We're committed to producing quality wheel bearings throughout the world," he added.
Supply Chain Programs Give Companies a Competitive Edge
To stay competitive, companies in the supply chain are making the most of sophisticated supply chain programs.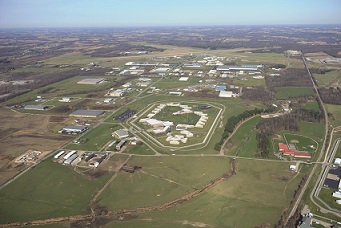 In the MAEDC region in Missouri, Lakeside Casting Solutions is a zinc die casting company that specialized four-slide technology to create smaller, tightly honed parts that can't be achieved using traditional two-dimensional technology. The company supplies parts to the gas and oil industry, along with telecommunications companies.
"We're involved with lean manufacturing, just-in-time and Kanban. All of these manufacturing programs are customer specific and help eliminate waste and avoid excess overhead, so we can use less materials to eliminate costs. We're also utilizing Six Sigma throughout our company, in both the business and manufacturing sides to measure our processes," said Chuck Mudd, Lakeside Casting Solutions' president and founder.
In Maumelle, Arkansas, Ace Hardware's distribution center has reaped the benefits from its supply chain programs.
According to Ace Hardware's Bo Moix, the entire company integrated SAP supply chain software two years ago to maximize its commitment to lean logistics.  
"SAP gives us visibility in all the steps of the supply chain, from point-of-sale products and retailers to the buying department and corporate office. By having this visibility, we're able to see where the supply chain bogs down. We have several just-in-time vendors, which are able to look in our inventory to see our stock levels. We've challenged them to ensure we don't run out of product, but not saddled with too much inventory," said Moix.
Since incorporating SAP, Ace Hardware's Maumelle facility has been able to shave two days off of its lead time when distributing parts to retailers in the region.
"This is a very big deal. Every single day's reduction of lead time saves Ace $5 million, because of stock that we don't have to maintain and expenses that go along with that," added Moix. "And in 2013, we're in the process of trimming down another day on our lead time. In the first two-and-a-half months of 2013, our inventory levels are down 17 percent – reducing our inventory costs by $100 million – but our service level is four points higher, meaning we have less inventory but provide better service to our retailers."
PenserSC in Jacksonville, Florida, also employs a number of supply chain solutions. One such program is a food-consolidation program, designed for mid-size food manufacturers that aren't large enough to have their own facility.
"We provide an opportunity for these companies to put their products in our facility and utilize our distribution network, so they can ship to places like Winn-Dixie, Target and Publix. We'll put their products very close to their consumers, significantly reducing order cycle time," said Shawn Barnett at PenserSC. "Many end customers are ordering in smaller quantities to reduce cash flow and shorten the supply chain. In our world, improving cash flow, improving cycle time and reducing on-hand inventories is what our end consumers are looking for."
Supply chain companies have survived the recent economic downturn by being more strategic, which includes choosing their location based on superior infrastructure and proximity to others in the supply chain.
Mansfield, Ohio, economic development director Tim Bowersock echoed a common refrain from economic developers around the country.
"The supply chain here is doing well here," he said.
About the Author