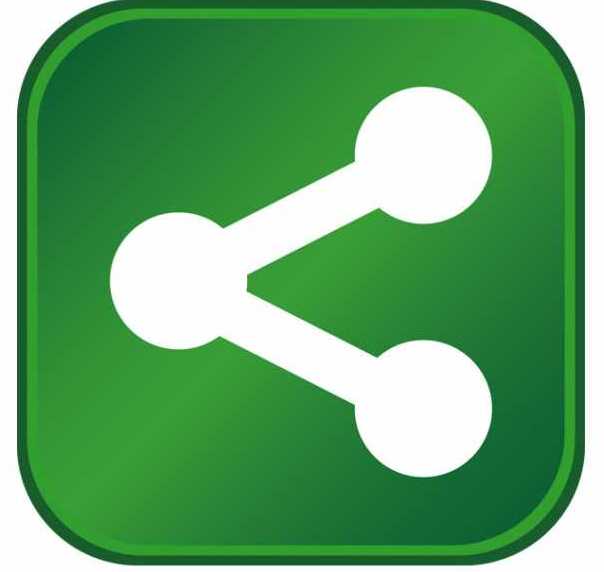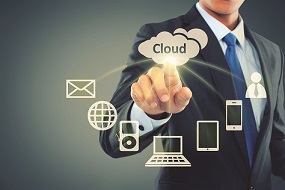 Information Technology (IT) continues to be one of the most transformative industries in the U.S. The expansion of mobile Internet and cloud computing is accelerating, causing realignment of corporate strategies and site selection decisions. Now, IT operations for many industries are being de-coupled from corporate headquarters and moved to innovative regions rich with skilled tech talent. Both foreign and domestic companies are establishing IT centers in these innovation hubs.
In this article, we explore recent trends in IT — new technologies that drive location decisions, which U.S. regions have growing IT sectors and why, and how IT is transforming the corporate practices of traditional industries. Then, we describe a typical site selection process to help IT companies or divisions identify and select the best location for their operations.
Technology Drivers in IT
Cloud Computing.  Falling data storage costs and expanding bandwidth have enticed countless industries and local governments to shift to cloud computing, or off-site storage of data, usually by a third-party vendor.  Server-based applications (think Google Docs or Office 365) have improved to the point that computers can now act as dumb terminals, reducing the maintenance costs of computer "fleets."
The move toward cloud computing is helping fuel continued investments in new data centers throughout the U.S.  During the past year, for example, Microsoft announced two new data centers in Iowa. Microsoft's facilities, which involved approximately $2 billion in capital investment, will help power the company's Office 365 and Xbox operations. Apple, which built a $1 billion iCloud data center in North Carolina in 2012, is already making plans for another facility in Nevada. During the next decade, the company is expected to invest $1 billion in Reno to construct an additional iCloud data center and related support facilities.
Today, more than 15,000 data centers and data processing facilities exist in the U.S., employing 265,000 workers. Las Vegas, Nashville and San Francisco have captured the most new data facilities in the past two years (about 50 each), while San Jose and Houston have captured the most new jobs (2,000 and 1,100 respectively).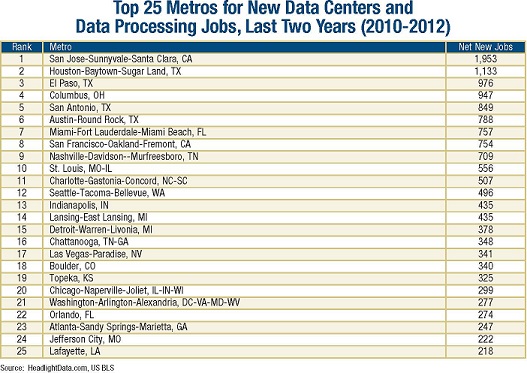 Mobile Internet. Since the launch of Apple's App Store in 2008, mobile applications have become an industry unto themselves. In 2014, Gartner estimates that global revenue from mobile app stores will reach $25 billion. To put this figure in perspective, international film industry revenue in 2013 was $25 billion.
The popularity of mobile applications has helped fuel rapid employment growth. Researchers at the Progressive Policy Institute estimate there are currently 750,000 jobs directly and indirectly supported by the mobile application industry in the U.S. It has been a spectacular rise for an industry that is barely five years old. Although high-profile app companies such as Snapchat receive the lion's share of media attention, the growth of apps by non-tech firms is arguably more important in fueling investment in facilities and workers. From banks to fast-food outlets, a variety of companies now see mobile applications as a must-have extension of their services. This trend has helped sustain app employment outside of traditional hotpots such as San Francisco and Austin and underscores the widespread ubiquity of technology across all industries.
Embedded Software in Traditional Products.  Information technology is increasingly embedded in consumer products of all kinds (from refrigerators to cars), blurring the distinction between tech firms and non-tech firms. As Ford Motor Company recently acknowledged, cars are "sophisticated computers-on-wheels."
To meet consumer demand for more technology in traditional products, many companies have chosen to partner with outside IT firms.  Ford installed Microsoft-designed in-dash consoles into many of its cars, but results were less than impressive. Consumer Reports specifically cited the technology as their reason for not recommending several Ford models. To reduce the risks in relying on partner software, many firms are now choosing to expand internal IT research and development expertise.
General Motors, for example, is embarking on a major initiative to bolster its information technology capability. The company plans to bring 90 percent of IT services directly under the company, from 10 percent today. The company is opening several innovation centers throughout the U.S. to achieve its goal, including Atlanta, Austin and Phoenix.
This elevation of corporate IT centers extends to other large industries.  Last year, Boeing selected North Charleston, South Carolina, as the site for a new IT center. The company will expand and consolidate much of the company's IT staff to meet increased demand. The move will create at least 600 jobs over the next several years. Financial institutions such as Fidelity National Financial and Deutsche Bank have turned Jacksonville, Florida, into an emerging location for IT and data center activity, as companies place greater emphasis on ROI and service quality.
The move toward concentrating IT talent has in turn spurred cities to establish innovation hubs in partnership with area universities. The University of Florida's Innovation Square, for example, recently helped attract 260 jobs from Boston to Gainesville for mobile app firm Mobiquity, a year after attracting 400 jobs from Bangalore-based IT firm MindTree.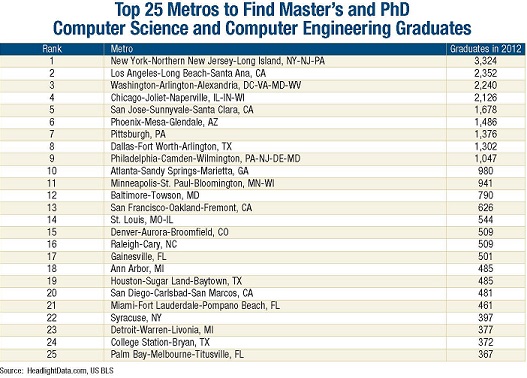 Site Selections Factors for IT
Site selection in the information technology industry is driven by sector-specific requirements. Data centers seek out low-cost locations, while IT centers look for the best available workforce available.
Data Centers.  The site selection process for data centers largely focuses on minimizing the two primary costs associated with facility operations — taxes and energy costs.
Data centers involve extraordinary levels of capital investment, making tax reduction paramount. The State of Iowa provided Microsoft with more than $20 million in tax credits and $87 million in tax-increment-financing of local infrastructure improvements to the site. Additionally, Iowa provides tax-exempt status on the purchase of computers and electricity related to data centers. While Microsoft did not receive property tax abatements, such incentives are commonly employed to secure data center projects.
Companies investing in data centers also must minimize energy costs. Operating and cooling data centers requires an enormous amount of energy. States with competitive energy prices such as Washington and North Carolina help companies reduce what is often their most expensive operational cost. The presence of solar, wind or hydroelectric power can also improve the attractiveness of a site by increasing its public relations value. 
The desire for clean energy alternatives has led some tech firms to construct their own power generation facilities. In 2012, Apple made an unprecedented $200 million investment in a solar farm in Maiden, North Carolina, to supply clean energy to its adjacent data center.
IT Centers.  IT companies and non-traditional players investing in IT operations have similar site selection criteria. Talent availability is the primary site selection factor for IT centers, usually found in both an existing workforce and the presence of a university producing high-quality computer science graduates. Finding an existing workforce can be difficult: the top 20 metros with the greatest number of software developers, for example, are home to nearly 60 percent of such workers. And these workers are already employed and in high-demand.  Locating next to a large research university can provide a continuous supply of talent with education in the latest programming languages. The production of college IT talent is far more dispersed than software employment; the top 20 metros account for just 22 percent of IT graduates.
The cost of acquiring talent is also a concern, and companies often find that a metro's cost of living greatly influences the prevailing wage rates and the ability to recruit skilled talent from higher-cost locations in the north and west coast.
Finally, finding talent with the latest technology skills often drives companies to locate in areas with large numbers of venture capital-backed startups. While San Jose and San Francisco combined to capture slightly more than 50 percent of all software venture capital in 2013, emerging markets such as Washington D.C., Atlanta, Dallas, Salt Lake City and Seattle grew their venture capital investments by more than 50 percent (source: analysis of data from VentureDeal).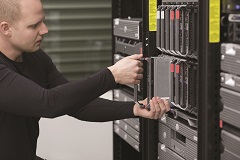 Site Selection Process
The following steps are typical during the site selection process for information technology operations:
1. Define Success and Outline Incentives Strategy. Establishing project objectives is the first step in the site selection process. A company's management and financial teams typically collaborate with site selection consultants to establish the parameters and timeframe of the selection process. Identifying these needs early in the process helps all parties define a successful outcome.
It is also important to help educate the client on possible incentives available to the project. Both IT startups and more established firms are often unfamiliar with existing financial incentives at the local and state level. Site selection consultants can provide vital information on the variety of incentives and the typical process for securing assistance. In turn, a company can provide site selectors will a better understanding of what forms of incentives are most relevant to the firm's operations. While property tax abatements may be more impactful to an R&D center, statutory sales tax exemptions (which are not available in all state) may prove more meaningful to equipment-heavy operations like data centers.
2. Issue a Request for Proposals. Site selection consultants will identify a short list of attractive locations based on the needs of the company and an initial scan of data. For an IT company, the list of possible locations will typically range from as many as 15 to as few as five. Consultants will then issue request for proposals to communities asking them to provide crucial information on factors such as workforce availability, available incentives and costs (including utilities, taxes and real estate). Given the need for strict confidentially during the site selection process, the RFP will be issued by the consultant and will be unlikely to include any identifying information on the company.
3. Evaluate Proposals & Visit Sites. All completed proposals should be evaluated according to the criteria established during the initial phase of the site selection process. Given the complexity and idiosyncratic nature of many local and state incentive policies, it is important to communicate with communities on the true value and availability of any financial incentive. The most compelling proposals should be selected for site visits. Typically no more than five communities are placed on this short list. Consultants should then visit prospective communities to meet with local representatives, evaluate the community (often with interviews with like-firms) and examine the potential company site.
4. Benchmark and Rank Communities. Once all quantitative and qualitative information on each short-listed community has been collected, regions can be benchmarked against one another on operating cost and tax factors. Outside tax specialists can be crucial in providing a detailed evaluation on the value of specific incentives packages.
5. Negotiate with Leading Communities. Formal incentive packages should be finalized with each prospective community once all cost and other considerations have been thoroughly examined. Final real estate negotiations also typically occur during this period. 
6. Select Winning Community and Site. The company's CEO and management team select the final site after finalizing all negotiations and contracts on local incentives and real estate. Announcing a winning community prior to closing all contracts will hinder the ability to secure these contracts. Finally, a public announcement should be highly coordinated with all parties to maximize awareness of the company's investment in the community.
About the Author