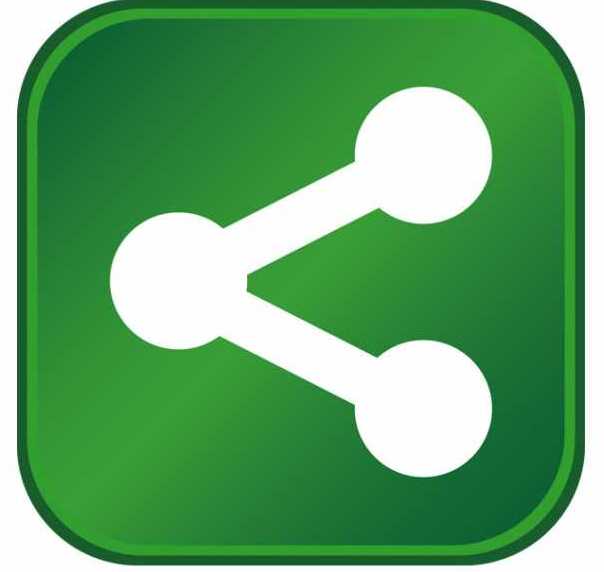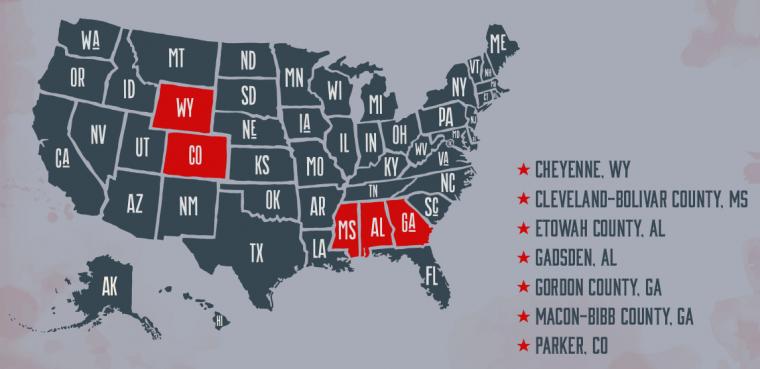 Every company has different needs and priorities when it comes to finding the perfect location. Whether access to utilities and infrastructure is a priority, or proximity to a well-trained and abundant workforce, or being at a key transportation hub, or locating in a "cluster" of like industries, companies all seek to find what will help their businesses thrive and grow. Here's an exclusive glimpse into U.S. sites that may just be a perfect fit your business's location.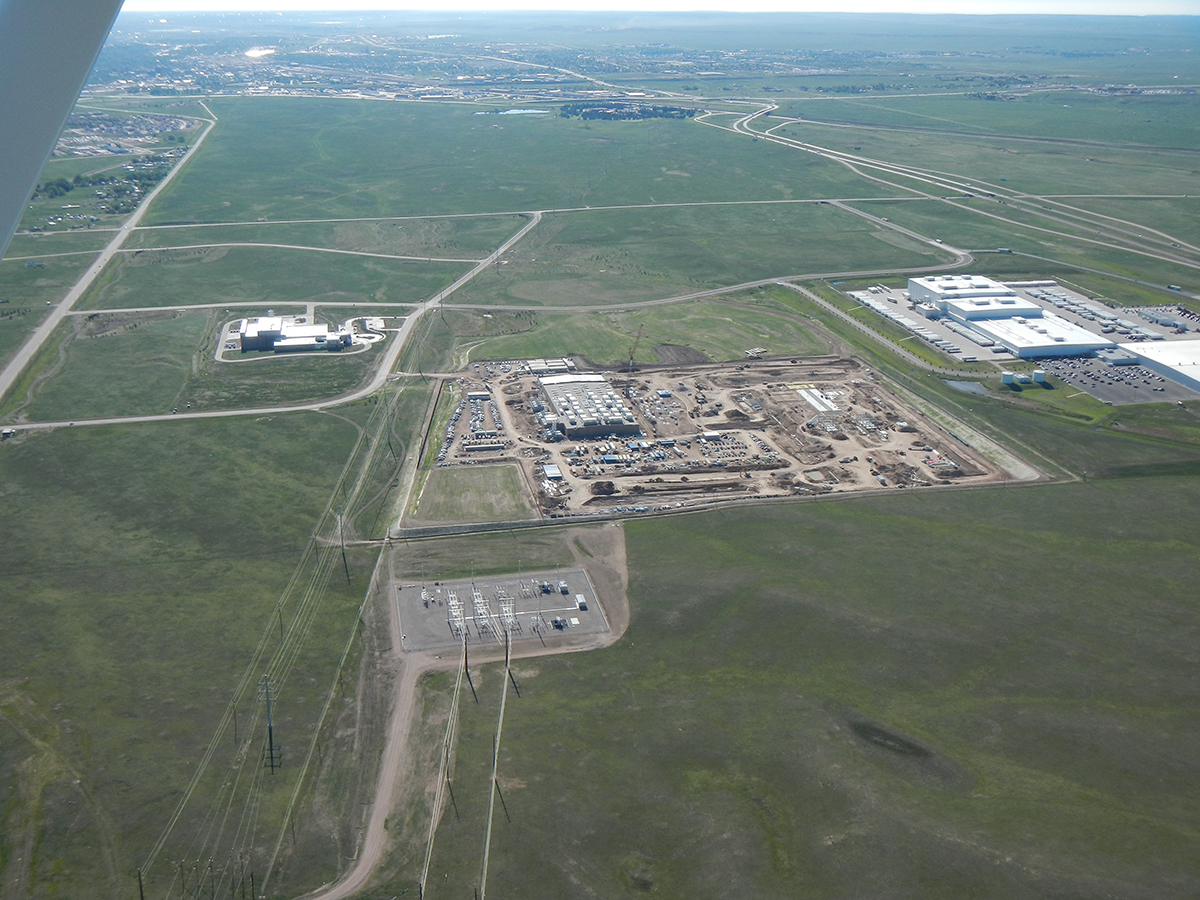 Cheyenne, Wyo.
As businesses expand and locate north from Denver, Wyoming's capital of Cheyenne, just 70 miles north, continues to look more attractive than ever. When considering Cheyenne, many people think of the area's Western heritage, but this community of nearly 100,000 has an abundance of power, connectivity, affordable shovel-ready land and a favorable tax model—all of which are leading businesses to look at this new frontier.
Cheyenne is at the crossroads of key transportation routes. The east-west highway (Interstate 80) connects San Francisco to New York City, and the north-south highway (Interstate 25) connects Cheyenne to Mexico via Denver, Santa Fe and Albuquerque. There are also two Class I railroads (BNSF and Union Pacific), and it's all just 90 minutes from Denver International Airport.
Innovative in encouraging growth, Cheyenne is an attractive Western U.S. location with everything a company needs. The state has workforce training grants of up to $4,000 matched per employee for new positions, along with a labor market population of more than 741,800 within an hour's drive. The city has five business parks, two of which are owned by the Economic Development organization Cheyenne LEADS, with 527 available build-ready acres in 41 parcels, ranging in size from 3 to 60 acres.
For businesses looking to expand, relocate, or build new, Cheyenne is worth a look.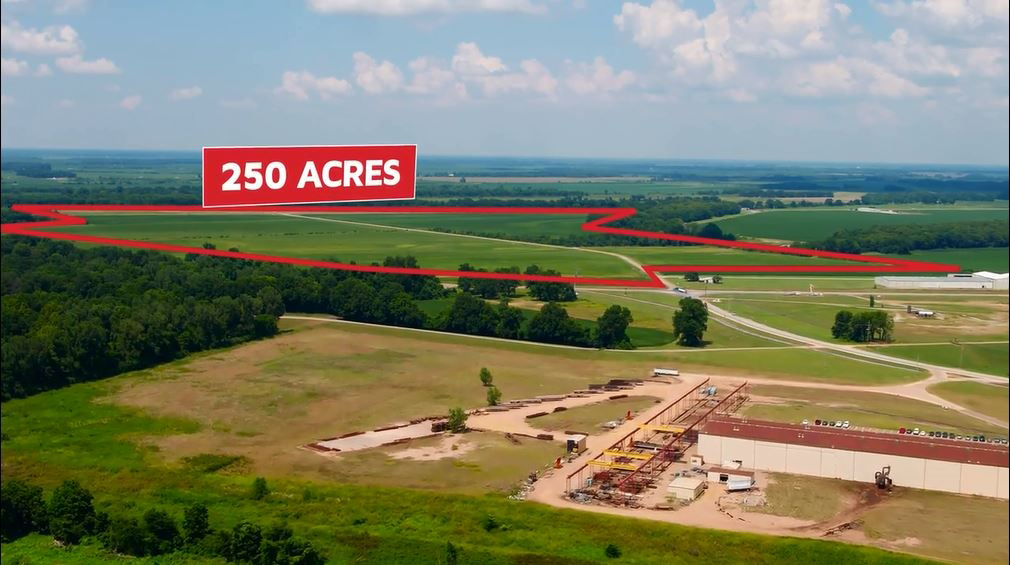 Cleveland-Bolivar County, Miss.
Centrally located in the heart of northwestern Mississippi, Bolivar County offers business and industry the option of transporting and receiving goods by highway, air, rail and major river port. Highways, including four-lane U.S. 61, 49W, MS 8 and MS 446, transverse the county, connecting the region to major markets in every direction. Additionally, the proposed Interstate 69 will directly bisect Bolivar County, providing new access to Canada, the Midwest and Southwest U.S., and on to Central America. With Interstate 55 and U.S. 82 also just 40 minutes from Cleveland, Miss., the county is within 500 miles or less of a number of major metropolitan areas, including, Atlanta, New Orleans, Dallas, Memphis, Nashville, St. Louis and Birmingham.
By air, Cleveland boasts the county's largest general aviation airport. And, for commercial flights, the Mid-Delta Regional Airport in Greenville, just minutes away, is served by Northwest Airlink, providing connections to major hubs across the country. Bolivar County is also within easy driving distance of both the Memphis and Jackson International airports.
The Rosedale-Bolivar County Port provides access to the nation's largest and busiest waterway, the Mississippi River. The port boasts a "T"-shaped dock with a 150-ton crane with 5-yard clam bucket, 20,000-square-foot terminal building and outside concrete storage pads with access to rail service. Harbor, fleeting and towing services to the Port are provided by a local firm. A 1,000-acre industrial park, offering waterfront sites, is strategically located at the port.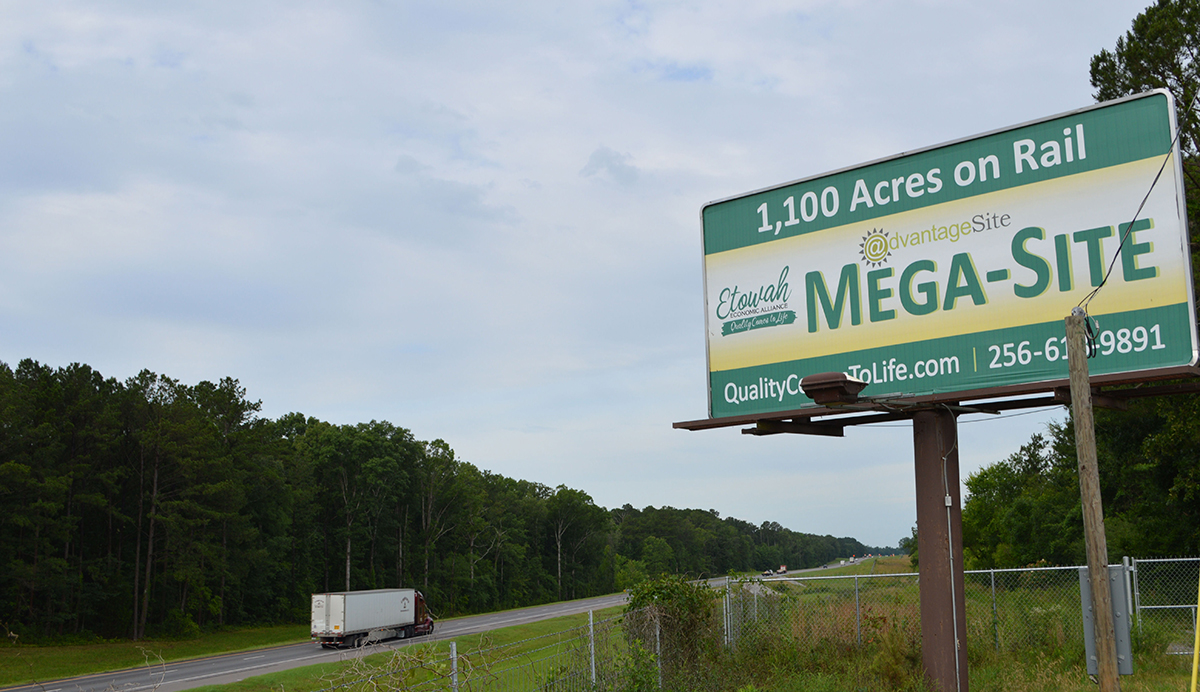 Etowah County, Ala.
Ideally situated with 1,100 acres and potential for future growth, Little Canoe Creek Mega-Site in Etowah County, Ala., is the largest tract of land in North Alabama currently designated as an AdvantageSite. All due diligence has been completed and the site is ready for development. This one-owner, county-owned property is located adjacent to Interstate 59 between Birmingham and Chattanooga, Tenn., and boasts Class 1 rail access through Norfolk Southern. International air service is just 45 minutes away in Birmingham.
The site is already tied into Alabama Power transmission lines. Multiple options are available for natural gas service, including a 12-inch transmission line with 500 psig. Commitments have been made to extend water and sewer service onto the site, along with fiber-optic cable for high-speed internet. The area's workforce of over a half-million people within a one-hour commute includes 60,000 people working in manufacturing (Alabama is a right-to-work state). Local, regional and state workforce development programs offer excellent training programs to support local industries.
In addition to the quality site, transportation, infrastructure and workforce, the quality of life in Etowah County is an additional factor that companies will appreciate when looking for a location for their businesses. The area offers natural beauty, along with outdoor recreation on the Coosa River and Neely Henry Lake. Historic downtown Gadsden is home to a growing arts and entertainment district. Additionally, residents enjoy a cost of living that is 85.6 percent of the national average. Visit www.QualityComesToLife.com.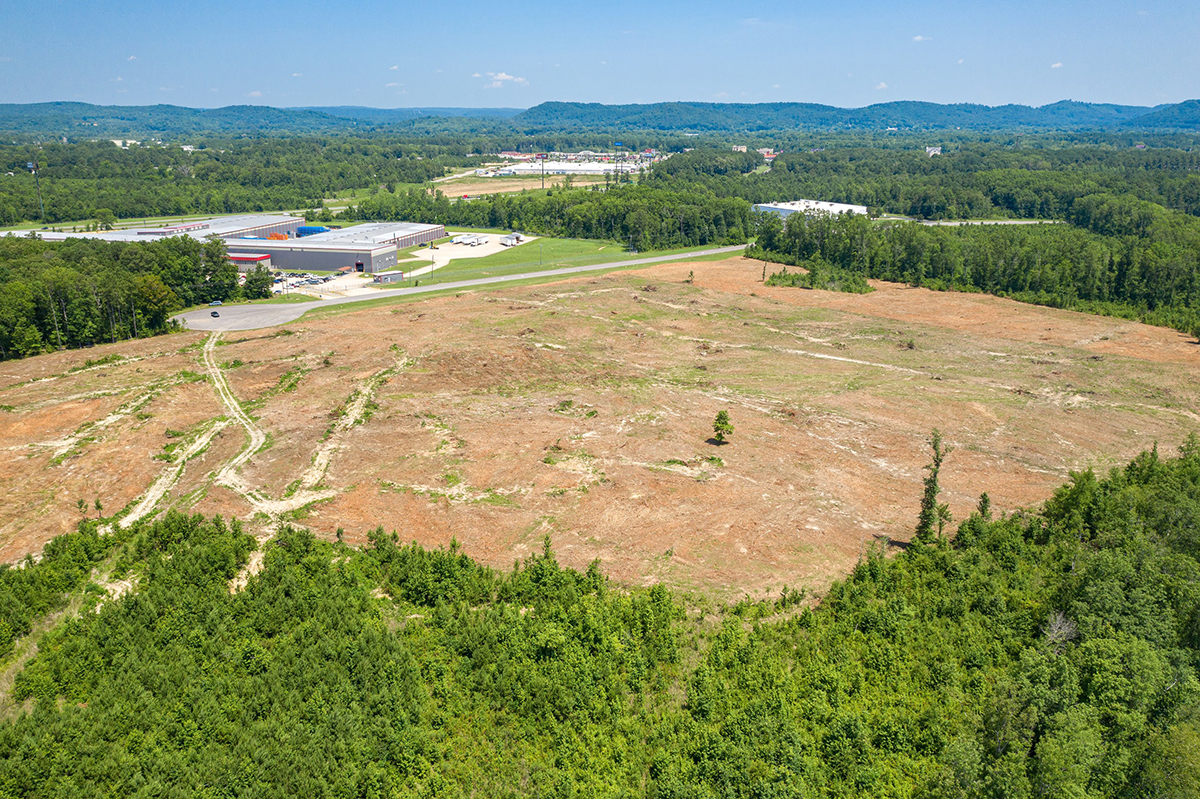 Gadsden, Ala.
For companies looking to locate a new plant, it's easy to see why Gadsden is a perfect choice: The city's location in northeast Alabama is ideal for manufacturers because of the proximity to OEMs and key transportation networks. Connected by interstate, air and rail, companies are in the heart of the Southeastern manufacturing environment and can service clients across the region. Right on Interstate 59, Gadsden is located centrally between Huntsville, Chattanooga, Birmingham and Atlanta.
Gadsden's workforce is second to none, with a ready supply of labor ranging from unskilled to highly trained workers, able to tackle any project. Gadsden also has a variety of systems in place that can design workforce training programs to meet specific needs, from welding to robotics. Gadsden is ready to work—and to work hard.
With a low cost of living yet an amazing quality of life, Gadsden offers a unique value proposition. There's an array of beautiful natural features, whether hiking the Black Creek Trails at Noccalula Falls, exploring Lookout Mountain, fishing in the Coosa River or participating in any number of unique events hosted by the city. Gadsden has all the amenities of a larger city, yet with the laid back lifestyle of a small town.
This all contributes to satisfied business customers. "Decatur Plastic Products built a new facility in Gadsden, in part because of the favorable operating costs associated with labor, taxes and utilities," said a Decatur Plastic Products executive. "Our startup has been so successful, we will be launching another facility in the near future, as these advantages all still apply today."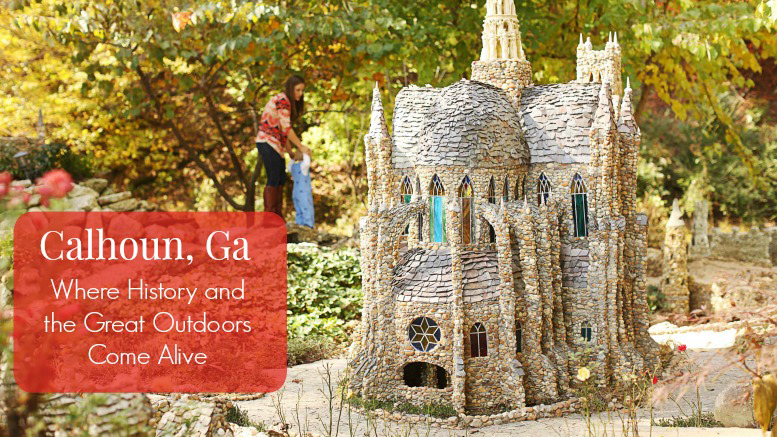 Gordon County, Ga.
An ideal location, trained labor force, abundant natural resources and exceptional community life make Gordon County ready for business, with superior industry locations including new industrial parks. Two of the new business/industrial parks are located in the heart of Calhoun, Ga., on ideal sites with gently rolling terrain and recreational areas nearby. Publicly owned parcels range in size from 4 to 100 acres. Walking trails and other nearby recreation facilities are perfect for staff health and wellness programs, too.
Gordon County is between Atlanta and Chattanooga, with six exits off Interstate 75, and is on the "Golden Corridor"—known for its diversity of industry and its excellent transportation system. The county is host to headquarters of Fortune 500 companies and is home to an array of international industries. Rail, trucking and air service help make Gordon County a perfect choice: Norfolk Southern and CSX rail serve Calhoun, with the newly constructed Appalachian Regional Port positioned only 35 miles from Gordon County's industrial base. In addition to the proximity to Atlanta's Hartsfield-Jackson International Airport and the Chattanooga Metropolitan Airport, Gordon County is the home of the Tom B. David Airport, which has a lighted 6,000-foot asphalt runway and a planned expansion for corporate hangers.
Both the city and county governments pride themselves on being "pro-business," cooperating with creative incentives to make locating in Calhoun and Gordon County a solid advantage for any company.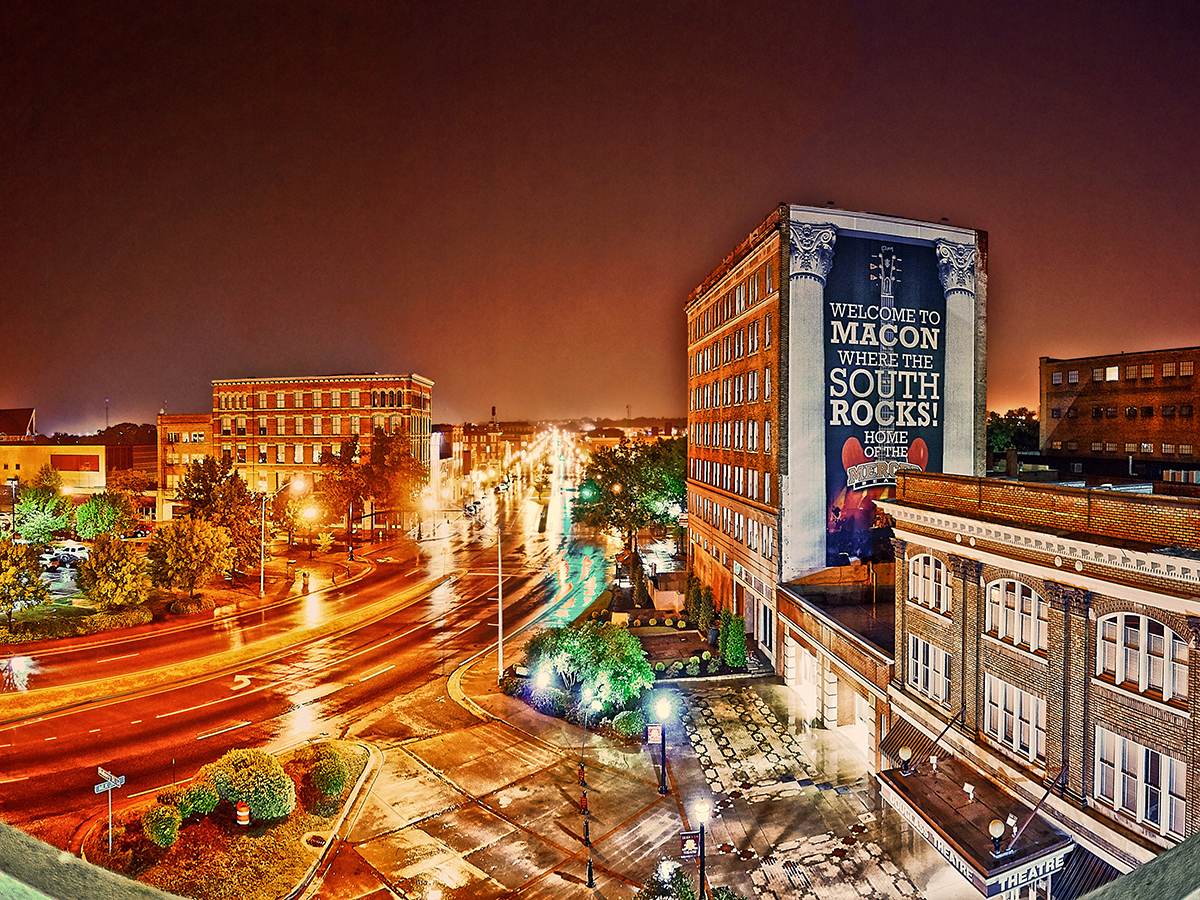 Macon-Bibb County, Ga.
The Macon-Bibb County Industrial Authority (MBCIA) is the lead agency for attracting new business investment, encouraging the expansion of existing industries and improving the quality of life in the Macon-Bibb County area. Together with regional, state and local partners, MBCIA creates an environment that facilitates success for businesses of all types and sizes. Over the last 24 months, MBCIA has generated more than $800 million in private investment from new industries such as Amazon, Irving Consumer Products, Nichiha USA and Tyson Foods, in addition to the existing industry growth of Graphic Packaging, YKK USA and Tractor Supply.
The consolidated government of Macon-Bibb County is in the center of the state of Georgia (voted the No. 1 Place for Business), where Interstates 75, 16 and 475 meet. The area is a three- to five-day truck drive away from 80 percent of the U.S. market. At Middle Georgia Regional Airport (MGRA), plans are under way for a runway expansion that will accommodate commercial wide-body aircraft such as the 787. There are about 40,000 college students within a 40-mile radius at seven colleges/technical colleges, each with extensive training programs.
In April 2018, Embraer, the world's third largest aircraft manufacturer, announced it would locate a maintenance, repair and overhaul operation at MGRA, and that facility now employs nearly 200. Stevens Aerospace and Defense Systems also announced a new aircraft operations facility at MGRA, which now employs more than 150. Recently, Central Georgia Technical College and Robins Air Force Base developed a unique partnership, in which the 402nd Aircraft Maintenance Group will locate a sustainment center at MGRA, a first-of-its-kind workplace-based education and training program.
These are just a few of the industries and partnerships that have found Macon-Bibb County to be a welcoming place to do business.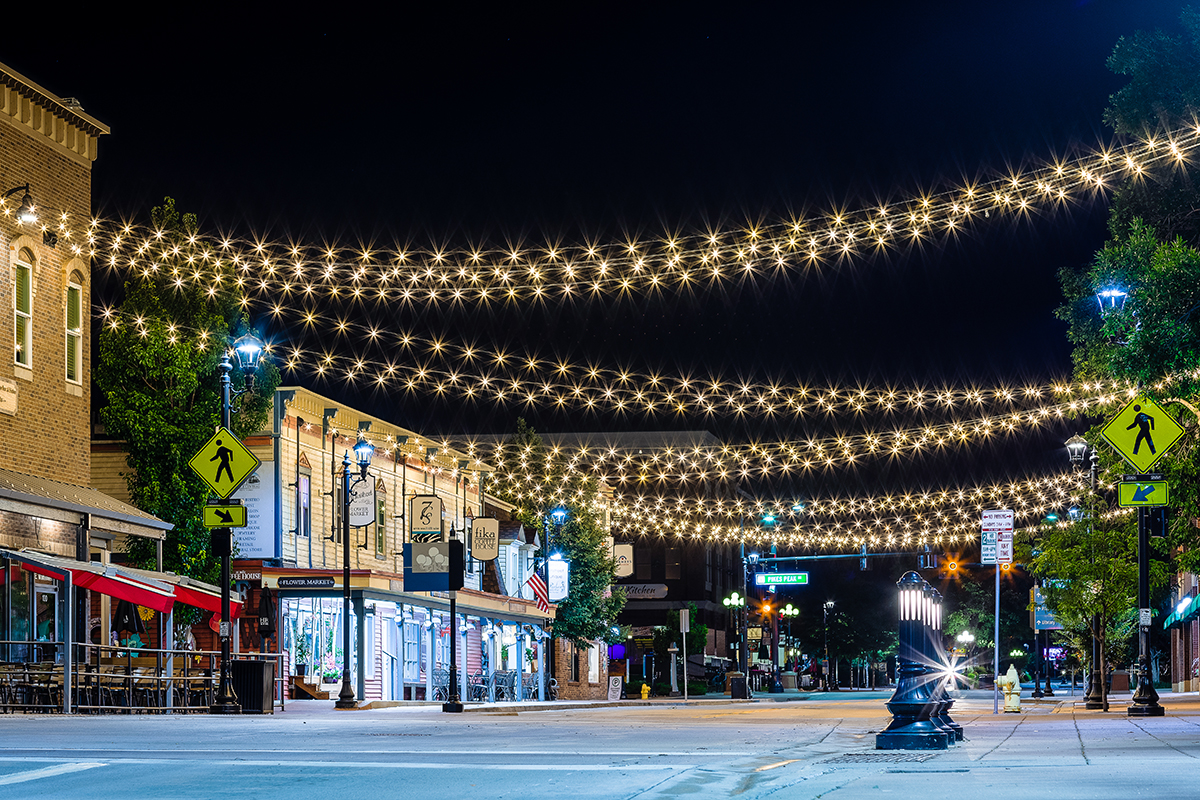 Parker, Colo.
Parker, Colorado is home to unbridled opportunity. The town encompasses 22 square miles and enjoys three interchanges with E-470 and three interchanges with Interstate 25. Parker is located 25 miles from Denver International Airport and less than 5 miles from Centennial Airport (the nation's largest general aviation airport). Additionally, three light rail stations within 5 miles allow easy access to all areas of metro Denver.
With a total labor force of 30,753, about 54 percent of Parker's residents have a bachelor's degree or higher. Major industries include specialty manufacturing, health sciences, finance and high tech, and companies in each of these industries are present in Parker today, providing key industry clusters and a valuable eco-system for businesses looking to relocate. Access to education and educational opportunities are also valuable assets in Parker, providing training for a skilled workforce within the industry clusters, including Rocky Vista University-College of Osteopathic Medicine.
Parker offers a quality of life that many areas don't have access to. That's why so many businesses are calling Colorado home. The Town of Parker has a population of more than 56,000, with a median age of 35 and a median household income of $113,836.
With the innovative spirit that lives in Parker, businesses and people from all walks of life will find just what they're looking for. For more information, contact economicdevelopment@parkeronline.org or 303-805-6260. T&ID
About the Author