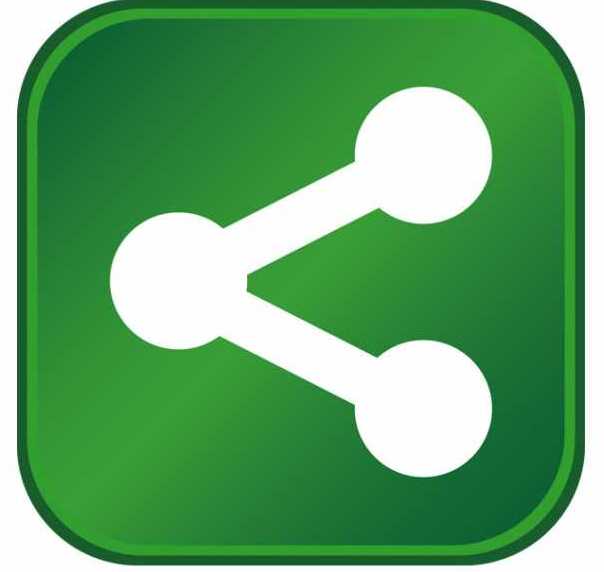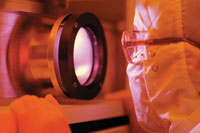 In today's fast-paced, global-knowledge economy, a state must differentiate itself and cultivate and sustain specialized areas of expertise where it can be a world leader. The need to drive economic growth through areas of focus is not a new concept; what is different today is the emphasis placed on technology-based innovation.

We find ourselves in an era where the breadth of technology advances is staggering. From information technology to biotechnology to nanotechnology to sustainable technologies, the velocity of technology advances is accelerating. More than ever, business leaders are recognizing Arizona as a prime location for expanding innovative companies.

Dynamic Business Climate
In Arizona, Governor Janet Napolitano has engaged experienced and knowledgeable business and industry leaders to provide pivotal leadership in developing new strategies to propel Arizona's competitiveness in the 21st century. With an engaged business community working together with government, the State's economy is transforming to advance Arizonans intellectually and economically.

The approach is producing inspiring results.

More than 100 foreign-owned companies have operations in Arizona: ST Microelectronics (France); Kyocera (Japan); Embraer (Brazil); Quadra Mining (Canada); Roche and Nestle Pet Care (Switzerland); and SCA Tissue (Sweden).
"An increasing number of global firms recognize Arizona as a good fit – both culturally and in terms of economic scale. Moreover, Arizona is a central gateway for companies to access robust U.S. markets and also tap into opportunities in Mexico and South America," said Marco A. López, Jr., director of the Arizona Department of Commerce.

Arizona has become the ideal base for companies who need to reach out to the world. That's one of the reasons Avnet, one of today's largest business-to-business distributors of electronic components and systems, moved to Phoenix. "In Arizona, we enjoy a dynamic business climate and a wonderful quality of life, making it easier for Avnet to attract and retain a talented workforce," said Roy Vallee, CEO of Avnet. Avnet's leadership chose Greater Phoenix over several other Western locations to base its global headquarters. The company was headquartered in two states, New York and California, and it made sense to consolidate. "Looking back on the decision, it stands as one of our best," said Vallee.

Embraer, one of the world's leading manufacturers of commercial and corporate jets, selected Arizona for an executive jet service center to service Embraer manufactured executive aircraft. "Williams Gateway Airport in Mesa possessed all of our selection criteria: location, availability of suitable sites, skilled workforce, convenient air transport and favorable transportation logistics for suppliers and customers," said Mauricio Botelho, chairman, president and CEO of Embraer.

"We are clearly making strides in our efforts to boost our state's economy and make lives better for our citizens," said Governor Janet Napolitano. "Big companies are taking notice of Arizona now more than ever. They know the climate is right for them here, with a qualified workforce and business-friendly environment."

Competitive Business Environment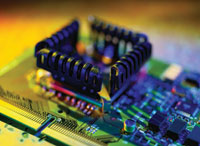 In Arizona, workers' compensation and unemployment insurance rates are still among the lowest in the nation and continue to attract top tier companies. In addition, companies find a series of tax-relief measures designed to attract, expand and retain high-value, high-growth companies. The State's Angel Investment Tax Credit aims to increase funding benefiting Arizona's emerging companies, by providing $20 million in income tax credits to investors. The 21st Century Fund includes $35 million to attract world-class researchers, accelerate the technology market and bring innovative products to market. The Sales Factor Bill allows multi-state businesses doing business in Arizona to opt to "super-weight" their sales factor to reduce income tax liability to the state. Plus, legislation was passed offering significant property tax reductions benefiting businesses of all sizes.

"Arizona's recent investments are showing great results and they are leading to advancements in innovation, discoveries and technology development," said Napolitano.

Discovery Driven Science and Technology
Arizona's continued development of industry strengths and research competencies are expected to lead to identified critical mass and excellence in fields including nanotechnology. Inside the Flexible Display Center at Arizona State University, researchers experiment with various plastics and flexible metal foils to replace the rigid and often fragile glass screens now used for computers and other text- and image-display devices. The immediate goal is to provide the U.S. military with advances in energy-efficient, resilient, high-performance mobile information technology that will offer more reliable and effective battlefield communications.

On the home front, technology is producing new opportunities for Arizona farmers. The University of Arizona's Campus Agricultural Center is where the Controlled Environment Agricultural Center is making breakthroughs in greenhouse technologies – producing tomatoes with 20 percent more lycopene. Pinal Energy is utilizing corn to produce Ethanol (E-85)at its facility in the community of Maricopa, just south of the Phoenix-metro area. The facility is having incredible impact on the local economy by creating quality, high-wage jobs and providing additional industrial tax base for the city, county and State. Global companies focused on commercializing biodiesel production hope to achieve success using bioreactors and high-yielding algae licensed from Arizona State University.

Guided by Arizona's Bioscience Roadmap, in just over six years the State has invested hundreds of millions of public- and private-sector dollars to build new research facilities, recruit top scientists, and encourage a significant increase in promising new startup companies. The Flinn Foundation reports strong results: research grants from the National Institutes of Health are up 19 percent at a time when NIH budgets have stagnated or declined; new firms increased 16.7 percent, new jobs are up 18.5 percent - far exceeding bio-industry growth rates across the nation.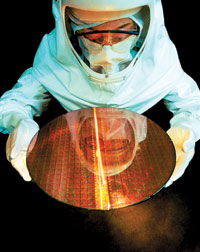 Quality, Skilled Workforce
With an average age of 34.3 and explosive population growth, Arizona offers a high quality, young and talented workforce that supports the research and development necessary to keep up with accelerating product cycles and global competition.
Arizona's strong post secondary educational system graduates a steady stream of skilled professionals. It is home to world-renowned Thunderbird, the Garvin School of International Management. The State has significant higher education institutions including: Arizona State University (ASU); the University of Arizona (UA); and Northern Arizona University (NAU).
"Knowledge-based industries move here to join their competitors and capitalize on the state's large workforce that increases by approximately 300 people every day," says López.
Better Business Solutions
By any measure, Arizona's immediate economic prospects are wide and varied, ranging from high-tech industries, including aerospace and defense, electronics, optics and transportation systems to agriculture, machinery and mining, as well as biosciences including environmental and life science technologies.

"Arizona offers incredible options and opportunities for businesses looking to relocate or expand," says López. "The Arizona Department of Commerce provides many tools and programs that give businesses the edge they need to succeed in today's innovation-driven, global economy."

Connect with key resources and information by contacting the Arizona Department of Commerce at www.azcommerce.com.
 
About the Author