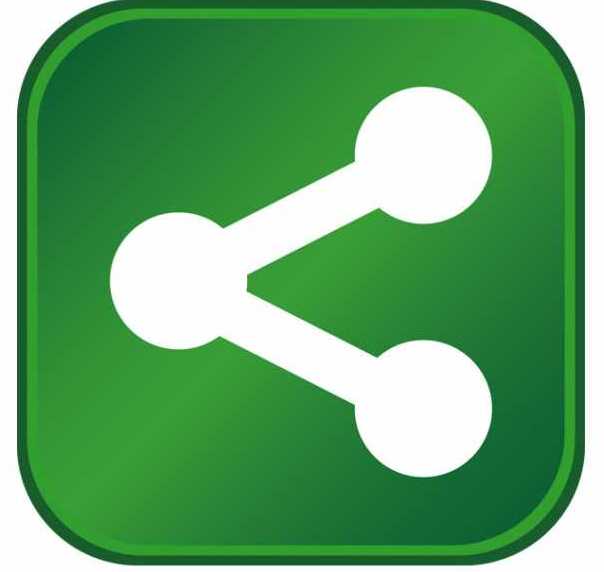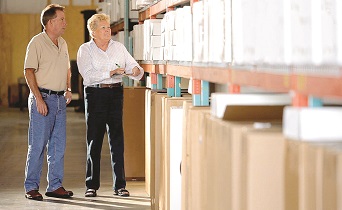 The City of North Port, Florida, is hot. Yes, the state's seventh-largest city – and one of the fastest-growing – boasts of balmy, year-round temperatures. But what sets North Port apart from other communities in the region is not the weather, but its pro-business climate.
Over the past several years, North Port has proven that it is serious about business by spending more than $1 billion in infrastructure improvements, along with initiatives such as lowering impact fees and creating economic development incentives. This hard work is paying off, as evidenced by a 13.5 percent growth in business tax receipts (formerly called occupational licenses) in 2012, an indicator that new businesses are opening up in the city.
Another draw for business is North Port's strategic Gulf Coast location, midway between Tampa and Naples. It offers easy access to Interstate 75 and highway U.S. 41, has three international airports within a 90-minute drive and is only an hour from the Port of Manatee, the closest U.S. deep-water port to the Panama Canal.
A Strategic Location — A Pro-Business Environment
Innomag Solutions is one of the newest additions to the area. The Illinois-based manufacturer of seal-less, non-metallic, magnetically driven pumps has opened up another business in North Port that uses rotational molding to line objects such as pipes and tanks with plastic.
After looking at many locations throughout the state, the company moved into the North Port Park of Commerce, a 170-acre mixed-use commercial, office, professional and light industrial master-planned development.
"North Port seemed like the perfect location for us," said Debbie Guagliardo, CFO at Innomag Solutions. "It's very well located, with the proximity to the highway and major airports. But most important, the city is very pro-business. Everyone we've met with has worked very hard to give us guidance, remove obstacles and move us along the process of opening up a new facility."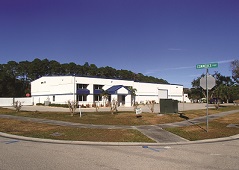 "Innomag Solutions represents the type of light-manufacturing company we want to attract to North Port because they have the potential to grow and expand," said City Manager Jonathan Lewis.
"Manufacturing companies like Innomag bring quality jobs and capital investment and help build a strong industry base," added Allan Lane, economic development manager.
Another relative newcomer to the area is the Adams Group, a commercial cabinet maker that manufactures and installs interior architectural casework. The company, which was founded in 1978, was looking to expand and moved from Punta Gorda, Florida, to North Port in December, 2010.
The Adams Group found a building that belonged to an existing cabinet maker that was in the process of downsizing, which contained all of the infrastructure they needed. The 50,000-square-foot facility, also in the North Port Park of Commerce, houses most of the company's 87 employees.
"We worked closely with the City of North Port, who helped us with incentives to offset the cost of relocating," said Jonathan Adams, COO. "The city is very business-friendly. They've worked with us, been an advocate with us and have made us feel welcome.
"In addition, it's a great location, being just two miles off the Interstate, close to three international airports and near the Port of Tampa," he added.
A Growing Community with Great Values
Founded in 1959, North Port is a young, thriving city with a median age of 40 and more than 10,000 school-aged children.
"We've had a large influx of families, which has been great for the healthcare sector," said Al Lane. "In 2008, there wasn't a single, full-time pediatrician and now we have more than 10."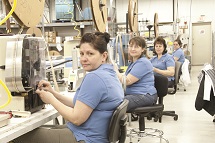 As a result of the area's growth and need, physicians in other medical specialties have also located in North Port. Plus, in 2009, Sarasota Memorial Hospital System opened up a 52,000-square-foot, state-of-the-art emergency-care center in the city. The center exceeded its projected patient visits within several months of opening – and this volume continues to this day. This growth is why healthcare is one of the city's targeted sectors for expansion and business recruitment efforts.
In addition to being young, North Port is affordable and has room to grow.
"We have available property that's priced correctly," said City Commissioner Tom Jones. "We have the population to grow and we're developing a reputation in this area and around the state as being a community that works with businesses, promotes business growth and is dedicated to economic development."
"Plus, because North Port is only about 25 percent built out, there is plenty of room for growth and expansion," said Bill Gunnin, executive director at the North Port Area Chamber of Commerce.
The area's newness was a draw for Marilyn Stenten, who relocated her company, Stenten's Golf Cart Accessories, to North Port in September, 2011.
"After I saw this building, I fell in love with it. The whole place was so fresh and clean. And we got a magnificent building for a price we couldn't touch in Sarasota," said Stenten. "The area is new and growing, with great values."
Another reflection of this growth is the area's retail sector. In 2010, a 300,000-square-foot retail center opened, the largest retail development of its kind in Sarasota County that year. The Cocoplum Village Shops has more than 30 national-brand stores, anchoring the city's primary commercial corridor along U.S. 41.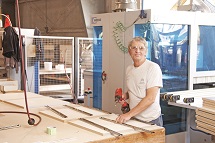 Existing Businesses are Still Going Strong
While there are many new business developments in the area, existing businesses are also thriving in North Port.
Atlantic Teleconnect moved to North Port about 13 years ago from Charlotte County, Florida. The company, which makes custom copper and fiber optic wiring harnesses for industries such as military, aviation, homeland security and medical, needed to expand and found business regulations in its former location too onerous to do so.
"We've watched North Port develop the infrastructure and services needed to support a business," said Barbara Rescigno, vice president of operations at Atlantic Teleconnect. "Our main focus in coming here was the availability of workers, because there is a large pool of talented workers here."
Rescigno noted that whenever the company needs to hire more employees, she simply spreads the word to the current staff, who will bring in highly qualified, pre-screened candidates.
"Our employees know who will work out and who won't, so they'll only bring in very good people, which means we don't end up hiring someone who doesn't work out," she said.
Atlantic Teleconnect's loyalty to its staff runs deep. Realizing that working mothers constitute a large percentage of its workforce, this innovative company instituted a swing shift that enables employees to see their children off to school and then go to work until school is out. After school, the children are invited to the company's cafeteria to have a snack and do homework while their mothers work for another hour or so.
"The talent pool among those workers is amazing – and we want to keep them," explained Rescigno.
Besides enjoying the area's strong workforce, Atlantic Teleconnect has found North Port to be a business-friendly environment.
"North Port is very easy to do business in and the resources provided by the economic development staff are unbelievable. Plus, now that the city has updated its infrastructure, you can get anywhere quickly. Also, the Park of Commerce is the first drop for UPS and FedEx off the plane, so we get our materials by 9 a.m. Everything is oriented to businesses here," said Rescigno.
Economic Development Manager Al Lane agrees. "We try to do what is needed for companies wanting to do business in North Port, making it as trouble-free and easy as possible – and that's for existing businesses as well as companies thinking of relocating here. Our message is 'We're open for business!'"
About the Author